Disneyland Restaurants and Dining
---
Disneyland Park Dining
Jolly Holiday Bakery Cafe (Counter Service):
The Jolly Holiday Bakery Cafe features fresh pastries, specialty coffees and signature entrees, including sandwiches, salads, soups and quiches. Outdoor seating is available.
Carnation Cafe (Full Service):
Breakfast includes a full array of favorites, including Mickey Mouse-shaped waffles. For lunch or dinner, you can choose from soups, salads, sandwiches and hearty entrees, plus gourmet coffees, and ice cream for dessert. This restaurant is located in the middle of Main Street, across from the lockers. You sit inside or outside in a covered patio. Priority seating is recommended.



Gibson Girl Ice Cream Parlor (Counter Service):
Get a delicious ice cream cone, sundae, shake or float, and relax in the old-fashioned ice cream parlor.
Little Red Wagon (Counter Service):

Located next to the Plaza Inn at the end of Main Street, This Little Red Wagon features Hand Dipped Corn Dogs, Chips and Cold Drinks. Bring your appetite because the corn dogs here are definitely a full meal!
Character breakfast with Minnie and Friends, includes all you can eat with omelets cooked to order, as well as other typical breakfast fare. Restaurant is located at the end of Main Street , at the entrance to Tomorrowland. Lunch and dinner entrees feature fried chicken, pot roast, penne pasta, salads, and other home-style dishes. Dessert includes pie, cake, etc. This restaurant has seating inside and outside on the patio. Portions are generous. Characters only at Breakfast.


Refreshment Corner Cafe (Counter Service):
Also known as Coke Corner. Serving chili dogs and beverages. This is a nice place to stop and listen to the lively piano music as you relax. Located across from the Plaza Inn.
Market House (Counter Service)
Enjoy a cup of Starbucks of coffee, plus both Starbucks and Disneyland pastries and sandwiches.
Bengal Barbecue (Counter Service):

You can get a variety of kabobs or bacon-wrapped asparagus. There are also fruit topped dishes, and hot coffee. This is located across from the Jungle Cruise/Indiana Jones. There are tables to stand at, or you can eat at one of the benches in Adventureland.


Tiki Juice Bar (Counter Service):

You can get refreshing Dole pineapple juice or Dole Whip (soft serve ice cream) here. This is located at the entrance to the Tiki Room.
Tropical Imports (Quick Snacks)

Located near the 'The Jungle Cruise' and offers in-season fresh fruit, soft drinks and bottles of water.
Blue Bayou Restaurant (Full Service):

DIS Unplugged: Disneyland Edition Podcast
Blue Bayou


For a special treat, have a meal at the Blue Bayou Restaurant. This restaurant is located inside the Pirates of the Caribbean attraction, and features appetizers, salads, seafood, chicken & beef dishes as well as its famous Monte Cristo sandwich, all with a New Orleans flair. Healthy selections, Kosher and vegetarian options are available. (Lunch and Dinner). This restaurant is a little pricey, but has a great atmosphere. Limited same day reservations are taken at the entrance to the restaurant. Priority seating is recommended.


French Market Restaurant (Cafeteria)
This is an outdoor, covered patio, located near the train station that features southern-themed dishes, including jambalaya, roasted chicken, salmon, and delicious desserts. On weekend afternoons, a jazz band will entertain the guests while they eat. Dining is at a covered patio.
For a nice break in New Orleans Square, this café offers Cajun-Creole including New Orleans Gumbo. Start with their popular Pommes Frittes, then enjoy a seafood crepe or maybe a Monte Cristo sandwich and finish with some Mickey-shaped beignets. Children's meals available.

Mint Julep Bar (Quick Snacks)

Non-alcoholic Mint Juleps, specialty coffee, beignets and ice cream.

Royal Street Veranda (Quick Service, Lunch, Dinner, Snack)

Near the stairs to the Disney Dream Suite, this counter service restaurant features clam chowder in a bread bowl, gumbo and desserts. Specialty coffees are also available. (Lunch and Dinner) Outside dining available.
Hungry Bear Restaurant (Counter Service):
Offers American type fare, such as chicken sandwiches, cheeseburgers, fries, etc. You can sit above, or downstairs near the river and watch the boats and canoes go by. Kids meals are also available. Lunch and Dinner.
Harbour Galley (counter service):
This restaurant on the banks of the Rivers of America offers chowder and soups served in bread bowls, plus entree sized salads, baked potatoes and drinks.
Critter Country Food Cart - Beverages, fresh fruit, pickles


Rancho del Zocalo Restaurante' (Cafeteria):

Dine on classic Mexican specialties and bask in the romance and heritage of early California. Menu items include burritos, nachos and much more. You can sit inside, or in the Mexican themed patio. Brekfast, Lunch and Dinner.

River Belle Terrace (Cafeteria):

Eat indoors or out on the terrace overlooking the Rivers of America. Options include BBQ ribs, oven-roasted BBQ chicken or a tasty brisket sandwich. Vegetarian options are available. Kids Meals are also available. Lunch and Dinner only

Stage Door Cafe (Counter Service):

You can get chicken nuggets, fish & chips, and corn dogs here. Finish off your meal with a funnel cake. The Stage Door Café is located between the Golden Horseshoe and the River Belle Terrace. Some seating is available near the River Belle Terrace.

The Golden Horseshoe (Snacks and Show - check daily schedule)

Grab a bite to eat, sit back and enjoy the show. Chicken nuggets, fish & chips and cold beverages. Grab lunch or dinner before the show!
Turkey legs, corn on the cob, chimichangas, fruit, chips, beverages
Village Haus (Counter Service):
This little restaurant is Pinocchio themed, and serves pizza, cheeseburgers, and salads. It is located on the backside of Fantasyland near the Dumbo attraction. Lunch and Dinner.

Troubadour Tavern (Counter Service)
This location is made to look like a medieval tent at a royal tournament and feature bratwurst, corn on the cob and a selection of frozen desserts.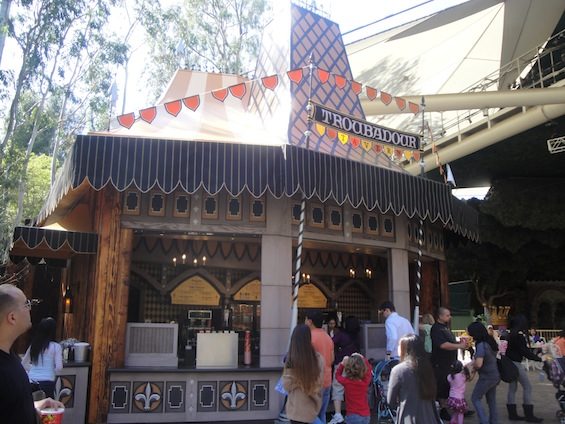 Edelweiss Snacks (Quick Snack)
Turkey legs, chimichangas, corn on the cob, chips and frozen beverages
Maurice's Treats (Quick Snack)
Located inside Fantasy Faire, this is the spot for both sweet and savory twist pastries, plus a refreshing Boysen-apple freeze.
Fantasyland Fruit Cart (Quick Snack)
Fruit, pickles and beverages
Clarabelle's Frozen Yogurt (Quick Snack)

Frozen chocolate and vanilla swirl yogurt is a favorite here! Mickey shaped krispie treats and sundaes also available.


Daisy's Diner (Lunch, Dinner, Snack)

Pizza, salads and desserts. Outdoor seating is available.


Pluto's Dog House (Lunch, Dinner, Snack)

Hot dogs and cold beverages. Children's meals. Outdoor seating is available.
Redd Rockett's Pizza Port (Cafeteria):

This restaurant offers pizza, Caesar salad, and pasta. You can eat inside, or "outside" in a covered area.


Tomorrowland Terrace – (Counter Service):

Season of the Force

During the new Star Wars themed seasonal event, the Tomorrowland Terrace becomes the Galactic Grill, featuring a new themed menu, including:

First Order Specialty Burger - Angus beef and chorizo patty, fried cherry peppers, spicy-lim aioli on dark bun
Jedi Order Grilled Chicken Sandwich - Five-spice chicken breast, fried green beans, pickled red onions, watercress, and wasabi mayo
Cheese-3PO Burger
Wicket's Wicked Veggie Sandwich - Portobello and vegetable sandwich
Chopper Salad - With grilled chicken, feta and roasted pepper-ranch dressing
Darth By Chocolate - Parfait with layers of dark chocolate ganache, red velvet cake, and chocolate sponge
The Light Side - All natural lemonde and granny smith apple with yogurt meteors and a souvenir light up Millennium Falcon
The Dark Side - All natural lemonade and strawberry with a souvenir light up Death Star
Here you can order cheeseburgers, chicken breast sandwiches, tortilla wraps, fries, etc. Jedi Training is presented on the Tomorrowland Terrace stage during the day.