Dieting for Walt Disney World
November 10, 2010
by Aaron DelPrince (ADP on the DISboards)
DIS Contributing Columnist
How many of us have been battling the bulge our whole life? Let me step forward and raise my hand very high in the air. What I'm about to discuss is something I've experienced since my second trip to
Walt Disney World
. There were times when I thought what I was going through was very unusual, but after speaking with other Disney World fans I realized I wasn't alone. It's the idea of losing weight before your
Disney World vacation
.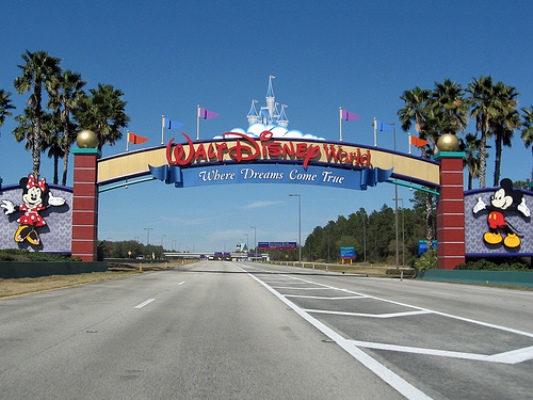 For many tourists the philosophy of losing weight before a vacation is not uncommon. After all, you want to look your best while sitting on a beach or going down the ski slope. But, for Disney World fans like us there are other motivations involved. Looking good for your theme park vacation is only one reason why you want to drop those pounds. For those of us who deeply value our time at Walt Disney World, losing weight before you depart is vital to getting full enjoyment and peace of mind while hitting the theme parks.
So, why do we feel so compelled to lose weight before leaving for Walt Disney World? Let's take a look at why you feel the need to drop the weight, meet your weight loss goals, or simply get in better shape before visiting Mickey Mouse and friends in Central Florida.
Making the Most of your Time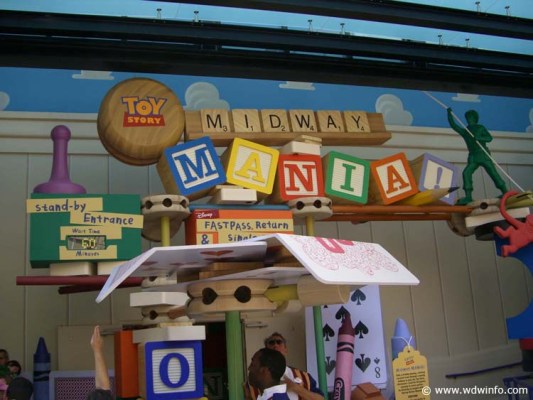 There was a time when my family would only travel to Disney World once a year. For us, those 7 to 10 days in the theme parks were the best days of the year. We wanted to maximize our time and do everything we could to enjoy it. You could say we were touring the parks "commando style." But, with only 7 to 10 days to enjoy Disney World we had to pick up the pace to see and do everything we desired.
Walking and getting around the resorts and parks is a huge factor in maximizing your time. After our first visit in 1994 I quickly realized carrying extra weight would slow us down. It would cause us not to see and do everything, and therefore, diminish our vacation time and experience.
Shedding those pounds before you leave simply allows you to move faster from attraction to attraction or restaurant to show venue. When you're on vacation your time is valuable. If it can take you 2 minutes less to get somewhere it's to your family's advantage. Start adding up the time you've saved walking between locations and before you know it you have more time at the end of your day to enjoy additional attractions or see another show. You're simply going to get more quantity out of your Disney vacation.
Size Matters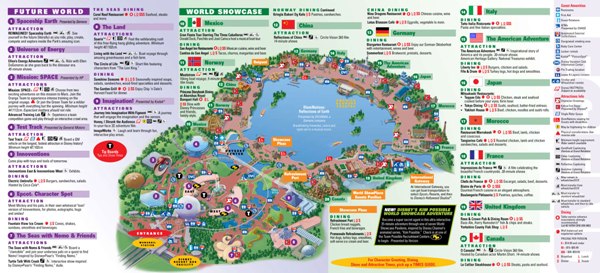 One of my biggest surprises during my first visit to Disney World was its size.
Animal Kingdom
was not open yet, but I still couldn't believe the sheer size of the 3 theme parks, water parks, and resorts. In 1994, the information on the Internet about Disney World was very limited. Nothing could have prepared us for what we were about to experience.
After our first visit I knew subsequent visits would require a ton of walking. The parks and resorts are so big that you want to be able to get around without the strain of carrying extra weight. Navigating the parks and resorts at a comfortable, yet brisk pace is vital to get the most out of your vacation. After a couple trips to Disney World you quickly realize the space between attractions isn't like walking to your next door neighbor's house. In some cases you may be forced to walk from one side of a theme park to the other. Just the thought of such a task can wear you out. The bottom line is that you want to be as light on your feet as possible before you leave for your vacation so you are able to easily cover more ground. The thought of stopping and resting between
theme park lands
or attractions can diminish your overall enjoyment of the theme parks.
Consider a walking regiment before leaving for Disney World. Simply walking around your neighborhood a few evenings a week will do a lot to get you mentally and physically prepared for the amount of walking you will experience in the vast land of Walt Disney World.
Disney Dining - Evening the Scale
You're a Disney World veteran. You know what to expect before you leave. During your planning you've enrolled in the
Disney Dining Plan
(DDP), or just simply made several advanced dining reservations (ADRs). A huge part of your Disney World vacation is eating and sampling the several food choices you have available to you. Everywhere you turn there's a food kiosk, counter service, or table service restaurant staring back at you. You're on vacation and you are not going to deprive yourself of eating what you want. Dieting or counting calories during your vacation is simply not an option.
In order to prepare yourself for the onslaught of caloric intake, you've decided to lose weight before leaving on your trip. You know there will probably be a weight gain in your future. For some guests, simply walking and moving around Walt Disney World may provide weight loss, especially during the more hot and humid months. But, considering the amount of food you will enjoy, some weight gain is pretty much a guarantee.
Disney World veterans like us are meticulous planners. We've thought of just about everything for our upcoming trip; even that unwanted weight gain from Disney World food. We've decided to plan ahead and lose 10 to 20 pounds to more than cover the 5 or 10 pounds we may gain back during our trip. This way, when we come home we won't feel too bad about what we've gained, and quite possibly even continue on in our weight loss efforts.
Touring the Parks is a Grind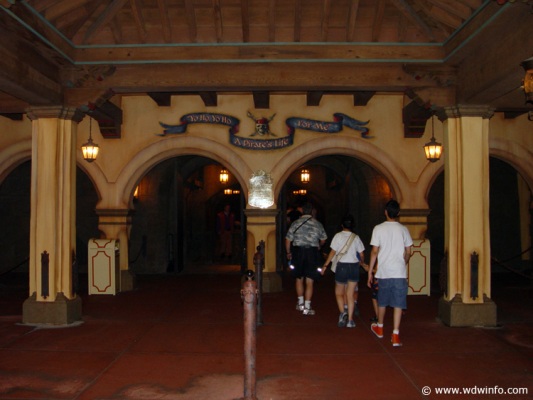 When heading to Disney World you want to feel your best. You know you're going to walk a lot, have late nights and early mornings, eat, drink, dodge crowds and spend a lot of time standing in line. Let's face it, a Disney World vacation is not a relaxing proposition. When our family returns home I typically say, "I need a vacation from our vacation." We're physically wiped out.
Losing weight before your Disney vacation can and does give you more energy. It will allow you to tour the parks and resorts longer and feel better while you are doing it. You will feel lighter on your feet. Those dreaded foot blisters won't develop until later on during your vacation (if at all). Instead of sleeping in on day 4 of your trip you may find yourself jumping out of bed early to get fast passes at
Toy Story Mania
when
Hollywood Studios
opens at 9:00 am. The bottom line is you'll feel more comfortable and physically better if you've dieted properly before your vacation.
I always suggest to future Disney visitors to pace yourself even if you are feeling good. Take afternoon breaks from the heat and relax back at your resort. Despite how you feel at the time, you should still pay attention to your body. If you feel tired or fatigued, definitely rest, relax and recharge your batteries. Just remember, if you are lighter on your feet you will get around much easier and enjoy your vacation much more.
Conclusion
Ever since our family began visiting Walt Disney World my weight has been like a yoyo. Pre-Disney vacation my weight was down. Post-Disney vacation it went back up. Losing weight for anyone is a difficult proposition. Sometimes we need external motivation to drop those pounds. Internal motivation sometimes isn't enough. A trip to Disney World, especially for fans of their theme parks can provide needed external motivation. You love the parks and resorts so wouldn't you want to make the most of your time there?

A great resource for losing weight for your Disney World trip or just losing weight in general can be found on the W.I.S.H. board at DISboards.com. There you will find people like us who lose weight for Disney trips or for a better life in general. Some W.I.S.H. board members have found running events at Disney World very gratifying as a way to consistently stay fit and healthy. Many members have embraced the Run Disney events and participate in them as often as possible. It's a great support group who help each other lose weight, stay fit, and share a common interest in the Disney theme parks.

Do you have a story to share about how a Disney World vacation motivates you to lose weight? Have you become a healthier or more active person because of your love for Disney World? Please share your story in our discussion forum below. We'd love to hear about it.

I'm always curious to hear other people's weight loss stories, especially when they are tied to Disney World. Maybe you've become heavily involved in Disney's racing series called Run Disney, or enjoy Disney's healthier menu options at the parks and resorts. Just remember: a healthier you means a more enjoyable vacation. If you are looking for motivation to kick start your diet look no further than your upcoming Disney World vacation. If you love the theme parks and resorts and cherish your Disney vacations, leaving those extra pounds back home is the best way to turn a good Disney vacation into a great Disney vacation.

Friend Aaron on Facebook: I accept reader friend requests.

---
21 Comments
rtyecript
I really liked the article, and the very cool blog
Mel
I agree that losing weight before your holiday to WDW is a great idea. Every pound lost helps. I go with family in 38 days and over the past month I've lost 16lbs and upped my physical activity. I want to keep up with everyone and not be worried about my size and fitting the rides. Plenty of walking on the holiday helps counteract any weight gain. I enjoy all the Disney treats whilst away and I'm not going to feel guilty about it!! So excited about the holiday and hope to stay motivated and lose at least another stone before we go :D
scoopmorgan
I read this article with great interest, as I am in the process of a significant weight loss, and will making my first trip to DW in October 2011. My DD will be a CP intern starting in August, so my hubby and I decided to celebrate our wedding anniversary there, so we could visit her. To celebrate my ongoing weight loss, she has asked me to do the Wild Africa Trek with her! This is the first time in my life I will be physically able to do this type of walking, so I'm jazzed! It's great motivation to keep it up, too!
Tina
I'm just starting my diet for my Disneyland trip early July. I couldn't agree with you more Aaron, losing weight takes a lot of strain off your feet and your back when walking all those miles in the heat. But maybe I'm a little vainer than the rest of you as I also want to lose weight to good in all those pictures we take and in my bathing suit when we hit the pools. I lost 20lbs for our trip to Disney world 4 years ago and I felt so darn good about myself. I want to feel like that again for Disneyland - it just makes the entire experience so much better.
Charlene Rains
I will be going to Disney World in March of 2012 with my daughter, her husband and my 5-year-old grandson. I have over 100 pounds to lose and that Disney trip is my major motivation. I want to be able to keep up with that 5-year-old and not slow the rest of the family down. Thank you for the links to the forums, that will help. Please let me know of any sites, blogs, etc. that will help me stay motivated and on track.
Jace
As with "Cinderella's Slipper", I too have recently had GASTRIC BYPASS surgery on Feb 8/11. My 9 yr old daughter & I will be visiting Disney the week of April 10 & I'm very nervous about the dietary choices. I've lost 42 pounds so far & am really looking forward to doing lots of walking while enjoying the magic of disney. I contacted the Disney Special Dietary dept regarding the possibility of ordering from the "Kid's Menu". They suggested that I speak to the Manager at each restaurant & that they will try to accommodate my needs.
Cinderella's slipper
My upcoming trip to Disney will be a brand new experience for me as I had gastric bypass surgery on February 3, 2011. We are vacationing from Sept 19 to Sept 29, 2011. I am a bit anxious about what I will be able to eat; however, I definitely know that my portion sizes have changed significantly. We chose the regular dining plan so and I look forward to considering foods I've never eaten before at Disney. The only other thing I would add is pre-trip training, not like you might for a marathon, but training all the same. Getting used to walking a certain distance will make your Walt Disney World vacation more enjoyable. Thanks for a great article!
BOAWENHAWAY
When people keep telling you that you can't do a thing, you kind of like to try it.
escakeClearee
When you have a background in combat sports, people think you're this martial arts expert, but really I'm just a guy who is able to do certain things without making a mess of himself.
infodyBon
I think that sometimes you do something that makes a small group of people laugh, which is all we were trying to do; we were just trying to make each other laugh.
Bakepibia
I developed the habit of writing novels behind a closed door, or at my uncle's, on the dining table.
Juicesun
Hey just becoming a member, glad to be in! I'm glad to be right here last but not least, heading to post considering the fact that I've been studying a lengthy time. Sooo anyways, enough about me, see you around and hello yet again haha. BTW, what can I do to change the time zone for my account? It's kind of weird having the time like 5 hours off lol
jceDani
Hey just becoming a member, glad to be here! I'm Lucy and I am inspired by life, I'm a fan of working and currently being healthy and balanced :) I've been involved in some other forums and have observed this site to have a great deal more desirable subject material, so it tends to make sense to as a final point submit! BTW where is the option to change the little picture thingy like some people have, I like it but can't figure it out haha
Lara
Thanks for the tips. I already have a pedometer. I walk with a cane, so I'm trying to figure out how much I can walk, and how much I hay have to do in a wheelchair. Reading all of the different accounts on the web helps a great deal. One thing, "Consider a walking regiment before leaving for Disney World." A regiment is a group of soldiers. A regimen is a health plan.
Kara
It is interesting how everyone has a different perspective. I am in very good shape and the long days at Disney even tire me out. What I find interesting when reading your post is that people actual really think this out in advance. For me, eating is just something that gets in the way of having fun at the parks..."darn, I'm hungry, I have to stop and eat and miss out on 45 min of fun", etc. When I get up in the morning I have a coffee and an apple or a yogurt because I never want to start the day feeling full and bloated. A technique I adopted long ago, when I lost 20 pounds and have kept it off for years was just to order an appetizer if I wasn't that hungry. It usually fills me up just fine then I don't feel wasteful when I leave half a plate of uneaten entree. I also have a small healthy breakfast which at least starts the day out on the right foot. And finally, I eat slowly and stop eating the second I feel full. Even though the food tastes great at the moment I always feel awful when I get up from the table and feel so full I can barely walk. Just some ideas for those of you that have a hard time with the overwhelming eating options at Disney. Good Luck.
Vickie
We were just at Disney World for our 30th Anniversary. I am very overweight and realized I could not keep up with everyone. I have decided to go on a diet and plan for the next trip. Another problem with being overweight in Disney is sometimes it is hard to fit on the rides comfortably. Disney World will be my main motivation for losing all of this weight. Hopefully by that time we will have the funds to go back and enjoy Disney World to the max.
Laura
Great advice!! When we went 5 years ago I gained about 15 pounds so this time my husband and I both lost weight and started structured exercise programs and it helped a lot. I did not feel tired at all and we did a lot with 3 kids. We did eat a lot and even on the last day used up the rest of our snacks on the plan to take home...we can never eat them all on the trip.We each still gained a little weight but it was not as bad a s last time. We all had a great time in Disney!!
CJ
Ironically enough I loose weight when I go to Disney because of all the walking I do. Now the food at Disney is one of the reasons we love going to Disney; especially during the Food and Wine Festival during October and first 2 weeks of November. My hubby and I love to feast on appetizers because you can make a meal out of them. So we try at least 3-4 appetizers depending on their size, so we save room for dessert (the other best part of the meal). We traditionally tour the countries of EPCOT, resort and park restaurants that are more upscale. We don't do the meal plan because it would be way too much food for us to eat and we actually save money. Another thing we do is we eat breakfast in our room since it either has a full kitchen or kitchenette (we are Disney Vacation Club members - truly Disney's best kept secret). By joining the vacation club we also can save money on our food bill at a large variety of restaurants; not just our resort rooms. Then we venture to the parks, each lunch and dinner and possibly as snack. We also always request only water at the restaurants instead of soda to rehydrate ourselves. I occasionally also bring individual drink packets to give my water flavor without color, another way to save money. I also drink lots of water during our walks or dashes between rides and park adventures. Hope these tips help you loose weight at the "Happiest Place on Earth" :-)
Bonnie
Really enjoyed your post. I've recently lost 30 pounds in an ongoing 'Time To Get Healthy' effort. And for me our trips with family to The World are a great motivator for all the reasons you list. This February will be my fifth trip, 4th with my sister and her family, which includes a nearly 2 and a 4 year old. So we need to be fit to keep up! I wanted to add that I've been really pleased with the changes Disney has made to their menus, making it far easier to make healthy food choices - which are still very very yummy and filling! I still remember a chicken salad I had at Flame Tree BBQ that was AMAZING and hope I can get it again. I do think it all comes down to balance and making good choices that you feel good about. I know I'm going to have my Dole Whip, my caramel corn from Main St., (and now the new shop in Germany in Epcot!) and the frozen lemonade at AK, and other snacks here and there. But as you say - you will walk your legs off so it all works out in the end! So far I haven't gained weight while on Disney vacations, and have had some of the best times, ever.
Steve
This is so true to all devoted Disney Goers...I couldn't agree anymore that losing weight before a Disney trip is paramount for me so that I can ENJOY eating at the parks/resorts and not feel guilty. There are WAY too many treats that you can only find in the World, that you need to "taste" so many goodies. I would be curious to see how many miles we walked on our last trip, 9 days/8nights, as I forgot to take a pedometer, but seeing that Lisa walked 52 miles makes me feel SO much better. That makes eating those CHOCOLATE CHIP COOKIES at the Contemporary Resort EVERY day seem a little less damaging!! My motto is to enjoy vacations, not to let eating get me down!!
Lisa
Great post! I used a pedometer on my last trip to Disney -- 7 days, 6 nights -- we walked 52 MILES on our trip. The best thing I did to prepare: I walked about 1 to 1.5 miles every day on the treadmill for a month before we left. Just that little bit of conditioning really got me ready. It's not good to go from sitting on the sofa 24/7 to walking 8 miles a day. The worst thing I did before I left: I was following a pretty strict diet -- low-calories, low-fat, etc. I dropped about 15 pounds, which was great. BUT, we showed up at Disney and the first meal I ate was the buffet at the Garden Grill in Epcot. From there we went on the Land boat ride. I got so ungodly sick, the idea of jumping off the boat and begging to be lead to a restroom actually crossed my mind. So just realize that when you're at Disney, you're probably going to eat big. Eat a few good-sized meals before you leave to get your stomach muscles ready!
---