Walt Disney World Money Saving Tips and Strategies
August 2, 2010
by Aaron DelPrince (ADP on the DISboards)
DIS Contributing Columnist
It's Sunday evening at your house. Like most Sunday nights, your family is hanging around the homestead preparing for another school or work week. But this Sunday night is different. Mom and Dad have called the family to the kitchen table with some big and exciting news. At the same time, Mom and Dad announce
"We're going to Disney World!"
Everyone cheers, smiles and pumps their fists in excitement. As everyone leaves the table, Mom and Dad are left with the question "How do we pay for this?"
There is a perception that
Walt Disney World
vacations are expensive, and considering recent cost increases who could blame anyone for feeling squeezed when visiting Mickey Mouse. I'm sure many frequent visitors to Disney World are asked by friends and relatives how they can continually afford these vacations. Well, there are ways to considerably cut the cost of your vacation(s) to Disney World. Oh! And don't whisper, because they are not secrets. Anyone can take advantage of these cost-saving discounts. You just need to know where to look and what to do in order to bring them within reach. So, open your eyes and lift your "mouse ears" because we are about to discuss some of the most popular ways to save your hard-earned cash at Walt Disney World.
The Power of an Annual Pass (AP)
So, you've done your research and examined how many trips to Disney World you're making in a 365-day time frame. You've used your abacus and decided an annual pass makes sense for you and your family this year. Annual passes are not cheap, but its price can be drastically mitigated if used properly. Don't forget that an annual pass can do more than just get you through the theme park turnstiles throughout the year. It can save you some big bucks, and if you use it often enough can practically pay for itself over time.

Room Discounts

One of the biggest and most popular cost savings an annual pass can provide is deep discounts on nightly room rates at Disney World hotels. Discounts can range anywhere from 15% to 45% depending on the season, hotel demand, and resort category. Disney can release these discounts at any time so be sure to check the discount page on the DIS often to see when the annual pass discounts are released. It is somewhat rare for Disney to not release any AP discounts. Remember, only one adult in the hotel room needs to have an annual pass in order to take advantage of the room discounts.

Tables in Wonderland (TiW)
Florida residents and annual passholders can purchase a discount dining card called Tables in Wonderland. The card costs $75 for annual passholders and $100 for Florida residents; however, depending on your family's dining habits, you can save much more than the initial investment. The TiW card saves you 20% off your bill (including alcoholic beverages) at most table service restaurants at Walt Disney World. There are a few food courts and counter service locations that accept the card as well. Be sure to always ask if the dining location accepts the discount. The TiW card is accepted for up to 10 guests on one bill. Also, an automatic 18% gratuity is added to your bill whenever you use the discount at table service restaurants. Currently, the TiW card allows you to valet park your car for free at Disney operated resorts that have valet parking service when you are dining at one of the resort table service restaurants. Be sure to show your TiW card and dining receipt when you pick up your car after your meal.

Merchandise Discounts

So, you say shopping for mouse ears is your thing? Well, grab hold of that annual pass again because you are about to save even more with it. That's right, an annual pass can save you 10 to 20 percent on most merchandise items on Disney World property. Merchandise discounts can change from time-to-time, so make sure to keep up to date on the latest discounts. Currently, you can save 10% on merchandise at most WDW merchandise outlets with a basic annual pass and 20% with a premier annual pass. Make sure you remember to show your AP for the discount even on low priced souvenirs. The 10 to 20 percent discount can really add up to big savings.

Other Discounts

The AP discounts mentioned above are the most popular ways to save money at WDW. However, there are other ways to save. AP discounts are accepted for theme park and resort tours. You can also save 50% on a round of golf for up to 4 guests at both Disney World operated miniature golf courses. Just remember to always ask if AP discounts are accepted whenever attending any paid activity at Disney World. Do your research and you might be pleasantly surprised and save even more.
Disney Vacation Club (DVC)
You've read Disney related articles and websites and keep seeing DVC mentioned. You're curious and wonder what it's all about. Well, we won't go into a long description of what it is here, but just know its Disney's version of a timeshare program. Florida visitors can be turned off by the word timeshare, but Disney's timeshare program is unique, and if you are interested in purchasing into their program you can save money on resort stays over the life of your membership.

Keep in mind that Disney raises their nightly resort room rates year after year. More than likely, your resort room costs are the most expensive part of your Disney vacation. Purchasing a DVC interest at a Disney Vacation Club resort will significantly remove the inflation equation from future visits to Walt Disney World and save you money over the long haul.

If you are a member of DVC, there are discounts you can take advantage of at Walt Disney World. The most popular discount is the substantial savings on an annual pass. Because you are a DVC member, and will be visiting Disney World more frequently, DVC puts an annual pass more within reach with this discount. Currently, you can save approximately $100 off a basic adult AP and $125 off an adult premium AP. Be sure to see if an AP makes sense for you or your family with this discount. Other DVC discounts include select dining discounts at table service restaurants across Disney property, theme park and resort tours, and discounts on various hard-ticketed events during Halloween and Christmas. You can even score a discount at certain rental car companies. Like all Disney discounts, they can change without notice, so make sure you ask about DVC discounts before handing over that credit card.

It should be noted that DVC is not for every family. It's a considerable investment. Before jumping in with both feet make sure to do your research, fully understand the program, and make good choices about your family's future vacation trends before deciding if DVC is right for you.
Disney Dining & Food Purchases
The cost of eating at Walt Disney World over the past 10 years has noticeably increased. The cost of some meals can be down-right depressing. So, what is a family to do in order to save some cash on dining during their Disney vacation? Don't worry, because you can trim those costs. You just need to know what to do, where to look, and how to take advantage of certain situations. We could spend all day discussing Disney dining cost savings, but let's talk about the most obvious cost saving measures.

Where, When and What to Eat

Knowing where to get the best value for your money can help stretch your dining dollars. Let's face it, some dining locations at Disney World are much better than others when it comes to food, service, and price. For instance, the cost of the dinner buffet at 'Trails End' at Ft. Wilderness is much cheaper than the buffet dinner at 'Cape May Cafe' inside the Yacht and Beach Club resort. The food quality and service is comparable. Also look at counter service and snack food pricing, as some choices are better than others. Be sure to examine dining prices and food choices before your vacation. It can drastically cut your dining budget.

If you have a large family, buffets tend to be a better option. Eating a larger meal can help postpone hunger until later in the day. This cuts down on the number of meals you need during your vacation.

If you are fortunate enough to have a kitchen in your DVC or resort room, consider cooking and eating inside the room. Sure it's your vacation, and cooking may seem like a distant memory, but if you are looking to save a few bucks this option can go a long way in saving money for other vacation expenses.

Understanding the food pricing structure at Disney World is vital in saving money. Breakfast prices are typically cheaper than lunch prices, and lunch prices are typically cheaper than dinner prices. Consider eating a large breakfast or lunch to avoid the large dinner price increases. You'll find a lot of the food choices between lunch and dinner are the same, but the prices for these same foods are cheaper during lunch hours.

For those guests who have access to a car during their vacation, eating off Disney World property can save you a lot of money. There are many very good dining locations just outside of Disney property. In most cases you will find the food to be better, the prices much more affordable and service to be comparable to Disney World dining locations. Be sure to do your research and find the off-site dining locations that suits your family's tastes and budget.

The Disney Dining Plan (DDP)

Let me start by saying I'm not a fan of the Disney Dining Plan. Not because of the format, but because it just doesn't fit my family's dining habits while at Disney World. In fact, I believe for some families it costs them more money when they use it. So, why mention it here if it could cost you more than it could save? What I'm about to say is merely a warning and something to consider when deciding if the dining plan is right for you.

For some families eating at a table service restaurant each day may not be a typical dining pattern. If you choose a lot of buffet restaurants you may slip into a food coma by your 5th day of the vacation. The question your family needs to ask is - would you eat at a table service location each day if you didn't choose the dining plan? If the answer is no, the dining plan may not be right for you and could drive the price of your vacation higher. Additionally, if you think you may eat a few table service breakfasts where the costs are much lower than a table service dinner. the DDP may cost you more as well. You may want to figure where you've made your advanced dining reservations first before deciding if the dining plan is for you. Some families like the DDP for its convenience. Prepaying for your meals before your vacations starts and not needing to hand over cash or a credit card after your meal may be a plus to some guests. Either way, it's really a personal or lifestyle decision you should make weeks before your vacation starts.

Other Eating and Dining Tips

If you have access to a vehicle consider driving to a local supermarket, superstore or onsite Speedway gas station and pick-up some quick foods and drinks. Having food and drinks in your room when you are taking an afternoon break, or in a hurry to leave for a theme park in the morning, or for a late evening snack is a great way to avoid buying more expensive Disney food and drinks inside the resorts and theme parks.

When dining at counter service locations or some table service locations, consider splitting entrees. The entrees at many counter service locations and table service restaurants can be rather large. You could split the entrée with another adult or child to avoid buying an entree for each member of your party.

Each Disney resort offers a refillable mug you can purchase to refill with soda, coffee and tea during the length of your stay. The cost of the mug is $13.49 plus tax. You will want to consider how many days you are staying at the resort before deciding if purchasing a mug is the right decision.
Other Money Saving Tips
Staying Offsite
You've done some research and found a great deal on a resort room at an offsite resort hotel. It has great amenities, a spacious room and other incentives you can use during your stay. But, the best part of this offsite resort hotel is that it's a fraction of the cost of staying at a Disney resort hotel. The money you save staying offsite can be used for other vacation expenses. For some guests who spend a lot of time at the theme parks and little time back at their resort hotel, staying offsite and paying a fraction of the price maybe the answer to a less expensive Disney vacation. Just remember, when you stay offsite you will lose some Disney theme park benefits like Extra Magic Hours.
Disney's Magical Express (DME)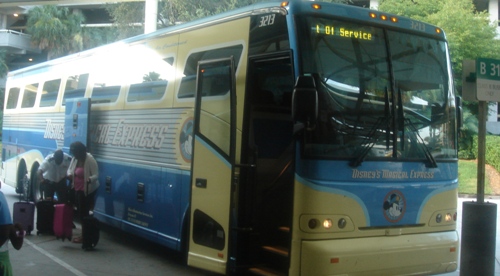 Disney's Magical Express is a free motor coach transportation service provided by Disney which takes you from the Orlando airport to your Disney resort hotel. All you need to do is call Disney reservations and have your party identified as needing this service. There is a rather large disadvantage to this service. If you are using DME, chances are you don't have a vehicle during your stay at Disney World. This means going off property to enjoy offsite restaurants and visiting the grocery store is not possible. You are stuck on Disney property paying the steep dining and food prices. When considering a rental car make sure to factor in the cost savings of dining off property and buying food at the grocery store. It maybe in your family's best interest financially to have a vehicle at your disposal.
Chase Disney Visa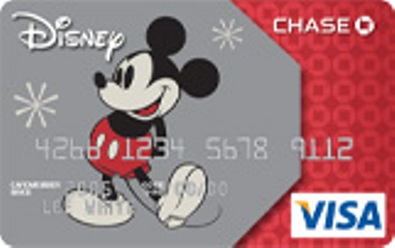 One of the growing trends with credit cards is they can provide you with payback and rewards every time you use them. One such credit card is the Chase Disney Visa card. It gives you 1% back for every purchase you make in Disney reward dollars. You can use this card for day-to-day purchases to really rack-up some Disney reward dollars for an upcoming vacation. Don't be shy. Use this credit card as much as possible to maximize the amount of reward dollars you earn. Just be sure to pay off your credit card account every few weeks to avoid interest charges. Depending on your family's spending habits you could earn over $200 to be used for an upcoming Disney World vacation. Not only can you collect reward dollars, but the Disney Visa card has other perks like a free photo opportunity at EPCOT with Disney characters. You can also receive discounts on Disney resort room rates before the general public. Be sure to check the Chase Disney website and the wdwinfo.com discount page for these money saving opportunities.
Money Saving Conclusions
With how vast Walt Disney world is in size and scope, rest assured there are many other ways to save money during your vacation. Some of the money saving tips and strategies we've discussed are somewhat obvious choices while others are not so easy. They depend heavily on other factors like the size of your family, or your family's eating habits. Sometimes you may make the wrong decision and during your next visit correct it. Experiencing Disney World more than once can help you avoid financial mistakes during future vacations. I often tell friends and family that in most cases, the more you visit Disney World, the more you will save. Having your annual pass and DVC membership makes visiting one of the best vacation destinations in the world a much easier choice.
Please let us know how you and your family saves money during your Walt Disney World vacations in the discussion forum below. We'd love to hear your ideas. Also feel free to visit the Budget Board on disboards.com for several other money-saving ideas at Disney World. After all, the more you know, the more you can save. And who wouldn't want to save a few dollars during their vacation?
Friend Aaron on Facebook. I accept reader friend requests.


---
Daniel
great post, thanks for sharing
davenycity
great blog thank you
june
Tiffany, I'm very happy for your huge savings. But I can't seem to get free dining on top of room discount. Looks to me it's one or the other. I wish they can be stacked! Plus the free dining option only available for selected dates, the longer your stay, the bigger the chance you won't be able to get in on the Free Dining package.
amy saksons
My husband and I have gotten the dinning plan the last 3 times. We eat our cereal in the morning in our hotel room and use the Counter service for lunch, then the Table service for dinner. Because we get the Park Hopper pass we never feel pend in by the reservation aspect. This works well for us, hope this helps someone in the decision making process :)
Joanne
I didn't interpret that this author "hated" the DDP, only that he is pointing out that it may not be the best choice for everyone. I happen to agree with him. My family has been to WDW many times, and we don't get the DDP because it doesn't fit our touring style or our dining habits. I like to leave my touring plans rather loosely structured, and making a dining reservation every night locks me into a particular place every day. If I decide I would rather go to Animal Kingdom rather than Epcot tomorrow, I can do that without having it interfere with dining plans. We also just aren't inclined to eat a big sitdown meal every day, partly because it takes a great deal of time, which we would rather spend in the parks. And we often split a counter service meal, which we find to be plenty of food for two people (plus it leaves more room for snacks!). For the people who do like to eat in the table service restaurants regularly and who spend a great deal of time planning where they will eat, I have no doubt that the DDP is a big plus for them As far as it being a money saver, I can't quibble with Tiffany's math as far as staying in a value resort is concerned. But for people who prefer to stay in moderates or deluxes, the steep discounts often available on those room can sometimes be a greater value than the cost of the DDP. As the author noted, using the DDP is personal decision that should be made well in advance, taking into consideration your party's eating and touring habits, as well as doing all of the appropriate math. The DDP works very well for some but not so well for others, and it's good to have both perspectives so that people can do what's right for them.
janie
Gardengrocer.com delivers to Disneyworld and Universal for reasonable prices. Order online and have it delivered to your resort.
Robert Bucker
The problem I see with the dining plan is all the stupid people making multiple reservations for different places to eat on the same day at slightly different times. This makes the places appear to be full which makes it impossible for other people to get reservations. They should monitor this like "fast passes" and not accept any multiple reservations. Just like anything you get ignorant or inconsiderate people that think the world revolves around them and screw everyone else, but Disney needs to step up to the plate on this one and put a stop to it.
Robert Bucker
The problem I see with the dining plan is all the stupid people making multiple reservations for different places to eat on the same day at slightly different times. This makes the places appear to be full which makes it impossible for other people to get reservations. They should monitor this like "fast passes" and not accept any multiple reservations. Just like anything you get ignorant or inconsiderate people that think the world revolves around them and screw everyone else, but Disney needs to step up to the plate on this one and put a stop to it.
Jeff Barkee
I understand staying and eating off property can save some money. But a Disney World trip is all about Magic for me. And I simply can't stand the thought of leaving WDW property for any reason. (Although I did make a rare, rare exception to visit Harry Potter last month - FORBIDDEN JOURNEY WAS WORTH IT!) That said, I hope I never get to the point where leaving WDW property, even for food or groceries, is acceptable. Once I'm in the World, I'm not leaving!!
Charline
I have to disagree with the comments about the DDP not being worth it. When we told friends we were going to Disney and staying in a Disney resort the first thing they said was "did you get a dining plan?". We had & I was glad we did. When you add up the cost of the meals we ate we certainly would have spent more then what we paid for DDP per person. We found all the meals and snacks we had were of good quality, quantity and variety. We had both quick service and table service meals. Besides you are on vacation who wants to be preparing meals & the clean up!!!Staying on resort also saved us the cost of a car rental and parking fees. The shuttle buses came often and the time on the bus was especially nice to meet other guests and chat about things they experienced.
JP
Another money saving tip- rent a room on property from a DVC owner. See disboards or mouseowners.com
Jennifer P
You can order groceries from wegoshop.com I travel to Disney a lot and stay mostly off property at house rentals. They are much cheaper and allow you to eat in for breakfast and then either lunch if you take a mid-day break or dinner if you retire early. Try romancingthemouse.com or windsorhillsrent.com. While 'free', the Disney transportation is slow and it is hard to get from hotel to hotel for dining purposes. My take on the dining plan- map out how much your meals will cost. If you have to use two meals or go to breakfast on a meal, its not worth it. The best value is to eat your snack for breakfast (muffin, bagel), counter service for lunch and table service for dinner (not signature).
Pat
When going to the World, search their website for Packages, also if you are a Chase "Disney" Card holder, AAA member they can save you money. I think it's better to stay on Property. You won;t pay the $12 a day parking, you have the Extra Magic Hours, Hotels that range from inexpensive to expensive, plus you can make reservations at a DVC resort even if not a member and then you can cook meals there to save money. You will not need a rent a car if staying on property(U save $$) Dining Plan is good if you use it wisely, (although soon it will be going up to $46pp, and my favorite place to eat will be requiring 2 table service)..check out there menus and see where and what you want to eat before you go. Buy tickets in days, not 1 day at a time,...there are plenty of ways to save if you really want to get to the World,,,
patricia wagner
what is the site for the online grocer for disneyworld that delivers groceries
mary
When I heard that ticket prices were going up, I ordered a 10 day NON-EXPIRING park hopper pass. I won't use all of the days this trip, but I'll have some left over for next time and save $$$$. An annual pass is much more expensive and wouldn't work for me since I don't live nearby.
Melanie
Had to comment to the last post. It is much cheaper to purchase multiple day tickets versus a one day ticket. So instead of buying a ticket one at a time, you should bank that money until you are ready to buy all of the days you need. If you put the amount for a one day ticket in the bank each time instead of buying, you will have 'extra' money to use in the parks on food or souveneirs.
Tiffany Singleton
Why all the hate for the Disney Dining Plan from Disboard Moderators and this author? For our family the Disney Dining Plan is the best thing WDW has come up with since Fastpass! The Basic plan saves us about $200.00 over paying out-of-pocket, not to mention the great convenience of having everything paid for in advance. If your family doesn't want the one table service meal per day, then there's the quick service option, which I will admit isn't a huge money saver, but it's still a great for convenience having everything paid for ahead of time. We probably know at least 100 family and friends that have used the basic DDP at WDW and I've NEVER heard a bad review or anyone say they wouldn't do the DDP again. Also, there was no mention that the refillable resort mugs are included in two of the diing plans and no mention of the free dining discount in this article. For thousands and thousands of WDW guests there is no greater discount than free dining, which for the last 2 years has had discounts available for most weeks, August - December. We are a family of 6 who usually gets two connecting rooms at a value resort for 8 nights. A 40% room discount saves us about $630.00, a 7 for 3 deals saves us about $750.00 and a free dining disount saves us about $1,200.00. Overall it's a good, well written article, I just think if you're going to talk about saving money at WDW, the DDP needs to be represented fairly, as it is a huge money saver for a lot of WDW patrons.
janie
You can stay at the resort without a car and still get groceries. There is an online grocer who delivers to disneyworld for only $12. They have everything.
Karen Thistleton
We visit WDW alternate years from the UK in the fall for 2wks+, so far we have stayed off resort thinking we were saving money, but we worked out last year that actually if we stayed on resort and took the free DDP, used the free transport (also avoiding car park charges) and just took a rental car for a couple of days to get to Busch Gardens etc we could have saved a lot of money. Us Brits are non too keen on 'snack' foods so we did normally eat at a buffet restaurant each day for a large late lunch then just ate fruit etc in the evenings.
Becky Tyrrell
For those who bank with Chase they also have a Disney Visa Debit card where you get 1 disney dollar for every 200 non-pin dollars spent. It costs $25 per year to have it.
Michelle Woodruff
My family visits WDW every year (maybe twice a year). We are members of DVC, but also use other "deals" and strategies to pay for our Disney vacations. We have been known to purchase one Disney Park ticket with no expiration option at a time. We will do this until we have the total number of tickets we require. We have also utilized the fall deals with value resort rooms and free dining.
---