Disneyland Theme Parks
Walt Disney's dream comes to life as you explore the theme park that began it all, Disneyland Park. At Disney California Adventure, experience all of the wonder and excitement that the Golden State has to offer.
Disneyland Theme Park Guides
Disneyland Park Maps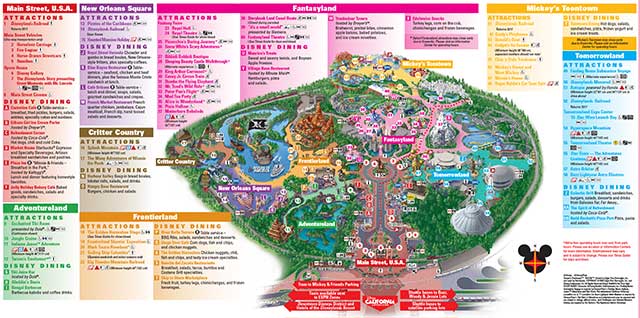 Disneyland Theme Park Information:
The Original Magic Kingdom
Disneyland Park has attracted millions of visitors since it first opened its doors over 60 years ago. When you enter Disneyland, the cares and worries of the day are left behind. Once you enter Disneyland Park, you're transported to a fantasy world where elephants can fly and pirates serenade.
Disneyland Park in Anaheim is most certainly a land of enchantment where children and the young at heart find that dreams really do come true. Disneyland Park is a seamless blend of yesterday, today and tomorrow. Smiling train conductors, marching bands and the clip-clop of horse drawn carriages bring you back to carefree days. You can also rocket through the galaxy, meet a mermaid or trek through the jungle. Laughter is always in the air, with friendly smiles all around. The secret to Disneyland is its ability to change, yet remain the same. As Walt Disney said "Disneyland will never be completed. It will continue to grow as long as there is imagination left in the world."


Combine the magic of Disney with the best that California has to offer and the result is Disney California Adventure, a theme park that celebrates the Golden State in style. Once you enter the gates of Disney California Adventure, you are transported to the land of promise, opportunity and glamour. Disney California Adventure is a journey from the California of yesterday to today.
Disney California Adventure is a tribute to this land of dreams. Its larger than life images and icons seem to be plucked from a Hollywood blockbuster. From Grizzly Peak (an icon at Disney California Adventure) to a white knuckled roller coaster, the sights and sounds are inspired by the rich history of this majestic state.
Guests of Disney California Adventure can 'soar' around the world, bob along white water rapids, meet their favorite super heroes or simply savor a glass of wine from the Napa Valley. Whether you prefer "action, comedy or romance," Disney California Adventure has something for everyone. When the "Entertainment Capital of the World" gets a touch of Disney, you know that Disney California Adventure will be an unforgettable experience.