Royal Pacific Resort Universal Orlando
6300 Hollywood Way
Orlando, FL 32819
Check In: 4 pm
Check Out: 11 am
Price Range: $209 - $1950
DIS Rating: 3 out of 4 stars
---
Royal Pacific Resort - Rooms
Rooms at the Royal Pacific tend to be a bit smaller than at Universal's two other properties (standard/water view and premium rooms are 335 sq. ft) , but we find them to be comfortable, well decorated, and well appointed.

Among the in-room amenities:
In Room safe
Coffee maker and coffee
Free Wireless internet access
Honor Bar
Iron/Ironing board
Hair dryer and make up mirror
Split bathroom design (vanity/sink area outside of bathroom)
Bloom personal care products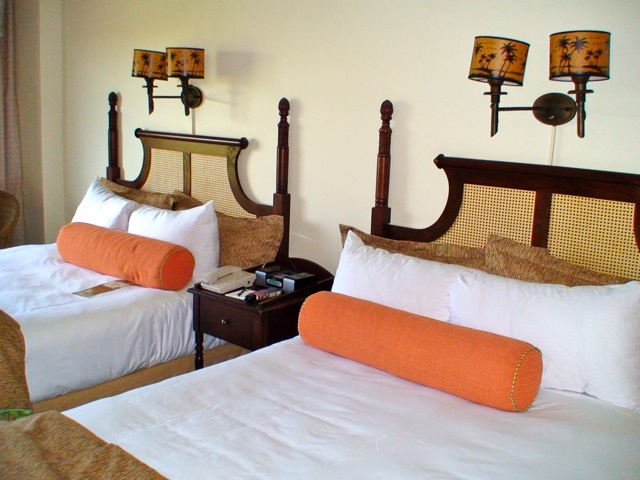 Room Types
Standard Rooms- $209 - $319 p/night - 335 sq. ft. With king bed or double queen bed
Water View Rooms- $239 - $349 p/night - 335 sq. ft. Overlook the Lagoon Pool and Beach area.
Club Level Room- $299 - $429 p/night - 335 sq. ft. Located on the 7th Floor, the Club Level is the Concierge level of the resort. Access to a private lounge with continental breakfast, and complimentary beer, wine and snacks in the afternoon. Complimentary access to the fitness center is also included, as well as nightly turndown service, bathrobes and daily newspaper delivery.
King Suite- $339 - $459 p/night - 670 sq. ft. A large, one bedroom suite with a comfortable living room, two TVs, two sitting areas and generous closet space.
Royal and Presidential Suite- $1500 - $1950 p/night - 1340 sq. ft.- Suite features a large dining area, entertainment area, separate study and two bathrooms.
TIPS FOR BOOKING YOUR ROOM:
Excellent deals are available with AAA memberships, and for Universal Annual Passholders. There are also good rates available during the year for Florida residents. Details on getting discounts on these rooms can be found on our
DISCOUNTS
page. It is also strongly recommended that you sign up for a free Loews First card. This provides tons of extra amenities and room upgrades at check-in (if available). It is not uncommon to be able to secure an annual pass discount on rooms (including club level) during certain non peak periods, and the savings on the AP rate for rooms can often justify the purchase of an annual pass. Premium annual passholders are extended a courtesy upgrade (when available), or upgrade to a suite for $50 per night more (when available). These upgrades CAN NOT be secured in advance, and must be requested at check in. As always, upgrades are subject to availability. (Note: availability does not necessarily mean that a room is available -the hotels have their own system of determining how many upgrade rooms are available on any given night).
Club Level Rooms
Club level rooms are located on the 7th floor, and offer access to the 2000 sq. ft. Royal Club Lounge. The lounge is open from 6:30AM-10PM daily, and serves a continental breakfast each morning from 6:30am - 10am, and hot and cold hors d'oeuvres from 5pm-7pm. Complimentary beer and wine is also served in the evening, along with $5 mixed drinks. Dessert is served from 8pm-9:30pm. Club level rooms are the same size as all other rooms (except suites), but include some additional amenities (cordless phone, cotton robes, turndown service and complimentary access to the fitness center).
As is the case with the other Universal resorts, the cost of club level access ranges from an additional $100 - $120 per night. You're paying for the convenience of concierge, rather than the actual amenities you receive. We found the service at all three concierge lounges (Portofino Bay, Hard Rock and Royal Pacific) to be above average when compared with other lounges in Orlando.
See All
DIS UNIVERSAL UPDATES
HOTEL DISCOUNTS