Liberty Inn
Liberty Inn Information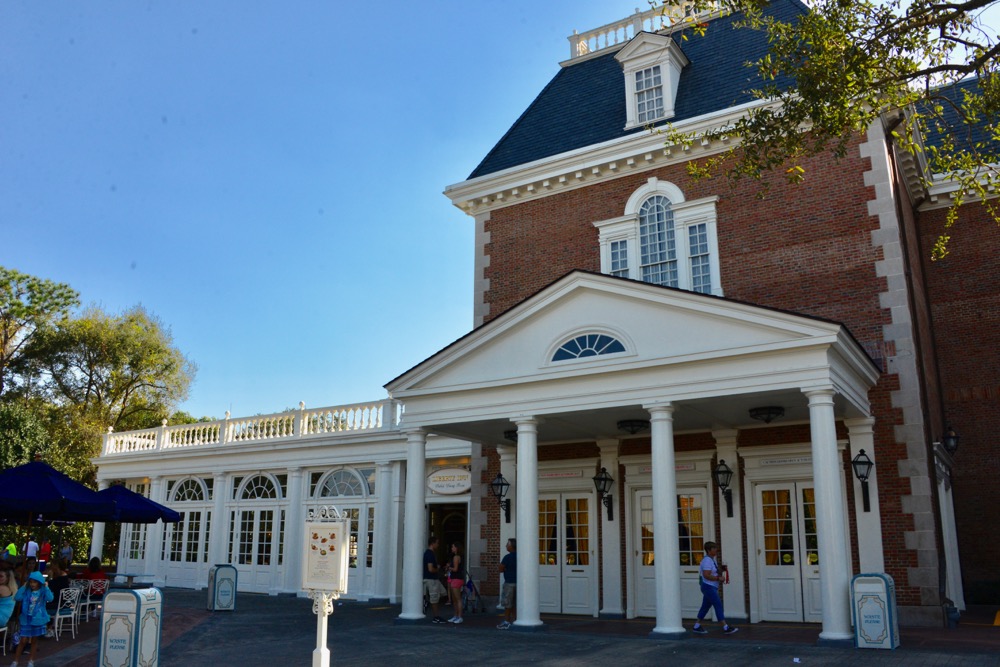 If you're looking for a counter service restaurant with lots of indoor seating, the
Liberty Inn
located at the America Pavilion is the place to head to. Spacious and bright, with an indoor fountain, it's a welcome respite on a hot day. There's also a outdoor dining terrace.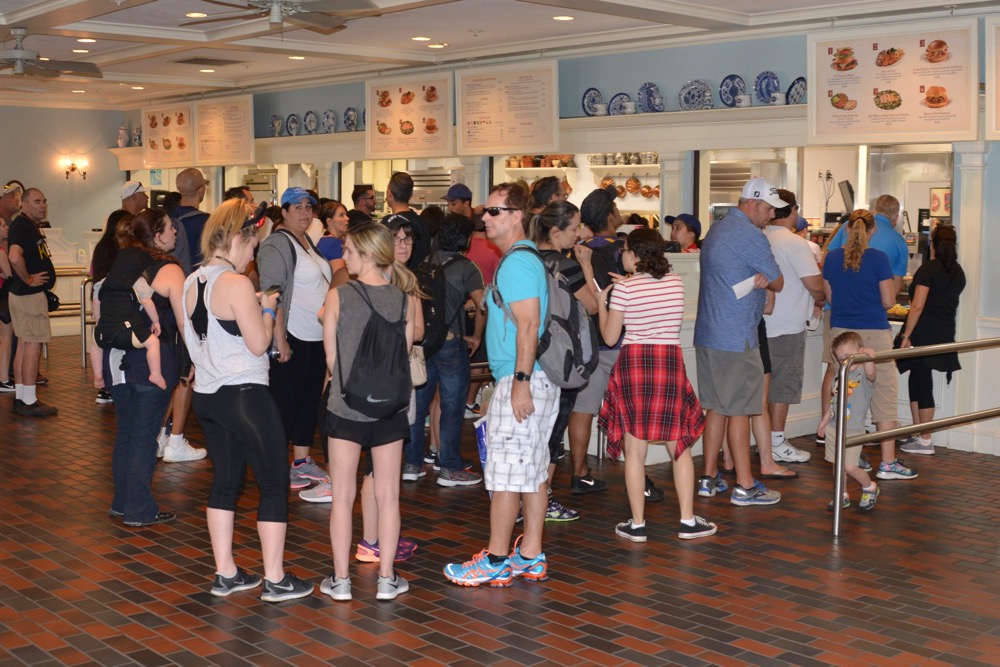 NOTE: All menu items/prices are subject to change
The asterisk (*) indicates that this meal is a buffet or that it's served family-style at your table. The price reflected is the total cost of the all-you-care-to-enjoy meal. Please note that the pricing on buffet meals will vary slightly based on the time of year (peak season versus regular season), and day of the week (weekday versus weekend) that you visit. Listed below, you'll find the general price ranges for the meals, but if you need exact figures, you may call Disney Dining at (407) WDW-DINE and they will give you an exact quote based on the date of your reservation.

Menu is subject to change.


All-American Burger - 7 oz. Angus Burger with Vermont Sharp Cheddar, Smoked Bacon, Lettuce, Tomato, Pickle on a Brioche Bun with choice of Apple Slices or French Fries. - $14.49
Barbecue Pork Sandwich - Barbecue Pulled Pork topped with Crispy Onions served on a Kaiser Roll with Apple Slices and French Fries - $11.49
Chicken Breast Nuggets - 8 Pieces - with Apple Slices or French Fries - $9.49
Classic Cheeseburger - 7 oz. Angus Burger with Two Slices of American on a Brioche Bun with choice of Apple Slices or French Fries - $12.99
Classic Cheeseburger - 7 oz. Angus Burger with Two Slices of American on a Brioche Bun with choice of Apple Slices or French Fries - $12.99
Freshly Grilled Vegetarian "Chick'n" Breast - with Guacamole, Chipotle Corn Salsa, Lettuce and Tomato - $8.29
Grilled Buffalo Chicken Sandwich with Bacon - Grilled Chicken Breast topped with Buffalo Blue Cheese Sauce, Bacon, and Carrot Apple Coleslaw on a Brioche Bun with Apple Slices and French Fries - $11.49
Hot Dog - with Baked Beans, Bacon, and Fried Onions, with Apple Slices or French Fries - $9.99
Kids' Mickey Check Meal - Grilled Chicken - served with Broccoli, Brown Rice and choice of small Lowfat Milk or small Dasani® Water. Meets Disney Nutrition Guidelines for Complete Meals without substitutions - $5.99
Kids' Mickey Check Meal - Grilled Chicken - served with Broccoli, Brown Rice and choice of small Lowfat Milk or small Dasani® Water. Meets Disney Nutrition Guidelines for Complete Meals without substitutions - $5.99
Kids' Mickey Check Meal - Grilled Chicken - served with Broccoli, Brown Rice and choice of small Lowfat Milk or small Dasani® Water. Meets Disney Nutrition Guidelines for Complete Meals without substitutions - $5.99
Kids' Mickey Check Meal - Grilled Chicken - served with Broccoli, Brown Rice and choice of small Lowfat Milk or small Dasani® Water. Meets Disney Nutrition Guidelines for Complete Meals without substitutions - $5.99
Kids' Mickey Check Meal - Grilled Chicken - served with Broccoli, Brown Rice and choice of small Lowfat Milk or small Dasani® Water. Meets Disney Nutrition Guidelines for Complete Meals without substitutions - $5.99
Kids' Mickey Check Meal - Grilled Chicken - served with Broccoli, Brown Rice and choice of small Lowfat Milk or small Dasani® Water. Meets Disney Nutrition Guidelines for Complete Meals without substitutions - $5.99
Kids' Mickey Check Meal - Grilled Chicken - served with Broccoli, Brown Rice and choice of small Lowfat Milk or small Dasani® Water. Meets Disney Nutrition Guidelines for Complete Meals without substitutions - $5.99
Red, White, and Blue Salad with Chicken - Field Greens, Grilled Chicken, Dried Cranberries, Pecans, Apples, Blue Cheese and Sherry Vinaigrette - $10.49
Southwest Chicken Salad - Hand-tossed with Grilled Chicken, Black Bean Salsa and Chipotle Ranch Dressing - $10.49
Surf and Turf - Grilled 6oz New York Strip Steak and Fried Shrimp served with a Demi Butter Sauce, French Fries, and Steamed Broccoli - $14.99

Mixed Fruit Cup - - $3.79
Mixed Fruit Cup - - $3.79
Rocky Road Mousse Brownie - - $4.19
Warm Peach Cobbler - Inspired by Mrs. Fisher's Cookbook of the Kinsey collection - $4.29

Assorted Fountain Beverages - Large - - $3.69
Assorted Fountain Beverages - Regular - - $3.29
Bud Light - - $7.00
Coffee - regular or decaf - $2.49
Dasani® Bottled Water - - $3.00
Frozen Coca-Cola® Slushy - - $3.99
Frozen Coke - with a float of Buffalo Trace Whiskey - $10.50
Frozen Fanta® Cherry Slushy - - $3.99
Hot Tea - - $2.49
Milk - - $3.29
Nestlé® Hot Cocoa - - $2.49
Nestlé® Nesquik® Chocolate Milk - - $3.29
Yuengling - - $7.75

---
Liberty Inn
Child's Menu

Cheeseburger - served with Dannon® Danimals® Smoothie, Apple slices and choice of small Lowfat Milk or small Dasani® Water - $6.49
Chicken Breast Nuggets - served with Dannon® Danimals® Smoothie, Apple slices and choice of small Lowfat Milk or small Dasani® Water - $6.49
Fried Shrimp Plate - served with Dannon® Danimals® Smoothie, Apple slices and choice of small Lowfat Milk or small Dasani® Water - $5.99
Hot Dog - served with Dannon® Danimals® Smoothie, Apple slices and choice of small Lowfat Milk or small Dasani® Water - $5.99
Kids' Mickey Check Meal - Grilled Chicken - served with Broccoli, Brown Rice and choice of small Lowfat Milk or small Dasani® Water. Meets Disney Nutrition Guidelines for Complete Meals without substitutions - $5.99
Kids' Mickey Check Meal - Pasta with Marinara - served with Dannon® Danimals® Smoothie, Apple slices and choice of small Lowfat Milk or small Dasani® Water. Meets Disney Nutrition Guidelines for Complete Meals without substitutions - $5.99
Macaroni & Cheese - served with Dannon® Danimals® Smoothie, Apple slices and choice of small Lowfat Milk or small Dasani® Water - $5.99

---