Sanaa
Sanaa Information
Sanaa Reviews
(Avg Rating: 8.7)

The art of African Cooking with Indian Flavors. Overlooking the Sunset Savannah at Kidani Village.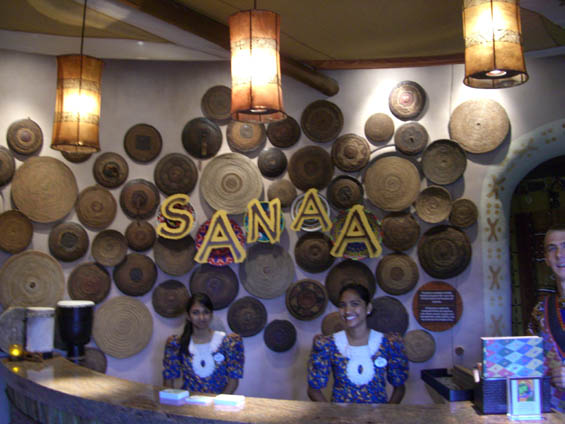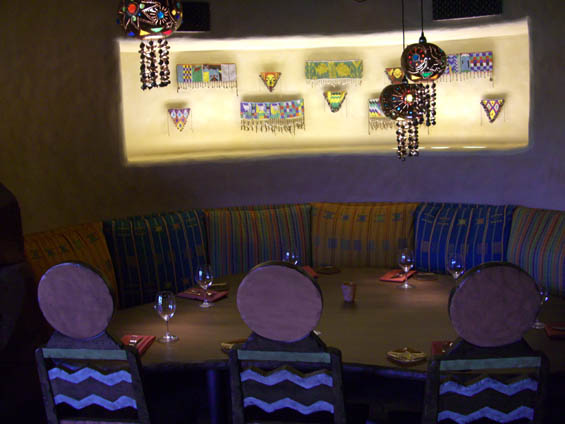 NOTE: All menu items/prices are subject to change
If you have menu discrepancies or corrections, please let us know
---
NOTE: * Indicates buffet item and cost represents total cost of buffet.
Menu is subject to change.


Appetizers/Starter
Appetizers Sampler for Two - Potato and Pea Samosas, Lamb Kefta Sliders, and a choice of Chana Tikki or Seasonal Soup - $15.99
Chana Tikki - Spiced Chickpea Cakes with Tomato Chutney - $6.99
Indian-style Bread Service - Choice of Three Breads - Traditional Naan, Garlic- Ginger Naan, Spiced Naan, Onion Kucha, or Pappadum. Choice of Three Accompaniments - Red Chile Sambal, Cucumber Raita, Coriander Chutney, Mango Chutney, Coconut Chutney, Garlic Pickle, Spicy Jalapeño-Lime Pickle, Roasted Red Bell Pepper Hummus, or Tamarind Chutney - $9.99
Lamb Kefta Sliders - Goat Cheese, Piquante Peppers, and Pickled Shallots - $8.99
Potato and Pea Samosas - with choice of Tamarind or Mango Chutney - $8.49

Soups/Salads
Salad Sampler - Choice of Three Salads: Chickpeas with Cucumber and Tomato; Watermelon, Cucumber and Fennel; Kachumbari; Mango; or Bhel Puri - $7.49
Seasonal Soup - with Chef's Accompaniments - $6.49
Tomato Soup - with Paneer Cheese - $6.49

Entree/Main Course
Chicken Chaat and Bhatura - with Chef's Accompaniments - $11.99
Grilled Lamb Kefta - Tamarind and Cucumber Raita served on Naan Bun with Roasted Potatoes and Pickle Spear - $13.99
Roasted Turkey Sandwich - served on Ciabatta with Avocado, Smoked Bacon, Pickled Red Onion, Lemon Mayonnaise, and choice of Chickpea Salad or Fruit - $13.99
Sanaa Burger - Spiced Mustard, Goat Cheese, Pickled Shallots, and Piquante Peppers served on Naan Bun with Roasted Potatoes and Pickle Spear - $13.99
Sanaa Vegetarian Sampler - Choice of Two - Seasonal Greens and Tomatoes, Lentil Dhal, Paneer Tikka, Seasonal Vegetable Wat, or Chana Masala served with Basmati Rice or Five- Grain Pilaf - $16.99
Slow-cooked in Gravy, Simple and Well-seasoned - Choice of Two served with Basmati Rice or Five- Grain Pilaf - Butter Chicken, Goan Seafood Curry, Chicken Vindaloo, Spicy Durban Shrimp, or Beef Short Ribs - $22.99
Tandoori Chicken Sandwich - served Open-faced on Naan Bread with Minted Greens, Tomato, Onion, and Cucumber Riata - $15.99
Tandoori Shrimp Sandwich - served Open-faced on Naan Bread with Minted Greens, Tomato, Onion, and Cucumber Riata - $15.99
Today's Sustainable Fish - Lunch - served with Seasonal Vegetables and a mild Curry (Market Price)

Dessert
Banana Cheesecake - Pistachio and Chocolate Sauce - $5.49
Dessert Trio - Tanzanian Chocolate Mousse, Coconut Cheesecake, and Chai Cream - $6.99
Ginger Cake - Citrus Curd and Spiced Pineapple Sauce - $5.49
Seasonal Kulfi - with Chef's choice of accompaniments - $5.49
Tanzanian Chocolate Mousse - Kenya Coffee and Caramel - $5.99
Tapioca Pudding - Chai-spiced Berries - $6.49

Drinks
African Starr Mojito - Starr African Rum, Van der Hum Tangerine Liqueur from South Africa, fresh Mint, and Lime - $9.75
All-Natural Lemonade - topped with a Wildberry Foam - $4.19
Assorted Coca-Cola® Beverages - Assorted Coca-Cola® Beverages - $2.99
Bud Light Draft - Bud Light Draft - $6.00
Chocolate Martini - Godiva Chocolate Liqueur, Stoli Vanil Vodka, White Crème de Cacao, and Frangelico - $9.75
Freshly Brewed Joffrey's Coffee® - Freshly Brewed Joffrey's Coffee® - $2.79
Godiva Liqueur Flight - Three half-ounce pours of Godiva Liqueur: Chocolate, White Chocolate, and Caramel topped with Godiva Liqueur-infused Strawberries - $9.50
Hot Tea - Hot Tea - $2.79
Jameson Irish Coffee - Jameson Irish Whiskey and Hot Coffee with a dollop of Whipped Cream - $8.75
Kande Coconut Cooler - A refreshing combination of Starr African Rum, Coconut, Vanilla Ice Cream, and Orange Juice - $8.50
Kingfisher Premium Lager - India - Kingfisher Premium Lager - India - $7.50
Kona Longboard Island Lager - Kona Longboard Island Lager - $6.75
Loose Leaf Tea Offerings (17-oz Pot) - Organic Assam, Golden Assam, Herbal Spice Chai, Mosala Black Tea Chai, White Tip Darjeeling, Thunderbolt Darjeeling, Organic Rooibos, Earl Grey Rooibos, Mango Rooibos, Pina Colada Rooibox, Vanilla Rooibos, and Hazelnut Rooibos - $6.29
Magical Star Cocktail - X-Fusion Organic Mango and Passion Fruit Liqueur, Parrot Bay Coconut Rum, Pineapple Juice, and a souvenir Multicolored Glow Cube - $10.75
Malawi Mango Margarita - A frozen blend of Tequila, Van der Hum Tangerine Liqueur, Mango Purée, and Freshly Squeezed Lime Juice - $9.75
Mango Lassi Smoothie - A traditional frozen blend of Mango Purée with Nonfat Yogurt - $4.99
Mega-Berry Smoothie - Raspberry Purée and Nonfat Yogurt blended with Odwalla Berries GoMega (an excellent source of Omega-3). - $4.99
Painted Lemur - Amarula Fruit Cream Liqueur and Van der Hum Tangerine Liqueur from South Africa combined in a Chocolate-striped glass inspired by the distinctive striped tail of the Madagascar Lemur - $8.75
Press Pot Coffee (Kenya AA) - Press Pot Coffee (Kenya AA) - $6.79
Safari Amber - Safari Amber - $6.75
Samuel Adams Seasonal - Unique, seasonally inspired limited-production brews that change four times per year - $6.75
Tinker Bell and Friends or Buzz Lightyear Punch - Minute Maid® Light Lemonade Punch served in a souvenir Fairies or Toy Story 3 Cup with a glowing Tinker Bell or Buzz Lightyear Clip-on Light - $6.99
Tusker Premium Lager - Kenya - Tusker Premium Lager - Kenya - $7.50

---
Appetizers/Starter
Appetizers Sampler for Two - Potato and Pea Samosas, Lamb Kefta Sliders, and a choice of Chana Tikki or Seasonal Soup - $15.99
Chana Tikki - Spiced Chickpea Cakes with Tomato Chutney - $6.99
Goan-style Crab Cakes - with Tamarind Yogurt - $12.49
Indian-style Bread Service - Choice of Three Breads - Traditional Naan, Garlic- Ginger Naan, Spiced Naan, Onion Kucha, or Pappadum. Choice of Three Accompaniments - Red Chile Sambal, Cucumber Raita, Coriander Chutney, Mango Chutney, Coconut Chutney, Garlic Pickle, Spicy Jalapeño-Lime Pickle, Roasted Red Bell Pepper Hummus, or Tamarind Chutney - $9.99
Lamb Kefta Sliders - Goat Cheese, Piquante Peppers, and Pickled Shallots - $8.99
Peri Peri Shrimp - Cucumber, Apple, and Cilantro - $11.99
Potato and Pea Samosas - with choice of Tamarind or Mango Chutney - $8.49

Soups/Salads
Salad Sampler - Choice of Three Salads: Chickpeas with Cucumber and Tomato; Watermelon, Cucumber and Fennel; Kachumbari; Mango; or Bhel Puri - $7.49
Seasonal Soup - with Chef's Accompaniments - $6.49
Tomato Soup - with Paneer Cheese - $6.49

Entree/Main Course
Grilled New York Strip - Indian-style Roasted Potatoes, Seasonal Vegetables, and Tomato-date Chutney - $29.99
Lamb Shank - Berbere Braised Lamb Shank, Sweet Potato, Tandoor-roasted Vegetables - $24.99
Sanaa Vegetarian Sampler - Choice of Two - Seasonal Greens and Tomatoes, Lentil Dhal, Paneer Tikka, Seasonal Vegetable Wat, or Chana Masala served with Basmati Rice or Five- Grain Pilaf - $16.99
Slow-cooked in Gravy, Simple and Well-seasoned - Dinner - Choice of Two - Butter Chicken, Spicy Durban Shrimp, Chicken Vindaloo, Goan Seafood Curry, or Beef Short Ribs served with Basmati Rice or Five- Grain Pilaf - $22.99
Tandoori Chicken - served with Seasonal Slaw and Coriander Khichdi - $19.99
Tandoori Lamb - served with Seasonal Slaw and Coriander Khichdi - $19.99
Tandoori Shrimp - served with Seasonal Slaw and Coriander Khichdi - $21.99
Today's Sustainable Fish - Dinner - Pan-seared Fish with Seasonal Accompaniments

Dessert
Banana Cheesecake - Pistachio and Chocolate Sauce - $5.49
Dessert Trio - Tanzanian Chocolate Mousse, Coconut Cheesecake, and Chai Cream - $6.99
Ginger Cake - Citrus Curd and Spiced Pineapple Sauce - $5.49
Seasonal Kulfi - with Chef's choice of accompaniments - $5.49
Tanzanian Chocolate Mousse - Kenya Coffee and Caramel - $5.99
Tapioca Pudding - Chai-spiced Berries - $6.49

Drinks
African Starr Mojito - Starr African Rum, Van der Hum Tangerine Liqueur from South Africa, fresh Mint, and Lime - $9.75
All-Natural Lemonade - topped with a Wildberry Foam - $4.19
Assorted Coca-Cola® Beverages - Assorted Coca-Cola® Beverages - $2.99
Bud Light Draft - Bud Light Draft - $6.00
Chocolate Martini - Godiva Chocolate Liqueur, Stoli Vanil Vodka, White Crème de Cacao, and Frangelico - $9.75
Freshly Brewed Joffrey's Coffee® - Freshly Brewed Joffrey's Coffee® - $2.79
Godiva Liqueur Flight - Three half-ounce pours of Godiva Liqueur: Chocolate, White Chocolate, and Caramel topped with Godiva Liqueur-infused Strawberries - $9.50
Hot Tea - Hot Tea - $2.79
Jameson Irish Coffee - Jameson Irish Whiskey and Hot Coffee with a dollop of Whipped Cream - $8.75
Kande Coconut Cooler - A refreshing combination of Starr African Rum, Coconut, Vanilla Ice Cream, and Orange Juice - $8.50
Kingfisher Premium Lager - India - Kingfisher Premium Lager - India - $7.50
Kona Longboard Island Lager - Kona Longboard Island Lager - $6.75
Loose Leaf Tea Offerings (17-oz Pot) - Organic Assam, Golden Assam, Herbal Spice Chai, Mosala Black Tea Chai, White Tip Darjeeling, Thunderbolt Darjeeling, Organic Rooibos, Earl Grey Rooibos, Mango Rooibos, Pina Colada Rooibox, Vanilla Rooibos, and Hazelnut Rooibos - $6.29
Magical Star Cocktail - X-Fusion Organic Mango and Passion Fruit Liqueur, Parrot Bay Coconut Rum, Pineapple Juice, and a souvenir Multicolored Glow Cube - $10.75
Malawi Mango Margarita - A frozen blend of Tequila, Van der Hum Tangerine Liqueur, Mango Purée, and Freshly Squeezed Lime Juice - $9.75
Mango Lassi Smoothie - A traditional frozen blend of Mango Purée with Nonfat Yogurt - $4.99
Mega-Berry Smoothie - Raspberry Purée and Nonfat Yogurt blended with Odwalla Berries GoMega (an excellent source of Omega-3). - $4.99
Painted Lemur - Amarula Fruit Cream Liqueur and Van der Hum Tangerine Liqueur from South Africa combined in a Chocolate-striped glass inspired by the distinctive striped tail of the Madagascar Lemur - $8.75
Press Pot Coffee (Kenya AA) - Press Pot Coffee (Kenya AA) - $6.79
Safari Amber - Safari Amber - $6.75
Samuel Adams Seasonal - Unique, seasonally inspired limited-production brews that change four times per year - $6.75
Tinker Bell and Friends or Buzz Lightyear Punch - Minute Maid® Light Lemonade Punch served in a souvenir Fairies or Toy Story 3 Cup with a glowing Tinker Bell or Buzz Lightyear Clip-on Light - $6.99
Tusker Premium Lager - Kenya - Tusker Premium Lager - Kenya - $7.50

---
Sanaa
Child's Menu

Appetizers/Starter
Kids' Appetizers - Mixed fruit, romaine lettuce salad ( with ranch dressing), tomato soup, or celery and carrot sticks - $2.39

Entree/Main Course
Cheese Pizza - Naan Bread Crust, Tomato Sauce, and Cheese with choice of one (1) Beverage and one (1) Dessert - $8.99
Cheeseburger - Beef Burger, American Cheese, Roasted Potatoes, and Seasonal Vegetables served with choice of one (1) Beverage and one (1) Dessert - $8.99
Fish of the Day - Fish of the Day served with Pearl Pasta, Seasonal Vegetables, and Sliced Apples. Choice of Small Lowfat Milk or Small Dasani® Water. Meets Disney Nutritioin Guidelines for Complete Meals without substitutions - $8.99
Grilled Chicken Breast - Grilled Chicken Breast with Basmati Rice, Seasonal Vegetables, and Sliced Apples. Choice of Small Lowfat Milk or Small Dasani® Water. Meets Disney Nutritioin Guidelines for Complete Meals without substitutions - $8.99
Meatballs - Turkey Meatballs, Coconut Cream-Mashed Potatoes, Seasonal Vegetables, and Sweet Tomato Sauce with choice of one (1) Beverage and one (1) Dessert - $8.99
Shrimp - Shrimp with Quinoa Pilaf, Seasonal Vegetables, and Sliced Apples. Choice of Small Lowfat Milk or Small Dasani® Water. Meets Disney Nutrition Guidelines for Complete Meals without substitution - $8.99

Side Dish
Kids' Sides - cheddar macaroni and cheese, seasonal vegetables, roasted white and sweet potatoes, or fresh fruit - $2.39

Dessert
Kids' Desserts - Vanilla Ice Cream // Savanna S'mores (Layers of Chocolate Pudding, Marshmallow Fluff, and Toasted Graham Crackers) // "Cookies and Milk" (Decorate-Your-Own Sugar Cookie, Strawberry Lassi) // Peanut Butter Turtle (Eggless Peanut Butter Mousse and Banana Cake) // Seasonal Fruit Kulfi

Drinks
Kids' Beverages - Small Lowfat Milk, Small Dasani® Water, Small Minute Maid® Apple Juice

---
Appetizers/Starter
Kids' Appetizers - Mixed fruit, romaine lettuce salad ( with ranch dressing), tomato soup, or celery and carrot sticks - $2.39

Entree/Main Course
Cheese Pizza - Naan Bread Crust, Tomato Sauce, and Cheese with choice of one (1) Beverage and one (1) Dessert - $8.99
Cheeseburger - Beef Burger, American Cheese, Roasted Potatoes, and Seasonal Vegetables served with choice of one (1) Beverage and one (1) Dessert - $8.99
Fish of the Day - Fish of the Day served with Pearl Pasta, Seasonal Vegetables, and Sliced Apples. Choice of Small Lowfat Milk or Small Dasani® Water. Meets Disney Nutritioin Guidelines for Complete Meals without substitutions - $8.99
Grilled Chicken Breast - Grilled Chicken Breast with Basmati Rice, Seasonal Vegetables, and Sliced Apples. Choice of Small Lowfat Milk or Small Dasani® Water. Meets Disney Nutritioin Guidelines for Complete Meals without substitutions - $8.99
Meatballs - Turkey Meatballs, Coconut Cream-Mashed Potatoes, Seasonal Vegetables, and Sweet Tomato Sauce with choice of one (1) Beverage and one (1) Dessert - $8.99
Shrimp - Shrimp with Quinoa Pilaf, Seasonal Vegetables, and Sliced Apples. Choice of Small Lowfat Milk or Small Dasani® Water. Meets Disney Nutrition Guidelines for Complete Meals without substitution - $8.99

Side Dish
Kids' Sides - cheddar macaroni and cheese, seasonal vegetables, roasted white and sweet potatoes, or fresh fruit - $2.39

Dessert
Kids' Desserts - Vanilla Ice Cream // Savanna S'mores (Layers of Chocolate Pudding, Marshmallow Fluff, and Toasted Graham Crackers) // "Cookies and Milk" (Decorate-Your-Own Sugar Cookie, Strawberry Lassi) // Peanut Butter Turtle (Eggless Peanut Butter Mousse and Banana Cake) // Seasonal Fruit Kulfi

Drinks
Kids' Beverages - Small Lowfat Milk, Small Dasani® Water, Small Minute Maid® Apple Juice

---