Pollo Campero/Bodie's All American
Pollo Campero/Bodie's All American Information

This location closed 3/19/14. Babycakes NYC will still be providing gluten-free items to select Walt Disney World food courts and restaurants.
Pollo Campero is known for its Latin chicken, which is prepared fresh every day. The chicken is marinated to lock in the Campero flavor. Fried chicken is hand-breaded in seasoned flour and slowly pressure-cooked without trans-fats, resulting in a flavorful and juicy meal. Grilled chicken features the taste of lime and orange juices, red bell peppers, and a special blend of Latin herbs and spices. The Dallas-based restaurant offers a new fresh concept, featuring nutritious salads, sandwiches and wraps. Traditional Latin dishes, such as fried plantains and yuca fries, is served on the side. A benefit to the fresh concept is the offering of vegetarian, gluten-free, sugar-free, low-sodium and organic dishes. Two other eateries are located within Pollo Campero. babycakes NYC, is a bakery that offers a variety of gluten free, dairy free, soy products and agave-sweetened desserts. Bodie's All-American offers salads, sandwiches, wraps and burgers. They also serve a variety of milkshakes.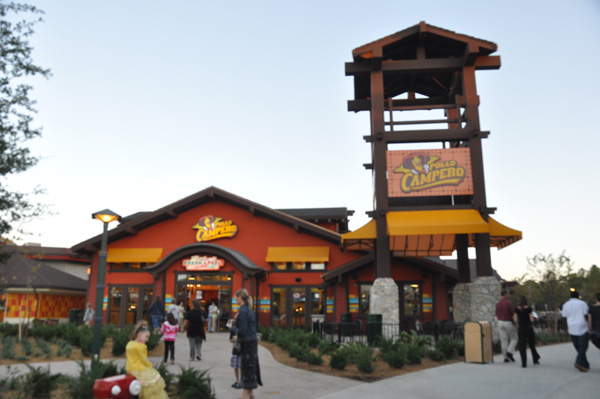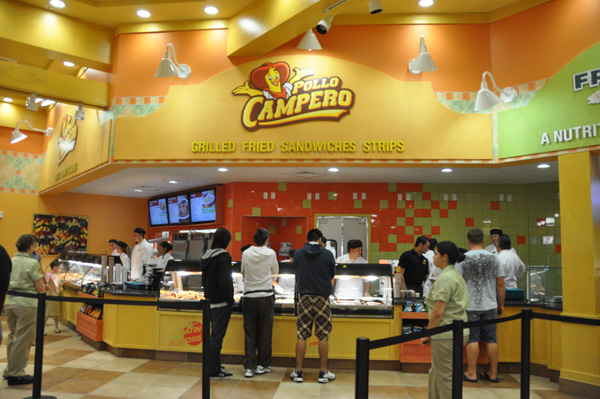 NOTE: All menu items/prices are subject to change
If you have menu discrepancies or corrections, please let us know
---
NOTE: * Indicates buffet item and cost represents total cost of buffet.
Menu is subject to change.


Entree/Main Course
All Beef Chicago Style Hot Dog - Split, Grilled to order, Topped with yellow mustard, pickle relish,tomatoes, and chopped onions. - $8.99
Brilliant Burgers - Certified Angus Double Cheese Burger. Classic Double with aged sharp cheddar, romaine lettuce, tomatoes and non fat secret sauce.On a Toasgted Bakery Bun. - $8.99
Build your feast - Includes choice of a family entree, family side and warm corn tortillas(feeds 3-4). choice of 8 pc. sugnature fried chicken, 12 chicken strips, whole citrus grilled. add additional family side for $4.49 and an additional family entree for $12.49 - $28.99
Char grilled chicken ceasar salad or Wrap - Romaine lettuce and baked croutons with eggless ceasar dressing - $8.49
Chicken Italian Sausage - With Grilled Onions and Peppers - $5.99
Citrus Grilled Chicken chop salad or Wrap - Mixed greens, roasted corn, red peppers, and black beans with pineapple vinaigrette - $8.49
Create your meal - Includes choice of an individual entree and a side. 2 Pc. Signature fried chicken, 1/4 Citrus grilled, 3 chicken strips or Grilled or fried chicken sandwich - $8.99
House Made Falafel Veggie Burger - Served with a Hummus spread, red onions, dill pickle planks, romaine lettuce, tomatoes and Garlic Sesame roll. - $8.99
Made to order signature salads and wraps - Vegetable chopped salad. Mixed greens, crimini mushrooms, zucchini, carrots, roasted red peppers and baked eggplant croutons. tossed in olive oil and balsamic vinega. - $8.49
Savory Chicken Salad or Wrap - Pollo Campero famous citrus grilled chicken with sweet onion, celery hearts, fresh basil, lemon juice and black pepper - $8.49

Side Dish
Sides - Black beans and white rice, Campero Rice, sweet plantains, yuca fries, french fries, campero beans, coleslaw, chips and salsa. Individual a la carte $2.49 or family a la carte (feeds 2-3) $4.49 - $2.49

Drinks
Shakes - Chocolate, Vanilla or Strawberry - $6.99
Shakes with a Kick - Chocolicious: with Bailey's Irish Cream. Green Day: Creme de Menthe and Organic Chocolate Chips. Jitterbug: Expresso. Bananas Foster: Bananas, Baily's Irish Cream and Caramel. - $8.49

---
Entree/Main Course
All Beef Chicago Style Hot Dog - Split, Grilled to order, Topped with yellow mustard, pickle relish,tomatoes, and chopped onions. - $8.99
Brilliant Burgers - Certified Angus Double Cheese Burger. Classic Double with aged sharp cheddar, romaine lettuce, tomatoes and non fat secret sauce.On a Toasgted Bakery Bun. - $8.99
Build your feast - Includes choice of a family entree, family side and warm corn tortillas(feeds 3-4). choice of 8 pc. sugnature fried chicken, 12 chicken strips, whole citrus grilled. add additional family side for $4.49 and an additional family entree for $12.49 - $28.99
Char grilled chicken ceasar salad or Wrap - Romaine lettuce and baked croutons with eggless ceasar dressing - $8.49
Chicken Italian Sausage - With Grilled Onions and Peppers - $5.99
Citrus Grilled Chicken chop salad or Wrap - Mixed greens, roasted corn, red peppers, and black beans with pineapple vinaigrette - $8.49
Create your meal - Includes choice of an individual entree and a side. 2 Pc. Signature fried chicken, 1/4 Citrus grilled, 3 chicken strips or Grilled or fried chicken sandwich - $8.99
House Made Falafel Veggie Burger - Served with a Hummus spread, red onions, dill pickle planks, romaine lettuce, tomatoes and Garlic Sesame roll. - $8.99
Made to order signature salads and wraps - Vegetable chopped salad. Mixed greens, crimini mushrooms, zucchini, carrots, roasted red peppers and baked eggplant croutons. tossed in olive oil and balsamic vinega. - $8.49
Savory Chicken Salad or Wrap - Pollo Campero famous citrus grilled chicken with sweet onion, celery hearts, fresh basil, lemon juice and black pepper - $8.49

Side Dish
Sides - Black beans and white rice, Campero Rice, sweet plantains, yuca fries, french fries, campero beans, coleslaw, chips and salsa. Individual a la carte $2.49 or family a la carte (feeds 2-3) $4.49 - $2.49

Drinks
Shakes - Chocolate, Vanilla or Strawberry - $6.99
Shakes with a Kick - Chocolicious: with Bailey's Irish Cream. Green Day: Creme de Menthe and Organic Chocolate Chips. Jitterbug: Expresso. Bananas Foster: Bananas, Baily's Irish Cream and Caramel. - $8.49

---
Pollo Campero/Bodie's All American
Child's Menu

Entree/Main Course
From the Grill - Plain Cheeseburger, hot dog or Chicken Italian sausage. Each served with a side of hand cut fries. - $5.99
Kids Meals - choice of 2 signature Fried Chicken legs, Fried Chicken strips or Grilled Breast strips. comes wioth choice of 1 side. - $5.99
P B and J - Crustless wheat bread cut in quarters, carrot sticks, string cheese - $4.99

---
Entree/Main Course
From the Grill - Plain Cheeseburger, hot dog or Chicken Italian sausage. Each served with a side of hand cut fries. - $5.99
Kids Meals - choice of 2 signature Fried Chicken legs, Fried Chicken strips or Grilled Breast strips. comes wioth choice of 1 side. - $5.99
P B and J - Crustless wheat bread cut in quarters, carrot sticks, string cheese - $4.99

---
If you have menu discrepancies or corrections, please menus@wdwinfo.com