Disney Celebration Vacation
The following information was from 2009

What will you celebrate? Walt Disney World and Disneyland in California is featuring "Celebration Vacations". A highlight of this celebration is a free ticket to a theme park on your Birthday.

Some of the activities planned are:
"Celebrate! A Dream Come True Parade" - 3:00 parade.
Magic Kingdom Parade at Walt Disney World. Parade route starts at Town Square and continues through Frontierland.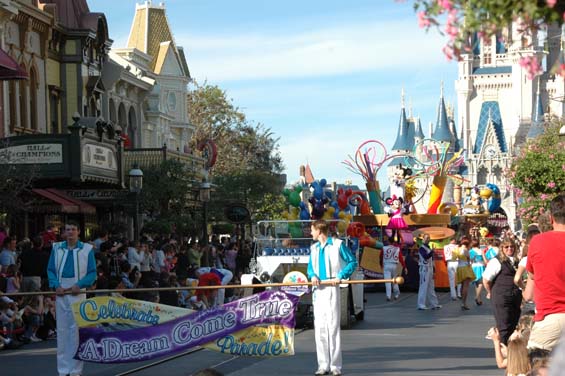 Magic Kingdom "Move It! Shake it! Celebrate It!" - The route of this parade is similar to the discontinued Family Fun Day parade, which starts at Town Square and moves down Main Street. Similar to the Block Party Bash, this will take place multiple times a day and will involve guest participation (12-15 guests). This parade will include contemporary songs (Breakout by Miley Cyrus), stilt walkers, floats, Disney characters, and much more.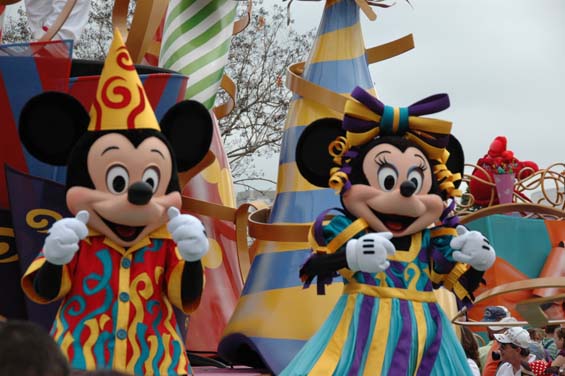 Different Costumes for Characters - All of the Disney characters have a celebration costume..Goofy as a Jester.
Illuminations Celebration Addition - Illumintations "Refelctions of Earth" at Epcot has a celebration overlay added to it.
Street Parties: The call to "Celebrate Today!" as "the happiest party on Earth" begins with music and dancing.
Tomorrowland Party: Stitch and a DJ invite guests to join with the interactive dance troupe and party to to retro-futuristic music.
Park Décor: Party hats, balloons and banners decorate the parks.


Buttons: Complimentary celebration buttons continue to be given out to guests celebrating a special occasion. "Just Engaged"
Special cakes and desserts at participating restaurants.
---
Guests visiting in 2009 can add-on:
The Disney Florist offer celebratory in-room decorations and products.


Custom Bakery Cakes and Signature Desserts: A new line of celebration desserts and decorated cakes can be ordered. The "My Mini Cake Surprise" is a themed, personal size cake with a special surprise included. (407) WDW-DINE


Sweetheart Dinner for Two: Prix Fixe dinner featuring souvenir "Celebrate Today!" champagne flutes.
Family Portraits: Portrait sessions with a Walt Disney World photographer.Capture the memory with a portrait session with Walt Disney World photographers. (407) WDW-DINE


Personalized Souvenirs: Personalized Mouse ears, character T-shirts, pins and more


Decorate Your Disney Guest Room: Have your Disney resort room decorated with banners, confetti and special surprises to celebrate a Birthday, Congratulations, or a Disney Welcome. (407) W-DISNEY


Magical Pop Up Party Pack: Goodie Bag with activities and surprise pop-up centerpiece. (407) WDW-DINE


Stay Inside a Dream Theme: Book a themed guest room featuring Pirate Themed rooms at Walt Disney World and Princess or Mickey themed rooms in Disneyland.


Set Sail: Book a private cruise on a yacht or join in a shared magical fireworks cruise - 2009 will feature a new night time Wishes excursion.


Go Inside the Magic: Behind-the-scenes tours


Disney Story Book Experiences: Choose from pirate adventures, tea parties, princess makeovers, etc.


Disneyland Parties: "Celebration Roundup and Barbecue at Big Thunder Ranch," featuring frontier entertainment, goodie bags and a surprise treat for everyone. "My Disneyland Birthday Party" features cake decorating, party hats and visits by Mickey and Minnie.
---
COMPLIMENTARY BIRTHDAY THEME PARK ADMISSION
** You can either pre-register for your complimentary birthday admission or fill out forms at the gate. The following restrictions apply:
You must be 18 to register online. If you are under the age of 18, an adult must register for you
You must produce proof of your birth date and appropriate ID which includes a Driver's license, State or Government issued ID or Government issued Passport. If you are under age 18 and do not have any of the above, either an original or notarized birth certificate must be shown
This offer applies to guests ages 3 and up and is open to all
You can upgrade your ticket at an additional cost and it can only be used by the birthday celebrant. Select guests who receive the One Day/One Park ticket which is valid for 12 months may not upgrade it.


If you have a multi-day ticket or are a Seasonal/Annual Passholder, you can choose from the following options:
A One Day Magic Your Way Base Ticket which can be used anytime before your next birthday
A special "Birthday FastPass" for the celebrant and up to 5 members in his/her party - NOTE: These are limited and may not be available after 11:00am
A Birthday Fun Card (see below) equal in price to a One Day Magic Your Way Base Ticket that can be used on your birthday for merchandise, activities and activities. (Adults receive the equivalent of an adult ticket, kids age 3 -9 get the equivalent of a child's ticket)
Birthday Fun Card:
You may use the Birthday Fun Card only towards the purchase of merchandise at participating merchandise owned and operated by the owners of the Walt Disney World and Disneyland Resorts. The Birthday Fun Card may not be used towards the payment of Walt Disney World or Disneyland Resort room/charges or a Disney Cruise Line reservation or towards the purchase of any food and beverage items, alcohol, cigarettes, spa services and products, or personal services such as face painting, caricature drawings, hair braiding, and hair wrapping.
The Birthday Fun Card is not accepted at Walt Disney World Resort Operating Participant locations, including but not limited to, China, Japan, and Morocco pavilions at Epcot, Arribas Brothers, Basin, Basin White, Cirque du Soleil, Curl by Sammy Duval, Ghiradelli, House of Blues, Hoypoloi, LEGO Imagination Center, Magic Masters, Magnetron, Niki Bryan Spas, Orlando Harley Davidson Store, Planet Hollywood, Rainforest Cafe, Richard Petty Driving Experience, Rubio Balloon Arts, SD Watersports, Sosa Cigar, Starabillias, Sunglass Icon, Surrey Bike Rental, Virgin Megastore, Wyland Galleries and any other locations or kiosks that are not owned and operated by the owners of the Walt Disney World Resort.
The Birthday Fun Card is also not accepted at Disneyland Resort Operating Participant locations or any other locations or kiosks that are not owned and operated by the owners of the Disneyland Resort, including but not limited to, Midway Games, Names Unraveled, Jewel of Orleans, Silhouette Studio, Portrait Artists, Parasol Cart, Heraldry Shop, Crystal Shops (Crystal Arts & Crystal d'Orleans), Paradise Pier Face Painting, Airbrush Tattoos, Rubio Portrait Artist or at Downtown Disney District locations except the World of Disney Store, Marceline's Confectionery, and the Downtown Disney District Pin Cart. The Birthday Fun Card is also not accepted at Disneyland Resort outdoor vending carts.
No portion of the Birthday Fun Card balances will be redeemed for cash.
The terms of acceptance of the Birthday Fun Card by participating Walt Disney World or Disneyland Resort locations may vary. Check with individual locations for Birthday Fun Card program participation details.
The Birthday Fun Card will not be replaced if lost or stolen, except as may be required by law.
A damaged Birthday Fun Card will only be replaced if the original card is presented on the day the card was issued to the Guest Relations Lobby at Disney's California Adventure Park or City Hall at Disneyland Park.
The Birthday Fun Card may not be resold in any manner whatsoever.
The Birthday Fun Card may not be used towards the purchase of any Disney Dollars or gift certificates/cards.
The Birthday Fun Card is issued by and represents an obligation of Disney Gift Card Services, Inc.
The Birthday Fun Card is not a credit or debit card and carries no warranties, express or implied
Disney Gift Card Services, Inc. is not responsible for any unauthorized use of your birthday fun card