Disney Wonder Cruise Ship

Take a look at our Disney Wonder photo galleries, including the dining locations, recreation areas, common areas, and adult areas!
Disney Wonder Overview / Planning Tools
While one of Disney Cruise Line's smaller original ships — now considered classics — this vessel doesn't need extra size to evoke its namesake. Stepping on board, guests feel wonder not from the passenger capacity, but from the grand scale that comes with expert Disney theming.
Built with the Golden Age of Cruising in mind, the Wonder pays homage to such passenger vessels as the Titanic, the Lusitania, and the Queen Mary. An impressive atrium welcomes passengers aboard, built with its own sprinkle of Disney Magic; just like Main Street U.S.A. and countless other Disney Park areas, the atrium uses forced perspective to convey a feeling of grandeur worthy of an area twice its size.
This attention to detail continues throughout the ship, as design and décor evoke in guests the sensations of opulent adventures of a bygone era. To create this immersive feeling, the Wonder has been decorated in the Art Nouveau style: Intricate, sweeping designs flow in crisp lines to emulate the waters which the hull cuts through with each ocean voyage and the winds which playfully weave about passengers on the Wonder's upper decks.
The Disney Wonder offers a wide variety of itineraries, mainly sailing to the Southern Caribbean, but will also head off to ports in Alaska, Hawaii, the Pacific Coast, and The Bahamas.
Maiden Voyage: August 15, 1999
Passenger Capacity: 2,400 | Gross Tonnage: 85,000 tons
Length: 964 feet | Beam: 106 feet | Draft: 25.26 feet
Cruising Speed: 22.3 knots
These staterooms are designed especially for the needs of families. Staterooms on board the Disney Wonder are well-appointed, comfortable, and awash in nautical elegance. Most boast split bathrooms, a feature that's perfect for families and a cruise line industry first!
Popular features from the other ships are also available, like private verandahs, portholes with built-in seating, and elegant decor.
Restaurants on the Wonder include:
Animators Palate (Main Dining)
Triton's (Main Dining)
Tiana's Place (Main Dining)
Palo (Signature Dining, adults only)
Cabanas (Quick Service/Table Service)
Daisy's De-Lites (Quick Service)
Pinocchio's Pizzeria (Quick Service)
Tiana's Place
Long before The Princess and the Frog, The Walt Disney Company has been inextricably linked to the fun and flavor of New Orleans. Out of all of Disney's restaurants inspired by The Big Easy, Tiana's Place may well be their finest attempt at capturing the romantic carefree attitude of the city.
Not only will diners be graced by the presence of the restaurant's namesake as she mingles, but Tiana also introduces the stylings of her in-house band each night. While the musical accompaniment quickly turns this culinary experience into a high-energy party, things don't get so out of control that cruisers can't enjoy casual conversations with their vacation families. Unless, of course, a trumpet-playing alligator makes a special appearance, in which case Tiana's guests may find themselves caught up in a surprise conga line.
Triton's ....
Animator's Palate ....
Palo ....
Entertainment aboard the Disney Wonder....
Nightclubs & Lounges on the Disney Wonder bring the night to life with music, dancing and socializing. From swanky to sporty, low key to high energy, you'll find a hangout you'll love amid the ship's "adults-only at night" entertainment district, After Hours.
The clubs in this location are Cadillac Lounge, Crown & Fin Pub, and Azure.
Image: Cadillac Lounge
Image - Crown & Fin Pub
Image: Azure

Image: Cove Bar

Senses Spa & Salon sports a contemporary design and offers a variety of services. The Rejuvenation Spa offers an array of cosmetic body and facial treatments, and the Chill Spa caters specifically to teens ages 13 to 17.
Disney Wonder Family Areas:
D Lounge is the hangout for games, dance parties, live entertainment, and family-friendly activities.
The Oceaneer Club, one of the areas for children age 3-12, is themed as a Pirate's Ship with spaces such as the Captain's Workshop where kids can watch Disney movies and play video games. There's also the The Wheelhouse where kids can use large simulators to steer their own Disney ship through the Caribbean Sea.
In the Marvel's Avengers Academy, children will be in charge of a command post directing the Avengers' secret missions and training.
The Oceaneer Lab, which is also for kids age 3-12, has a pirate-themed area. Kids use Navigator Simulators to steer a pirate ship through the Caribbean.
It's a Small World nursery, based on the theme park attraction, is the perfect place for your little ones to play while you enjoy a grownups' night out.
Edge - This interactive space for tweens ages 11-14 is designed to look like a replica of the ship's bridge. High-tech gaming stations, a dance floor, TV, arts and crafts, karaoke, and scavenger hunts will keep them busy for hours.
Vibe - This teens' hangout is on Deck 11, midship. The room is designed with cozy chairs, couches, a dance floor, flat screen TVs and a smoothie bar. Video games, board games and DVDs are available in this area where teens can hang out and get to know each other.
Kids ages 3-12 can visit Deck 10 for a Princess or Royal Knight makeover (Pirate makeovers will be available for all ages on Pirate Night).
Several new interactive features have been added to the pool deck. Water play features similar to the Fantasy's AquaLab have been added to the 1,800-square-foot space. Kids can jump around the pop jets, geysers and bubblers. The infants/toddlers splash area has been re-themed around Huey, Dewey, and Louie, Donald's nephews. The Twist N' Spout water slide sends guests twisting back and forth across the ship in 250 feet of twists and turns. This slide is for guests between 38 and 64 inches tall.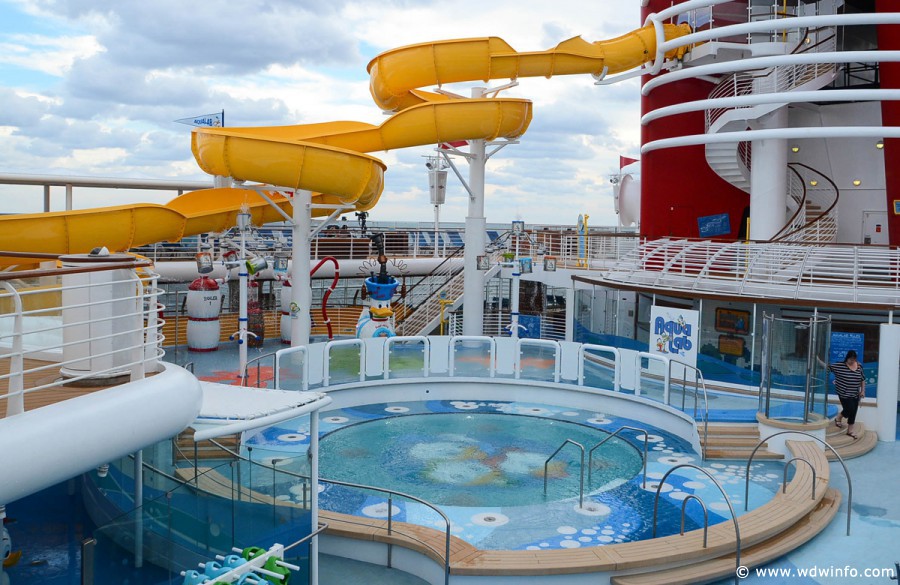 Brand-new to any Disney ship is the AquaDunk, a three-story body slide! Riders step inside a clear tube and the floor under them opens like a trap door, sending them on a near-vertical drop that will eventually take them 20 feet over the side of the ship. This slide is for guests 48 inches or taller.