Trader Sam's
Trader Sam's Information
Food/Dining Type:
American
Meals:
Lunch, Dinner,
Location:
Disneyland Hotel / Disneyland Hotel
Reservations:
Not Accepted
Hours:
Varies with park hours
Photo Gallery
Photos of Trader Sam's
Menu:
Trader Sam's Menu

Trader Sam's Enchanted Tiki Bar is located in between the pools and the Adventure Tower. The bar is small, but drinks are also served on the patio during busier times.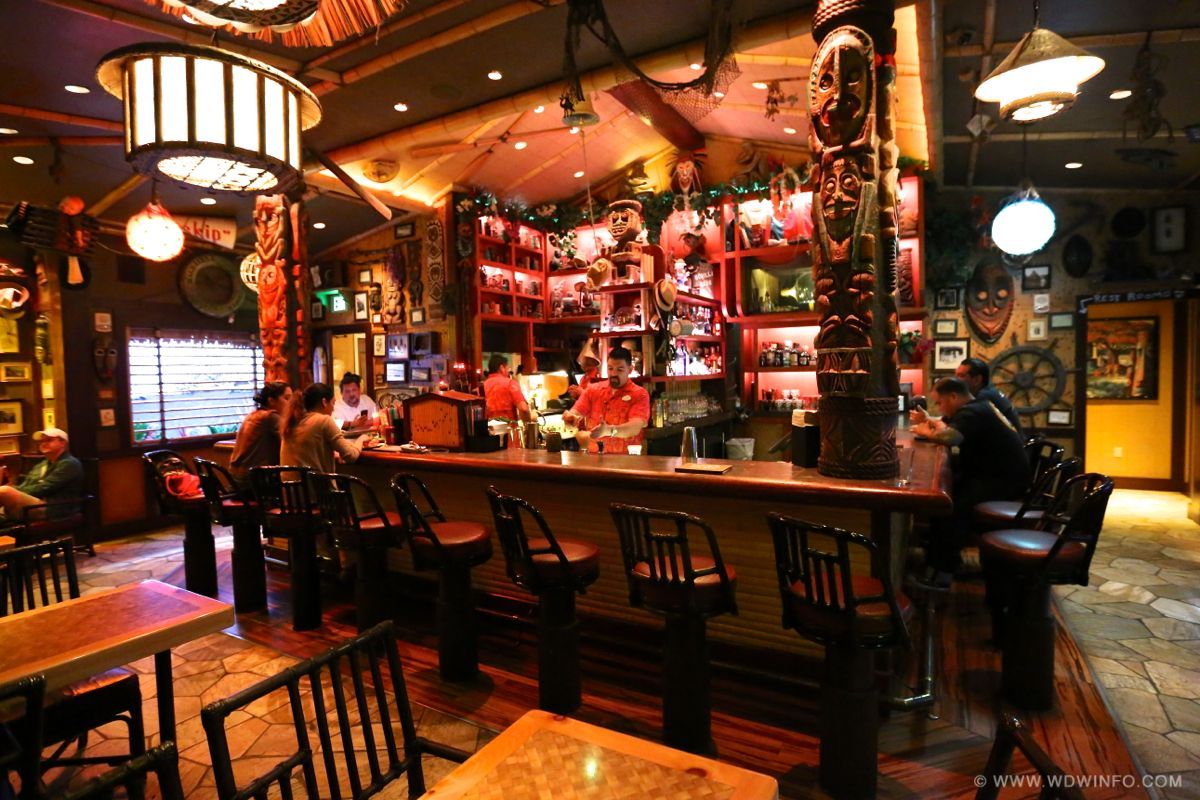 NOTE: * Indicates buffet item and cost represents total cost of buffet.
Menu is subject to change.


Angus 1/2 lb Hawaiian Cheeseburger - Served with grilled pineapple, applewood-smoked bacon, Havarti cheese, butter lettuce, tomato, onion, and sweet-and-spicy spread, with sweet potato fries - $16.00
Hawaiian Platter - Furikake seasoned Thai jasmine rice and macaroni salad, served with choice of roasted pork belly or poached Mary's chicken breast - $15.00
Little Gem Salad with Grilled Salmon - Little Gem leaves, candied macadamia nuts, avocado, queso fresco, pog vinaigrette, with grilled salmon - $19.00
Little Gem Salad with Mary's Chicken - Little Gem leaves, candied macadamia nuts, avocado, queso fresco, pog vinaigrette, with Mary's Chicken - $17.00
Panko-crusted Long Beans - Served with togarashi aioli - $10.00
Poke Bowl - Sushi rice, togarashi aioli, crispy onions, smashed avocado, sliced cucumber, masago fish roe, and crab salad, served with choice of ahi tuna, salmon, or marinated tofu - $15.00
Pork Gyoza - Steamed pork and vegetable pot stickers served with gochujang aioli, unagi sauce, and bonito flakes - $14.00
Pu Pu Platter - Pork gyoza, panko-crusted long beans, macaroni salad, and sweet-and-spicy chicken wings, served with togarashi aioli - $19.00
Rongo Salad - Edamame, green papaya, iceberg lettuce, cherry tomatoes, goose berries, crispy shallots, sesame seeds, and marinated tofu, tossed in fermented miso vinaigrette - $12.00
Sweet-and-Spicy Chicken Wings - Served with Togarashi aioli - $13.00
Tempura Shrimp - Tempura-fried shrimp, unagi sauce, furikake gochujang aioli, dried togarashi, crispy garlic, and ponzu sauce - $19.00
Tonkotsu Ramen - Rich pork-based broth, wavy noodles, pork belly slices, fresh green onions, wood ear mushroom, black garlic oil, soft boiled flavored egg - $15.00

---
Kid's Cheeseburger - Served with sweet potato fries, fruit and choice of drink - $10.00
Kid's Chicken Rice Bowl - Steamed Thai jasmine rice, poached chicken breast, broccoli, teriyaki sauce, and fruit with choice of drink - $10.00
Kid's Salmon Rice Bowl - Steamed Thai jasmine rice, grilled salmon, broccoli, teriyaki sauce, and fruit with choice of drink - $10.00
Kids' Power Pack - Yogurt smoothie, mandarin orange, sliced apples, whole-grain fish crackers, and choice of small lowfat milk or small bottled water - $6.00

If you have menu discrepancies or corrections, please let us know