When you stay at Buena Vista Suites, you can take advantage of the complimentary full American breakfast buffet served daily in the Valencia Room. Enjoy lunch, dinner and cocktails in the new Vista Bistro-a great steakhouse. Complimentary scheduled transportation to all 4 Walt Disney Theme Parks and an evening shuttle to Downtown Disney. Free shopping shuttles to the Lake Buena Vista Factory Stores. Heated pool, lighted tennis and basketball court, exercise room, game room and gift shop.
*Book by April 7, 2010. For travel May 1, 2010 through September 30, 2010 with a minimum of 4 night stay. This promotion applies to new reservations only. Based on hotel availability.

Sponsored by: Buena Vista Suites
Check Rates Now - Location - Rooms - Services & Amenities - Dining


Manta Coaster at Sea World Orlando.
Each month we'll preview a new DIS video, exclusive to DIS Newsletter subscribers.

Review by Kevin Klose

We recently visited the Rose and Crown Pub, located in the United Kingdom area of Epcot's World Showcase. As it was not a busy time at Disney, we were able to secure a same day advanced dining reservation for 3 pm. As we hit very little traffic, we made great time and actually arrived at the restaurant just a bit before 2 pm. Read on to find out about our experience.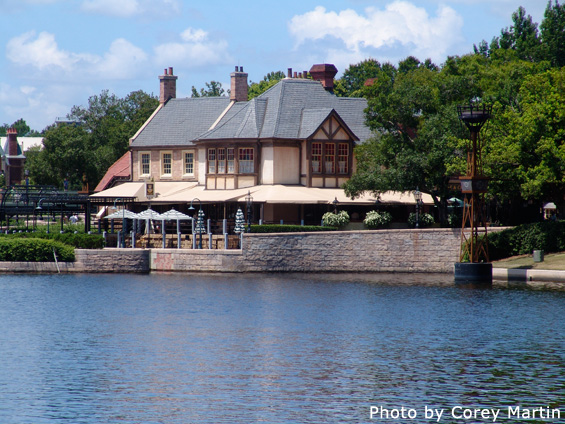 We approached the podium and explained our situation….we had a 3 pm ADR and arrived an hour early. We asked if it was possible to be seated at that time or if we need to wait the additional hour for our allotted time frame. The Hostess suggested that it would depend on how busy the dining room was at the time.

I took this to mean that she was going to check to see if the dining room was busy and she didn't. She just stood there looking at me. I asked if she could check and see if we could be seated. Her response was "Oh, you mean now?" She checked and decided that we could be seated immediately.

We were shown to our table in a near empty restaurant.

Our server approached our table and asked if we had any questions. When we said we didn't, she asked if she could make suggestions. We agreed and she proceeded to read the menu to us. Verbatim. I explained that we could read the menu and she left.

We decided to start with a bowl of the Potato Leek soup (5.49), the Butter Poached Shrimp over risotto ($9.99), the Rose and Crown Meat and Cheese selection for two ($12.99) and the Scotch Egg ($8.99).