Cookes of Dublin
Cookes of Dublin Information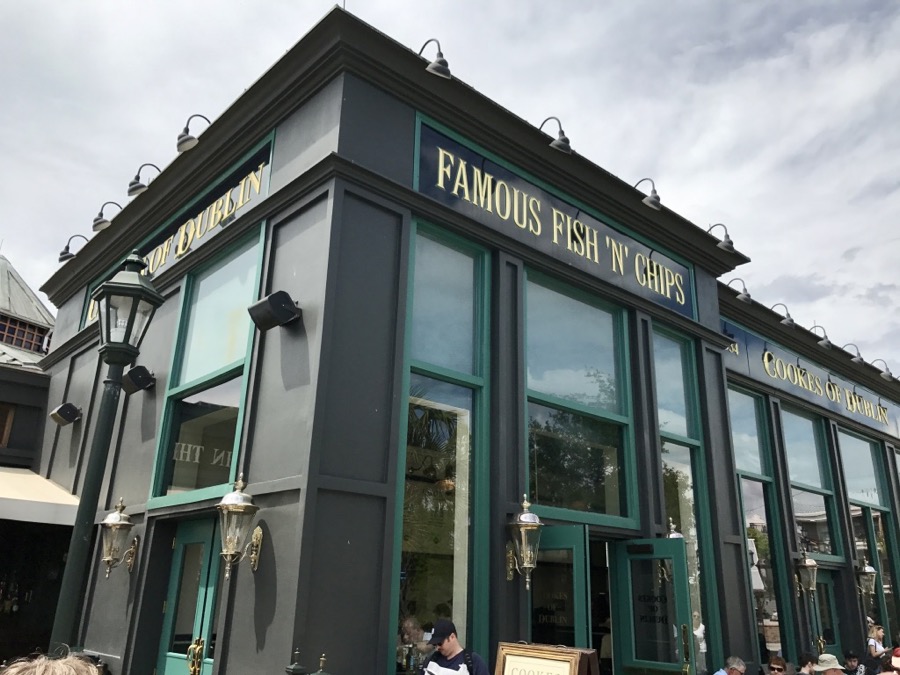 Cookes of Dublin only uses the freshest of fish and coat it with a special light batter that has been a family secret for generations. They do things the same way they did back in the 1930s. It is the Cooke family way, highest standards, no compromises, ever.
NOTE: All menu items/prices are subject to change
---
If there is an asterisk (*) below next to a menu item, this indicates that the meal is a buffet or that it's served family-style at your table. The price reflected is the total cost of the all-you-care-to-enjoy meal.
Please note that the pricing on buffet meals will vary slightly based on the time of year (peak season versus regular season), and day of the week (weekday versus weekend) that you visit. The pricing below is a general range for these meals, but if you need an exact figure, you may call Disney Dining at (407) WDW-DINE and they will provide an exact quote based on the date of your reservation.
All prices you see are subject to change and may vary slightly during your vacation.
Menu items are also subject to change without notice.

(Updated: 07/19)
Battered Burger & Chips - Hand Battered Burger topped with Garlic Mayonnaise, Tomato Chutney and Mixed Greens - $11.95
Battered Chicken Tenders - Battered Chicken Tenders - $10.95
Beef and Lamb Pie - Ground Beef and Lamb, Fresh Carrots, Leeks, Onions and Potatoes in a Red Wine Jus - $12.95
Cheese Burger & Chips - Char Grilled Sirloin Burger topped with Tomato Chutney, Dubliner Cheese, Garlic Mayonnaise and Mixed Greens - $11.95
Chicken and Field Mushroom Pie - Chicken Breast, Mushrooms, Leeks and Potatoes in a Rich Creamy Sauce. Baked fresh daily, limited availability, all served with Chips - $12.95
Grilled Chicken Sandwich & Chips - Char Grilled Chicken Breast with Herb Aioli, Tomato Chutney and Greens - $11.95
Hog in a Box - Slow Roasted Pork Shoulder with Baby Potatoes, Sage and Sweet Onion Stuffing Caramelized Onions and Apple Sauce - $12.95
The Beast - Hand-battered sirloin burger, with garlic mayonnaise, Ballymoe Gourmet Ketchup, and mixed greens - $12.45
The Beauty - Grilled Sirloin Burger with Ballymaloe Gourmet Ketchup, Dubliner cheese, garlic mayonnaise, and mixed greens. - $12.45
The Brave - Buffalo-tossed fried chicken and Cashel Blue Irish cheese - $12.95
The Enchanted - Grilled chicken breast, chipotle aioli, and crunchy red cabbage slaw - $11.45
The Incredible - Grilled Sirloin Burger with Jameson Irish Whiskey barbeque sauce, an onion ring, Dubliner cheese, and arugula - $12.95
The Marvel - Fried chicken, pickled red onions, and bacon jam - $11.45
The Original One & One (Fish & Chips) - The Original One & One (Fish & Chips) - $11.95

Dubliner Irish Cheese & Bacon Dip - - $5.50

Ice Cream - Vanilla, Chocolate or Swirl - $5.00
Jammy Dodger Cookie - - $5.00
Oatmeal & Honey Cookie - - $5.00
Orange Chocolate Pillow Cookie - - $5.00
Peanut Butter and Chocolate Chip Cookie - - $5.00

Assorted Fountain Beverages - Assorted Fountain Beverages - $3.50
Bewley's Hot Tea - - $3.00
Locally Roasted Coffee - - $3.00

---
Cookes of Dublin
Child's Menu

Battered Chicken Tender and Chips - - $7.95
Cheese Burger and Chips - - $7.95
Fish and Chips - - $8.95

---