Joy of Tea Overview
Joy of Tea offers a variety of hot and cold drinks outside of the China pavilion.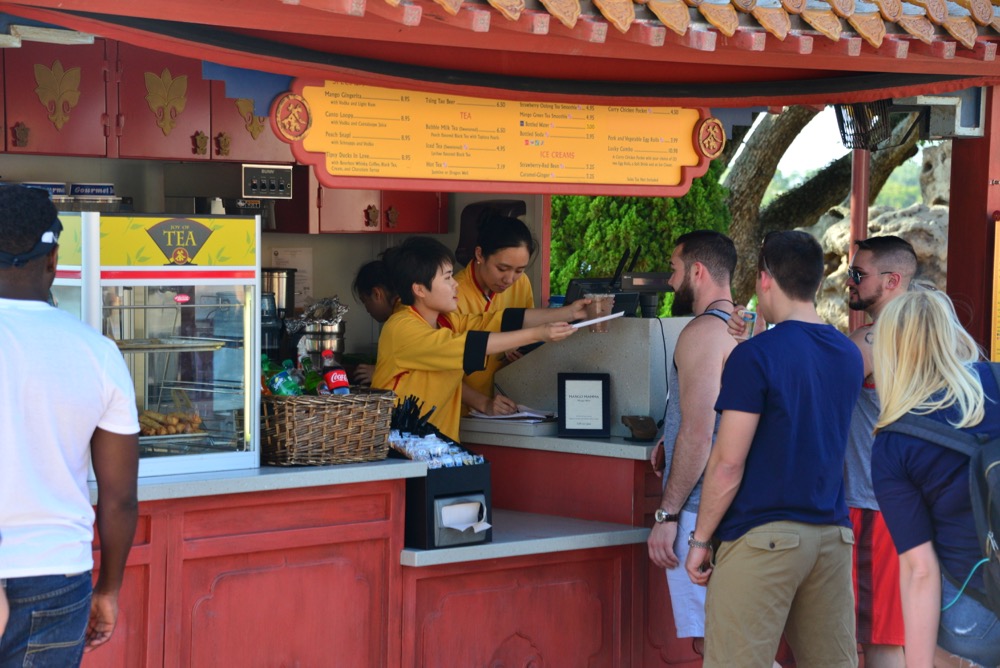 ---
Joy of Tea Menu
Prices Subject to Change:
All prices you see are subject to change and may vary slightly during your vacation. Menu items are also subject to change without notice. Did you find menu discrepancies or corrections about Joy of Tea?
Please let us know
!
Snack
Pork Egg Rolls (2pc) - - $4.95

Bubble Milk Tea - (Iced and Sweetened) Peach Black Tea with Boba - $6.95
Canto Loopy - With Vodka, Cantaloupe - $11.00
DASANI® Bottled Water - - $3.75
Dragon Blossom, Draft (16oz) - Pilsner, with Orange Blossom Honey and Green tea - $9.25
Honey Hibiscus Hard Iced Tea - With Organic Tea, Light Rum, Honey and Blueberry Boba - $12.00
Honey Hibiscus Iced Tea - (Lightly Sweetened) Organic Tea and Blueberry Boba - $6.95
Jasmine or Oolong Tea - (Hot and Unsweetened) - $3.50
Kung Fu Punch - With Vodka, Triple Sec, Mango and Orange Juice - $11.00
Mango Gingerita - With Vodka, Light Rum - $11.00
Tipsy Ducks in Love - With Bourbon, Black Tea, Coffee, Cream and Chocolate - $13.00
Tsing Tao Beer, Bottled - - $8.25

---
If you do not find a particular menu, please
email us
and we will get the menu for you.