Be Our Guest Restaurant
Be Our Guest Restaurant Information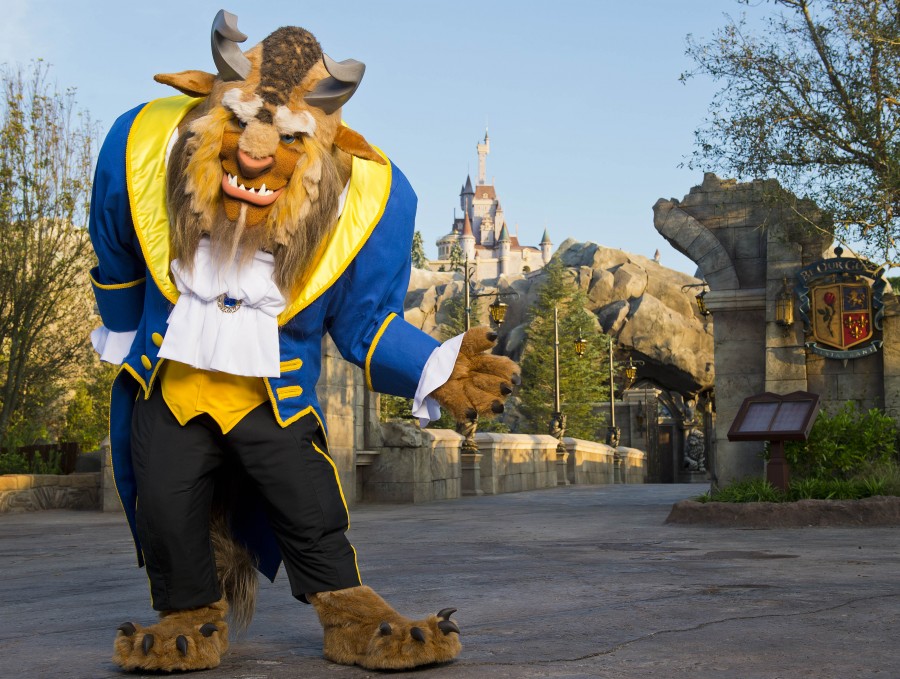 Be Our Guest is on the Disney Dining Plan, as a quick service credit for breakfast and lunch and two table service credits for dinner. The restaurant's three dining rooms can serve a total of 550 guests between the elegant ballroom setting, the mysterious West Wing of the Beast's castle or the stunning Rose Gallery. Counter service is available during the day, and the restaurant becomes table service at night. However, lunch is unlike any other quick service location on property, in that you order your food and then have it delivered to your table on real china plates with real silverware instead of the usual paper and plastic items found at most quick service locations.
Reservations for lunch are available, both by phone and on My Disney Experience. If using My Disney Experience, you will have the option to pre-order your food and drinks up to 30-days in advance and even up to 5-minutes before. Lunch is still Quick Service and is served from 10:30am-2:30pm.
Table service dinner continues the French bistro theme with a large selection of appetizers.
Be Our Guest Restaurant now offers an enhanced prix fixe dinner menu that features a variety of delicious French-inspired dishes and new menu offerings. Pricing is $60 for adults and $36 for children or two Table Service entitlements on the
Disney Dining Plan
.
Options for kids are a little different than the standard chicken fingers and fries that are readily available across the park. Youngsters can choose from Mickey meatloaf, seared mahi mahi and whole-grain macaroni with marinara sauce.
FUN FACTS: There are 115 windows in the Beast's Castle.

The lion-like figures flanking the door at the entrance to Be Our Guest Restaurant were referred to as "golions" by the design team, a combination of goat and lion.

The centerpiece chandelier at Be Our Guest Restaurant measures more than 12 feet tall and 11 feet wide. It boasts more than 84 candles and more than 100 jewels that hang down to give it added shine.

At Be Our Guest Restaurant, the delicate Rose Gallery, adorned with rose accents, paintings and tapestries, is centered by a music box nearly 7 feet tall with a twirling Belle and the Beast.
NOTE: All menu items/prices are subject to change
---
If there is an asterisk (*) below next to a menu item, this indicates that the meal is a buffet or that it's served family-style at your table. The price reflected is the total cost of the all-you-care-to-enjoy meal.
Please note that the pricing on buffet meals will vary slightly based on the time of year (peak season versus regular season), and day of the week (weekday versus weekend) that you visit. The pricing below is a general range for these meals, but if you need an exact figure, you may call Disney Dining at (407) WDW-DINE and they will provide an exact quote based on the date of your reservation.
All prices you see are subject to change and may vary slightly during your vacation.
Menu items are also subject to change without notice.
Assorted Cured Meats and Cheese - Alpine-smoked Ham, Serrano Ham, Sopressata, and Cheese with Marmalade, Fresh Fruit, Toasted Baguette - $28.00
Croissant Doughnut - Fried Doughnut topped with Banana-Caramel Sauce, Pastry Crème, and Chocolate Ganache served with fresh Fruit and a selection of pastries - $28.00
Croque Madame - Open-faced Ham Sandwich topped with a Fried Egg, Gruyere Cheese, and Béchamel served with Fresh Fruit and a selection of pastries. - $28.00
Feast A La Gaston - Scrambled Eggs, Bacon, Sausage, and Roasted Potatoes served with Fresh Fruit - $28.00
Open-Faced Bacon and Egg Sandwich - Poached Eggs, Applewood Bacon, Brie Cheese, and Arugula on a Croissant served with Fresh Fruit - $28.00
Scrambled Egg Whites - Served with Chicken Sausage, Roasted Tomatoes, and Fresh Fruit - $28.00
Vegetable Quiche - Mushroom, Zucchini, Bell Pepper, Onion and Chive Quiche served with Fresh Fruit and a selection of pastries - $28.00

The Master's Cupcake - Chocolate Sponge Cake topped with Lumiere's special "Grey Stuff" - $4.99

Adult Cold Fountain Beverage - - $3.29
Adult Hot Beverage - - $2.79
Be Our Guest Cup - Be Our Guest Cup with choice of fountain beverage. - $5.00
Be Our Guest House Made Red Sangria - - $10.00
Be Our Guest Mimosa - - $10.00
Be Our Guest Peach Bellini - - $10.00
Dasani Bottled Water - - $3.00
Lowfat Milk - - $1.99
Nestlé® Nesquik® Chocolate Milk - - $2.69
Perrier Water - - $3.50
Schofferhofer Pink Grapefruit Hefeweizen - Germany, 16 oz. - $10.00
smartwater - - $4.50
Souvenir Castle Goblet - Light Up Castle-themed Souvenir Goblet with choice of fountain beverage. - $15.00

---
French Onion Soup - French Onion Soup. - $7.99
Potato Leek Soup - Vegetarian Option. Potato Leek Soup. - $5.99

Braised Pork (Coq Au Vin Style) - Eight Hour Slow-cooked Pork with Mushrooms, Onions, Carrots and Bacon served with Mashed Potatoes and Green Bean Jardiniere. - $18.99
Carved Turkey Sandwich - Carved Turkey Sandwich served warm on a Baguette with Dijon Mayonnaise and Pommes Frites. - $16.49
Croque Monsieur - Grilled Sandwich of Carved Ham and Gruyere Cheese and Bechamel with Pommes Frites. - $15.99
French Dip Sandwich - Served on a Baguette with Au Jus and Pommes Frites - $17.49
Quinoa Salad - Quinoa Salad with Chilled Green Beans, Potatoes, Olives, Roasted Bell Peppers, Golden Beets and Tomatoes. - $14.79
Tuna Niçoise Salad - Seared Tuna with Chilled Green Beans, Fingerling Potatoes, Olives, Roasted Bell Peppers, Tomatoes, Hard-poached Egg and Saffron Aioli. - $17.99
Vegetable Quiche - Mushroom, Zucchini, Bell Pepper, Onion and Chive Quiche served with Baby Lettuce and Champagne Vinaigrette. - $14.79

Chocolate Cream Puff - Chocolate Cream Puff filled with Chocolate Mousse topped with Whipped Cream. - $4.99
Éclair à l'Orange - Custard Filling with zested Orange and finished with Chocolate Ganache - $4.99
Lemon - Raspberry Cream Puff - Gluten Free, No Sugar Added, Lemon- Raspberry Cream Puff filled with Lemon Custard. - $4.99
Lemon Meringue Cupcake - Vanilla Sponge Cake, Lemon Custard Filling and Flamed Meringue Icing. - $4.99
Strawberry Cream Cheese Cupcake - Vanilla Sponge Cake, Strawberry Mousse Filling and Cream Cheese Icing. - $4.99
The Master's Cupcake - Chocolate Sponge Cake topped with Lumiere's special "Grey Stuff" - $4.99
Triple Chocolate Cupcake - Chocolate Sponge Cake, Chocolate Mousse Filling and Chocolate Ganache. - $4.99

Adult Cold Fountain Beverage - - $3.29
Adult Hot Beverage - - $2.79
Be Our Guest Cup - Be Our Guest Cup with choice of fountain beverage. - $8.00
Be Our Guest House Made Red Sangria - - $10.00
Be Our Guest Mimosa - - $10.00
Be Our Guest Peach Bellini - - $10.00
Cambria Katherine's Vineyard Chardonnay, Santa Maria Valley - - $11.00
Charles de Fère Cuvée Jean-Louis Blanc de Blancs Brut, France - - $9.00
Dasani Bottled Water - - $3.00
Dr. Loosen Dr. L Riesling, Mosel - - $10.00
Georges Duboeuf Beaujolais-Villages, France - - $9.00
Kronenbourg 1664, France - - $8.50
Lowfat Milk - - $1.99
Nestlé® Nesquik® Chocolate Milk - - $2.69
Perrier Water - - $3.50
Schofferhofer Pink Grapefruit Hefeweizen - Germany, 16 oz. - $10.00
Simi Cabernet Sauvignon, Alexander Valley - - $16.00
smartwater - - $4.50
Souvenir Castle Goblet - Light Up Castle-themed Souvenir Goblet with choice of fountain beverage. - $18.00
Stella Artois, Belgium - - $10.00

---
Appetizers (choose one (1) from the following) - Escargot (Herb-Garlic Butter and Toasted Gremolata); French Onion Soup (Toasted Crouton, Gruyère, and Provolone); Maine Lobster Bisque (Garnished with Crème Fraîche and Poached Lobster); Piment d'Espelette Spiced Tuna (Fava Bean Purée and Florida Citrus with a Miso and Ginger Silk); Mixed Field Greens (Drunken Goat Cheese, Hazelnut Brittle, and Asparagus with a Stone Fruit Vinaigrette); OR Assorted Meats and Artisanal Cheese Selection (Chicken Liver Pâté, Shaved Serrano Ham, Chorizo Sausage, Pleasant Ridge Cheddar, Truffle Tremor, and Stilton Blue with Seasonal Garnishes)

Entrées (Choose one (1) Entrée) - Herb-salted Pork Tenderlion (Crispy Pork Belly, Corn Purée, Fava Beans, and Green Garlic Pistou); Smoked Ricotta and Corn Tortellini (Roasted Corn and Peppadew Relish, Rainbow Cauliflower, and Asparagus with a Corn-infused Nage); Spice-dusted Lamb Chops (Roasted Sunchokes, Baby Squash, Romanesco, and Royal Trumpet Mushrooms with a Lamb Demi); Center-cut Filet Mignon (Robuchon Yukon Potatoes, Seasonal Vegetables, and Cipollini Marmalade with a Red Wine Glaze); Pan-seared Sea Scallops (Spring Pea Risotto, Seasonal Vegetables, Fried Artichoke Hearts, and Micro Basil); OR Poulet Rouge Chicken (Confit Fingerling Potatoes, Haricot Verts, Heirloom Tomatoes, and a Sauce Meunière)

Dessert Trio - Almond Macaron (with Lemon Jam and Raspberries), Dark Chocolate Truffle (filled with Dark Chocolate Grand Mariner Ganache), or White Chocolate "Chip" Cup (with Grey Stuff and Crisp Pearls)

Beers - Stella Artois, Stella Artois Cidre, Kronenbourg 1664, Kronenbourg Blanc, Hoegaarden Wit, Saison Dupont, Chimay Blue
Odwalla® All-Natural Fruit Punch - sweetened with Organic Cane Juice and Wildberry Extract, served in an Enchanted Light Up Souvenir Cup - $19.00
Sparkling and Wine - Charles de Fère, Veuve Clicquot Ponsardin Brut Yellow Label, Banfi Rosa Regale Brachetto, Terra d'Oro Moscato, Helfrich Pinot Gris, Pierre Sparr Riesling, Michel Redde Sancerre, Conundrum, Flora Springs Chardonnay, Georges Duboeuf Beaujolais- Villages, Joseph Drouhin Laforet Pinot Noir, Cline Cashmere Grenache Blend, Freemark Abbey Merlot, Cadaretta Syrah, Simi Cabernet Sauvignon, Lasseter Family Winery Paysage

---
Be Our Guest Restaurant
Child's Menu

Chip's Cereal with Fresh Fruit - Choice of Cereal with Milk, Fresh Fruit, and a selection of pastries - $15.00
Crepes de Cogsworth - stuffed with Yogurt, Fresh Berries, and Wildberry Foam served with a selection of pastries. - $15.00
Fifi's French Toast - Brioche Bread served with Fresh Fruit and a selection of pastries - $15.00
Philippe's Toasty Oats - Steel-cut Oatmeal served with Golden Raisins, Brown Sugar, and a selection of pastries - $15.00
Scrambled Eggs de Maurice - served with Applewood Bacon, Fresh Fruit, and a selection of pastries. - $15.00

---
Chip's Delight - Grilled Cheese with Turkey Noodle Soup and Green Beans - $8.99
Feast a la Beast - Slow-cooked Pork with Green Beans and Mashed Sweet Potatoes - $9.79
Les Macaronis Maurice - Whole-Grain Macaroni with Marinara Sauce and Mozzarella served with Seasonal Vegetables - $8.99
Lumiere's De-Light - Grilled Shrimp with Broccoli and Applesauce - $9.99
Mickey Meatloaf - Turkey Meatloaf with Broccoli Florets and Zucchini served with Orange "Stuff" for Dipping. (It's delicious! Don't believe us? Ask the dishes!) - $9.49
Mrs. Potts' Platter - Carved Turkey Sandwich on Multigrain Bread with Sweet Potato Wedges and Peach Applesauce. - $9.49

---
Appetizer (Choose (1) One) - Iceberg Wedge Salad (With Ranch Dressing); Fruit and Cheese Plate (seasonal fruit, cheddar cheese, and crostinis); OR House-made Peach Applesauce -

Kids' Entrees (Choose One) - ONE Entrée: Seared Shrimp Skewer; Grilled Beef Tenderloin; Pan-seared Chicken Breast; OR House-made Macaroni & Cheese TWO Sides: Sauteed Zucchini; Steamed Green Beans; Wild Rice; Sweet Potato Wedges; OR Cauliflower Fried Rice -

Kids' Desserts - Dessert Trio (Strawberry Cupcake, Triple Chocolate Cupcake, Lemon Meringue Cupcake, Chocolate Cream Puff, Éclair À L'Orange, Lemon-Raspberry Cream Puff, The "Grey Stuff") OR Seasonal Fruit with Yogurt Dip -

---