Be Our Guest Restaurant
Be Our Guest Restaurant Information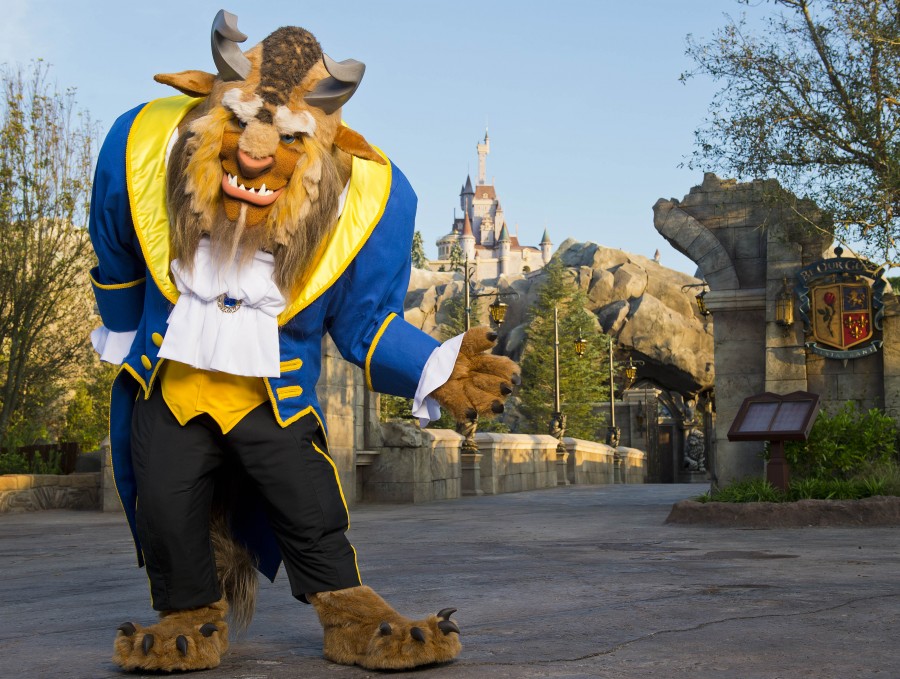 Be Our Guest Restaurant Overview
Be Our Guest is on the Disney Dining Plan, as a quick service credit for breakfast and lunch and two table service credits for dinner. The restaurant's three dining rooms can serve a total of 550 guests between the elegant ballroom setting, the mysterious West Wing of the Beast's castle or the stunning Rose Gallery. Counter service is available during the day, and the restaurant becomes table service at night. However, lunch is unlike any other quick service location on property, in that you order your food and then have it delivered to your table on real china plates with real silverware instead of the usual paper and plastic items found at most quick service locations.
Reservations for lunch are available, both by phone and on My Disney Experience. If using My Disney Experience, you will have the option to pre-order your food and drinks up to 30-days in advance and even up to 5-minutes before. Lunch is still Quick Service and is served from 10:30am-2:30pm.
Table service dinner continues the French bistro theme with a large selection of appetizers.
Be Our Guest Restaurant now offers an enhanced prix fixe dinner menu that features a variety of delicious French-inspired dishes and new menu offerings. Pricing is $60 for adults and $36 for children or two Table Service entitlements on the
Disney Dining Plan
.
Options for kids are a little different than the standard chicken fingers and fries that are readily available across the park. Youngsters can choose from Mickey meatloaf, seared mahi mahi and whole-grain macaroni with marinara sauce.
FUN FACTS: There are 115 windows in the Beast's Castle.

The lion-like figures flanking the door at the entrance to Be Our Guest Restaurant were referred to as "golions" by the design team, a combination of goat and lion.

The centerpiece chandelier at Be Our Guest Restaurant measures more than 12 feet tall and 11 feet wide. It boasts more than 84 candles and more than 100 jewels that hang down to give it added shine.

At Be Our Guest Restaurant, the delicate Rose Gallery, adorned with rose accents, paintings and tapestries, is centered by a music box nearly 7 feet tall with a twirling Belle and the Beast.
Be Our Guest Restaurant Menu
Prices Subject to Change:
All prices you see are subject to change and may vary slightly during your vacation. Menu items are also subject to change without notice. Did you find menu discrepancies or corrections about Be Our Guest Restaurant?
Please let us know
!
Assorted Meats and Artisanal Cheese Selection - Chicken Liver Pâté, Shaved Serrano Ham, Chorizo Sausage, Pleasant Ridge Cheddar, Truffle Tremor, and Stilton Blue with Seasonal Garnishes
French Onion Soup - Toasted Crouton, Gruyère, and Provolone
Maine Lobster Bisque - Garnished with Crème Fraîche and Poached Lobster
Mixed Field Greens (Plant-based offering) - Hazelnut Brittle and Seasonal Fruit with a Stone Fruit Vinaigrette

Center-cut Filet Mignon - Robuchon Yukon Potatoes, Seasonal Vegetables, and Cipollini Marmalade with a Red Wine Glaze - $62.00
Herb-salted Pork Tenderloin - Crispy Pork Belly, Seasonal Vegetables-Two Ways, Pork Jus, and Candied Pecan - $62.00
Pan-seared Sea Scallops - Seasonal Risotto with Wild Mushroom and Butter Sauce - $62.00
Poulet Rouge Chicken - Savory Bread Pudding and Seasonal Vegetables with a Chicken Glace - $62.00
Roasted Corn and Spinach Tortellini (Plant-based offering) - Roasted Corn and Peppadew Relish, Rainbow Cauliflower and Asparagus, Corn Nage - $62.00

Dessert Trio - Lemon Jam Macaron; White Chocolate "Chip" Cup with Grey Stuff and Crisp Pearls; Dark Chocolate Truffle filled with Dark Chocolate Grand Marnier Ganache; Vanilla Cake with Lemon Curd (Plant-based offering) with Fresh Berries and Strawberry Meringue

Beer & Cider - Angry Orchard Rosé Hard Cider, Cincinnati, Ohio; Stella Artois, Belgium; Kronenbourg 1664, France; Hoegaarden Wit, Belgium; Saison Dupont, Belgium; Cigar City Jai Alai IPA, Tampa, Florida; Chimay Blue, Belgium
Odwalla® All-Natural Fruit Punch - Sweetened with Organic Cane Juice and Wildberry Extract and served in an Enchanted Light-up Souvenir Cup - $19.00
Odwalla® All-Natural Lemonade - Sweetened with Organic Cane Juice and served in an Enchanted Light-up Souvenir Cup - $19.00
Private Label Champagne & Wines - Enchantée Champagne Brut (Enchanted) Nicolas Feuillatte Champagne Brut, Chouilly; L'ombre de la Bête Chardonnay (Shadow of the Beast) Georges Duboeuf, Emile Beranger, Pouilly-Fuissé Burgundy; Enchantée Rosé (Enchanted) Gérard Bertrand Syrah/Grenache Rosé, Languedoc; L'ombre de la Bête Vin Rouge (Shadow of the Beast) Jean-Luc Colombo, Les Bartavelles, Châteauneuf-du-Pape, Rhône Valley; Be Our Guest Private Label Wine Sampler
Sparkling and Wines - Kistler Les Noisetiers Chardonnay, Sonoma Coast; Belle Glos Pinot Noir, Las Alturas, Santa Lucia Highlands; Joseph Drouhin Laforêt Pinot Noir, Burgundy; Flowers Pinot Noir, Sonoma Coast; Chateau Ste. Michelle Syrah, Columbia Valley; Markham Merlot, Napa Valley; The Prisoner Red Blend, Napa Valley; Simi Cabernet Sauvignon, Alexander Valley; Silverado Cabernet Sauvignon, Napa Valley; Silver Oak Cabernet Sauvignon, Alexander Valley
Sparkling and Wines - Charles de Fère Cuvée Jean Louis Blanc de Blancs Brut, France; Banfi Rosa Regale Brachetto d'Acqui, Piedmont; Veuve Clicquot Ponsardin Brut Yellow Label, Reims; Cuvée Dom Pérignon Brut, Champagne; Terra d'Oro Moscato, California; Dr. Loosen Dr. L Riesling QBA, Mosel; King Estate Pinot Gris, Willamette Valley; Michel Redde Sancerre Sauvignon Blanc, Loire Valley; Kurt Russell's Gogi Wines Goldie Chardonnay, Santa Rita Hills; Cambria Katherine's Vineyard Chardonnay, Santa Maria Valley

Be Our Guest Restaurant Child's Menu
---
and we will get the menu for you.