YeSake
YeSake Information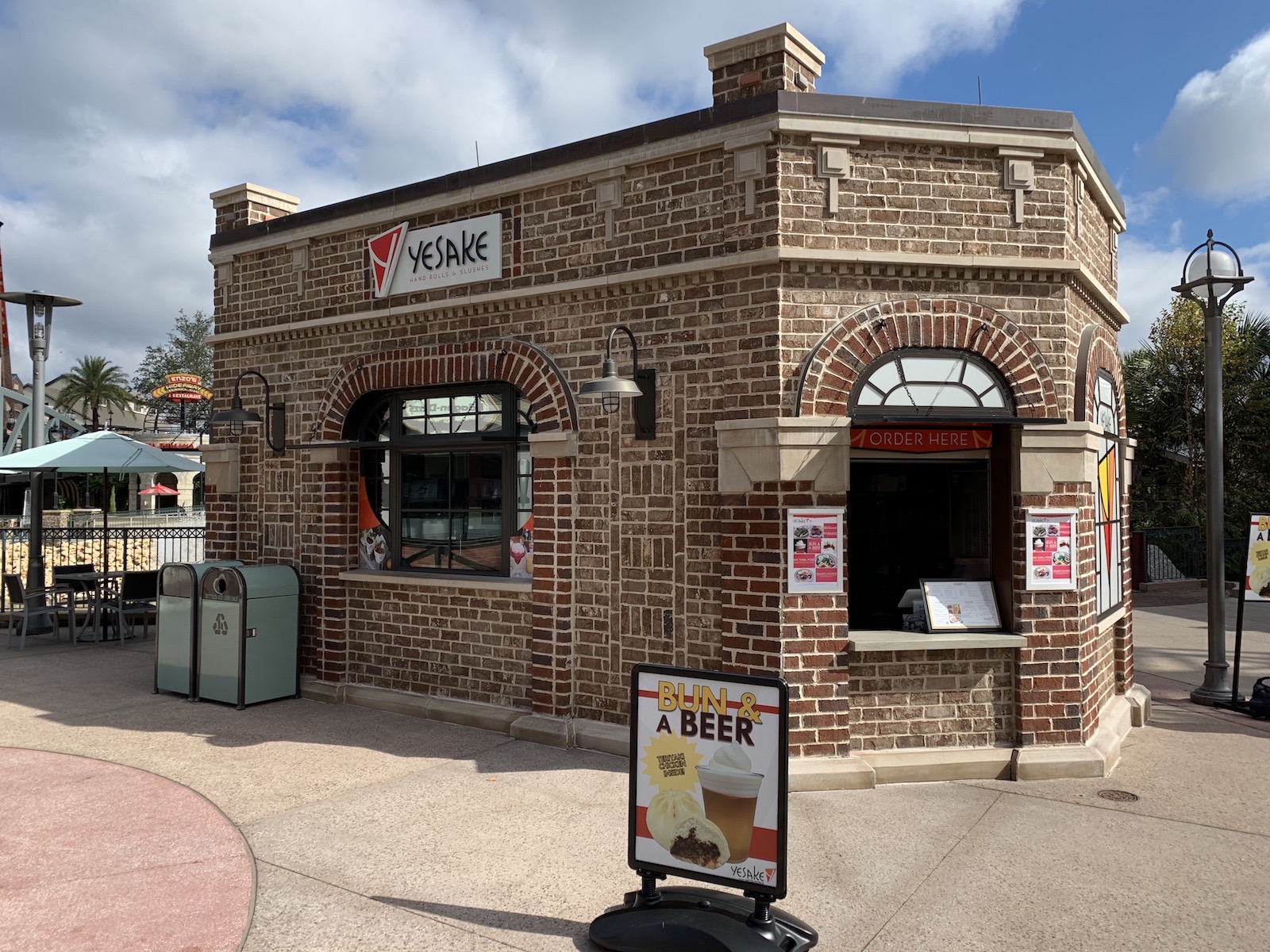 This kiosk offers sake in a variety of forms, including frozen! Food offerings range from Chinese-style pulled pork to a Sombrero with ground beef, pico de gallo, guacamole, cheese, and corn chips. Cold beer is served here also.
NOTE: All menu items/prices are subject to change
---
If there is an asterisk (*) below next to a menu item, this indicates that the meal is a buffet or that it's served family-style at your table. The price reflected is the total cost of the all-you-care-to-enjoy meal.
Please note that the pricing on buffet meals will vary slightly based on the time of year (peak season versus regular season), and day of the week (weekday versus weekend) that you visit. The pricing below is a general range for these meals, but if you need an exact figure, you may call Disney Dining at (407) WDW-DINE and they will provide an exact quote based on the date of your reservation.
All prices you see are subject to change and may vary slightly during your vacation.
Menu items are also subject to change without notice.
Cooked Shrimp - Build your own Flour Tortilla Wrap, Jasmine Rice Bowl or Udon Noodle Bowl with choice of toppings and sauces. Additional main ingredients, add $2.00 each - $9.99
Fresh Ahi Tuna - Build your own Flour Tortilla Wrap, Jasmine Rice Bowl or Udon Noodle Bowl with choice of toppings and sauces. Additional main ingredients, add $2.00 each - $9.99
Fresh Salmon - Build your own Flour Tortilla Wrap, Jasmine Rice Bowl or Udon Noodle Bowl with choice of toppings and sauces. Additional main ingredients, add $2.00 each - $9.99
Grilled Chicken - Build your own Flour Tortilla Wrap, Jasmine Rice Bowl or Udon Noodle Bowl with choice of toppings and sauces. Additional main ingredients, add $2.00 each - $8.99
Yakiniku Beef - Build your own Flour Tortilla Wrap, Jasmine Rice Bowl or Udon Noodle Bowl with choice of toppings and sauces. Additional main ingredients, add $2.00 each - $8.99

Blue Coconut & Sake Frozen Punch - Sake, Blue Curacao, Rum with Pineapple Juice, Coconut Syrup and Banana Syrup - $10.50
Bud Light - - $7.00
Citrus Tea Slush - Sake and Bourbon combined with Black Tea, Honey, Lemonade and Orange Juice - $10.50
Dasani® Bottled Water - - $3.00
Junmai Daiginjo Lemon Sake - - $10.00
Kona Longboard - - $8.00
Mango Colada Slush - Sake and Bourbon combined with Black Tea, Honey, Lemonade and Orange Juice - $10.50
Pineapple Nigori Sake - - $9.00
Sake - Bourbon Slush - Sake and Jim Beam with Black Tea, Lemonade, Orange Juice, Pineapple Juice and Lemon-Lime Soda - $10.50
Sake Cosmo Freeze - Sake and Vodka and with Lime Juice, Cranberry Juice and Simple Syrup - $10.50
Shock Top Belgian White - - $8.00
TIger Lager - - $10.00

YeSake
Child's Menu

Kid's Wrap - Chicken or Beef - $4.99