STK Orlando
STK Orlando Information
STK Orlando brings a unique dining experience to Disney Springs incorporating some of the best steak you'll find on property and a vibrant nightlife complete with a house DJ. STK Orlando serves lunch Monday through Friday from 11 a.m.-2:30 p.m. and also offers a delicious Weekend Brunch on Saturdays and Sundays from 11 a.m.-3 p.m.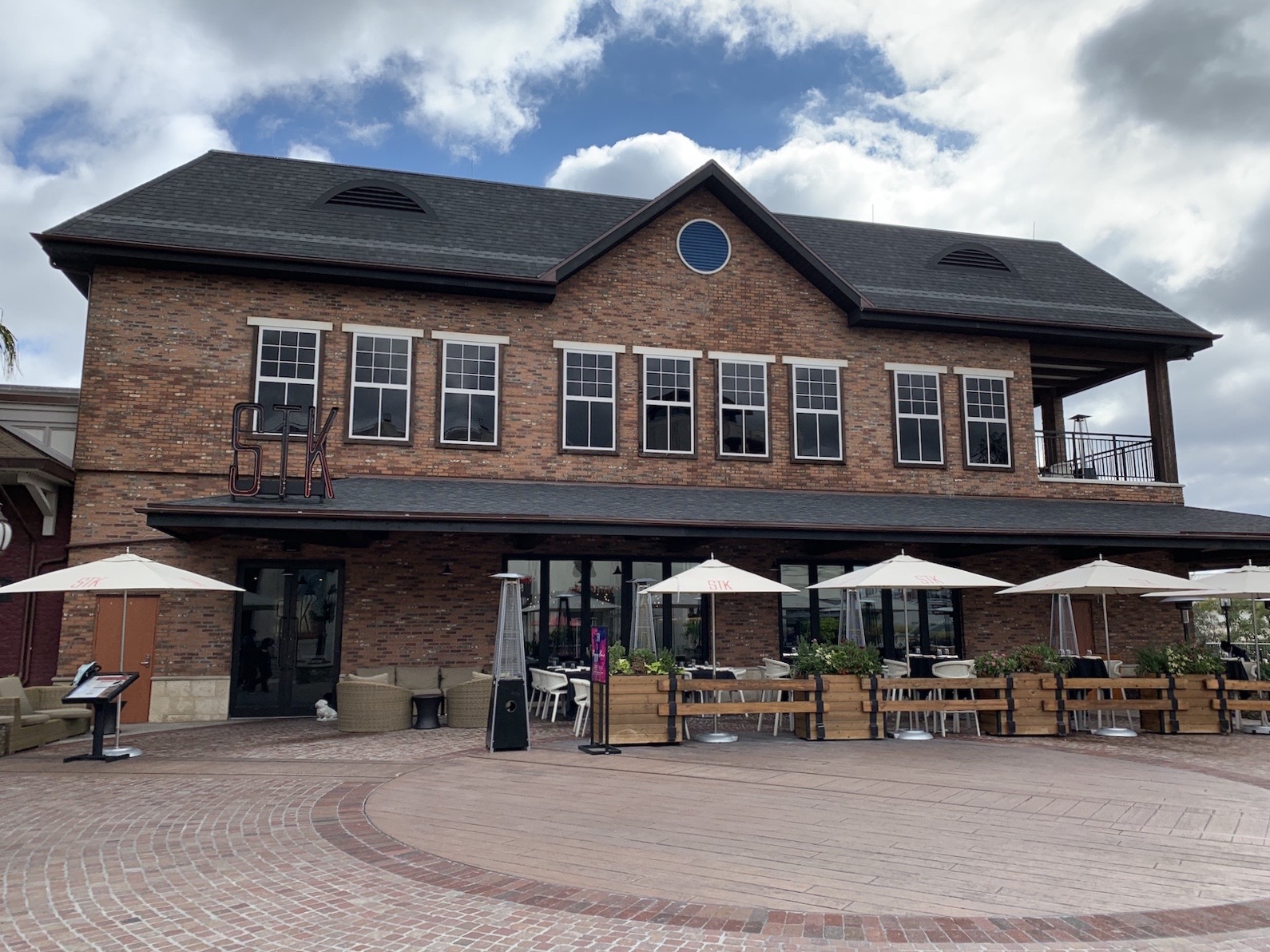 NOTE: All menu items/prices are subject to change
---
If there is an asterisk (*) below next to a menu item, this indicates that the meal is a buffet or that it's served family-style at your table. The price reflected is the total cost of the all-you-care-to-enjoy meal.
Please note that the pricing on buffet meals will vary slightly based on the time of year (peak season versus regular season), and day of the week (weekday versus weekend) that you visit. The pricing below is a general range for these meals, but if you need an exact figure, you may call Disney Dining at (407) WDW-DINE and they will provide an exact quote based on the date of your reservation.
All prices you see are subject to change and may vary slightly during your vacation.
Menu items are also subject to change without notice.
Cinnamon Monkey Bread - cream cheese icing - $6.00

Crab Cakes Benedict - poached eggs, whole grain mustard béarnaise, asparagus salad - $25.00
Fried Chicken & Funnel Cake - sriracha honey, lime, burnt onion-powered sugar - $25.00
Lemon-Ricotta Pancakes - marinated berries, lemon curd, whipped cream - $14.00
Old School - eggs, thick-cut bacon, fingerling potato home fries. Add ons: skirt steak 12, king crab 12, lobster MP - $16.00

Cucumber Stiletto - ketel one citroen, st. germain, muddled cucumber, mint - $16.00
Frosé - local raspberry sorbet dropped into a glass of chilled rosé - $13.00
Mimosa - crisp apple and supple melon compliment Florida citrus - $12.00

---
Alaskan King Crab - - $26.00
Ceviché - lime, red onion, choclo - $18.00
Cracked Conch Chowder - - $11.00
Crispy Rock Shrimp - chili remoulade - $19.00
Lil' BRGs - wagyu beef, special sauce, sesame seed bun - $19.00
Oysters on a Half Shell - Dozen - mignonette, cocktail sauce, lemon - $38.00
Oysters on a Half Shell - Half Dozen - mignonette, cocktail sauce, lemon - $19.00
PEI Mussels - thai green coconut curry, lime, chili - $15.00
Shrimp Cocktail - cocktail sauce, lemon - $19.00
Tuna Tartare - avocado, soy honey emulsion, taro chips - $19.00

Baby Gem Lettuce Caesar - herb croutons, parmesan reggiano - $13.00
Blue Iceberg - nueske's smoked bacon, point reyes blue cheese, cherry tomatoes - $14.00
Heirloom Tomato & Burrata - kale, arugula pesto, shaved onion, tiny basil, pomegranate, minus 8 vinegar - $19.00
Mixed Greens Salad - summer veggies - $12.00
Shaved Brussels Sprouts - apples, cranberries, sweet grass dairy gouda, marcona almonds - $17.00

Bacon & Egg - smoked bacon, frisée, arugula, truffled lemon dijon vinaigrette - $13.00
Blackened Bison Burger - tomato fondue, blue cheese - $21.00
BLTA - chili rémoulade, heirloom tomato, avocado - $15.00
Cowgirl Ribeye 16 oz - - $66.00
Filet 10 oz. - - $53.00
Filet 6 oz. - - $43.00
Grilled Chicken - sun-dried tomato pesto, arugula, pickled onions - $16.00
Linz Angus Burger - american, lettuce, tomato, onion, chips - $10.00
Lobster Club - grilled pineapple, heirloom tomato - $24.00
NY Strip 14 oz - - $53.00
Spiced Tuna Bowl - quinoa, edamame, pickled onions, charred broccoli, sesame soy vinaigrette - $21.00
STK Frites - 6-oz bone-in filet, fries, au poivre sauce - $26.00
STK Salad - baby gem lettuce, summer veggies, lemon truffle vinaigrette, 6 minute egg - $22.00
Wagyu Hot Dog - chips - $10.00
Wagyu Meatball - pomodoro sauce, provolone, parmigiano reggiano - $17.00

Asparagus - - $13.00
Creamy Yukon Potatoes - Creamy Yukon Potatoes - $13.00
Lobster Mac & Cheese - - $36.00
Mac & Cheese - - $13.00
Parmesan Truffle Fries - - $13.00

---
Alaskan King Crab - - $26.00
Ceviché - lime, red onion, choclo - $18.00
Crispy Rock Shrimp - chili remoulade - $19.00
Double-smoked Bacon - date chutney, oven-dried tomatoes, crispy garlic - $16.00
Grilled Octopus - calabrian chilies, squid ink, fingerling potatoes - $19.00
Lil' BRGs - wagyu beef, special sauce, sesame seed bun - $19.00
Oysters on a Half Shell - Dozen - mignonette, cocktail sauce, lemon - $38.00
Oysters on a Half Shell - Half Dozen - mignonette, cocktail sauce, lemon - $19.00
PEI Mussels - thai green coconut curry, lime, chili - $15.00
Shrimp Cocktail - cocktail sauce, lemon - $19.00
Tuna Tartare - avocado, soy honey emulsion, taro chips - $19.00

Baby Gem Lettuce Caesar - herb croutons, parmesan reggiano - $13.00
Blue Iceberg - nueske's smoked bacon, point reyes blue cheese, cherry tomatoes - $14.00
Heirloom Tomato & Burrata - kale, arugula pesto, shaved onion, tiny basil, pomegranate, minus 8 vinegar - $19.00
Mixed Greens Salad - summer veggies - $12.00
Shaved Brussels Sprouts - apples, cranberries, sweet grass dairy gouda, marcona almonds - $17.00

Angry Maine Lobster - crab imperial, spinach, sriracha chili-garlic butter - $79.00
Braised Short Rib 'Meatloaf' - truffle potato purée, wild mushrooms, cipollini onions - $31.00
Chilean Seabass - miso-passion fruit glaze, fried baby bok choy, pickled fresno chili, cilantro - $46.00
Hibachi Chicken - kale-brussels sprouts-apple kimchi, butternut squash, gochujang honey - $31.00
Seared Bigeye Tuna - fresh chickpeas, cherry tomatoes, pita - $38.00
Surf & Turf - dry-aged NY strip, Maine lobster, yuzo kosho butter - $69.00
Truffle Spring Pea Risotto - wild mushrooms, green garlic arugula pesto - $36.00

Asparagus - - $13.00
Charred Broccoli - - $10.00
Creamy Yukon Potatoes - add lobster 15 / add truffle 12 - $13.00
Cucumbers and Heirloom Tomatoes - - $13.00
Foraged Mushrooms - - $17.00
Lobster Mac & Cheese - - $36.00
Mac & Cheese - - $13.00
Parmesan Truffle Fries - - $13.00
Sweet Corn Pudding - - $13.00

Bag O' Donuts - dulce de leche filling, spiced chocolate sauce, raspberry sauce - $10.00
Berry Parfait - berry compote, strawberry sauce, raspberry sherbert - $10.00
Caramelito Bar - cocoa nib marshmallow, chocolate bavarian - $10.00
Ice STK - mini ice cream cone sampler - $10.00
Orange Dream Cheesecake - bruleed oranges, whipped cream - $10.00
Warm Baked Cookie - chocolate sauce, caramel, vanilla ice cream - $10.00

---