Paddlefish
Paddlefish Information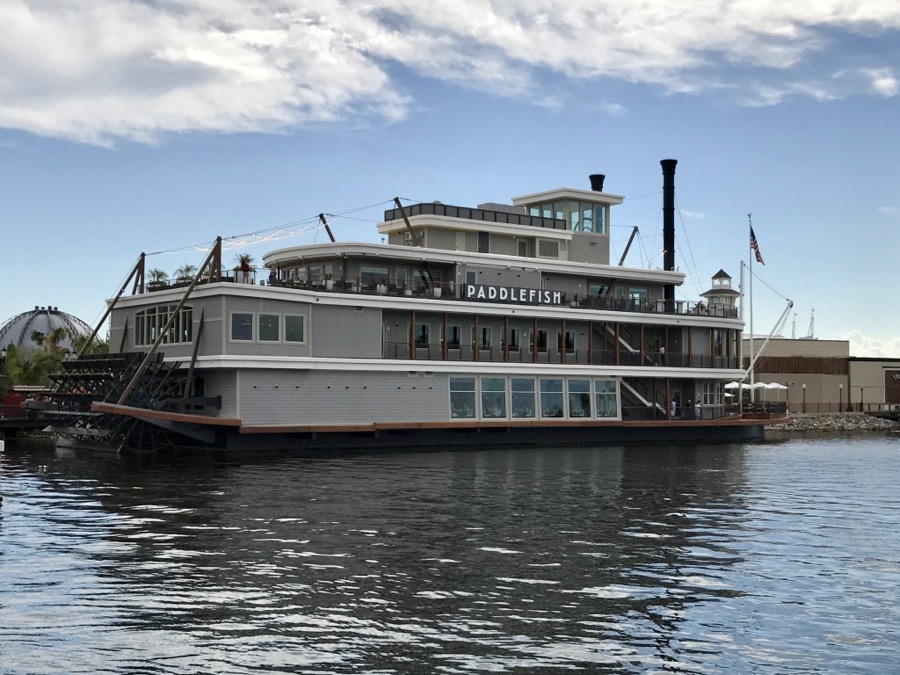 Paddlefish took over the Empress Lily, which was once home to Fulton's Crab House. The restaurant has newly designed interiors and a menu that is heavy on the seafood, but with options that are sure to please everyone.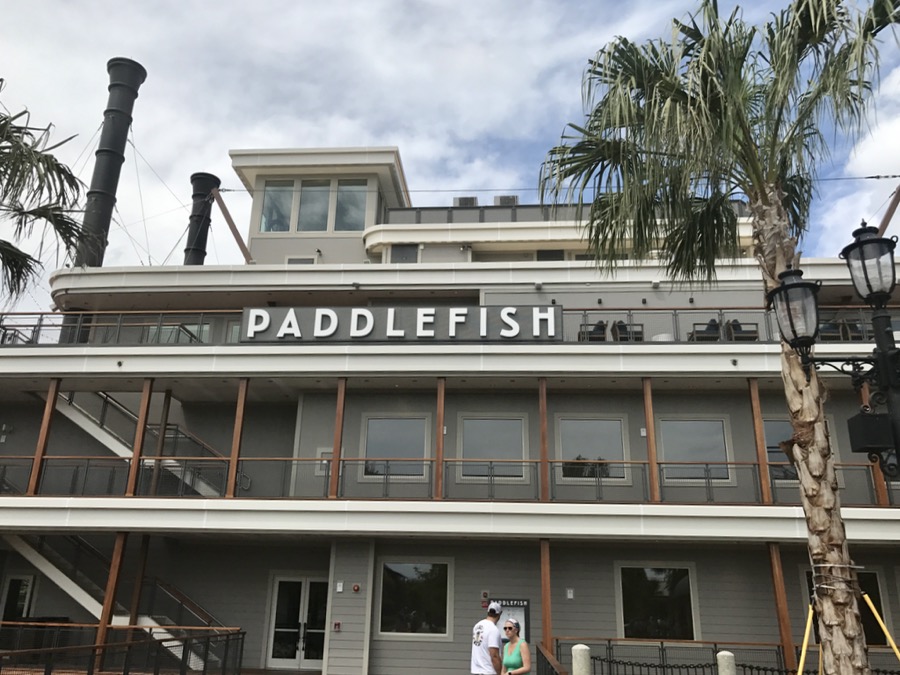 NOTE: All menu items/prices are subject to change
---
If there is an asterisk (*) below next to a menu item, this indicates that the meal is a buffet or that it's served family-style at your table. The price reflected is the total cost of the all-you-care-to-enjoy meal.
Please note that the pricing on buffet meals will vary slightly based on the time of year (peak season versus regular season), and day of the week (weekday versus weekend) that you visit. The pricing below is a general range for these meals, but if you need an exact figure, you may call Disney Dining at (407) WDW-DINE and they will provide an exact quote based on the date of your reservation.
All prices you see are subject to change and may vary slightly during your vacation.
Menu items are also subject to change without notice.
Beef Skewers - Garlic mojo, hazelnut romesco, pickled onions - $13.00
Calamari - Shishito, peppadew piri piri - $16.00
Crab Cake - Maque choux, fried green tomato, remoulade - $17.00
Crab Fries - Hand cut potatoes, lump blue crab, Louie dressing - $14.00
Fried Green Tomatoes - Elote, pickled watermelon, queso fresco, remoulade - $9.00
Lobster Corn Dogs - Sweet chili aioli - $16.00

Caesar Salad - Romaine hearts, sourdough crouton, white anchovy - $11 / half $8 add chicken $5 | add shrimp $10 | add salmon $12
Conch Chowder - Bahamian conch, spiced tomato broth - Cup $6 / Bowl $9
Green Salad - Baby gem, cucumber, toybox heirloom tomato, red onion, Asian pear, yuzu - $12 /half $9 | add chicken $5 | add shrimp $10 | add salmon $12
New England Clam Chowder - Bacon, potatoes, cream - Cup $6 / Bowl $9
Wheat Berry Salad - Farmer's market vegetables, arugula, lemon vinaigrette - $14 / half $11 | chicken $5 | add shrimp $10 | add salmon $12

Ahi Poke - Sweet black soy, yuzu, avocado, cucumber pickle - $16.00
Alaska - Dutch Harbor King and Queen crab legs served with Plant City farmer's market corn, new potatoes, and cornbread - $70.00
Blackened Catfish Sandwich - Lettuce, tomato, onion, remoulade, brioche - $17.00
Buffalo Chicken Sandwich - Fried, hot sauce, tomato, lettuce, onion, blue cheese, brioche - $14.00
Build-Your-Own Seafood Boil - Choose two items - King crab (45.00), Queen crab (35.00), Clams and Mussels (18.00), Gulf shrimp (25.00), or Lobster (40.00) served with Plant City farmer's market corn, new potatoes, and jalapeño cornbread
Cajun Chicken - Beefsteak tomato, lettuce, onion, remoulade, ciabatta - $12.00
Caprese Sandwich - Fresh Mozzarella, Beefsteak Tomato, Basil Aïoli, Ciabatta - $12.00
Catfish - Cornmeal crust, edamame-bacon succotash, creole mustard - $25.00
Chicken Caesar Wrap - Romaine, parmesan, tomato, whole-wheat wrap - $12.00
Clams Sofrito - Cedar Key littlenecks, sofrito, tomatillo, chipotle butter, linguini - $26.00
Crab Cake "BLT" - Bacon, avocado, cheddar, lettuce, tomato, remoulade, ciabatta - $20.00
Crab Ceviche - Blue crab, avocado, bell pepper, jalapeno, cilantro, lime, tortillas - $15.00
Crab Duo - Dutch Harbor King and North Atlantic Snow served with Plant City farmer's market corn, new potatoes, and cornbread - $60.00
Cracker - Cedar Key littlenecks, mussels, shrimp, and chourico served with Plant City farmer's market corn, new potatoes, and cornbread - $45.00
Crispy Fish Sandwich - Flash fried flounder, lemon-caper aioli, house pickle, romaine, tomato, red onion, brioche - $16.00
Crispy Shrimp - Flash-fried, Cocktail Sauce, Skin-on-Fries - $19.00
Filet Mignon - 8 ounce, mashed potatoes - $44.00
Fish & Chips - Beer-battered Flounder, sweet potato fries, tartar sauce - $28.00
Fish Tacos - Market Catch, red cabbage slaw, papaya-mango salsa, sweet chili aïoli - $17.00
Fried Clam Roll - Ipswich whole bellies, lemon-caper aïoli, pickles, split top bun - $16.00
Half Chicken - Carolina mop sauce, edamame-smoked bacon succotash, pickled watermelon - $27.00
Half Chicken Caesar Wrap - Choose either a cup of soup or any side salad paired with half a Chicken Caesar Wrap - $15.00
Linguine & Clams - Cedar Key littlenecks, white wine, garlic, lemon, parsley - $26.00
Lobster Roll - Maine lobster, lemon-infused mayonnaise, celery, split top bun - $31.00
Low Country Boil - Snow crab, shrimp, and chourico served with Plant City farmer's market corn, new potatoes, and cornbread - $49.00
Market Fresh Oysters (Half Dozen) - Cocktail sauce - $18.00
New England - Maine lobster, littlenecks, mussels, and chourico served with Plant City farmer's market corn, new potatoes, and cornbread - $75.00
Roots & Shoots - Seasonal market vegetables, grilled tofu, yellow curry broth - $18.00
Salmon - Spring vegetable, Israeli couscous - $34.00
Shrimp Cocktail - Jumbo shrimp, classic cocktail sauce - $20.00
Snow Crab Boil - Snow crab, shrimp, and chouriço served with Plant City farmer's market corn, new potatoes, and cornbread - $49.00
Soup and Salad - Choose a cup of soup and any side salad - $14.00
Tableside Lobster Guacamole - Serves 4 - Maine Lobster, tortilla planks, tajin - $36.00
The Burger - 9 ounce proprietary blend, house-made pickles, red onion, pimento cheese, brioche - $19.00
Tower (serves 4) - Dutch Harbor King crab, jumbo Gulf shrimp, market fresh oysters, lump crab ceviche, Ahi tuna poke - $70.00

American Craft Beers - Choice of Olde Pelican - Organic Pale Ale, Blonde Ale - Organic, Key West Sunset Ale, Uinta Pale Ale, I-4 - IPA , Hop Nosh - IPA, Highland - Pilsner , Coppertail 'Night Swim' - Porter , Seasonal Selection - $9.00
Backyard Fizz - Chareau Aloe Liqueur, Hayman's Gin, House Sour, cucumber, mint, topped with Mas Fi - $16.00
Captain Handsome - Boyd and Blair, fresh raspberries, framboise, thyme - $16.00
Gold Rush - Kinahan's Irish Whiskey, Fever Tree Ginger Beer, fresh lime - $20.00
Lilly Spritz - Mas Fi, Cocchi Rosa, strawberries, seltzer - $14.00
Not Everyone's Margarita - Nuestra Soledad Mezcal, El Destilador Blanco, Crème de Mûre, House Sour - $15.00
Prohibition Mai Tai - Scarlet Ibis, orgeat, banana liqueur, fresh lime, Scrappy Orleans, amarena cherry - $17.00
Southern Sangria - Medley Bros. Bourbon, peach liqueur, Tempranillo, seasonal fruit - $15.00
The Bloody Mary - King crab, jumbo shrimp, candied Neuske's bacon - $20.00

---

(Updated: 03/19)
Brownie Milkshake - Chocolate ganache, caramel popcorn, whipped cream - $10.00
Brownie Milkshake - Chocolate ganache, caramel popcorn, whipped cream - $10.00
Chocolate Crème Brûlée - Fresh raspberries - $10.00
Flourless Chocolate Cake - Mascarpone, raspberry coulis - $10.00
Key Lime Pie - Graham cracker, candied zest, meringue - $10.00
Spiced Apple Bread Pudding - Vanilla ice cream, caramel - $9.00

Captain Handsome - Boyd & Blair vodka, fresh raspberries, framboise, thyme - $16.00
Classic Martini - Boyd & Blair vodka or Hyman's dry gin - bleu cheese stuffed olives - $14.00
Gold Rush - Kinahan's Irish Whiskey, Fever Tree Ginger Beer, fresh lime - $20.00
Lilly Spritz - Mas Fi, Cocchi Rosa, strawberries, seltzer - $14.00
Little Bird - Boyd & Blair vodka, Nuestra Soledad mezcal, Abricot du Roussillon, pineapple - $17.00
Not Everyone's Margarita - Nuestra Soledad Mezcal, El Destilador Blanco, jalapeño, Creme de Mure, house sour - $15.00
Prohibition Mai Tai - Scarlet Ibis, orgeat, banana liqueur, fresh lime, Scrappy Orleans, amarena cherry - $17.00
Southern Sangria - Medley Bros. Bourbon, peach liqueur, Tempranillo, seasonal fruit - $15.00
The Bloody Mary 20 - King crab, jumbo shrimp, candied Neuske bacon - $20.00

---
Ahi Poke - Sweet black soy, yuzu, avocado, radish, Asian pickle - $16.00
Beef Skewers - Garlic mojo, hazelnut romesco, pickled onions - $13.00
Calamari - Shishito, peppadew piri piri - $16.00
Charred Octopus - Cannellini bean, chourico, smoked paprika oil - $15.00
Crab Ceviche - Blue crab, avocado, bell pepper, jalapeno, cilantro, lime, tortillas - $15.00
Crab Fries - Hand cut potatoes, lump blue crab, Louie dressing - $13.00
Crab Fries - Skin-on french fries, lump blue crab, Louie dressing - $14.00
Fried Green Tomatoes - Elote, pickled watermelon, queso fresco, remoulade - $9.00
Hamachi Crudo - Blood orange, lime, chili, jicama, aji panca - $16.00
Littleneck Clams - White Wine, Garlic, Lemon Butter - $14.00
Lobster Corn Dogs - Sweet chili aioli - $16.00
Market Fresh Oysters - Cocktail sauce - $3.00
Shrimp Cocktail - Jumbo shrimp, classic cocktail sauce - $20.00
Tableside Lobster Guacamole - Maine lobster, tortilla planks, tajin - $36.00
Tower - Dutch Harbor King crab, jumbo Gulf shrimp, market fresh oysters, lump crab ceviche, Ahi tuna poke - $70.00

Caesar Salad - Romaine hearts, sourdough crouton - Full $11 / Side $8
Green Salad - Baby gem, cucumber, toybox heirloom tomato, red onion, Asian pear, yuzu - Full $12 / Side $9
Gumbo - Chicken, Chouriço, Okra, White Rice - Cup $6 / Bowl $9
New England Clam Chowder - Bacon, potatoes, cream - Cup $6 / Bowl $9
Wedge Salad - Iceberg, Tomatoes, Red Onions, Bacon, Blue Cheese Dressing- Full $14 / Side $11

18 Hour Braised Short Rib - Crab mashed potatoes, crispy Brussels sprouts - $48.00
Alaska boil - Dutch Harbor King & Queen crab legs served with Plant City farmer's market corn, new potatoes, jalapeño cornbread - $70.00
Blackened Catfish - Lettuce, tomato, onion, remoulade, brioche - $17.00
build your own Seafood boil - Choose two items - King crab (45.00), Queen crab (35.00), Clams and Mussels (18.00), Gulf shrimp (25.00), or Lobster (40.00) served with Plant City farmer's market corn, new potatoes, and jalapeño cornbread
Catfish - Cornmeal crust, edamame-smoked bacon succotash, creole mustard - $22.00
Cioppino - Shrimp, littleneck clams, mussels, octopus, seasonal fish, crab, tomato broth - $39.00
Colorado Lamb Tenderloin - Moroccan spices, young chickpeas, Israeli cous cous, saffron-harissa broth - $45.00
Crab Cake "BLT" - Bacon, avocado, cheddar, lettuce, tomato, remoulade, ciabatta - $20.00
Crab Duo Boil - Dutch Harbor King and North Atlantic Snow served with Plant City farmer's market corn, new potatoes, and cornbread - $60.00
Cracker - Cedar Key littlenecks, mussels, shrimp, and chourico served with Plant City farmer's market corn, new potatoes, and cornbread - $45.00
Cracker boil - Cedar Key littlenecks, mussels, Gulf of Mexico shrimp, and chouriço served with Plant City farmer's market corn, new potatoes, and cornbread - $45.00
Crispy Shrimp - Flash-fried, Cocktail Sauce, Skin-on-Fries - $19.00
Filet Mignon - 8 ounce, mashed potatoes - $44.00
Fish & Chips - Atlantic halibut, I-4 IPA, sweet potato fries, malt vinegar aioli - $28.00
Half Chicken - Carolina mop sauce, edamame-smoked bacon succotash, pickled watermelon - $27.00
Jambalaya - Gulf shrimp, Andouille, chicken, crawfish, popcorn rice - $34.00
King Crab - Dutch Harbor, AK - served with Plant City Farmer's Market Corn and New Potatoes - $65.00
Kurobuta Pork 2 Ways - 48 hour brined chop, crispy belly, blistered green beans, applesauce - $35.00
Linguine & Clams - Cedar Key littlenecks, white wine, garlic, lemon, parsley - $26.00
Maine Lobster (Market Price) - with Plant City Farmer's Market corn, new potatoes
Market Catch - Macadamia nut crust, red curry, crab fried rice - $38.00
New England boil - Maine lobster, littlenecks, Casco Bay mussels, served with Plant City farmer's market corn, new potatoes, jalapeño cornbread - $75.00
Pork Chop & Applesauce - House-made applesauce, green beans - $32.00
Pork Osso Bucco - Cider-braised, cheddar grits - $28.00
Prime Strip - 12 ounce, caramelized onions and crimini mushrooms - $49.00
Salmon - Spring vegetable, Israeli couscous - $34.00
Scallops - Brown butter, cauliflower puree, crispy Brussels sprouts, bacon - $36.00
Shrimp & Grits - Cheddar grits, spicy black pepper-butter sauce - $30.00
Shrimp Pasta - Linguine, Parmesan Cream, Cherry Tomato, Basil - $28.00
Snow Crab - Gulf of St. Lawerence, Canada - with Plant City Farmer's Market corn, new potatoes - $37.00
Snow Crab Boil - Snow crab, shrimp, and chouriço served with Plant City farmer's market corn, new potatoes, and cornbread - $49.00
South of the Border Boil - Peel and eat shrimp with tajin and served with Plant City farmer's market corn, new potatoes, and cornbread - $26.00
Swordfish - Mussles, coconut milk, crab broth, tomato, peppers, ginger - $38.00
The Burger - 9 oz proprietary blend, pickles, red onion, pimento cheese, brioche - $19.00
Vegetarian Pasta - Linguine Garlic, Olive Oil, Market Vegetables - $18.00

Asparagus - - $10.00
Blistered Green Beans with Ginger - - $10.00
boil add-ons - Three Jumbo Shrimp $10 • Dozen Clams $9 • 1/2 lb of Mussels $9 • Sausage | Chorizo $8 • Andouille $8 • Boudin $8
Crispy Brussels Sprouts - - $10.00
Edamame-Smoked Bacon Succotash - - $8.00
Finishing Touches - Oscar $12 | bleu cheese $6 | Be?arnaise $4
Mac n' Cheese - - $15.00
Maque Choux - - $8.00
Red Bliss Potatoes - - $7.00
Skin-on Fries - - $7.00
Sweet Potato Fries - - $7.00

American Craft Beers - Choice of Olde Pelican - Organic Pale Ale, Blonde Ale - Organic, Key West Sunset Ale, Uinta Pale Ale, I-4 - IPA , Hop Nosh - IPA, Highland - Pilsner , Coppertail 'Night Swim' - Porter , Seasonal Selection - $9.00
Backyard Fizz - Chareau Aloe Liqueur, Hayman's Gin, House Sour, cucumber, mint, topped with Mas Fi - $16.00
Captain Handsome - Boyd and Blair, fresh raspberries, framboise, thyme - $16.00
Gold Rush - Kinahan's Irish Whiskey, Fever Tree Ginger Beer, fresh lime - $20.00
Lilly Spritz - Mas Fi, Cocchi Rosa, strawberries, seltzer - $14.00
Not Everyone's Margarita - Nuestra Soledad Mezcal, El Destilador Blanco, Crème de Mûre, House Sour - $15.00
Prohibition Mai Tai - Scarlet Ibis, orgeat, banana liqueur, fresh lime, Scrappy Orleans, amarena cherry - $17.00
Southern Sangria - Medley Bros. Bourbon, peach liqueur, Tempranillo, seasonal fruit - $15.00
The Bloody Mary - King crab, jumbo shrimp, candied Neuske's bacon - $20.00

---
Baja Fish Tacos - flash fried, papaya-mango salsa, slaw, cilantro - $14.00
Charred Octopus - Portuguese chourico, cannellini bean, smoked paprika oil - $15.00
Gazpacho Oyster Shooters - 3 market fresh oysters, tomato, bell pepper, cucumber | add Stoli vodka float $7 - $12.00
Market Fresh Oysters (Half Dozen) - Cocktail sauce - $18.00
Salmon Tartare - cucumber, red onion, dill, cre?me fraiche, caviar, crostini - $13.00

Caviar (Market Price) - Mote Marine black sturgeon, blini, creme fraiche, quail egg, onion
Crab Fries - hand cut potatoes, lump blue crab, Louie dressing - $14.00
Lobster Corn Dogs - sweet chili aioli - $16.00
Lobster Roll - 1 1/4 Maine lobster, butter, split top bun - $31.00
Seafood Charcuterie - pastrami salmon, tuna bacon, shrimp escabeche - $23.00
Steak Tartare - capers, anchovy, Dijon, quail egg, crostini - $16.00

---
Paddlefish
Child's Menu

Kid's Appetizer - Choice of Salad, Cup of Soup or Fruit Skewers - $4.00

All Beef Hot Dog - - $9.00
Filet Skewers - served with mashed potatoes and green beans - $15.00
Fish of the Day - served with Green Beans - $12.00
Grilled Chicken - served with mashed potatoes - $9.00
KM - The Kid's Burger - Proprietary blend, brioche bun - $9.00
Shrimp Pasta - with garlic butter - $12.00
Snow Crab - served with Corn on the Cob and Red Potatoes - $15.00

Kid's Desserts - Choice of Hot Fudge Brownie Sundae, Cookies and Milk, or Fruit Skewers - $5.00

---