Disney's Boardwalk Inn Resort
Boardwalk Inn Resort Address / Phone
2101 N Epcot Resorts Blvd
Lake Buena Vista, FL 32830
Phone: (407) 939-6200

# of rooms: 378 (Inn) and 383 (villas)
Disney's Boardwalk Inn Resort Overview
The hustle and bustle of a bygone era for Atlantic seaside resorts is still alive at the Boardwalk Inn. Located on the shores of Crescent Lake, nestled between Epcot and Disney's Hollywood Studios, you'll find this lively, charming waterfront village. The resort has a festive feel with striped awnings, white-railed balconies, shingled rooftops and colorful flowerbeds.
Article: 5 Reasons to Stay at Disney's BoardWalk Resort




Inside the lobby, guests will find impressive vintage furnishings, hardwood floors and models of a carousel and roller coaster. The deck outside the main lobby is a wonderful place to relax and take in the view.
DID YOU HEAR THE NEWS? It was announced that the Boardwalk Inn's lobby, lounge, and guest rooms will be receiving "light and airy" touches in the months to come. A coffee bar will also be added to the lobby as part of the renovation.
To get a true feeling for the Boardwalk Inn, one must experience it at night. The boardwalk itself features bright lights and the music of nightclubs. Midway games are also set up for amusement. The line-up of restaurants and a bakery entice with their pleasant aromas wafting in the air as you walk past.

One of the privileges of being lakeside is the boat transportation (also known as the Friendship boats), that are available to take guests to Epcot and Disney's Hollywood Studios. However the World Showcase at Epcot is close enough to walk to, and only takes about 5-10 minutes. Boats leave the dock every 20 minutes and also travel to the Yacht & Beach Club, and the Swan and Dolphin resorts as well to pick up guests. Buses are available to take guests to the Magic Kingdom, Animal Kingdom, the water parks, and Disney Springs.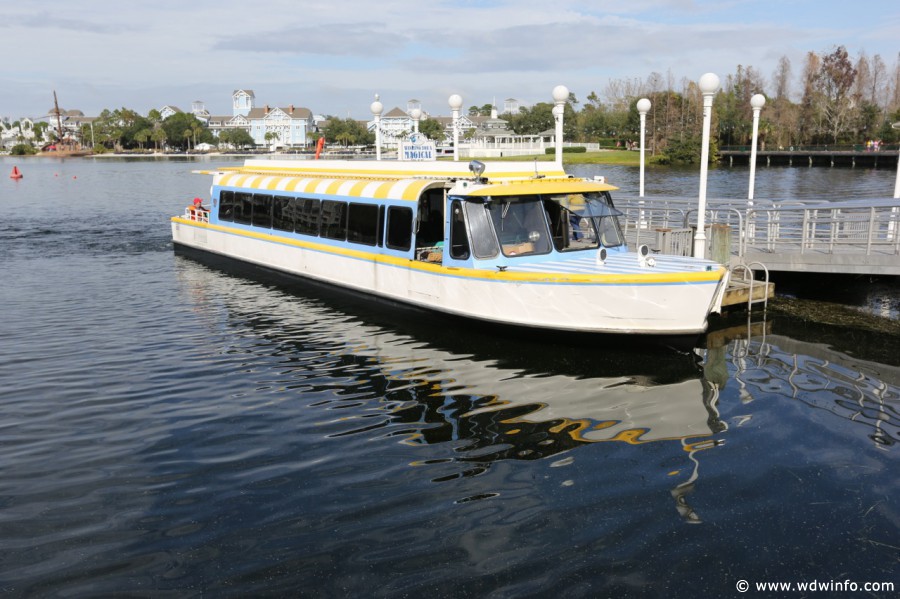 Services/Amenities
Wi-Fi Service (complimentary wi-fi access in guest rooms, main lobbies and main pools)
Dining Options (table service, quick service and poolside service)
Business Center (computer services, print services, shipping services, office supplies)
Designated Smoking Areas
Luggage Service (luggage assistance, valet parking assistance, dry cleaning)
Valet and Self-Parking
24-Hour ATM (near front desk)
Front Desk Service (banking and mail)
Housekeeping Service (bed sheets changed every 4th night and play yard cribs, additional pillows, disability aids, towel and amenity replenishment upon request)
Merchandise Delivery and Pickup
Ice and Vending Machines
Laundry Self-Service (near the elevators of Boardwalk Inn 3rd floor and near Muscle & Bustles Health Club)
Concierge Service (purchase tickets, upgrade tickets, special requests)
Spa and Health Club
Room Service
Safekeeping (in-room safes with safe-keeping boxes available at Front Desk)
Rapid Fill (refillable mugs)
Wake-up Call Service
Disability Service (mobility, hearing, visual and service animal accommodations; call 407-939-7807)
Transportation Service (complimentary bus and boat service)
Boardwalk Inn Rooms
The average guest room is approximately 370 square feet, and includes 2 queen size beds (or one king sized bed), daybed, armoire, television, nightstand, refrigerator, small table with 2 chairs, wall mirror, small key-operated wall safe, telephone and double vanity and mirror that is separate from the tub and commode.


The bathrooms and double vanity are made of marble. Some rooms with a king size bed may be handicapped accessible with a wheelchair-accessible shower in place of a tub. The rooms also include an iron, ironing board, a Pack-n-Play crib, hair dryer and a makeup mirror. Guests who need to connect to home or work via the Internet while vacationing will find high speed access.
The composition of the rooms at The Boardwalk Inn are dark woods, contrasting patterns of stripes and toile along with a mixture of jewel tones and paler hues. It achieves a sense of relaxed and elegant fun with views that overlook gardens, pools or the boardwalk itself.
Standard Room
Categories: Standard View (views of gardens, leisure pool or parking area) and Water View (views of boardwalk or Crescent Lake)
Approximate # of Rooms: Standard View: 281; Water View: 34
Maximum # people: 5 people
# Handicap Accessible Rooms: Standard View: 17; Water View: 3
Note: Handicap-specific room locations differ according to the disability being accommodated
Square Footage: 434 sq. ft.
Basic Room Contents: All rooms come with an alarm clock with mp3 player, mini fridge, ceiling fan, coffee maker with tea and coffee setup, hair dryer, ice bucket, safe, iron and ironing board, desk and chair, telephone and television.
Standard View: 2 queen beds and 1 day bed, 1 king bed, 2 queen beds, 1 king bed and 1 day bed
Water View: 2 queen beds and 2 day beds, 2 queen beds, 1 king bed
Note: Bed boards/rails, Pack N Play cribs, microwave, international electrical adapter and rollaway bed available upon request
Club Level Room
Concierge service includes access to a private lounge, the "Innkeeper's Club," that offers a complimentary Continental breakfast buffet from 7 a.m. to 10 a.m., English-style tea in the afternoon from 3 p.m. to 4:30 p.m., and desserts, cordials, wine and cheese are offered from 7 p.m. to 9 p.m. Concierge deluxe rooms are approximately 434 square feet in size and in addition to the amenities of the guest rooms, include robes, a TV speaker in the bath area, and a deluxe turndown service in the evening.
One unique feature of Disney's Boardwalk are the 14 garden suites, also known as the honeymoon cottages as the maximum occupancy is two – which seems odd as there are enough beds to sleep at least four. It's important to note that you can only enter the cottage from the outside as they do not have inside corridors. Most of these 2-story cottages have a [white picket] fenced in private yard with lovely rose gardens. The first floor is the living room area with a queen size sofa bed, television, 2 piece bathroom, telephone, wet bar and fridge. The bedroom is in a loft area on the second floor. It overlooks the lower floor and includes a king size bed, television, nightstand and a full bathroom with a hot tub. There is a mini-TV for viewing whilst relaxing in the hot tub. Some of the suites have private balconies instead of the fenced in yard.
(Club level rooms entitle guests to club concierge desk services, access to the concierge lounge, free DVD rentals from the resort and--upon request--complimentary bathrobes, turn-down service and alcoholic beverages from 7am-10pm.)
Categories: Standard Room (views of boardwalk or courtyard leisure pool), Deluxe Room (views of boardwalk), Outer Building (Garden Room), 2 Bedroom Suite (Acc.), 2 Bedroom Suite, Sonora VP Suite, Steeplechase Presidential Suite
Approximate # of Rooms in this category:
Standard View: 23
Deluxe Room: 10
Outer Building (Garden Room): 14
2 Bedroom Suite (Acc.): 1
2 Bedroom Suite: 3
Sonora Vice Presidential Suite: 1
Steeplechase Presidential Suite: 1
Maximum # people: Standard View: 5 people, Deluxe Room: 6 people, Outer Building (Garden Room): 2 people, 2 Bedroom Suite (Acc.): 6 people, 2 Bedroom Suite: 8 people, Sonora VP Suite: 8 people, Steeplechase Presidential Suite: 6 people
# Handicap Accessible: Standard View: 3, 2 Bedrom Suite (Acc.): 2, Sonora VP Suite: 1, Steeplechase Presidential Suite: 1
Note: Handicap-specific room locations differ according to the disability being accommodated
Square Footage: Standard View: 434 sq. ft., Deluxe Room: 870 sq. ft., Outer Building (Garden Room): 915-1100 sq ft., 2 Bedroom Suite (Acc.): 1288 sq. ft., 2 Bedroom Suite: 1288 sq. ft., Sonora VP Suite: 1744 sq. ft., Steeplechase Presidential Suite: 2800 sq. ft.
Basic Room Contents: Suites come stocked with DVD players, complimentary sodas, flowers and a small amenities gift basket in addition to the equipment of standard rooms.
Standard View: 2 queen beds and 1 day bed, 1 king bed, 2 queen beds
Deluxe Room: 2 queen beds and 1 queen-sized sleeper sofa
Outer Building (Garden Room): 1 king bed
2-Bedroom Suite (Acc.): 2 king beds and 1 queen-sized sleeper sofa
2-Bedroom Suite: 1 king bed and 2 queen beds and 1 queen-sized sleeper sofa, 2 king beds and 1 queen-sized sleeper sofa
Sonora VP Suite: 1 king bed and 2 queen beds
Steeplechase Presidential Suite: 2 king beds
Boardwalk Inn Resort Dining
Restaurants and Lounges
AbracadaBAR: The AbracadaBar lounge is a "curious cocktail lounge" with a "Golden Age of Magic" theme. The storyline goes that "the lounge was once a secret stomping ground for famous touring magicians, local boardwalk illusionists and the loveliest magician's assistants of the day. After every magic show, these prestidigitators would gather at the bar, where they'd conjure up new cocktails, swap magic tips and tricks, and often stay up all night attempting to 'out-charm' each other with their extraordinary illusions."
On one of these evenings, one of the magicians disappeared and was never seen again. The lounge then sat empty for 70 years, until now, when it is back in the spotlight again. The magicians are now gone but their magic can still be found at the AbracadaBar.
A club with an open dance floor where guests can enjoy dance hits played by a live VJ. Full service bar, no cover charge, and no drink minimum. Does not accept Disney Dining Plan.
Belle Vue Lounge: Full service bar, does not accept Disney Dining Plan
BoardWalk Joe's Marvelous Margarita: Traditional and flavored margaritas and assorted snacks
Jellyrolls: A piano bar where guests will participate in sing-alongs led by dueling pianos. There is a cover charge of $12, and guests under 21 years of age are not admitted.
Leaping Horse Libations: Full service bar, sandwiches and snacks

Quick-Service
Belle Vue Lounge: Pastries, fruit, cereal, coffee and juice
Boardwalk Deli: Fresh sandwiches, salads, soups, baked goods and a selection of beverages

Boardwalk Pizza Window: pizza slices, whole pizzas and beverages

Big River Grille and Brewing Works: This microbrewery displays huge stainless steel vats and brewing equipment behind glass walls so patrons can see the brewing process of their handcrafted specialty beers.

Flying Fish:
The contemporary yet whimsical feel of this restaurant is merely a bonus to its award-winning cuisine. Featuring American cuisine with an emphasis on seafood, Flying Fish is wildly popular and considered signature dining. Tank tops, swimsuits, swimsuit cover-ups, cut-offs, torn clothing, hats (men only) and clothing with offensive language or graphics are not permitted.

The Cake Bake Shop by Gwendolyn Rogers (opening in 2023): Fans of all things sweet will find that this upcoming dining location is right up their alley! The Cake Bake Shop by Gwendolyn Rogers will be both a restaurant and bakery, and will feature "sweet treats and dreamy desserts." It will also offer an afternoon tea service, along with separate sweet and savory dessert menus.
Trattoria Al Forno: This casual Italian restaurant provides an elegant yet comfortable dining experience. It boasts of traditional Italian cooking techniques and showcases the diversity of cuisine found through all the Italian regions.




In-Room Dining
In-room dining is available 24-hours daily. Choose from a variety of American favorites as well as specialty items particular to your resort hotel. To place an order, press "Dining Options" on your in-room phone. An 18% gratuity, $3.00 delivery charge and 6.5% sales tax will apply to all delivery orders. A minimum order may apply.
Pools and Recreation


Luna Park is the resort's primary pool. It boasts a 200-foot water slide called the Keister Coaster, fashioned after an old-time wooden roller coaster. A hot tub, kiddie pool and playground are also a part of the pool area.


There are 2 other additional quiet pool areas entirely separated from Luna Park. One is located on the Inn side of the resort while the other is tucked further back on the Villas side of the resort.


A number of poolside activities are scheduled each afternoon. Ranging from bean-bag tosses to beach ball blasts, there is a broad spectrum of games and challenges for families to participate in while they enjoy the water area.
Disability Services (pool lifts and other access options)
Complimentary life jackets
Swim diapers required for children that aren't toilet trained (swim diapers can be purchased in merchandise locations)
Side Show Games Arcade

Yard Arcade
Jogging Trail: Boardwalk Canal (1 mile), Crescent Lake Loop (.8 mile)
Tennis Courts: Complimentary tennis balls and tennis racquets may be checked out at Community Hall Private tennis lessons are also an option for a fee (321) 228-1146.
Outdoor Campfire and Movie: Each night there is a complimentary showing of a Disney film. Located on the Boardwalk's Village Green, the feature film changes daily (consult recreation calendar given upon guest check-in for time, location and particular movie)
Guided Fishing Excursions: For a fee, an expert guide will host your group during a catch-and-release fishing trip in some of the lakes on Disney property. Available times are 7am, 10am, and 1:30pm. Reservations required (407) WDW-BASS or visit the Concierge desk.
Luna Park Crazy Play Area: Located next to Luna Park Pool
Ferris W. Eahlers Community Hall: Stop in for video games, arts and crafts and free DVD rentals. For a fee, there are organized activities to participate in such as designing tote bags and umbrellas.


Surrey Bike Rental: For a fee, a surrey bike can be rented for a cruise around the waterfront boardwalk. Options for 2 people, 4 people and 6 people are available.

Beach Cruiser Style Bicycles: Buena Vista Scooter Rentals offers Standard Beach Cruiser style bicycles with free resort drop off and pick up.

Shopping
Disney's Character Carnival: Disney character apparel, toys and accessories
ESPN Club: (currently closed) ESPN merchandise and sports accessories
Screen Door General Store: Groceries, dry goods, snacks and beverages
Dundy's Sundries: Snacks, apparel, sunscreen, spa products, souvenirs, Disney Vacation Club and Boardwalk Inn and Villas merchandise
Thimbles & Threads: Sport and golf apparel, accessories and Disney character merchandise
Wyland Galleries: Oceanographic works from internationally-known artists
Spa
Muscles & Bustles Health Club
Open 24 hours with MagicBand or card access
Strength training and cardio equipment
Transportation


Magic Kingdom: Bus; Walk/Monorail
Epcot: Walk; Boat
Hollywood Studios: Walk; Boat
Animal Kingdom: Bus
Water Parks: Bus
Disney Springs: Bus
Swan and Dolphin Hotel: Boat
Yacht and Beach Club Resort: Boat
Note: The bus stop is located off the main entrance to the lobby, down the ramp on the left with buses departing approximately every 20 minutes. The boat dock is located on the boardwalk with boats departing approximately every 20 minutes.