Disney's Animal Kingdom
Animal Kingdom Lands
Pandora - Press Releases and Artwork
Info from D23 Expo Japan
There will be a new attraction coming in 2017 called Na'vi River Journey, perfect for families. Guests will "set out in canoes and venture down a mysterious, sacred river hidden within the bioluminescent rainforest. The full beauty of Pandora reveals itself as the canoes pass by exotic glowing plants and amazing creatures. The journey culminates in an encounter with a Na'vi shaman, who has a deep connection to the life force of Pandora and sends positive energy out into the forest through her music."


---
Info from D23 Expo:
The official name of the area will be Pandora - The World of AVATAR. It will feature "awe-inspiring floating mountains, a nighttime jungle of bioluminescent plants as well as an amazing new attraction called AVATAR Flight of Passage." The new attraction will take guests on a Banshee flight above the alien world.

---
Latest Rendering Released as Disney Continues Design Work on the World of AVATAR
Feb. 26, 2015 - The creative, collaborative process continues on a multi-year project as Disney's Animal Kingdom brings to life Pandora, based on the blockbuster film AVATAR. Disney recently welcomed acclaimed director James Cameron to offices in Glendale, Calif. for a status report.. Disney's creative teams collaborating with the artists and designers at Lightstorm are focused on all the land's iconic elements — from the magnificent floating mountains to the interactive bioluminescent forest, and even to the soaring banshees. The AVATAR-inspired land will be part of the largest expansion in Disney's Animal Kingdom history at Walt Disney World Resort in Lake Buena Vista, Fla.(Concept art, Walt Disney Imagineering)
---
James Cameron shares possible name for Disney's Avatar-themed land

Posted: Jun 2, 2014- James Cameron has leaked more details about plans for Walt Disney World's new Avatar-themed land, currently under construction at
Disney's Animal Kingdom
. Until now, the former Camp Minnie-Mickey area has been nicknamed "Avatar Land." Cameron spoke at the Los Angeles Times Hero Complex Film Festival on May 31 and said of the project, "It's going to be called, I believe, 'Pandora: The Land of Avatar'."
Other details he shared were:
"It's going to have floating mountains. It's pretty cool. I've seen the model and the design work the Imagineering people have done is spectacular. They've got a quarter inch to the foot scale model of the whole park and I've looked at all the sight lines...it's not a park, it's a land within the park but a land is not just a ride. There will be several rides and a number of other attractions. It's really just a place you're gonna wanna go and hang out. It's gonna be gorgeous. Of course it's gonna be gorgeous at night and they're using every new trick, every new bit of technology that they've created.
The animatronics for the Na'vi characters are gonna be fantastic. For example, their early animatronics would use 12 axis of motion and I think the most they've ever done was 32 axis recently. I think they're up to 64 just in the face of the Na'vi characters. So it's gonna be remarkable. They really see it as a major, major attraction."
Cameron also mentioned some sort of smell being added so guests would feel that they were actually in a rain forest.
The Avatar section of the park is scheduled to open in 2017.
---
AVATAR Land Details And Artwork Announced
Posted: Oct 12, 2013



At its first-ever D23 Expo in Japan, Disney released brand new concept art and information about the upcoming AVATAR Land coming to Disney's Animal Kingdom at the Walt Disney World Resort. While the working relationship with Disney Imagineering and James Cameron and Lightstorm Entertainment has reportedly been a rocky one, this shows that the project is still on track and well into development stages.



In what is being called the "largest expansion in the history of the park [Disney's Animal Kingdom]", the AVATAR-inspired land will include the landscape of Pandora, with its floating mountains and glowing trees. Imagineers say that guests will also "discover what it feels like to soar into the sky riding a Banshee."




In addition to a new land and new attractions, Imagineers are planning new entertainment for Disney's Animal Kingdom, including a first-ever night time show for the park. The show will include " live music, floating lanterns, water screens and swirling animal imagery." Kilimanjaro Safari will also stay open later and offer a special night time version of the attraction.




More details and information about Animal Kingdom's new AVATAR-inspired land to come as the project moves forward.

---
DIS Unplugged Blog posted Sep 20, 2011

A surprise came from Burbank, CA when Disney Parks announced a partnership with Fox Entertainment and James Cameron to bring the world of Avatar to the Disney themeparks worldwide. The first such venture will be an Avatar themed land at Disney's Animal Kingdom in Walt Disney World with construction to commence in 2013. Continue after the break to see how the news is being received within the Disney Fan community.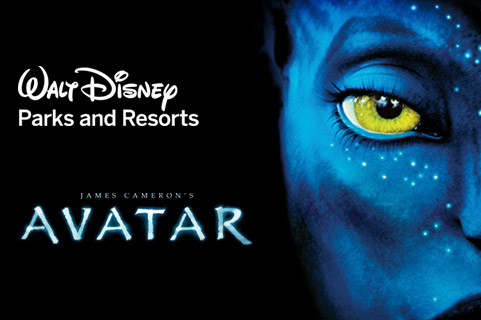 In Disney's video below Bob Iger, President and CEO of the Walt Disney Company; James Cameron, Director of Avatar; Jim Gianopulos, Chairman and CEO of Fox Filmed Entertainment; and Tom Staggs, Chairman Walt Disney Parks and Resorts; discuss the Avatar project coming to Disney Parks.
Original article follows below:
A press conference was held at Walt Disney Imagineering with Bob Iger, President and CEO of the Walt Disney Company; Tom Staggs, Chairman Walt Disney Parks and Resorts; Avatar filmaker James Cameron; and Jon Landau, producer for Avatar. During the announcement, Iger said of the new partnership,
"James Cameron is a groundbreaking filmmaker and gifted storyteller who shares our passion for creativity, technological innovation and delivering the best experience possible. With this agreement, we have the extraordinary opportunity to combine James' talent and vision with the imagination and expertise of Disney."
An article on the Official DisneyParks Blog said Disney's Animal Kingdom was chosen in order to give guests the opportunity to experience the worlds of animals and nature - in this case the mythical land and animals of Avatar's world Pandora. Storytelling within Animal Kingdom focuses on living in harmony with the land and animals. These themes also occur in Disney's film Pocahontas, and characters as well as a previous show on Pocahontas were natural fits for Animal Kingdom. So maybe it should be no surprise that Avatar, a film often directly compared to Disney's Pocahontas (such as in the popular mash-up video by Randy Szuch below), would be next to come to Animal Kingdom.


Avatar/Pocahontas Mashup from Randy Szuch on Vimeo. The Disney fan community is still processing the news. Perhaps, not surprisingly, the initial reaction is mixed. In a
thread on the DISboards
, some posters thought the announcement was a joke, while others were excited for any new attractions coming to Walt Disney World. SIMJUN replied, "I think this is great. The animals will fit right in with the animals that never were theme. The potential for rides is great. Visually it could be beautiful." Whereas GoofyforDisney3 said, "I think it is stupid. Never watched the movie, have no desire to watch the movie and have never met anyone that is such a big fan of the movie that this would be exciting."
Comparisons to the
Wizarding World of Harry Potter
, the year-old land at
Islands of Adventure
, will inevitably be drawn with any new land proposed at Walt Disney World. A theme park land based on a film franchise [2 new Avatar films were also announced by Cameron] that includes rides, food & beverage, and merchandise sounds awfully familiar to the lucrative cash cow found down the highway in Orlando. Although in fairness, an Avatar themed land at Disney's Animal Kingdom also sounds strikingly similar to the new
Cars Land
currently under construction and slated for opening in 2012 at
Disney California Adventure
. Finally, it's unfortunate the details of this deal were not worked out so the announcement coule be made at last month's D23 Expo. This is just the type of jaw-dropping surprise that guests were hoping for from the lackluster
Parks and Resorts presentation
. Time will tell how this new announcement will shake out, and I'm reserving judgement until I actually see what Walt Disney Imagineering dreams up. My initial reaction is total surprise. I just don't see this one film as having that timeless quality the characters of the Star Wars or Indiana Jones franchises had when they were introduced to the parks. However, I have a sneaking suspicion Disney wanted to jump on the Avatar franchise in order to prevent Pandora from establishing roots next to another world - a Wizarding world, perhaps. I'd love to read your reaction to this news. Does an Avatar themed land at Animal Kingdom excite you? What would you hope to see included in such a land? If this is not the type of expansion you hoped to see, then what would you have liked to see?
---
News story posted Sep 20, 2011
The Disney Parks Blog has just announced that the popular film AVATAR will be coming to life at Disney's Animal Kingdom. Bob Iger and Tom Staggs held a press conference today to discuss Disney Parks' newest venture, which will happen in cooperation with James Cameron's Lightstorm Entertainment and Fox Filmed Entertainment.

Lightstorm Entertainment and Walt Disney Imagineers will work together to bring the fantasy world to the parks, as construction on the first AVATAR-themed land will begin by 2013. The project is currently in the design phase. According to the Disney Parks Blog, "Disney's Animal Kingdom is a great fit for this project because it was created to give guests the opportunity to experience the worlds of animals and nature - real and mythical - in new ways. Disney's Animal Kingdom also celebrates adventure, living in harmony with nature and environmental stewardship - themes that are deeply rooted in the story of AVATAR."

There are currently two sequels to the film being planned, so the AVATAR world will only have more opportunities to grow as more characters and stories are developed.