The fox is out of the bag on our movie night for the weekend of Disney family fun. Tonight we are watching Zootopia in honor of the 25th Anniversary of Disney's Animal Kingdom. The next step in our plan is to get started with the perfect food to go with our evening of entertainment, which of course, will be Zootopia themed as well.

Let's make something fun and healthy that you can customize to suit the tastes of your family. Bento Boxes are perfect for such an occasion as you can use the tutorial below as a suggestion and substitute different flavors, vegetables, and ingredients to suit your preferences. Then, we will be making some tasty pawcicles for dessert with delicious berry flavors. To save time, get your dessert made up and in the freezer well in advance so they will have time to set.

Let's get started.
Zootopia-Inspired Clawhauser From Disney Eats
---
Nick Wilde's Pawcicles for Dessert
Prep Time 15 min | Cook Time 30 min
Ingredients
1 cup strawberries, chopped
1 cup raspberries
1/2 cup sugar
1 tablespoon vanilla
2 cups cherry juice
2 silicone paw print molds
12 popsicle sticks
Directions
Preheat oven to 350 and prepare a parchment-lined sheet pan.
Combine strawberries, raspberries, 1/4 cup of sugar, and vanilla in a large bowl and mix.
Place ingredients onto a sheet pan and place in oven. Roast for 30 minutes.
Meanwhile, heat cherry juice and 1/4 cup of sugar on stove top about five minutes or until sugar dissolves. Pour into a bowl to cool.
Once fruit in oven has roasted, place into bowl with cherry juice. Place bowl in refrigerator to cool.
Pour juice into molds and place in freezer for 30 minutes.
Remove from freezer and place popsicle sticks at the bottom of each paw print mold.
Let freeze for 5 or more hours and serve.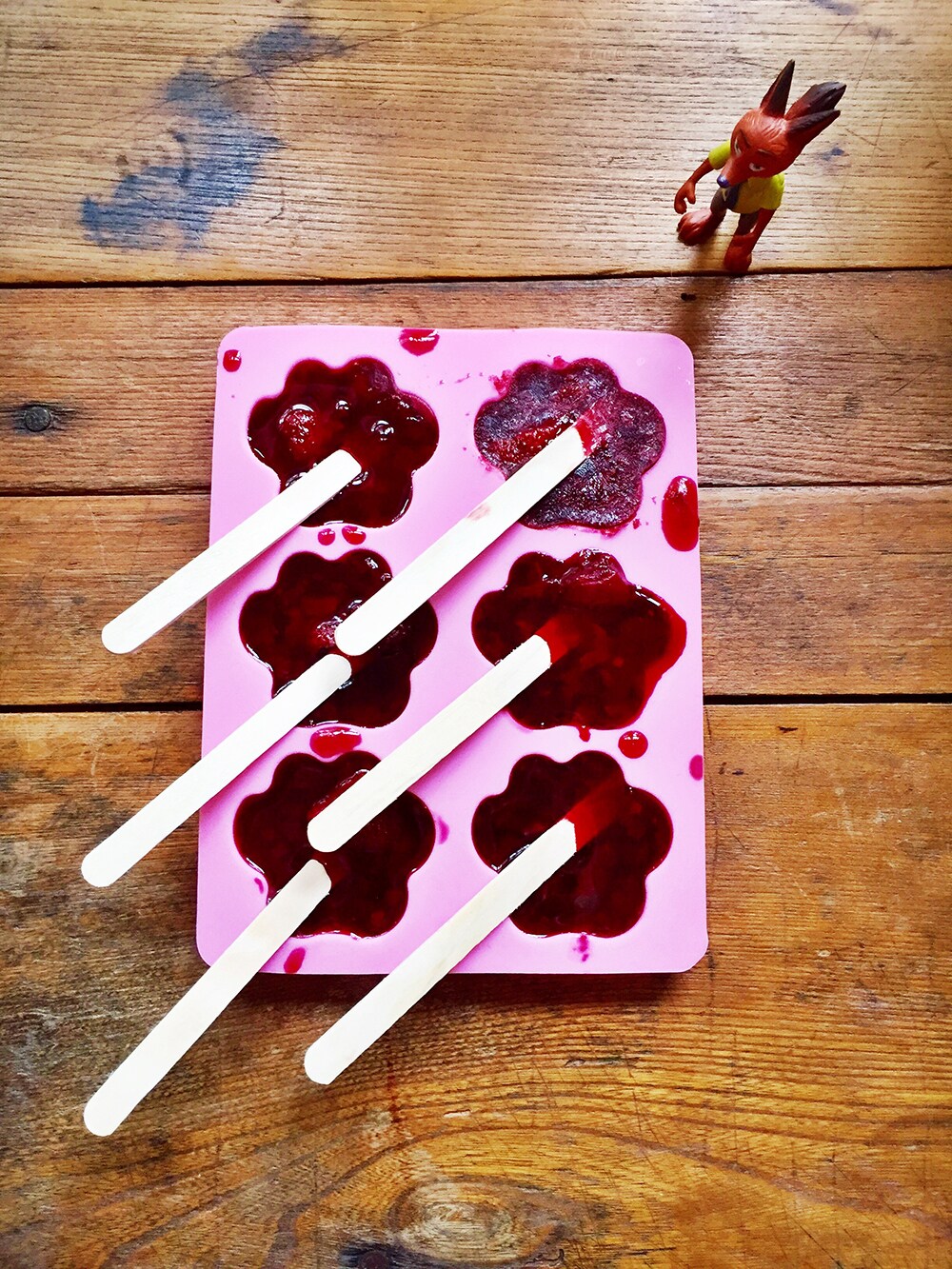 A little tip, the smaller you make these, the faster they will freeze, so if you don't have much time, use a mold that isn't too big for each one. Also, if you have younger kids, skip the sticks and put them straight in a bowl with a spoon to avoid messy red stains on the carpet.
Zoë Wood is a travel writer from Sydney, Australia. Since her first visit to Disneyland at the age of 6, she has spent her years frequently visiting Disney Parks and traveling around the world.
Join Zoë as she lets you in on all the tips, tricks, anecdotes, and embarrassments that arise from her family adventures.