Disney's Hollywood Studios is about to undergo a massive makeover. A lot of the theme park will be closed in order to make room for the upcoming Star Wars Land and Toy Story Land. These two very large expansions were announced this year at the D23 Expo. The park was already lacking in attractions, but now many areas will be closed off entirely for the construction. Most of what will close has not been announced, but attractions like Lights, Motors, Action! Extreme Stunt Show and the Honey I Shrunk the Kids Playground have had their closings confirmed. Based on that closing, it can be presumed the entire Streets of America section will close also. However, many attractions will not close because of their immense popularity. During construction, the price of a one day ticket to the park will likely not change and will stay at $97. The largest decision to make is whether or not to even go to the park. Here are a few things that will still be open, and may help you with that decision:
---
Attractions:
Rock 'n' Roller Coaster Starring Aerosmith
Rock 'n' Roller Coaster is a very popular roller coaster that contains big drops, lots of noise, and many other thrills. It accelerates 57 mph, and is one minute and 22 seconds long, not including the pre-show. At the first inversion, riders experience 3.5 G. This attraction is very scary for younger kids, but loved by older thrill seekers. A FastPass+ reservation is definitely recommended to ride this attraction.
The Twilight Zone Tower of Terror
The Twilight Zone Tower of Terror, which is mostly known as Tower of Terror. This attraction is a drop tower dark ride, in which riders sit in a haunted elevator, and literally drop 13 stories. At the top, riders can see the park at an aerial view of 199 feet. Riders experience 1.3 G here. Again, young kids tend to dislike this attraction, but it is a very unique and thrilling experience for older riders. It is themed after The Twilight Zone. A FastPass+ reservation is definitely recommended to ride this attraction.
Star Tours – The Adventures Continue
Star Tours is currently the only 'E-Ticket' Star Wars attraction in Disney's Hollywood Studios. Star Tours is a motion simulator attraction, which offers four possible primary ride experiences. Some of these include a Starspeeder crashing on Hoth right in the middle of a galactic battle or colliding with a podracer on Tatooine. These different experiences are always randomized, so you have no way of knowing what you will personally experience. However, the beginning of each ride contains C-3PO  unintentionally piloting a Starspeeder, even though he has no idea how to operate it. Riders of all ages would enjoy this, however those prone to motion sickness should avoid it. A FastPass+ reservation is not necessarily recommended, however long lines can form on busy days.
Toy Story Midway Mania! is an interactive, 4-D attraction. In it, riders sit in spinning ride vehicles and try to hit targets with a toy cannon that fires by pulling back a string. By hitting targets, you rack up points and try to achieve a high score. This is definitely one of the most popular attractions at Disney's Hollywood Studios, and standby lines tend to get very long. A FastPass+ reservation is definitely recommended, however they tend to be taken quickly.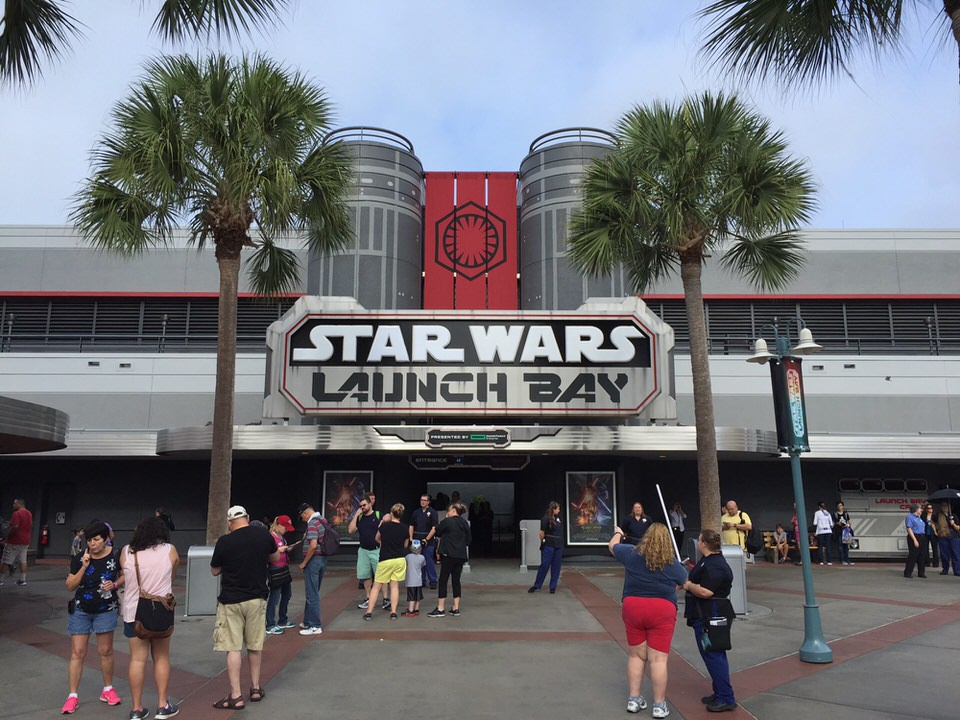 Star Wars Launch Bay is a very large walk-through attraction, which includes a variety of experiences. Meet and greet locations offer fans the opportunity to meet Darth Vader or Chewbacca. Replicas of props, costumes, and other pieces of the films are on display. There is a theater showing a short behind-the-scenes movie. This is definitely a place to stop for all Star Wars fans, FastPass+ is not offered. Star Wars fans should also check out the "Symphony in the Stars: A Galactic Spectacular" fireworks show at 8pm every night.
---
Dining:
50's Prime Time Café is an American restaurant, themed after Mom's Kitchen in the 1950s. TVs all around the restaurant showcase black and white cartoons and TV shows. The waitresses will become frustrated when your elbows are on the table, or you do not finish your vegetables, as part of the experience and theming. Prime Time Café offers both lunch and dinner, and contains a full bar. Entrees include "Aunt Liz's Golden Fried Chicken," "Cousin Ann's Traditional Meatloaf," and even "Dad's Stuffed Pork Chop." A very popular dessert choice is the "Peanut Butter and Jelly Milkshake." This restaurant accepts the Disney Dining Plan and advance dining reservations. An ADR is suggested, however on less crowded days you could probably get a table without one.
Sci-Fi Dine-In Theater Restaurant
The Sci-Fi Dine-In Theater Restaurant is a very unique dining experience in which you sit in an old fashioned car and watch black and white movies while you eat your meal. Waiters and Waitresses come to your car, just as they would your come to table at an average restaurant. The food is American, and Sci-Fi Dine-In now offers breakfast, lunch, and dinner. Entree options include "Grilled Chicken BLT," "House-smoked St. Louis-style Pork Ribs," and "Vegetarian Shepherd's Pie Sci Fi-style." A very popular dessert option are their milkshakes. The Sci-Fi Dine-In accepts the Disney Dining Plan, and advance dining reservations. An ADR is highly suggested, as this restaurant can fill up even on less crowded days.
The Hollywood Brown Derby is a very popular restaurant in Hollywood Studios. It is themed after the actual, famous Brown Derby Restaurant in Hollywood. The food served is American, and tends to be much better than anything you would get elsewhere in the park. Entree options include "Andouille-crusted Chicken Breast," "Grilled Wagyu Beef Burger," and "The Original Fettuccine Alfredo with Chicken or Shrimp." Dessert is a "Mini Dessert Trio;" you choose three smaller desserts, such as "Banana Toffee Cake," or "Double Vanilla Bean Crème Brûlée." Both lunch and dinner are served here. The Disney Dining Plan is accepted, however two table credits are required per person. An advanced dining reservation is again highly recommended.
---
As shown, there is still quite a bit to do in Disney's Hollywood Studios. Most attractions do appeal to older kids and thrill seekers. Although, younger kids do have some other entertainment options like Disney Junior – Live on Stage! However, Hollywood Studios does not offer the same amount of fun for the whole family that the other three parks do. Therefore, unless you have a Park Hopper ticket, which allows you to visit more than one park in a day, a trip to Disney's Hollywood Studios may not be worth it.