Oceaneer Lab - Disney Cruise Line

Imagination rules at this play space dedicated to exploration, where children ages 3 to 12 years of age are invited to play inventive games, perform wacky experiments and participate in all kinds of educational activities amid distinctly themed rooms.


Disney's Oceaneer Lab will take kids (ages 3-12) on a great adventure full of maps, constellations, and even a stage for all of their greatest performances! This stage is one of the main gathering spaces in the Lab - perfect for kids to listen to stories and to act out their own. Individual computer stations will allow them to enjoy interactive games. Disney movies will be shown on the 103-inch plasma TV; animated characters will come to life on this screen and interact with the kids. The main room is also the beginning of a ship-wide adventure where kids will become explorers and hunt for clues. The Club and Lab are connected with a secure, kids-only hallway, so children can go between the two areas freely.
Media Room
Full of cozy bean bag chairs, this is the perfect place to hang out and watch movies, read a book or play video games.
Animator's Studio
This is designed to look like an actual working animation studio. Kids can set their imaginations free and learn how to draw Disney characters or even animate them on the computer!
The Wheelhouse
A room full of computers, hi-def LCD TVs and video game consoles are a young gamer's dream! There's even an exclusive Pirates of the Caribbean game to play.
On the Disney Magic, the Wheelhouse is the Navigation Game Station and is themed like a pirate chest. A multiplayer Pirates of the Caribbean game is available, as well as simulators that allow kids to steer a ship through the waters of the Caribbean.


Sound Studio
Create and listen to music in this interactive studio.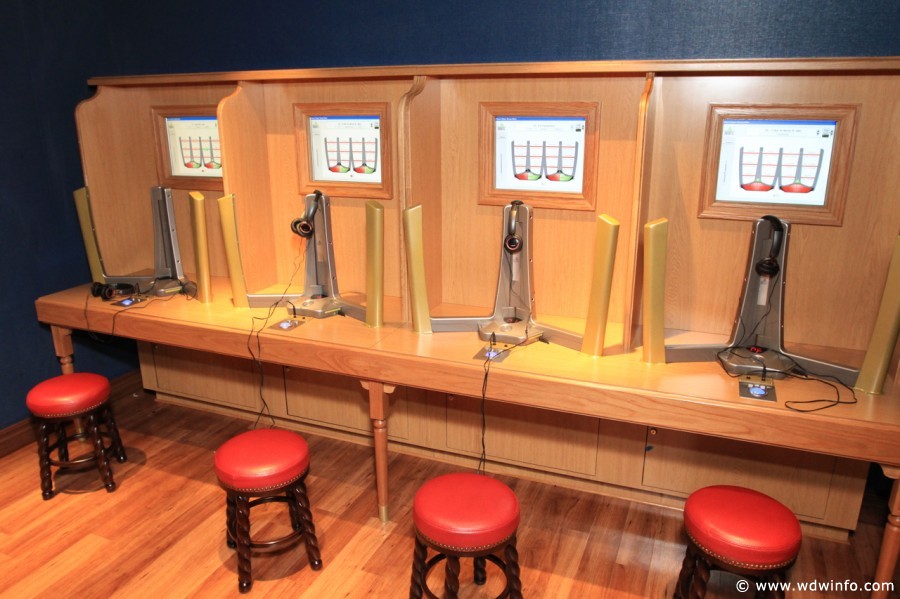 Explorer's Room


Craft Studio
Tired of all the technology? Seek refuge in this room where all the materials for arts and crafts are readily available.


(Disney Magic) This area holds computers, pirate-themed tables and maps. Meals will be served here, as well as various activities throughout the day.
Disney Wonder
The bright room with the funky, futuristic space look is the Oceaneer Lab. Here, children 3 to 12 years of age can play Nintendo on a jumbo screen or check out computer games on one of the ten terminals that surround a larger than life Buzz Lightyear. dThey can let their imagination run wild as they construct with K-Nex and other building materials and have fun with hands-on experiments in the lab areas. Kids can do a variety of cool experiments at the Oceaneers Lab.


Join a specially trained cookie chef, and learn how to make chocolate chip cookies fit for Remy himself. Have fun helping friends, adding lots of different ingredients and in the end, creating your very own cookies straight from the Ratatouille restaurant magic oven.
Kids explore the history of animation and learn animator secrets as they draw one of their favorite Disney characters and create their own flipbook to take home.
Help Stitch as he tries to capture Dr. Jumba's experiments that were set loose in the Oceaneer Lab before they cause all sorts of trouble!
Drivers run a clean race as they build race cars using bars of soap, ensuring good clean fun and lots of laughs for all.