Disney Cruise Line Children's Activities & Entertainment
Need to Know Information
Youth Clubs:
Fulfilling the needs of children and families is one of the things that Disney does best, and the Disney Cruise Line ships are no exception. Children may choose to participate in the organized programs of the Oceaneer Club and Lab, or enjoy a variety of activities that are available throughout the day. Slipping and sliding down the chute into Mickey's Pool, splashing and having fun in the sun in Goofy's Family Pool, stretching in a morning workout at Goofy's Family Fitness, family line dancing and ping pong are some of the many physical activities that you'll find aboard these magnificent ships. For more relaxing entertainment, see a current Disney movie in one of the theatres, play a board game or learn how to draw Mickey Mouse. Play video games or see some of the live entertainment shows featuring some of Disney's most beloved characters; the fun is yours to discover aboard one of the Disney Cruise Line ships.

Throughout the day, Disney characters are on hand to meet and greet the little cruisers as well. The Oceaneer Club and the Oceaneer Lab offer age-specific programs with lots of fun, interesting hands-on activities to keep the younger set entertained.
With the exception of Embarkation Day, the operating hours for the Oceaneer Club and Lab are 9:00 am to midnight or 1:00 am. Fewer activities are scheduled and hours can be shorter when the ship is in port. Later in the evening, mats are provided for younger children whose parents may be out past the little one's bedtime.
Parents should plan on checking in their kids for the programs on Embarkation Day. Kids don't have to participate then, but that's the best time to get the paperwork completed, get your child's ID bracelet and learn the check-in/check-out system. This can be done at the port before you even board the ship. Check the Personal Navigator for check-in times once onboard. Each stateroom is equipped with Wave phones that can be used aboard the ship and on Castaway Cay. Parents can also receive messages using the Disney Cruise Line Navigator app on their smartphone. The clubs will use these to contact parents if needed.
All children must wear a wristband with vital information such as name, age group, stateroom number, pertinent medical information and whether or not they have parental permission to sign themselves out of the clubs on their own (this privilege is only available to kids 8 and older, younger kids cannot sign themselves out). Because of the computer chip in the bands, counselors can check in a computer at any given time and know exactly where a child is. When checking in and out, the child will tap their band to a scanner at the club's entrance. This pulls up their information in the computer for the counselors. A password will be required by the adult checking the children out.
Children with special needs are welcome, simply give the Oceaneer Club or Lab advance notice so that they can schedule an extra counselor if necessary. There are also some counselors who know sign language to assist children who are hearing impaired. With Cast Members from over 50 countries around the world, many foreign language needs can also be addressed.
Kids need to be checked into a club at least 15 minutes prior to a mealtime if the parents want the child to eat in the club. Kids that eat lunch or dinner in the program will have lunch served in the club. Typical foods served include: Sandwiches for lunch (white bread with either a slice of turkey or a slice of cheddar in it), celery and carrot sticks, cherry tomatoes, cubed melon, grapes, and cheese sticks. Dinner might include pizza, mini corn dogs, mac n cheese, meat/veggie lasagna, meatballs and Mickey pasta or chicken fingers, all served with fruits or vegetables like lunch. Drinks will be apple juice or water.

For families that have late dining, counselors will come to the restaurants around 9:15pm and pick up kids who don't want to stay through the entire meal.
There are no snacks or drinks provided throughout the day, unless a cooking class is held (cookies or cupcakes). There are water fountains available. The counselors cannot force kids to eat meals, but they will make an announcement and encourage the kids to join the group.
"it's a small world" Nursery (6 months - 3 years)
This group babysitting center is designed for little ones from 6 months to 3 years of age. This is the only option open to parents of the little ones as there is no in-room babysitting service on the ship. Unlike the planned programs for the older children, the nursery has a charge per hour with a minimum of 1 hours. For additional children in the same family, the charge is a little less per hour. Cancellations can be made without penalty 4 hours in advance.
Oceaneer Club (ages 3-12)
Character meet-and-greets, storytelling sessions, dress-up opportunities, cool interactive games and larger-than-life playgrounds are sure to inspire kids 3 to 12 years of age at this wondrous activity center inhabited by classic Disney, Marvel and Disney·Pixar characters.
Imagination rules at this play space dedicated to exploration, where children ages 3 to 12 years of age are invited to play inventive games, perform wacky experiments and participate in all kinds of educational activities amid distinctly themed rooms.
Edge is the "tween" club - only kids ages 11 - 14 can enter! It has a great location on Deck 13 inside the Forward Funnel on the Dream and Fantasy. On the Magic and Wonder, it is located on Deck 9, Midship. Edge is decorated in bright colors and retro decor.
Dream and Fantasy:


Disney knows how much kids love technology, and Edge is full of it! There are individual computer stations with notebook computers available to play games and access a special onboard social media application designed just for them. With this application, kids can leave each other messages and post photos and videos for their new onboard friends.
Kids can create their own photo postcards and star in video karaoke using a green-screen technology.
One whole wall of the club is an 18-foot long, 5-foot tall video wall, perfect for video games and watching movies. This video wall can be used as one large screen or separated into any combination of individual screens.
Ready for a dance party at any time, there is a lighted dance floor with colored lights in the ceiling. A 10-foot video screen comes down from the ceiling to provide music video backgrounds and lighting effects.
One of the great things about Edge's location in the funnel is the views of the pool decks below. The windows are made so that kids can see out, but guests on the decks can't see in. Another cool feature is that the AquaDuck water coaster winds through the funnel and three portholes in Edge give silhouetted views of the riders as they zip through the funnel.
Magic and Wonder:
Located on Deck 9 midship, Edge is a tweens-only space open from 9:00 am -midnight daily.
Tweens can play videogames, sing karaoke, watch TV and use the computer lab. The space is filled with couches for hanging out, arts and crafts tables and flat-screen TVs. Counselors will keep the kids busy until midnight with activities such as:
Pizza Perfection
Answer trivia questions to win pizza toppings and create the perfect pizza. After the game is over, the pizzas are cooked and shared by all.
Road Tour
Embark on a jammin' scavenger hunt throughout the ship as you work to gather stamps to fill your rock 'n' roll passport by solving music-themed brain teasers and puzzles.
A Pirate's Life for Me
Arrr you pirate enough? Compete in physical challenges and answer trivia questions about ye olde time scalawags and buccaneers in this game to see who will claim the infamous pearl.
---
Dream, Fantasy and Magic:

Vibe is exclusively for teens age 14-17. Located on Deck 5 forward on the Dream and Fantasy and Deck 11 Midship on the Magic, this 9,000 square foot club is hip, yet casual. All the furniture is modular, allowing teens to move it around and lounge wherever they want.
Technology reigns here at Vibe and the central area of the space is a media room, complete with a 103-inch LCD screen with digital surround sound, perfect for watching movies and playing video games. Computer stations allow access to a special onboard social media application designed just for them. With this application, kids can leave each other messages and post photos and videos for their new onboard friends.
The room's walls are lined with built-in oval seats made to look like portholes. These nooks are perfect for hanging out and watching TV, reading or listening to music.
A dance club area lets teens test out their DJ skills, spinning and mixing tracks for the dance party. The floor is lit with colorful lights and features a video wall. A stage will play host to talent shows, karaoke contests and dance competitions.
Just like the adult clubs, Vibe offers a fountain bar serving non-alcoholic drinks, such as soda, juice, smoothies and coffee drinks.
On the Dream and Fantasy, the fun doesn't stop inside the club. A private deck area outside means teens never have to leave! Chairs and loungers are great for sunbathing, and when the sun gets too hot, there are two wading pools, fountains, jets and misters to help cool you down. If sunbathing isn't your thing, ping pong and foosball are available as well.

Disney Wonder:
Vibe, the club for teens 14-17, is designed to look like a hip, loft apartment/coffee shop. Couches, chairs and a dance floor come together to create an environment perfect for this age group so the teenagers have a place to meet, have some fun and call their own. There's one computer station found here that's exclusive to use of the teens. Alcohol-free drinks will be available at the 'bar' and there is plenty of seating for talking and socializing. Teen fun focuses on parties, pizza, dancing, karaoke…all the things teens like to do. Teens also have special activities created just for them. Highlights include:
Teen Dance Parties
Dance the night away to the hottest pop hits in an exclusive teen-only dance party!
Teen Download
What does your Disney cruise have in store for you? Through the use of the latest media technology such as interactive web pages and videos, interact with other teens and counselors and design your very own dream vacation filled with activities, games, Port Adventures and down time.
Karaoke
Discover your inner rock star when you take the stage, grab a microphone and sing along with your favorite tunes.
Senses Spa isn't just for adults! Chill Spa for Teens is located inside Senses Spa - Deck 11 on the Dream and Fantasy and Deck 9 on the Magic. Guests ages 13 - 17 have their own space with two treatment rooms with showers and a separate seating area just for the teen guests. Special spa treatments have been designed just for them, including facials, massages, body treatments, manicures, and pedicures. Some highlights are:
Fabulously Fruity Facial - An organic selection of fresh fruits moisturizes your skin.
Hot Chocolate Wrap - After a massage, enjoy a soothing body wrap with antioxidants.
Tantastic Body Bronzer - Your skin is nourished with a hydrating body bronzer.
Surfer's Scrub - This exfoliating treatment uses fresh lime, lemon and ginger.
Ice Cream Manicure and Pedicure - A sweet treat for hands and feet.
Arr-Cade - Disney Dream and Fantasy
Arr-cade is an action-packed video arcade located on Deck 11, Aft. Adjacent to Cabanas, the arcade offers a variety of the latest interactive video games, plus several thrilling classics, such as pinball and air hockey. Guests of all ages are invited to compete against each other and partake in some high-tech video fun.
Arr-cade features a cashless system. First, purchase a play card filled with game credits using your Key to the World card at a kiosk located inside the arcade or at Guest Services on Deck 3. Then, simply enter the card into a videogame to access your game credits and begin playing.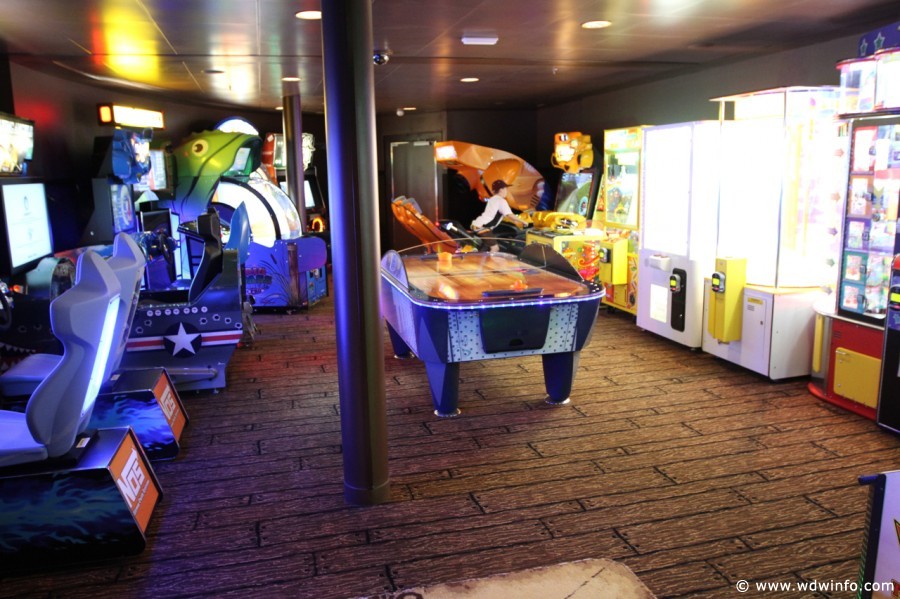 Royal Court Royal Tea - All ships
Children are greeted by the Royal Tea Hostess, Lady Chamomile, and crowned as young princesses or dubbed as royal knights when they enter the room. Chef Brule, the Royal Pastry Chef, join Lady Chamomile to greet their guests. Disney Princesses stop by and visit with each table. The hosts sing songs, dance and tell stories, all while encouraging the children to join in.
The meal consists of tea sandwiches, pastries, cupcakes and herbal tea. Young princesses also receive a My Disney Girl doll dressed as their favorite princess, a memory book, a jewelry box and more, including gifts from each Princess! The knights receive a shield, Duffy bear and more. All guests receive a photograph and meet and greet opportunity with the Princesses. The cost is $210 for children and $69 for adults.
Disney Fantasy: 7-night itineraries
Disney Dream: 3 & 4-night itineraries
Disney Wonde: All sailings
Disney Magic: All sailings
---
Midship Detective Agency - Disney Dream and Disney Fantasy
This interactive adventure game is only on the Disney Dream and the Disney Fantasy. The ships are filled with "Enchanted Art" and technology designed to bring the guest into the story. Guests will use a map and special game card to check out pieces of the Enchanted Art to find clues and uncover the whereabouts of the missing items. In these adventures on the Dream, guests work with Mickey and his friends to solve one of two mysteries - The Case of the Missing Puppies or The Case of the Stolen Paintings. On the Fantasy, the two mysteries are available with Mickey, as well as a new Muppets mystery. Kermit, Miss Piggy, Fozzie, Gonzo and Animal are planning a big stage show, but they discover that their props are missing. Guests will even find a Muppets message board and a Muppet-sized stateroom door on board, containing clues to help solve the crime before curtain time for the big show.
This game, designed for ages nine and up, is self-paced and can be played over and over, as events and endings will change each time.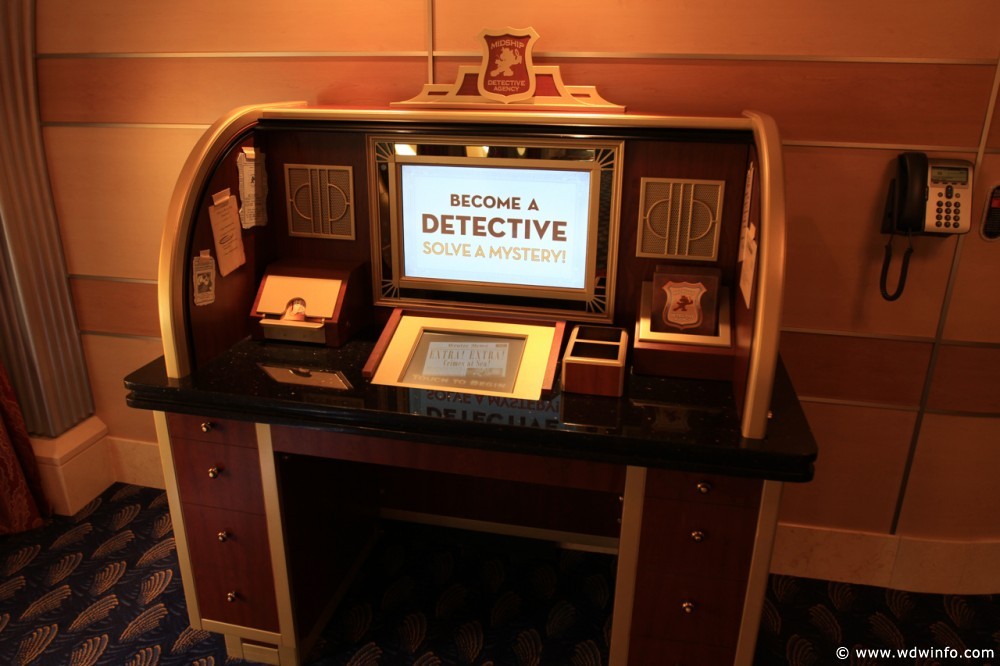 Bibbidi Bobbidi Boutique - All ships
Themed "dress-up nights" have always been popular on the Disney ships, so Disney Cruise Line is making things a little easier for guests onboard their ships. The Bibbidi Bobbidi Boutique is available for makeovers, including hair, makeup, nails and costumes. Exclusive Disney Cruise Line packages are available, allowing guests to transform into Captain Mickey Mouse, Princess Minnie Mouse, and First Mate Minnie Mouse. For the pirate nights, the Boutique becomes the Pirate's League, offering such pirate garb as makeup, swords, earrings and eye patches. On special itineraries, such as Marvel Day at Sea or Star Wars Day at Sea, other makeovers are offered. A $10 cancellation fee will be applied for no-shows or failure to cancel 24 hours before the appointment.
Tips for Cruising with Infants and Toddlers
Diaper changing facilities are located in most of the public restrooms.
If you forgot some must-have baby items, you should be able to purchase them onboard. This includes:
Baby wipes
Diapers
Lotions
Formula
Food items
Baby bath supplies
Pacifiers
Limited quantities of strollers, bottle warmers and bottle sterilizers are available at Guest Services.
Diaper Genies, Pack-n-plays and bed rails are available from your stateroom host/hostess.
High chairs are available at all onboard restaurants.
Children must be potty trained to enter any pools or spas onboard. Children in swimdiapers may use Nemo's Reef.