If you are looking for something a little different than a normal hotel room, consider staying at the Cabins at Fort Wilderness during your next stay at Walt Disney World. The Fort Wilderness resort is located on more than 700 acres of property between the Magic Kingdom and EPCOT. The resort offers an "experience," not just a place to rest each evening. Considered a moderate resort, guests of the more than 500 square feet cabins will enjoy a den area with a sleeper sofa, a dining table, and a complete kitchen with a full size refrigerator, microwave, dishwasher, and pots and pans. The den area has a TV and DVD player, and the bedroom also has a TV. The bedroom is home to a double bed and a bunk bed. When you include the sleeper sofa, each cabin can accommodate six guests.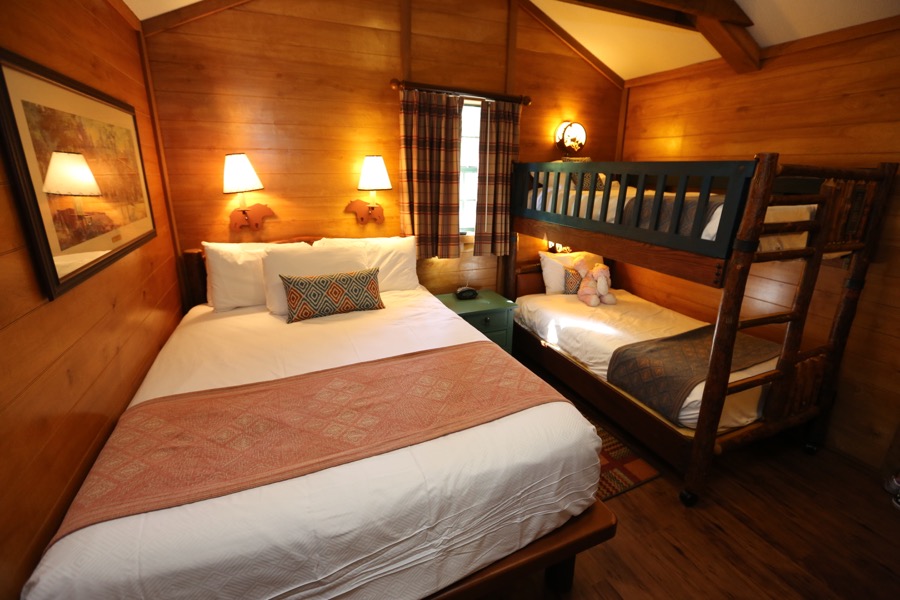 We love the cabins because the bedroom is located in the back, allowing an opportunity to put kids to bed while adults relax in the den or on the attached deck. Unlike in most other Disney hotels, there is not a fear that TVs will wake children sleeping a few feet away in another bed. Another wonderful thing is that each cabin has its own parking space, so you don't have to carry luggage across huge parking lots.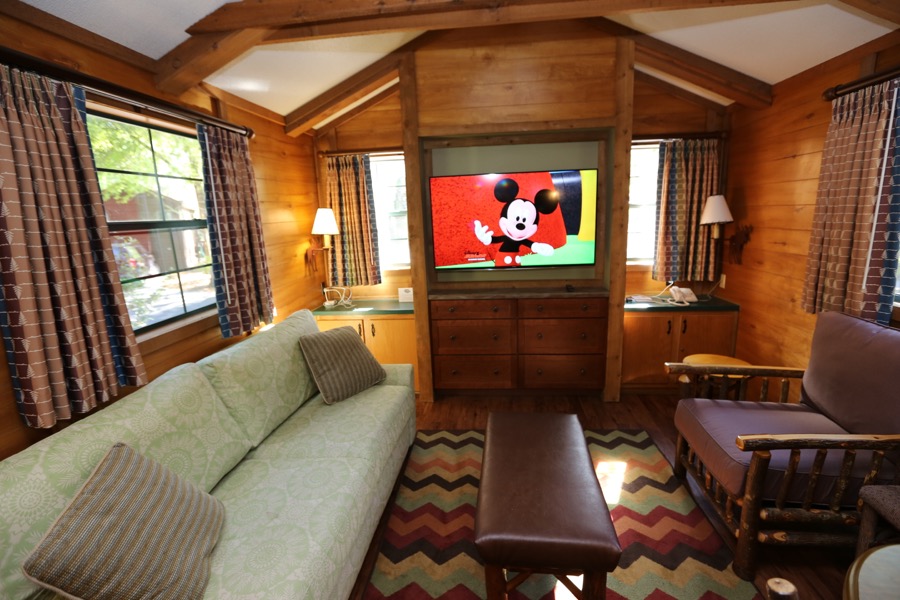 The resort itself reminds me a lot of a summer camp. The theming is a lot like Frontierland in the Magic Kingdom. Guests can take archery lessons or ride ponies (for an additional fee). You can even rent kayaks or canoes. Each day we were at Fort Wilderness, we saw a variety of wildlife including deer, rabbits, opossums, and ducks. There are two playgrounds inside the resort area, along with two pools. The resort is a haven for runners or walkers, as there are beautiful trails throughout.
Another thing my kids truly enjoy about Fort Wilderness is the transportation to the Magic Kingdom. Guest actually take a boat ferry to and from the Magic Kingdom. It's magical to see
Cinderella Castle
from the water as you approach the Magic Kingdom. You can even see the
electrical water parade
from the beach each night, without fighting a crowd. Families also love
Chip 'n' Dale's Campfire Sing-A-Long
, which is held nightly. You can enjoy s'mores over a campfire, sing songs, and watch a free movie.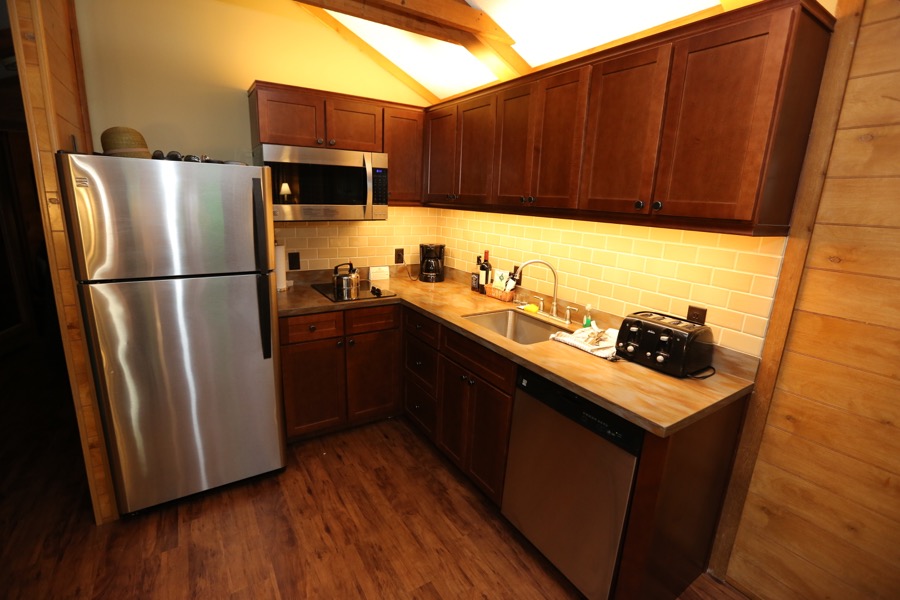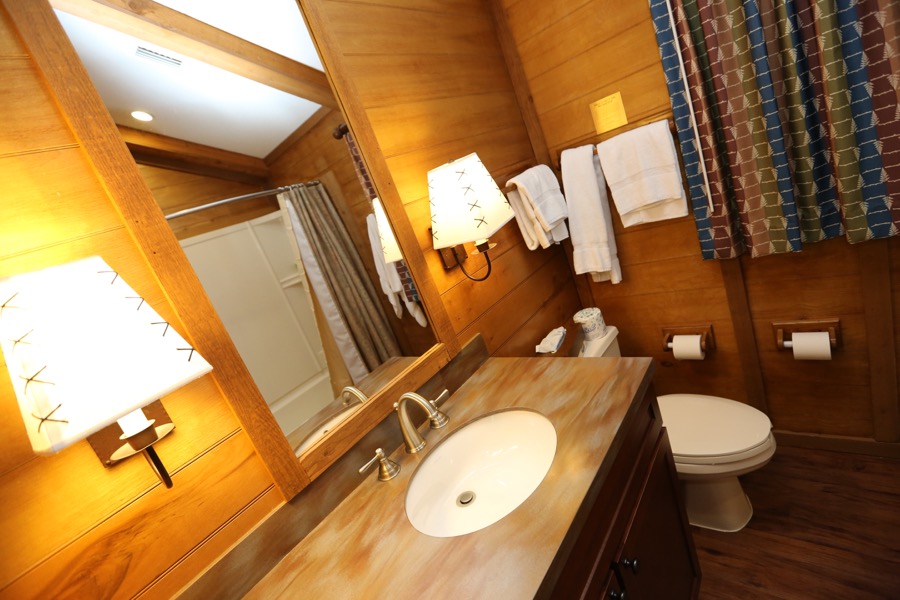 To be completely fair, there are a few drawbacks to the Fort Wilderness resort. The biggest one is the wait time for the internal bus system. Since the resort is so large, it takes the buses a very long time to make their way around the resort. If you chose to not rent a golf cart, (which I highly recommend and will address in a future post), you will have to wait for the resort bus to take you to another bus stop where you catch rides to the theme parks. In addition, if you have a dining reservation at another Disney resort, transportation to and from the location isn't very easy if you do not have your own vehicle. You again have to catch an internal bus to the theme park buses then grab another a bus to the theme park closest to the resort your restaurant is located inside, only to then catch the monorail or other Disney transportation to the resort.
Another drawback is the small amount of drawers to store clothing. There are only two small built-in chest of drawers that won't hold clothes for one week for a family of four. You will need to keep some clothes in suitcases.
The restaurant options at Fort Wilderness are limited, but very unique. The resort is home to Trail's End, which serves breakfast, lunch and dinner entrees including grits, fried chicken, pizza, hamburgers, and similar items. Fort Wilderness is home to Hoop-Dee-Doo Musical Revue, which is one of the most popular dinner shows at Walt Disney World. The Western themed show is all-you-can eat and the price includes beer, wine, and sangria. It's not my favorite show, but many folks adore it. The last dining option at Fort Wilderness is Mickey's Backyard BBQ, which is fun for the entire family. We enjoy this atmosphere, but it's only open certain nights of the week, weather permitting. This can be a drawback if you are counting on eating dinner at the BBQ but it closes due to weather. Then, you are stuck eating average food at Trail's End or scrambling to find a dining reservation at another resort.
My family always drives to Walt Disney World, so we have a vehicle that allows us to avoid the transportation hassles. Overall, we love Fort Wilderness and highly recommend it to all of our friends. Check it out for yourself! I don't think you will regret it. While you're there, say hi to Chip and Dale. Remember, Chip has a brown nose like a chocolate chip and Dale has a red nose. (Just a little something I learned at Fort Wilderness.)