Disney's Beach Club Resort
1800 Epcot Resorts Blvd
Lake Buena Vista, FL
Phone: 407-934-8000

Maximum persons per room: 4 (plus child in crib)
Total Number of rooms: 1213 (combined with Yacht Club)
Room size: 380 Sq Ft.
Average cost per sq. ft. : $0.75
Disney's Beach Club Resort Review - The Beach Club is a nice resort – it was never one of my favorites, but it also wasn't the scene of any horrendous experiences. I haven't stayed here for about 5 or 6 years, but on previous visits I'd stayed on the Concierge floor (as I did for this visit) and always found it to be enjoyable. While nothing awful happened during our 4 day visit, I can't say that.... read more
Add a touch of understated elegance to the summer ambiance of the turn of the century summer homes found on Martha's Vineyard, and you have Disney's Beach Club Resort. The pale blue and white multi-level buildings, with their fancy cut shingles, French doors and seashell motifs, were designed by renowned architect, Robert A.M. Stern. Designed "stick-style", this was a popular architectural style for seaside wooden cottages in the 1860's and 1870's. Decorated with the white wicker furniture, hardwood floors and high ceilings, the seacoast imagery continues on to the outdoors where beachside cabanas line the white sand shores of Crescent Lake. The landscaping is also reminiscent of a New England style with magnolias, Japanese elms, Bradford pear trees, crape myrtle, gardenias and roses lining the courtyards and walkways. This deluxe resort is joined in the center by the Yacht Club.
Beach motif is the obvious order of the day here. Hues of seafoam green, peach, blue and white lend a casual, bright and breezy atmosphere to the 583 guest rooms. The rooms also have French doors leading to a patio or balcony. Most of the guest rooms are 380 square feet and offer 2 queen sized beds, or one king sized bed, a nightstand, a table with 3 chairs, an armoire, a TV, a small safe, a mini-bar and double sinks.
Other comforts include an iron and ironing board, hair dryer, make-up mirror and coffee maker. Fee based high speed internet is offered.
A limited number of handicap accessible rooms are available. Murphy Rooms: "Murphy" or King Standard" rooms include a king sized bed that could fold up into the wall. A small sitting area has a love seat and coffee table, a small table with 2 chairs, sink, counter top and a full bathroom with a double sink inside. Since this room type is smaller than the regular rooms, it is offered at a slightly lower nightly rate and is suitable for two adults.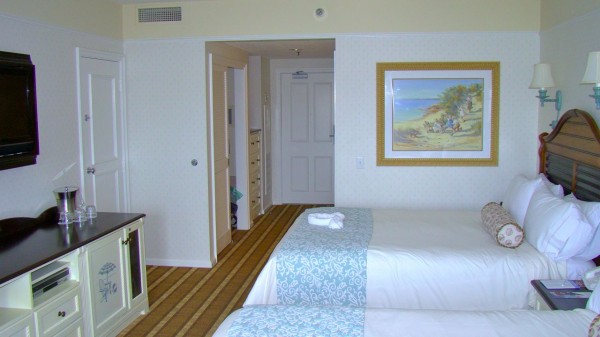 There are 21 suites available. Being a guest in a suite entitles you to have access to the Yacht Club concierge lounge and services. You may also have continental breakfast served to your room as well as a nightly turndown service if requested at check-in. At the Beach Club, guests have the options of three different views: Standard (facing the parking lot, roof or wooded area), Garden (facing the courtyard or quiet pool area) or Lagoon view that overlooks Crescent Lake. Check-in time is 3 p.m. and check-out is 11 a.m.
Disney's Beach Club Resort Dining
Another of the many benefits to staying at the Beach Club, is the wide variety of dining options within walking distance. Nearby are the Boardwalk Resorts, Yacht Club, Swan and Dolphin hotels, and Epcot's World Showcase restaurants that can offer a multitude of culinary delights. However, at the Beach Club itself, you'll find Beaches and Cream and the Cape May Café.



Character Breakfast: Guests can join in the fun with a "beach party" themed Character Breakfast featuring Goofy, Pluto, Chip and Dale. This delicious breakfast buffet offers eggs, sausages, bacon, omelets, Mickey waffles, grits, biscuits and gravy, home fries, baked goods, oatmeal, bread pudding and fresh fruit.

Dinner: All-you-can-eat-clambake: Here, you'll find clams, mussels, fresh fish, oysters, shrimp, baby back ribs, chicken, pasta, soups, assorted salads and desserts. Room service is available 24 hours a day and an extensive menu is offered for breakfast, lunch and dinner, including special pizzas, and fruit, vegetable, cheese or nacho platters for late night snacks.
---
is a 50's style soda fountain that offers old-fashioned favorites. It is open for lunch and dinner. Lunch and dinner are offer standard American fare, such as hamburgers, hot dogs, fries, and every delicious ice cream concoction you can dream of, are served here.

TIP: Try the "Kitchen Sink" if you dare…8 scoops of ice cream (2 scoops each of chocolate, vanilla, strawberry and the daily flavor) smothered in toppings. Servers make a big production of presenting it to you too. Warning, this is definitely a group activity!

The Beach Club shares the best pool complex on property with the Yacht Club, Stormalong Bay. This is like a mini-water park and there are many areas to explore. The waterslide is housed in a shipwreck and empties out into the larger pool area. There is an area with pulsating water jets and a lazy river where you can float along the current in inner tubes. One of the most unique features of Stormalong Bay is the sandy bottom of the pool. There are several secluded spas around the complex as well as a kiddie pool complete with a mini-water slide.
The popularity of Stormalong Bay with non-resort guests prompted Disney to surround the complex with a fence that is guarded by Cast Members checking resort IDs. Only Yacht and Beach Club guests and DVC members can use Stormalong Bay. A small beach shack rents tubes and pool noodles and distributes pool towels. There is also a quiet pool near Epcot and pool towels are available here too.
There is a sandy beach on Crescent Lake, but swimming is not allowed. If swimming isn't the only "water sport" on your agenda, you can rent water mice, sailboats, pontoon boats, canopy boats, hydra-bikes or pedal boats. Or take a private cruise on the "Breathless", day or night. A nighttime cruise has the advantage of a viewing of the Illuminations fireworks show at Epcot. The Ship Shape Health Club offers a more physical workout alternative. Guests pay to use the latest in fitness equipment such as Lifecircuit, Nautilus, Lifestep, Lifecycle, Liferower, Gravitron, Nordic Track, Stair Master, treadmill, free weights, steam room, sauna, whirlpool or massage. Picturesque Crescent Lake and the area resorts provide the backdrop for those who prefer a jog around the 2.5 mile Boardwalk promenade.
If tennis is your game, two lighted tennis courts are offered along with complimentary equipment for those guests in need. If after all of this you still have time on your hands, play beach volleyball, lawn bowling , croquet or play in the Lafferty Place Arcade. For those who prefer a more leisurely pace, there are landscaping tours Monday, Wednesday and Friday at 8:30 a.m. and 12:30 led by members of the Yacht and Beach Club horticultural team
.
Services/Amenities
Babysitting/Childcare Services: The Sandcastle Club is open from 5 p.m. to midnight, and offers entertainment, dining and fun for children aged 4 to 12.
Valet Service
Cleaning
Coin Operated Laundry facilities
Express Check-out
Refillable Mugs
Free Wireless Internet
Refrigerator
Coffeemaker
Bell Services
Poolside bar at Stormalong Bay
Valet Parking
Complimentary Local Newspaper
ATM machine
Atlantic Wear & Wardrobe Emporium (swimwear, casual wear, gifts, sundries and snacks)
Voice Mail
Beauty/Barber Shop
Get a Package Quote | Get a Room Only Quote


TRANSPORTATION
One of the best selling features of the Beach Club, is its proximity to Epcot. A short three minute walk and you're at the International Gateway at the World Showcase entrance to Epcot. Even when entering the park before the World Showcase "officially" opens at 11 a.m., Cast Members will guide guests to the Future World section of Epcot. This is also great for avoiding the throngs of people leaving Epcot after Illuminations. Other modes of transportation for Beach Club guests are available.

Magic Kingdom: Take the bus, a service shared with the Yacht Club and Boardwalk Resorts, or walk to Epcot, take the Monorail to the TTC and transfer to the MK Monorail.

Epcot: Aside from walking, the Friendship water launches can provide you with a leisurely, air-conditioned shuttle to Epcot. Leisurely, in that it could take up to 20 minutes as the launch stops at the Boardwalk Resorts and the Swan and Dolphin as well.

Disney's Hollywood Studios: A separate Friendship launch transports guests to Disney's Hollywood Studios. The launches make stops at the Boardwalk Resorts and the Swan and Dolphin hotels as well.

Animal Kingdom/Blizzard Beach: Buses will transport guests to these parks. However in addition to the Y & BC guests, the bus also makes stops at the Boardwalk and Swan and Dolphin hotels. Downtown Disney Marketplace, Downtown Disney West Side, Pleasure Island, and Typhoon Lagoon: The buses marked "Downtown Disney" will take you there.

For those wishing to go anywhere else on (or off) property, Bell Services can get a taxi for you. For groups requiring meeting facilities, the Yacht and Beach Club offers a 52,000 square foot convention center with a state-of-the-art sound and lighting system. The Harbor Ballroom is over 36,000 square feet and can accommodate 2,800 guests. With 21 breakout rooms, a business center, satellite up/down link capabilities, vast exhibit capabilities, and comprehensive meeting support, the Yacht and Beach Club conference facility is a very attractive location for businesses. Custom-made merchandise can be ordered for conferences and/or meetings held in WDW Resorts. For more information on this, call the Specialty Merchandising Department at (407)363-6433.