Tucked away in the corner of Disney World's Polynesian Village Resort is one of our all-time favorite Disney Lounges – Trader Sam's Grog Grotto.
Inspired by its Disneyland counterpart, Trader Sam's focuses on rum, rum and more rum in its libations and the bartenders are fairly heavy-handed here.  In addition to its classic tiki bar drink menu, Trader Sam's has an eclectic menu of small plates to nosh on while you sit back, relax and enjoy the lively atmosphere.
We recently visited on a Friday afternoon just after our arrival.  We arrived at 4:30 (they open at 4) and the place was already full.  Trader Sam's does not accept reservations (or the Disney Dining Plan), but they will provide you with a pager if you want to wait for a table.
We were able to find one empty seat at the bar where we ordered a round of drinks, and as luck would have it, a table opened up.
We both decided to order the relatively mundane Tiki Tiki Tiki Tiki Tiki Rum, comprised of Pyrat XO Reserve Rum, Cream of Coconut, pineapple and orange juices and dusted with cinnamon and nutmeg ($12*).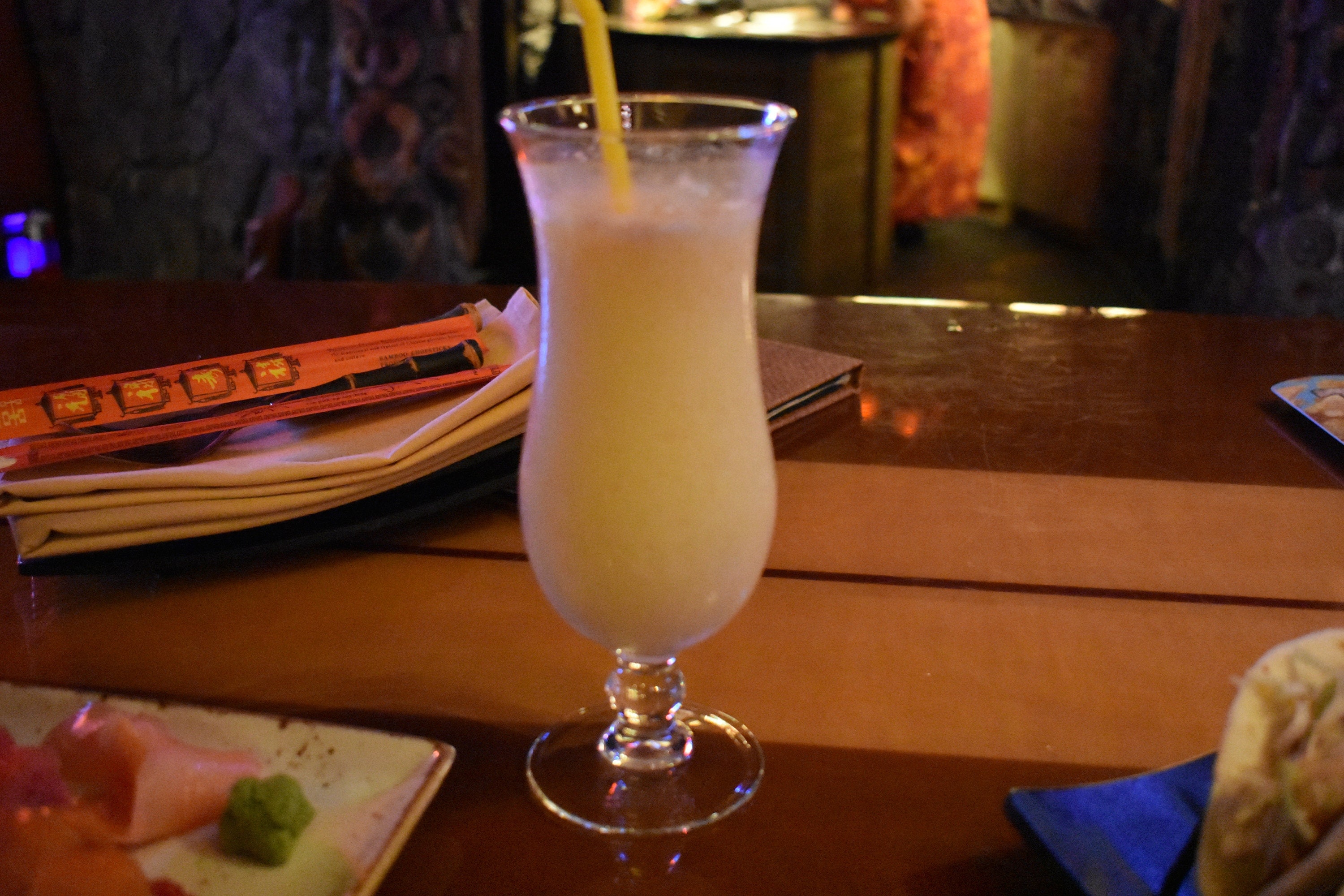 While it isn't much to look at, this one definitely packs a punch (remember, the bartenders are not stingy with their booze here).
We took a while to peruse the menu.  Unfortunately, the menu doesn't provide a ton of details on the food, so we had to ask our server quite a few questions.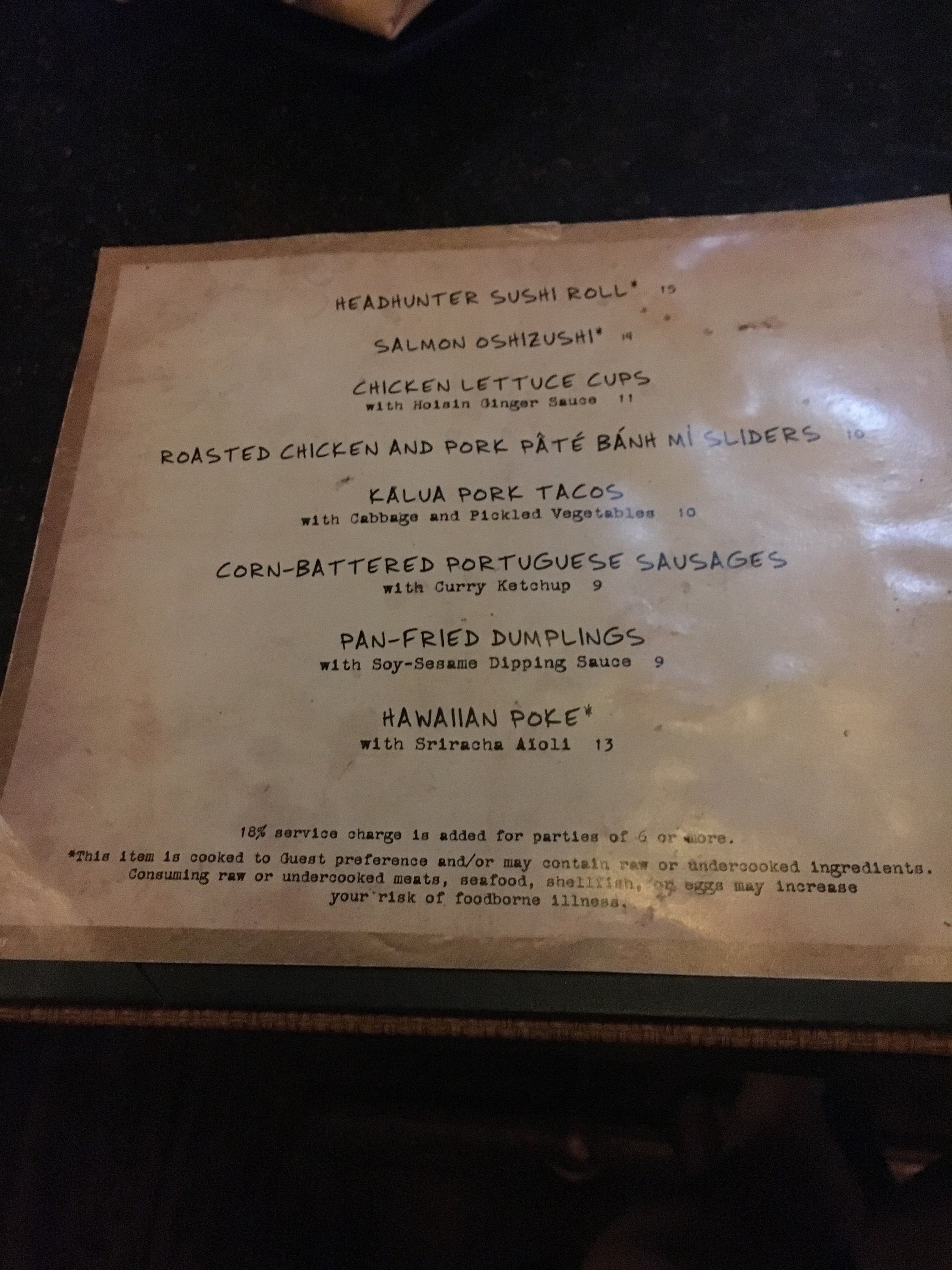 In the end, we decided to split three plates among the two of us:  The Headhunter Sushi Roll ($15), The Kalua Pork Tacos ($10) and the Pan-Fried Dumplings ($9*).
First up were the dumplings: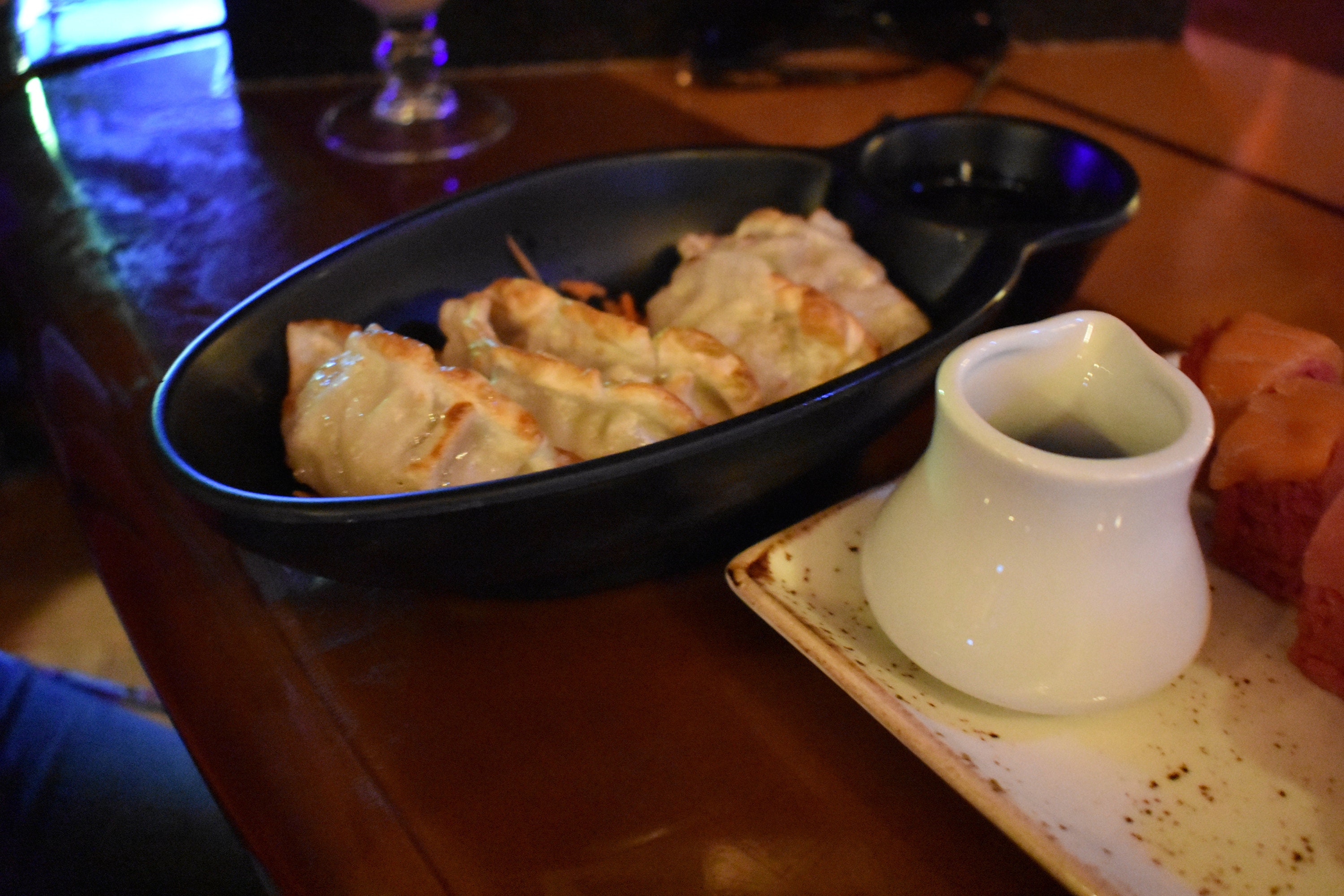 These were fine.  It's hard to mess up a dumpling and it's equally hard to do anything with them to make them memorable.  They did have a nice sear on the outside and we both really enjoyed the shredded carrots (hiding in this photo) they were served over.  It added some nice, much-needed crunch.
Next up were the Kalua Pork Tacos.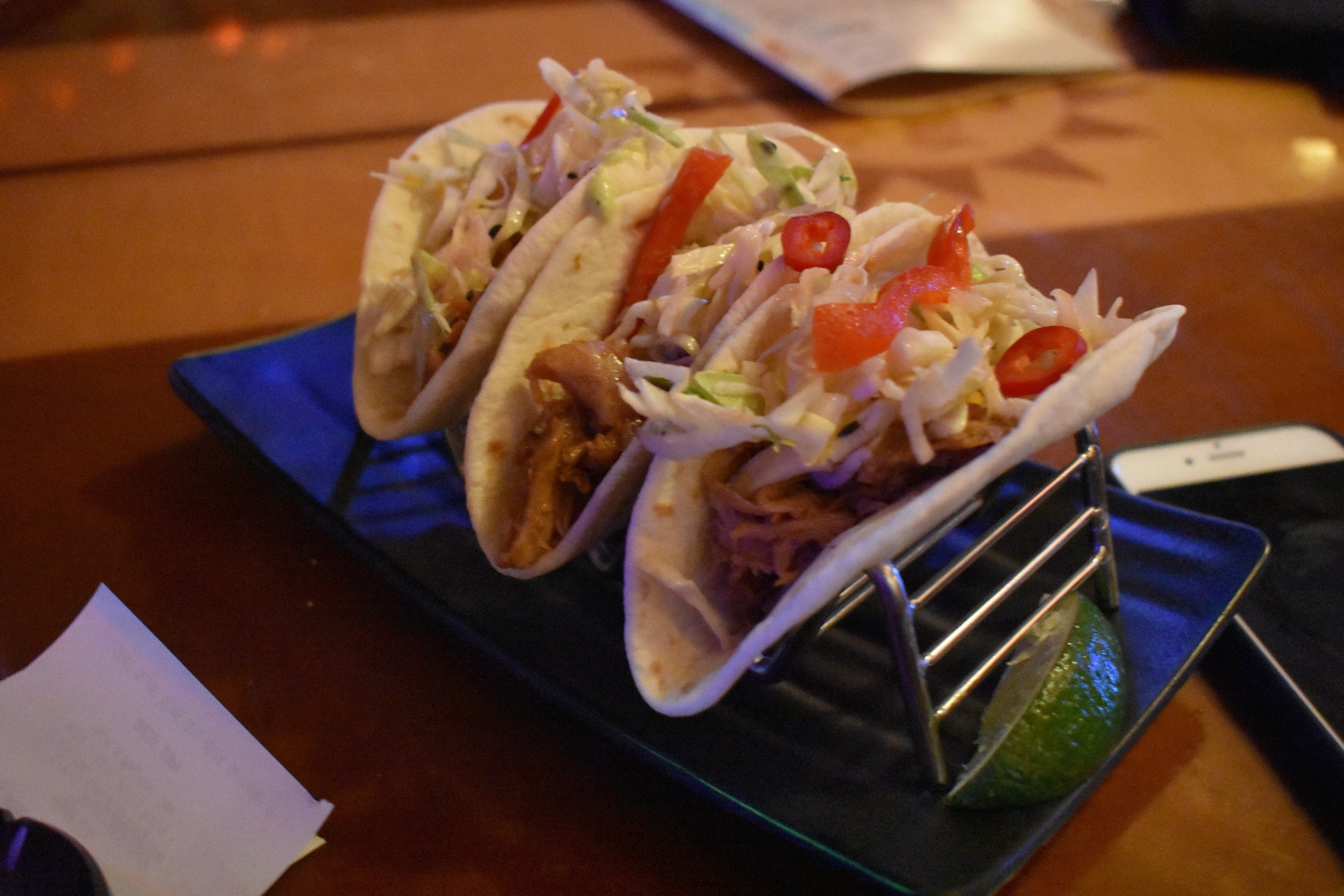 These were O.M.Good!  The pork was delicious and the slaw with a sweet/spicy mayo was also to die for.  These are served with lime wedges, which although not needed to make these a wonderful, tasty dish, would certainly enhance the flavor.
However, the real star of the show was the Headhunter Sushi Roll.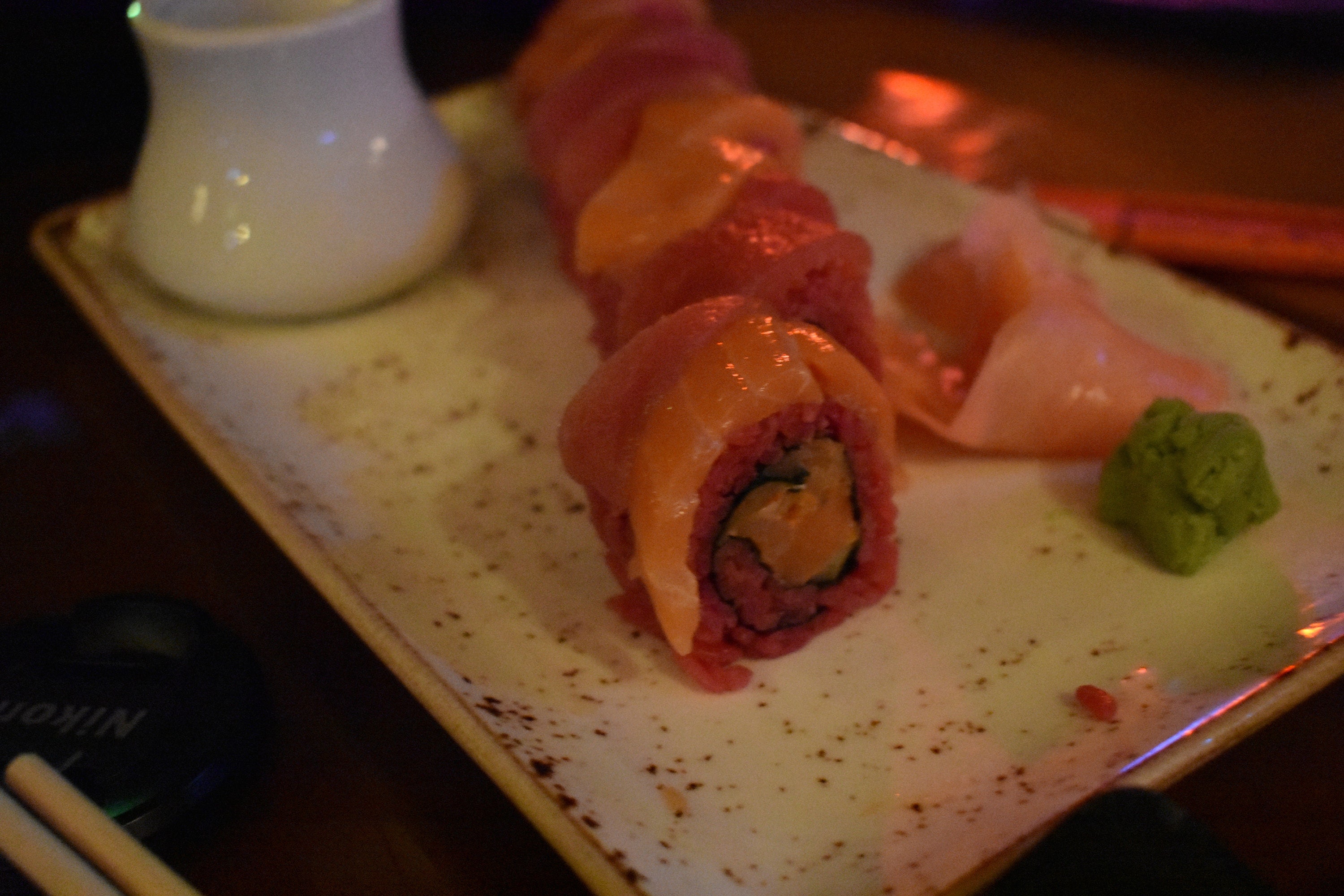 The menu was surprisingly lacking in details, so we had to ask before we ordered.  It's a spicy tuna roll made with beet rice (which is really just rice cooked in beet juice, which gives this sushi roll its beautiful color).  It's topped with both salmon and tuna and served with ginger, wasabi and a hibiscus soy.  Not only was this roll absolutely beautiful to look at, it was equally delicious as well.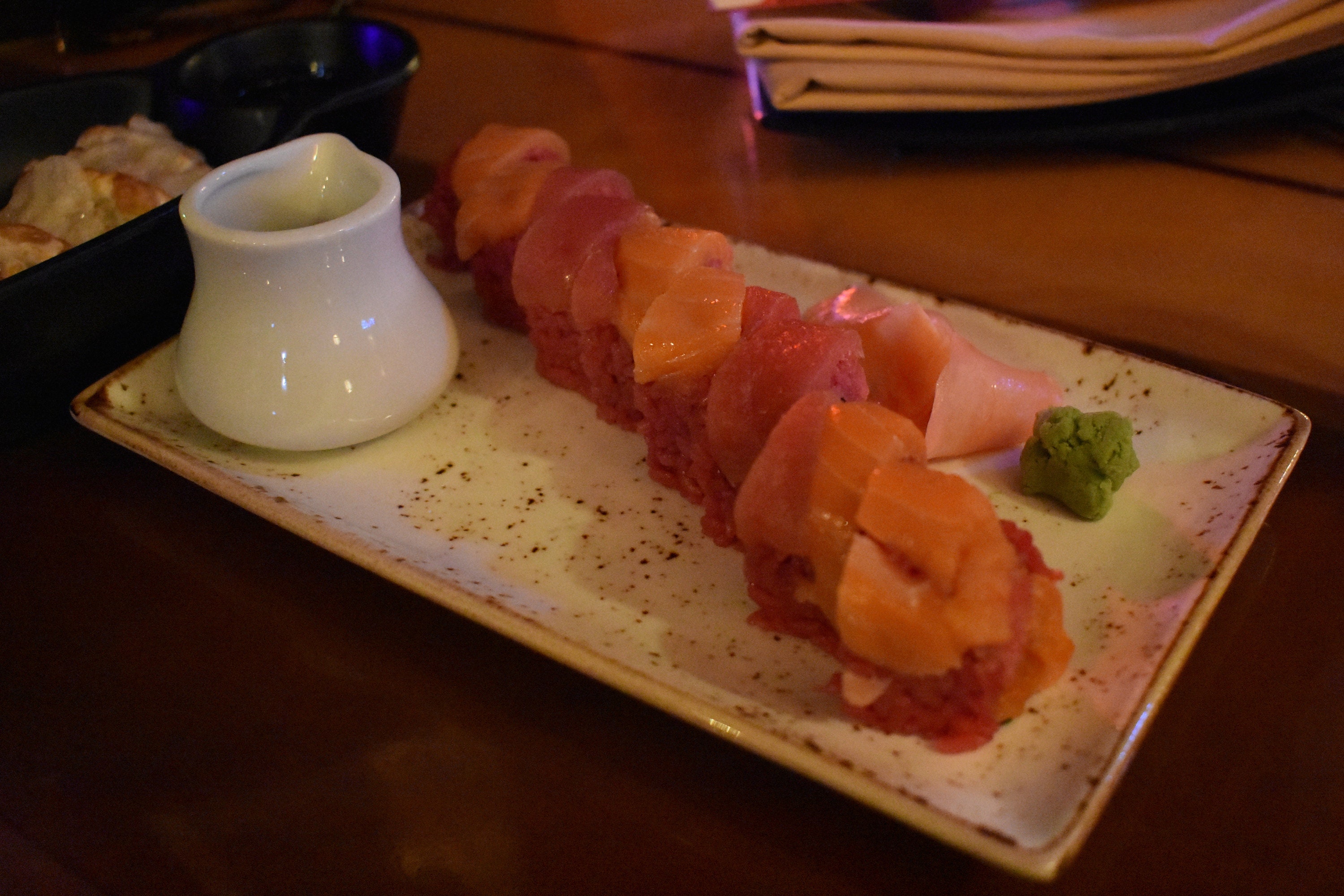 Second only to California Grill in terms of freshness, the roll did not disappoint.  Our server informed us the soy was on the sweeter side and to make sure we tried it before we went crazy with it.  The roll was incredible on its own, but the soy really enhanced and balanced the flavors.  I could have eaten several of these!
I was really unsure about the beet rice, but it was delicious!  Even if you're not a fan of beets, you'll still enjoy the rice.  The flavor is very subtle.
As for the atmosphere here, don't be fooled by the dim lighting.  This is definitely not the place to go to if you're looking for a quiet, romantic evening.  We love the energy here and the 'shtick' of the bartenders.  While the drinks are relatively expensive (especially if you order the souvenir glasses), the quality makes them worth the price.  We felt the prices for food were very fair, given the quality of the ingredients and the portion size.
Trader Sam's offers a unique menu of options that you can't find anywhere else on property, as well as a lively, entertaining atmosphere with rambunctious servers and bartenders.  Make sure to arrive early, or be prepared for a wait!
*Price based on current menu pricing and is subject to change.