Traveling to Disney With a Partner
Who Just Doesn't Get It
by Whitney Yruela
October 2012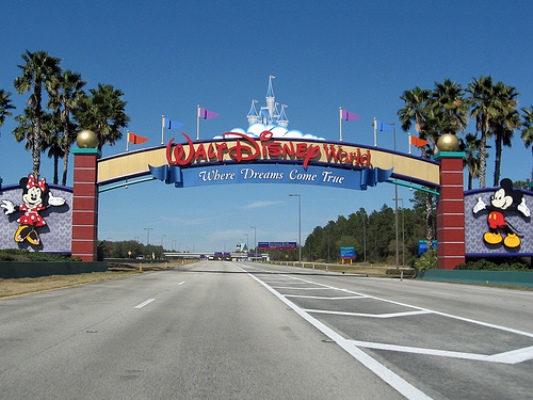 Most people who have a passion for Disney have run into someone who just can't seem to share their enthusiasm, and when this person is your spouse, planning a trip to the parks can present a problem. I myself am married to a Disney stick-in-the-mud, but I have learned a few tips and tricks when it comes to planning and executing a Disney park outing. With a little creativity, it is possible to get your grinch to have some fun at Disney!
The first obstacle you will face is convincing your partner that another trip to Disney will actually be fun. This is always a tough sell. Disney isn't cheap and may not be your partner's idea of a great way to spend hard-earned money and the few days of vacation that they have. When your Disney vacation suggestion is met with the same look that you would have received if you had suggested flying to Antarctica to club seals, you know it will be a tough road ahead. This is where creativity and planning come into play.
If your partner is a foodie, likes golf, Star Wars, gardening or animals, or even if they consider themselves to be a beer aficionado, there are great activities to lure them to Disney with a grin, if not a smile. I really believe that if you look for it, you can find something to please anyone, even for those with the most discriminating tastes. For example, my husband never used to believe there was appealing food at Disney. He had a preconceived notion that it was all fair food - turkey legs, pretzels, cotton candy and the like. After introducing him to a few restaurants within Disney property, he now enjoys them, and this is one of the draws I use to convince him to make a trip to the parks.
If you are looking for a similar lure, take a look at some of the Disney special events like the Food & Wine Festival, Flower & Garden Festival, Star Wars weekends and the behind the scenes tours, just to name a few. You may find something special that appeals to that significant other. When you do find a corresponding interest, plan your trip around that. It may even be that a particular hotel interests them, in which case you could plan to spend more time at the resort.
Also, try not to go park commando on a Disney novice - this will likely frighten them. A lot. A typed itinerary complete with time stamps is what I'm referring to as "commando," but don't fret, dinner reservations won't label you a park commando. A laid back attitude to scheduling works well for my stick-in-the-mud. By planning your trip down to the minute, if your partner sees something he or she wants to explore or ride, they won't have the opportunity for fear of upsetting the schedule. It also tends to turn into a chore for them. Besides, if they find something they enjoy and want to do again, your trip planning next time around is that much easier. What I have learned is that a half-day can still be fun and eventful. My husband can't stand to be in the park from open to close, so part of my bargaining plan is to mention to him that we won't stay the whole day. You don't need to jam all the rides and attractions into one day for it to be special.


My husband does not like character interaction at all. This includes character meals and meet and greets. The fear that they may have to interact with the characters can put off a select group of people, so keep that in mind. When you run across something your partner can't seem to enjoy, try to steer clear of those rides or activities. For the longest time I tried to figure out why my husband disliked the fireworks displays at the end of the night. Finally, I figured it out. The massive crowds all leaving at the same time was very uncomfortable for him. So now we find a secondary spot to view the fireworks, which is nearer to the park exit.
To give you an idea of a non-Disney lover's likes at the parks, I have listed a few of my husband's favorites that I use to convince him to head on over to Disney World (listed in order of ease of persuasion):
Epcot - By far the easiest park to get him to. Drinks around the World Showcase works every single time - he loves this! He also loves the pizza at Via Napoli, so that helps too. The Food & Wine Festival, and even the Flower & Garden Festival, always draw him in.


Hollywood Studios - I have found that this park is pretty easy to get a non-Disney lover to enjoy. You have the Rock 'n' Roller Coaster, Toy Story and Star Tours, all of which my husband enjoys. Toy Story is his favorite here, likely because the ride is interactive and allows you to score points. Plus, if you look hard enough, you can actually find good food here, something I never thought existed at this park but recently found. [Hint: Grilled Vegetable Sandwich at the Backlot Express doesn't sound delicious, but it is!]

Magic Kingdom - There is really only one secret weapon I use for Magic Kingdom: corn dog nuggets at Casey's Corner. My husband loves these and I remind him of them whenever I want to visit the Magic Kingdom. This is actually the only thing he really likes at the Magic Kingdom, so I use this sparingly. If he's really hungry, this will work. He also likes Buzz Lightyear's Space Ranger Spin (once again a ride where you earn points like a video game, which is a recurring theme here along with Toy Story), but that isn't a big enough draw to really get him to want to go. He also dislikes the parking setup for Magic Kingdom, which requires you to park at the Transportation and Ticket Center and then take a tram to Magic Kingdom. I usually promise a trip to Epcot after a quick jaunt to Magic Kingdom (complete with corn dog nuggets, of course). I am excited about the new Be Our Guest Restaurant because it will be the first time a restaurant in Magic Kingdom will serve beer and wine with dinner service. This will be draw for my husband and we will definitely check it out. Two of his major complaints about the Magic Kingdom have been the lack of an appealing table service restaurant, along with the park being dry. I am hoping that this new restaurant will satisfy on both counts.

Animal Kingdom - Once again, I tempt him with food. This park used to be a double-whammy because he loves the Yak and Yeti Restaurant and Disney used to serve the same Casey's corn dog nuggets here. There used to be a kiosk between Asia and Africa that served them. The nuggets were removed about a year ago and replaced with chicken wings, so that was a huge disappointment for us. We have yet to try the chicken wings out of protest. Both the table and counter service versions of the Yak and Yeti appeal to us and the selection of beers here is probably one of the best in Animal Kingdom. This is also the only park I can get him to enjoy a show, Flights of Wonder, as he is a bird lover.
The hardest obstacle to overcome when planning a Disney trip with someone who doesn't share your passion, whether it is for a day or week trip, is pinpointing and eliminating the reason for their apprehension and replacing it with something they can look forward to. It's not a simple task and actually one that I still have to overcome each we visit Disney. Planning trips to Disney as a group is a great way to make your outing into a social event and get your partner to come along, especially if there is another person in the group he/she can relate to that may not be as Disney-inclined as the rest. A Disney grinch won't tell you when they are actually having a good time at the parks, but I have discovered that on a few occasions, just a few, my husband has actually enjoyed himself and had a lot of fun (whether or not he will admit it). After all, who you go to Disney with is as important as what you do when you're there.