When I decide to eat southern cooking two things are usually true. First, that I have thrown all health concerns out the window. Second, that I expect to be comforted, not surprised. Chef Art Smith's Homecomin' Florida Kitchen in Disney Springs surely comforted, but it also managed to surprise. Its menu is packed till bursting with down-home staples: deviled eggs, barbeque, fried chicken, greens, mac and cheese; just about everything your arteries hate but your soul craves. Where I am from these dishes are always readily available. Trucks towing slow cookers sell barbeque in gas station parking lots, and around the block there is always a southern diner or a kountry kitchen (please stop spelling it with a 'k' southerners). Everyone has a grandmother with some special recipe for fried chicken that they swear is by far the best. What their grandmothers don't have are a full staff, years of culinary education, and access to high quality ingredients from local farms. Chef Art evidently does; which is why his restaurant manages to elevate quaint country meals in to dishes that will catch you off guard with their flavor and quality. Everything at Homecomin' is made from scratch in-house, with ingredients exclusively from local sources, and it shows. I am not overly impressed by celebrity status, and was not aware that Chef Smith had been Oprah Winfrey's personal chef for a decade. Whoever this Miss Winfrey happens to be, I cannot say, but if this cuisine is an example of her decision making then I am sure she has a pretty good shot at becoming wealthy and successful in her future. I will walk you through our meal (or waddle you through, given the weight of it), and explain why I recommend this eating experience to anyone who has traveled to the south for the parks, yet hasn't actually tasted the south yet.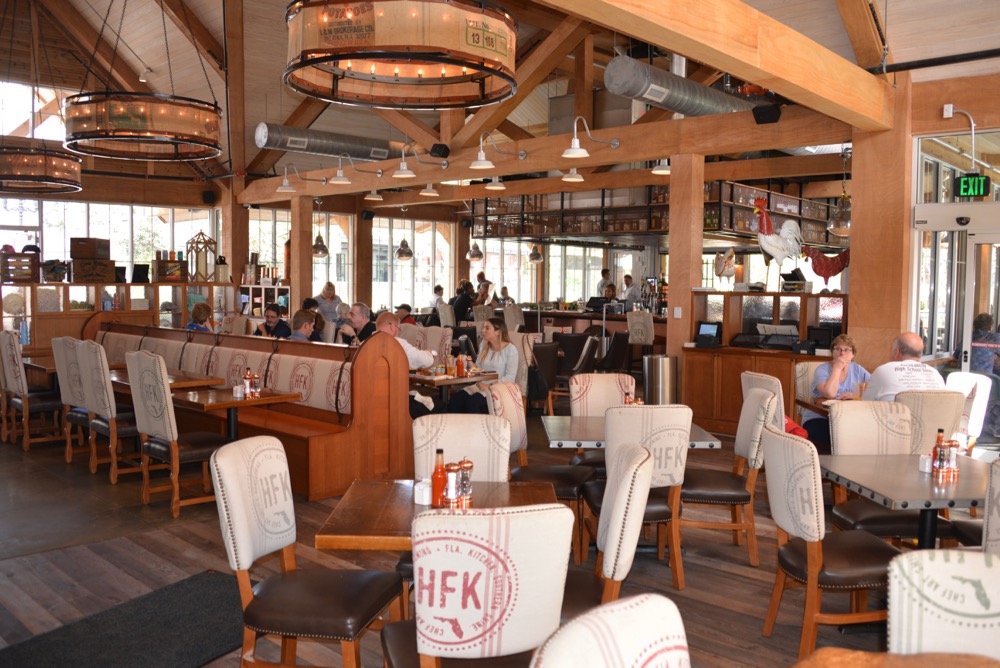 The décor: Beautifully Floridian, yet not the Florida you may be used to. In Orlando it is well known that you have to go north to go south, and the décor is much closer to its owner's roots of Jasper in North Florida than it is to anything found near or around the parks. The second I entered my eye was caught by the polished easy-sweep concrete floor reminiscent of country eateries everywhere for its utility. This transitioned to a flooring of Florida Pine. The rafters and ceiling beams are Florida Cypress. The artwork is from Florida artists. Everything in this place is local. Florida has many defining characteristics: chaotic weather, northern transplants, being the subject of every absurd news story, but it will still always be tied to the south. To see a restaurant of this quality use Floridian material and craftsmen to portray a side of Florida many park-goers may never see makes me extremely happy. Is it an idealized version of the south? Of course, it is in Disney Springs; but if you are visiting our home we want you to see us at our best. Homecomin' tries to give you that, with an attention to detail that makes each square foot of this restaurant welcoming and aesthetically pleasing.
First appetizer: Bunch of Puppies
These were far and away the best hush puppies I have ever tasted. I have eaten hush puppies elsewhere since my Homecomin' meal and I was visibly depressed by the experience. The quality was entirely unexpected, and the additions of pimento cheese and red jalapeno jelly for dipping sealed the legendary status of these simple fried orbs. From that moment on I knew, all other hush puppies will now be judged against Homecomin's hush puppies' impossible standards. One member of our group of four had never had a hush puppy before. He now thinks this is what all hush puppies taste like. He is in for a lifetime of disappointment. If fried cornmeal is your thing, you can't go wrong dropping $10 for these.
Second appetizer: Jasper Board
A simple sampler that will stimulate your salivary glands, the Jasper board is a mix of salty, smoky, and savory flavors. It includes: smoked sausage, shaved ham, bread and butter pickles, and candied pecans served with buttermilk crackers and pimento cheese. A regular meat/cheese/crackers type of plate, yet the locally sourced ingredients guarantee that each part of the dish will be impressively flavorful. My personal favorite was the smoked sausage, yet each element had a fan at our table. This appetizer goes for $15 dollars and serves as a good example of local fare.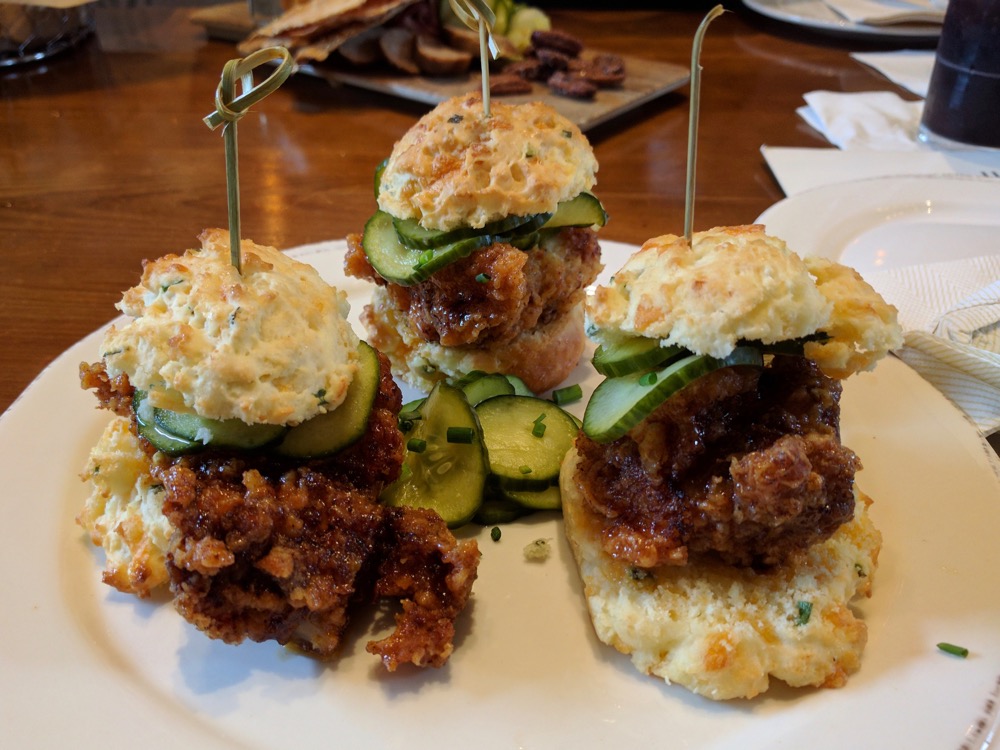 Third appetizer: Thigh High Chicken Biscuits
Homecomin' is extremely proud of their fried chicken, and this is justified. If you have a non-chicken entrée you think you may enjoy then I highly recommend getting the Thigh High Chicken Biscuits to start off with, see what all the fuss is about. You'll receive a set of three substantial chicken thighs sandwiched between homemade biscuits, with a bread and butter pickle and hot honey added for good measure. The price for this trio is $12, and it is money well spent. Before you leave the kitchen confines you should be able to say you have at least tasted their signature chicken.
First entrée: Fried Chicken Sandwich
Homecomin's chicken is buttermilk brined for 24 hours before being double-battered and fried. The sandwich version of it has your standard lettuce, tomato, and pickle (bread and butter style) accoutrements but also boasts a hot sauce aioli. The diner who chose this was extremely satisfied with the sandwich; his one complaint being that the piece of chicken was not large enough to fill the entire bun. It was still sizable to fill him up though, and he expressed no regrets in his decision. Ordering anything fried chicken related is definitely a good call here, and this sandwich runs $17, similar in price to their other "buns and such" options.
Second entrée: Chopped Pork Barbeque Plate
A tad sweeter than my dining companion expected, but the description stresses that the sauce is "sweet and spicy". Barbeque preferences are usually regional, so this may not be your style. As far as quality and flavor are concerned it exceeded most of our expectations. The pork was high quality and prepared very well. If a sweeter sauce is not a turnoff to you this will be an appetizing option.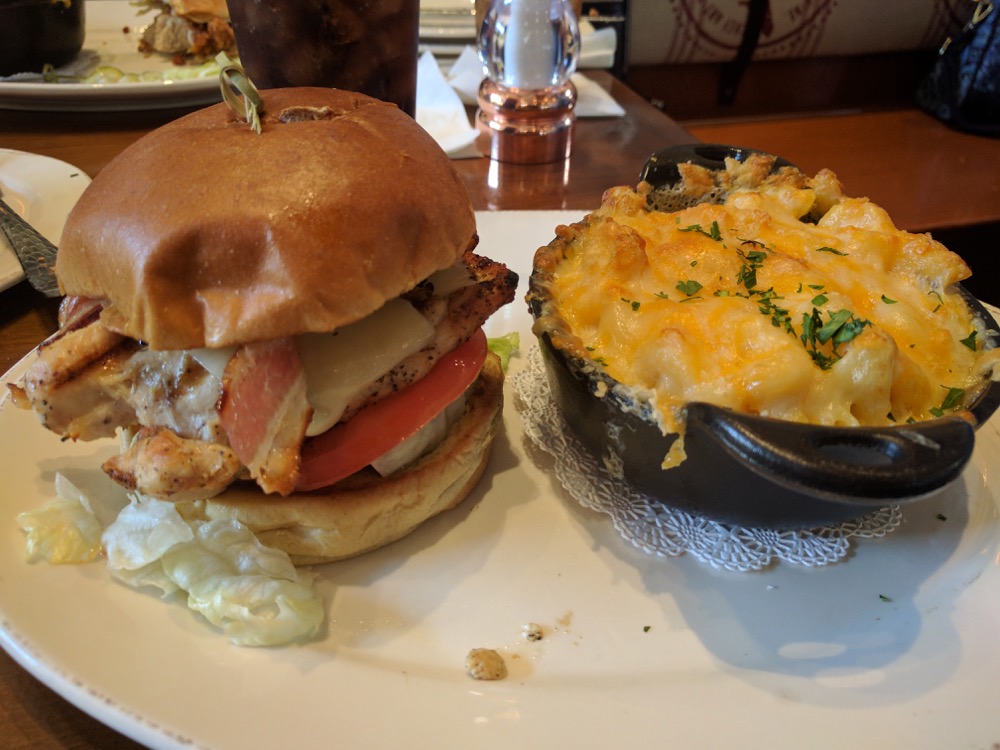 Third entrée: The Country Club
This dish follows the trend I have been mercilessly hammering in to you all article: an uncomplicated meal that is elevated by its ingredients. Homecomin's version of the club sandwich consists of: "grilled chicken topped with white cheddar, pecan-smoked bacon, red jalapeno jelly, lettuce and tomato on a brioche bun". The jalapeno jelly keeps the formula from being humdrum, but otherwise a pretty traditional club. What sets it apart from its culinary cohorts in the sandwich arena? The freshness and quality of the sandwich staples. Juicy chicken, savory bacon, delicious cheese, and a homemade bun elevate it to sandwich supremacy. If everything else sounds just a bit too greasy for you, this $18 option may be your best bet.
Fourth entrée: Fried Catfish Platter
For me personally, fried catfish perfectly embodies my initial claims about this establishment. Catfish always comforts me, but rarely surprises. You can try all manner of blackening or Cajun seasoning, but if the quality of then fish is not there then your efforts are wasted. This was fresh, quality catfish, and it was made well. It was tender, juicy, flaky, and flavorful. I was amazed to find what is generally an inexpensive, kind of boring fish done so well, so far inland. Color me surprised, and satisfied. I was more than willing to throw down $22 for it, and will probably do so again.
Notable side: Momma's Mac and Cheese
Momma doesn't skimp on the mac or cheese. This comes in a crock packed full of cheesy goodness. I don't think anyone finished it completely, but it can be added as a substitute for other sides at an extra $2. Worth it
First desert: Doughnuts
I am starting the desert portion of the review with the doughnuts. I would like to end this predominately positive review on a high note, and these mini sugar doughnuts were the one glaring disappointment in our meal. They were fried too dry to have much flavor left, regardless of the syrup they served for dipping. With such a pleasant experience so far, this failure stood out. Spend your $8 on something else.
Second desert: Aunties Chocolate Cake
Rich and moist, this chocolate cake is just plain good. Served with homemade vanilla ice cream that compliments it perfectly, it can be in your stomach soon for $10.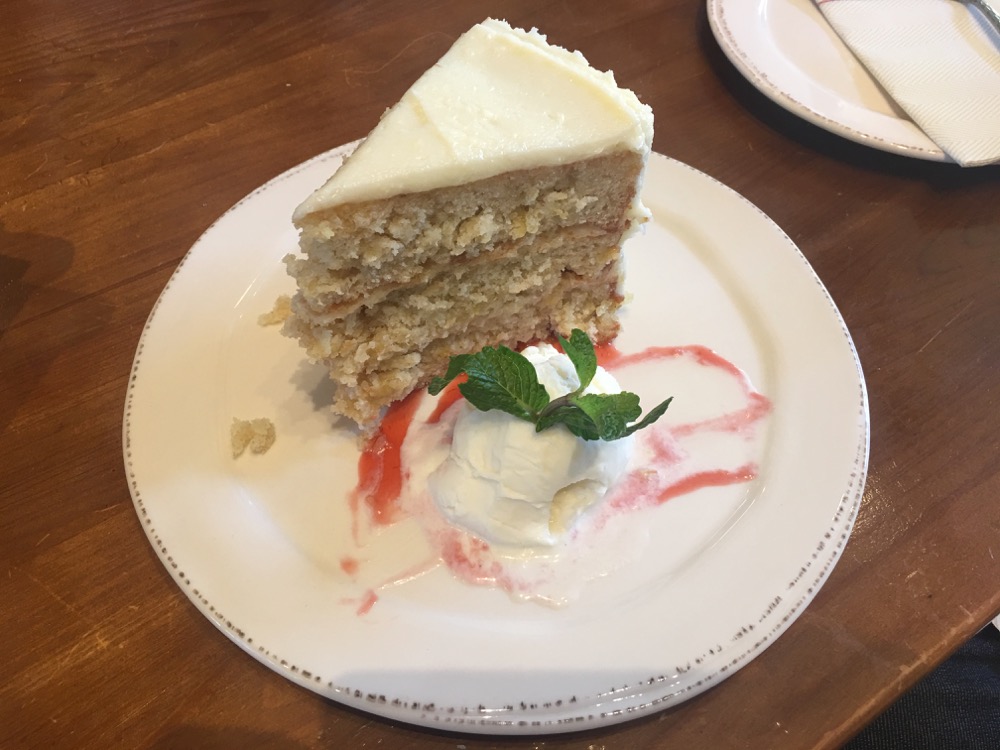 Third desert: Hummingbird Cake
This does not sound like my kind of desert, and yet it was hands-down my favorite. Served with a seasonal fruit gastrique and the aforementioned ice cream, this cake is of the pineapple-banana variety with a cream cheese frosting. So moist we all commented on it, and flat out delicious. If you lend me $11 I will make sure to save you a bite.
Service: Professional and pleasant. The staff made a mistake, as they served up a fried chicken sandwich in place of a club. While we waited for the correct order to be made the staff checked in constantly, apologized profusely, and gave us our deserts on the house. They made a mistake, but they made good on it. That earns respect and a willingness to return, or at least it did for us.
Damage: $120. That takes in to account our Tables in Wonderland discount and our free deserts.
At the forefront of the southern ideal is simplicity. The notion that in our desire for success we move too fast and over-complicate the very things that used to bring us contentment. Sometimes we don't need to reinvent what we already know works, we just need to focus our efforts toward making it as well as we can. In other words: if it ain't broke, don't fix it. Just build the next one with better parts. That is what Homecomin' appears to be doing. The meals don't stand out due to culinary complications, but due to great ingredients and a genuine pride for what this locale has to offer.
For all of our photos from the meal click here