I made my list and checked it twice! Here are some of my favorites when on a Florida Christmas Vacation. Let's start with the Disney Parks.
Magic Kingdom
Main Street USA decorations
Main Street USA is always decorated perfectly at Christmastime! Cast members work all year round on the decorations we see all over the Disney Parks and resorts. Here's a great blog post, "Christmas by the Numbers at Walt Disney World" The castle lighting and Holiday Wish show
During Christmas time, Cinderella's Castle is beautifully lit with 200,000 twinkling lights draped on the towers and turrets. "A Frozen Holiday Wish" show will take place daily in front of the castle. 6:15 and 7:30pm (6:15 and 8:20pm on Mickey's Very Merry Christmas Party nights). Come and see the show with Anna, Elsa, Kristoff and Olaf. The "Jingle" Cruise
The Jungle Cruise has transformed for the holiday! Decorations all around the Jungle, the boats are re-named for the holidays, the crews are dressed for the occasion, and we even get some seasonal jokes added to our tour! Mickey's Once Upon A Christmastime Parade
After December 22 2016,  it runs during the daytime in the Magic Kingdom but before the 22nd, you can only see it if you attend the Mickey's Very Merry Christmas Party. This is a must see at Christmas time. 170 performers and 15 floats put on a magical holiday show in this special parade. Celebrate the Magic Holiday Edition & Holiday Wishes
During Christmas time, guests are treated to holiday versions of the Magic Kingdom's nightly entertainment options. Both the "Celebrate the Magic Holiday Edition" castle projection show and "Holiday Wishes" add extra special elements for the holiday season. Mickey's Very Merry Christmas Party
A truly magical night, this is a hard ticket event, so the crowds should be lower than in the daytime during the busy Christmastime season, meaning shorter lines at the attractions. All you care to eat and drink cookies, hot chocolate, apple slices, and apple juice are included during the party. New for 2016! New complimentary treats! Eggnog and Gingersnap Molasses cookie, Snow Cone and Snowman Sugar cookie, Spiced Apple Cider and Snowman Sugar Cookie, Hot Chocolate and Peppermint Bark Cookie Also, available during the party, the Holiday Wishes Dessert Premium Package. One of my favorite tips for folks is to skip the parks the day you have a ticket for the party; using your party ticket, you can enter at 4PM and stay till the end, usually midnight. You get a full 8 hours in the Magic Kingdom and you save a park entrance ticket. Here's a link to  Mickey's Very Merry Christmas Party Map 2016 Here's s link to Corey Martin's Great Photos of this years party
EPCOT
Holidays around the World
Learn about other cultures Holiday traditions throughout World Showcase. Traditions like the Canadian Holiday Voyageurs, Father Christmas from the UK, Père Noël, the Story of the Daruma Doll and the Japanese customs of the New Year, La Befana from Italy, and more. 'Joyful! A Gospel Celebration of the Season'
One of my favorites, a Gospel Celebration of the Season is a Christmas musical act put on a few times per day by a Central Florida group called D'Vine Voices. Live instruments and powerful voices put a unique spin on holiday favorites. The show takes place on the Future World's Fountain Stage (on the World Showcase side of the Fountain of Nations). There is plenty of room, so there's no need to arrive early. Voices of Liberty during Christmastime
The Voices of Liberty are great all year round but they are extra special when they perform from their holiday songbook. This fantastic eight-part harmony, a cappella group performs a combination of carols, "Hark! The Herald Angels Sing" with "Angels We Have Heard on High." You can enjoy the Voices of Liberty at the American Adventure Pavilion in Epcot. Candlelight Processional
Three times per night at the American Gardens Theater, a 50-piece orchestra and amazing choir come together for a joyous retelling of the Christmas story. A celebrity narrator joins in to bring his or her own energy to the performance. Here is the list of  2016 Narrators Note that this is an extremely popular event throughout the entire month of December. Your best option to attain a seat is to purchase a dining package. Otherwise, it is very unlikely that you will be able to view it from the theater itself. Holiday Edition of Illuminations
IllumiNations: Reflections of Earth is enhanced for the Holidays with an additional special Peace on Earth holiday ending.
Disney's Hollywood Studios
Jingle Bell, Jingle BAM Holiday Nighttime Spectacular
New for 2016! "Jingle Bell, Jingle BAM!", a brand new nighttime show, will be coming to Disney's Hollywood Studios starting November 14 through December 31. The show will be presented on, above and around the Chinese Theater with the brand new projection technology, along with special effects, SNOW, fireworks, and a seasonal musical score. Yes, there is a dessert party for this! See the Disboards post started by  yulilin3 Also new for this year, Santa Claus meet and greet coming to Disney's Hollywood Studios.
Disney World Resorts
All of the resorts are decorated for the holiday. Touring the resorts during the holiday is a fun tradition for the whole family. Here are a few of the extra special ones. Grand Floridian
The Grand Floridian has a "grand" Christmas tree in the lobby. Being on the monorail loop, it's easy to hop on the monorail loop to see it if you are visiting either the Magic Kingdom or EPCOT.
Also in the lobby, the Grand Floridian has a life size gingerbread house. Each year, pastry chefs create the 16-foot-high gingerbread house with 1,050 pounds of honey, 600 pounds of powdered sugar, 800 pounds of flour, and 140 pints of egg whites and 180 pounds of apricot glaze. You can even purchase gingerbread there. Disney's Beach Club Resort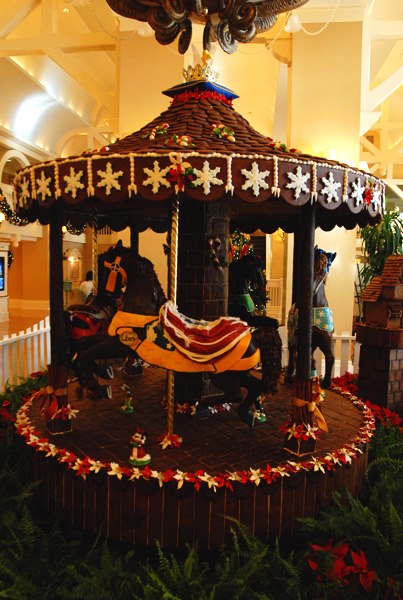 This edible carousel is on display in the lobby of the Disney's Beach Club Resort at Walt Disney World. Pastry chefs use 100 pounds of icing, 50 pounds of dark chocolate and 36 pounds of honey. Also, 100 pounds of confectioner sugar and 96 pounds of bread flour go into the structure. I have always wondered what they do with this after the holiday? Disney's Wilderness Lodge
Another gigantic tree welcomes you into the lobby of the Wilderness Lodge. Disney's BoardWalk Inn
During Christmastime the lobby contains an edible gazebo and a miniature chocolate amusement park. Fort Wilderness Resort and Campground
A tradition for The Recreational Vehicle (RV) community, folks decorate their campsites very elaborately and beautifully. It has become a matter of pride and competition for these proud RV'ers. How much fun would it be to rent a golf cart and tour the decorated RVs?
Offered nightly in December, sleigh rides are a special holiday treat through the secluded natural beauty surrounding Disney's Fort Wilderness Resort & Campground. New for 2016!  

Disney Springs Christmas tree trail

Wander through an enchanted wonderland and marvel at a stunning collection of custom-decorated trees.

There will be 15 trees, all inspired by a certain Disney character or story. The Disney Parks Blog says guests will "wind through a lovely winter wonderland complete with a gentle snow fall, toy soldiers, signers and plenty of opportunities for photos!" The list of trees includes:
Mickey and Minnie Mouse
Disney Villains
Moana
Beauty and the Beast
The Little Mermaid
Cinderella
The Princess and the Frog
Alice in Wonderland
Frozen
The Jungle Book
Mulan
101 Dalmatians
Tangled
Mary Poppins
The Muppets
The new tree trail will begin near the play fountain outside of Once Upon a Toy and be in place from November 11 through January 8, 2017. Santa will be greeting guests in his Chalet from November 14-December 24. From December 25-December 30, Santa Goofy will take over while Santa is out delivering toys around the world. A holiday-themed DJ dance party will be held in the Once Upon a Toy fountain play area. All throughout Disney Springs, guests will find holiday entertainment 6-10pm on November 13, 2016-January 8, 2017. New for 2016! (we hope) 

Starbright Holidays
Earlier, the Disney Parks Blog gave us a teaser about this; a quick peek at a Christmas tree made of green lights in the night sky. No opening date was announced,  but it will be happening this holiday season. Holiday Turkey sandwich at Earl of Sandwich
I know, I know, it's available all year round now, but initially the Holiday Turkey sandwich was only around for Thanksgiving and Christmas time.  I only partake in the goodness of the holiday sandwich at Christmastime, it keeps it special for me. The Holiday Turkey sandwich is made with, of course Turkey, Stuffing, Gravy, Cranberry and Seasoned Mayonnaise. Mmmmmm. Disney's Days of Christmas shop at Disney Springs.
Yes, it's open all year, and I always visit this shop when I am at Disney Springs, but I really enjoy visiting during Christmastime, it's extra special for me.
SeaWorld Orlando
Please don't sell SeaWorld short, especially during the holiday season. The entire park is decorated, with decorations unique to SeaWorld. Please consider a visit to SeaWorld during Christmastime. "O Wondrous Night" Stage show
This 30-minute seated indoor show that tells the traditional Christmas story from the Bible, but with a twist – it's told from the perspective of the animals in the nativity. This is one of my favorite Christmastime traditions. The entire play is excellent and the finale is super!  "Winter Wonderland on Ice" skating show and The "Sea of Trees"
These are shown back to back in the Bayside Stadium. The Bayside Stadium has stadium seating – I love when shows have seating! "Winter Wonderland on Ice" is performed first, it's a wonderful Christmas skating show.
Right after the ice skating show, you remain seated and the "Sea of Trees" show begins. Over 100 decorated holiday trees will line the water, featuring lights that dance to your favorite holiday tunes, along water effects and fireworks. Another must see. Clyde And Seamore's Countdown To Christmas Sea lions Clyde and Seamore are well known performers at SeaWorld Orlando. They bring us their comedic talents to celebrate the season in a hilarious Christmas comedy. The show is performed in the Sea Lion and Otter stadium, again, nice stadium seating here.
Universal Studios Orlando / Islands of Adventure
Macy's Holiday Parade
Macy's Holiday Parade comes to the streets of Universal Studios Florida every evening with some of the same floats seen in New York City each year at the Macy's Thanksgiving Day Parade. Just like in NY, the parade ends with a visit from Santa! Grinchmas Wholiday Spectacular
At Islands of Adventure, in this indoor and seated stage show, the popular Dr. Seuss book, "How the Grinch Stole Christmas" is brought to life in the heartwarming live stage show, "Grinchmas Wholiday Spectacular," starring The Grinch and the Whos from Whoville.
Christmas at Gaylord Palms, Kissimmee
ICE!® featuring A Charlie Brown Christmas

During the Holidays, this hard ticket event,  "ICE! at Gaylord Palms" will make it feel like Christmastime! From an incredible land of ice and snow halfway around the world, a remarkably talented team of artisans travels to Florida to create, for this year, the amazing "ICE! Featuring A Charlie Brown Christmas". I highly recommend this event. No worries, ICE supplies each person with a parka to brave the chilly 9 degree temperature! ICE! is an indoor winter wonderland featuring: Walk-through holiday attraction, kept at a chilly 9 degrees Two million pounds of hand-carved ice sculptures Four ice slides Depicts the story of A Charlie Brown Christmas The Frostbite Factory — a live carving zone Final room is a breath-taking Nativity scene carved from crystal clear ice All-New in 2016! Christmas at Gaylord Palms Light Show In the center of the Gaylord Palms Resort is a huge climate-controlled Atrium, called the St. Augustine Atrium. Events and activities happen all year long here, but especially during Christmas. During Christmastime, the Atrium is transformed and one of the events is Christmas at Gaylord Palms Light Show. Anywhere you stand in the Atrium, you get a great view of this free light show! Cirque Dreams UnWrapped Stage Show The entire family can enjoy this free 25-minute Christmas show presented with the Broadway style and inventive theatrics for which Cirque Dreams is famous for. Comment below and  please add your favorites!