Disney's Hollywood Studios - Star Tours
Hollywood Studios Rides and Attractions
---
Star Tours: The Adventures Continue
Opened: December 1989
Reopened: May 20th, 2011
Ride length: 5 minutes
Overview/History:
NEW! Your Starspeeder may also head to the ocean moon of Kef Bir, which is featured in 'Star Wars: The Rise of Skywalker'.
A lot of long-time Hollywood Studios fans were dismayed at the prospect of their beloved Star Tours attraction receiving a facelift. The simple fact, however, was that it was incredibly dated and ignored the three recent Star Wars films that exposed a whole new generation to the franchise.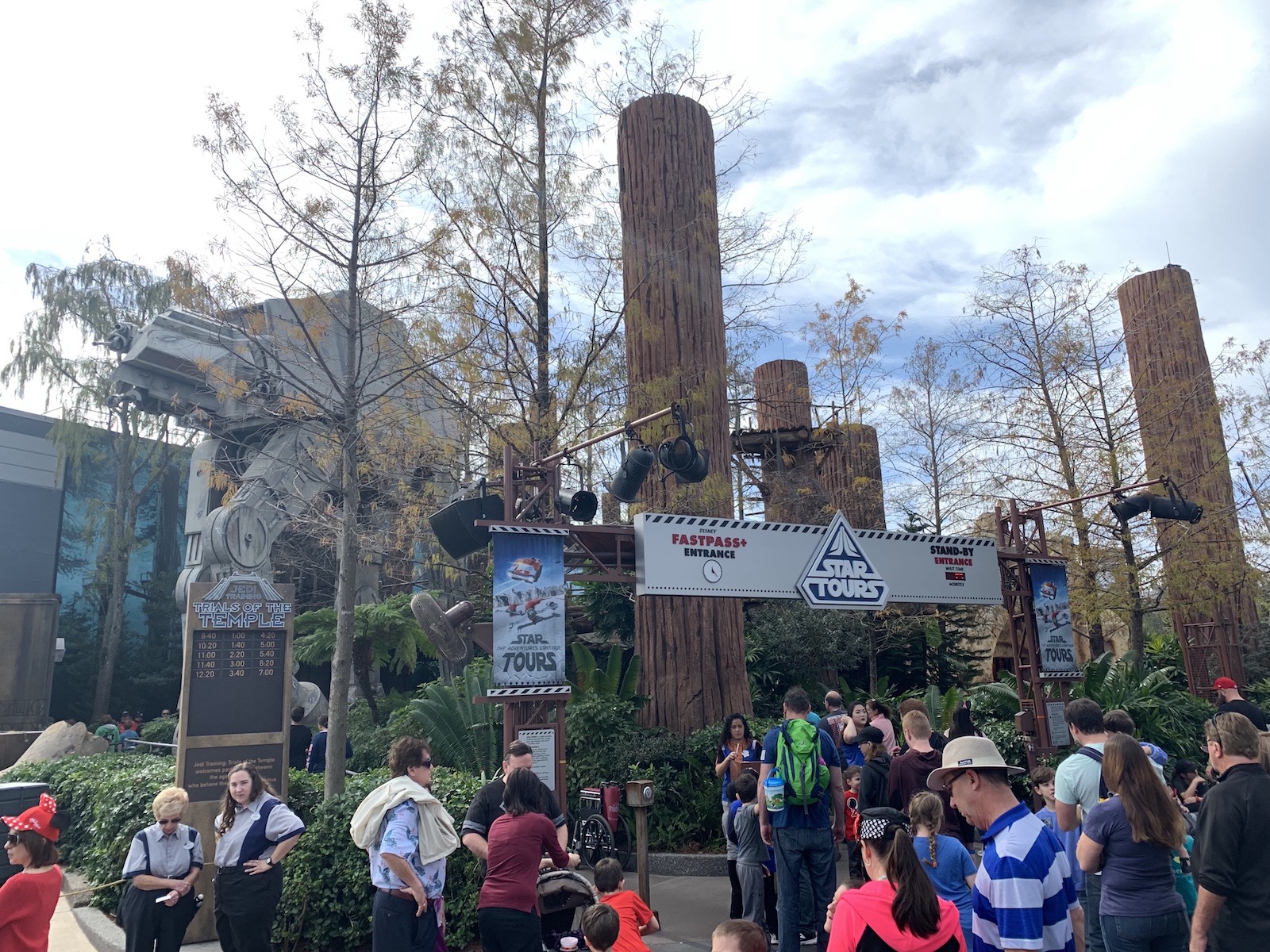 The good news for fans of the original Star Tours is that not a whole lot has changed besides the ride itself. The queue is nearly identical, first taking you past C-3PO and R2D2 hard at work on the Starspeeder 1000. Observant fans might remember the vehicle as the Starspeeder 3000, but since the redesigned Star Tours is meant to take place earlier in the Star Wars timeline, this vehicle is an earlier model. There's a large video screen that displays a list of arrival and departure times and other fun videos, adding to the feeling of being in an airport...or starport, as it were.
Around the corner are some more fun distractions to make you forget you're standing in line. There's a small droid watching luggage move through an x-ray machine. Make sure you watch some of the bags that move through...there are a few fun Disney character appearances. Up on the wall is a "window" where you can watch silhouettes of Star Wars characters pass by. Just before you board your Starspeeder, you'll notice another droid taking body scans. If you listen closely, that droid sure sounds a lot like Patrick Warburton of Seinfeld fame (and your pilot in Soarin'). Then you'll head toward your Starspeeder, picking up your 3D glasses along the way.
The new pre-boarding video is a welcome change from the dated 80's flight attendant video of the original ride. You'll watch a CG video showing how, through a series of mishaps, C-3PO has wound up in the cockpit of your Starspeeder. A CG droid will then tell you all of the necessary safety precautions and you'll be allowed to board.
Once you take flight, it becomes clear that you're unwittingly harboring a Rebel spy. Watch the small video screen on the right to see who it might be. This is where you'll just have to experience the ride for yourself, as there are some surprises that we really don't want to give away. There are 54 different ride combinations you can experience, so each ride should feel slightly different. You may wind up on Hoth, Kashyyyk, Naboo, or Tatooine, among others. As far as characters, you may run into Boba Fett, Chewbacca, Admiral Ackbar, Princess Leia, and even Darth Vader himself. Placing the ride in the timeline between the two film trilogies opens up the story such that you can easily experience a variety of locations and characters without anything feeling out of place.
You may also visit the ocean moon of Kef Bir from Star Wars: The Rise of Skywalker.
Once you've landed safely (as safely as C-3PO can land), you exit through the Tatooine Traders gift shop where you can find all of the Star Wars merchandise your heart desires, including a build-your-own Lightsaber station.
All in all, Disney has effectively transformed Star Tours from a nostalgic attraction for older fans of Star Wars into a must-see for guests of all ages. While the entire attraction feels fresh and polished, it's still familiar enough that fans of the original need not worry. The only negative is that you'll want to keep riding it over and over to try and see all of the possible scenarios!
Because of the jolting action in this ride, it is not for expectant mothers or people with back or neck problems. There is a height restriction of 40" and children under the age of 7 are not admitted without an adult. Parents can choose the "Rider Switch" option here.

Lightning Lane: Yes
Handicapped Accessibility: Guests using ECVs must be able to transfer to a wheelchair for the queue, and then transfer to the ride vehicle.
Tip: Look for the pilot of the original Star Tours ride in the queue. The poor guy is marked as defective!

Fun facts: Check out this DISboards post for a list of Easter eggs and homages that can be found in the ride.
here
.