Disneyland Theme Parks
Walt Disney's dream of a place where adults and children can enjoy their time together comes to life as you explore the theme park that began it all, Disneyland Park. At Disney California Adventure, experience the wonder of the Golden State and visit with some of your favorite Pixar & Marvel characters.
Disneyland Theme Park Guides
Disneyland Park Maps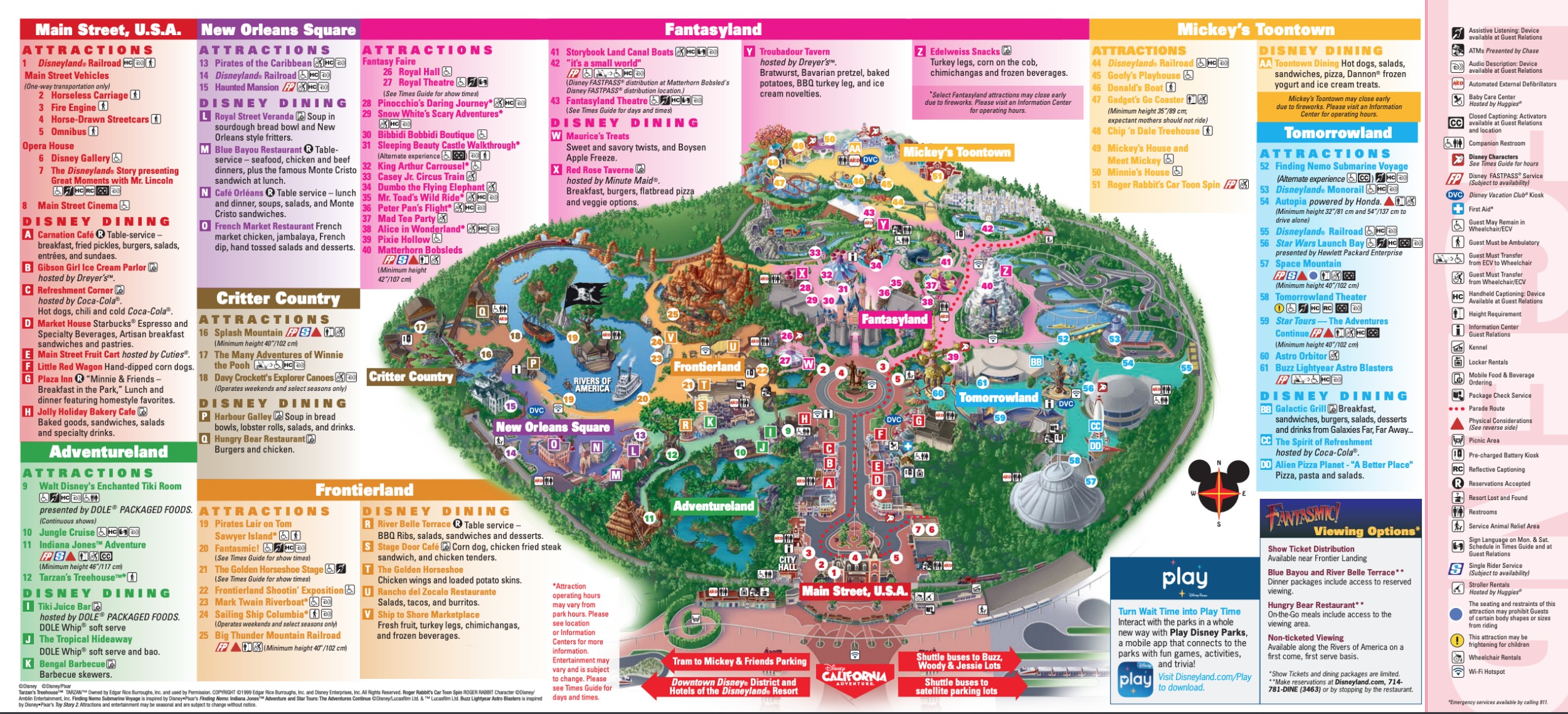 Disneyland Theme Park Information:
The Original Magic Kingdom
Disneyland Park has attracted millions of visitors since it first opened its doors over 60 years ago. When you enter Disneyland, the cares and worries of the day are left behind. Once you enter Disneyland Park, you're transported to a fantasy world where elephants can fly and pirates serenade.
Disneyland Park in Anaheim is most certainly a land of enchantment where children and the young at heart find that dreams really do come true. Disneyland Park is a seamless blend of yesterday, today and tomorrow. Smiling train conductors, marching bands and the clip-clop of horse drawn carriages bring you back to carefree days. You can also rocket through the galaxy, meet a mermaid or trek through the jungle. Laughter is always in the air, with friendly smiles all around. The secret to Disneyland is its ability to change, yet remain the same.
As an example of that philosphy, Disneyland Park just completed one of its biggest expansions with Star Wars: Galaxy's Edge open at the northern edge of the park. The new land added 14 acres with e-ticket attractions, shops and restaurants.
As Walt Disney said "Disneyland will never be completed. It will continue to grow as long as there is imagination left in the world."

Combine the magic of Disney with the best that California has to offer, throw in a little Pixar, then toss in a bit of Marvel, and the result is Disney California Adventure. When you enter the gates, you are transported the Los Angeles that existed when Walt Disney arrived in the 1920s.
Disney California Adventure is a tribute to this land of dreams. Its larger than life images and icons seem to be plucked from a Hollywood blockbuster. From Grizzly Peak (an icon at Disney California Adventure) to a white knuckled roller coaster, the sights and sounds are inspired by the rich history of this majestic state.
Guests of Disney California Adventure can 'soar' around the world, bob along white water rapids, meet their favorite Marvel super heroes, take a trip to Radiator Springs, or simply savor a glass of wine from the Napa Valley.
Now, there is even more Pixar to enjoy as much of Paradise Pier has been transformed into Pixar Pier, with updates to the attractions, shops, and restaurants in the area.
With many lounges that are favorites of local adults, Marvel super heroes and "e-ticket" attractions for the teens, and family attractions with Pixar fun for the kids, Disney California Adventure has something for everyone in the family!