Disneyland Park
---
Disneyland's youngest guests will enjoy this fun land, featuring all sorts of cartoon gags and gadgets as well as rides and attractions designed just for them. Adults will enjoy the amazing detail (as evidenced by the fact that there are NO straight lines in any of the designs here). This whimsical land offers interaction at every turn. Most everything in Toontown is designed to be pushed, pulled, poked and prodded. The result is a land filled with surprises and smiles.
---
Opened in 1955
No height restrictions
Wheelchair/ECV access available
Stops at stations located in Main Street U.S.A., New Orleans Square, Mickey's Toontown and Tomorrowland.
This is one of the park's original 17 attractions. The 1.2 mile old-fashioned narrow-gauge steam train that goes around the Park's perimeter including a trip through the Grand Canyon and Primeval World dioramas.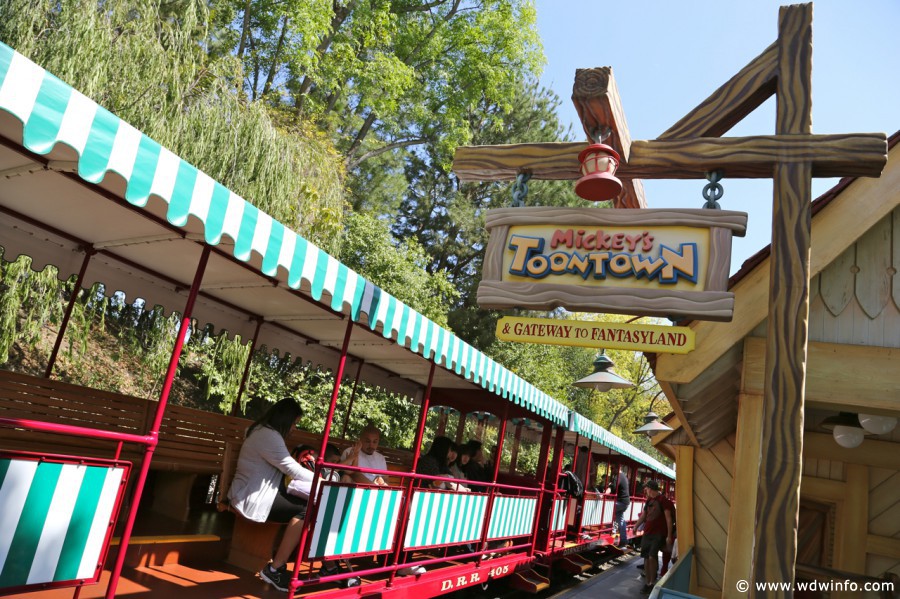 ---
Opened in 1993
No height restrictions
Must be ambulatory
Children pass though an opening at the base of the tree house and climb a staircase that spirals up through the trunk.

Opened in 1993
Must be at least 35" tall
Rider Switch available
Must transfer from wheelchair/ECV

A children's roller coaster attraction that takes you on an adventure over and around upper Toon Lake. This attraction is located in Mickey's neighborhood in an area themed as a rustic, natural setting with a waterfall, rocks and foliage. The cars resemble acorns and are made to look like they were built entirely from Toontown discarded parts.

---
Opened as Goofy's Bounc House in 1993, reopened as Goofy's Playhouse in 2008
No height restrictions
Wheelchair/ECV access available
Kids enter Goofy's yard and play, climb and slide to their heart's content
---
Opening in !
Height Restrictions: TBA
Wheelchair/ECV Access: TBA

Mickey and Minnie's Runaway Railway is coming to Disneyland and will bring guests straight into the world of a Mickey Mouse short. A new theme song is being made specifically for the attraction and Goofy will act as the engineer. This new attraction is was set to open in Mickey's Toontown in 2022, but has been delayed to 2023!

Disney©
---
Opened in 1993
No height restrictions
Wheelchair/ECV access available

Mickey's house is in the corner of Toontown with a small detached garage to the left. Visitors enter Mickey's living room and walk through his house while viewing personal mementos and show business memorabilia.
Check out the screening room where a continuous film featuring segments from four of Mickey's early cartoons are shown on a bed sheet serving as a screen. Mickey's street address is #1 Mickey's Neighborhood Way.
---
(Opened: January 24, 1993)

Opened in 1993
No height restrictions
Wheelchair/ECV access available
Minnie's dream home is right next door to Mickey's house in Toontown. Guests walk through Minnie's house that has a delighftully whimsical decor. You'll find pictures of her favorite mouse, Mickey as you stroll through. There is a wishing well in the backyard where an audio response is heard when you speak or drop a coin into it.
MEET AND GREET: Meet Minnie in front of her house. Check the daily schedule for appearance times.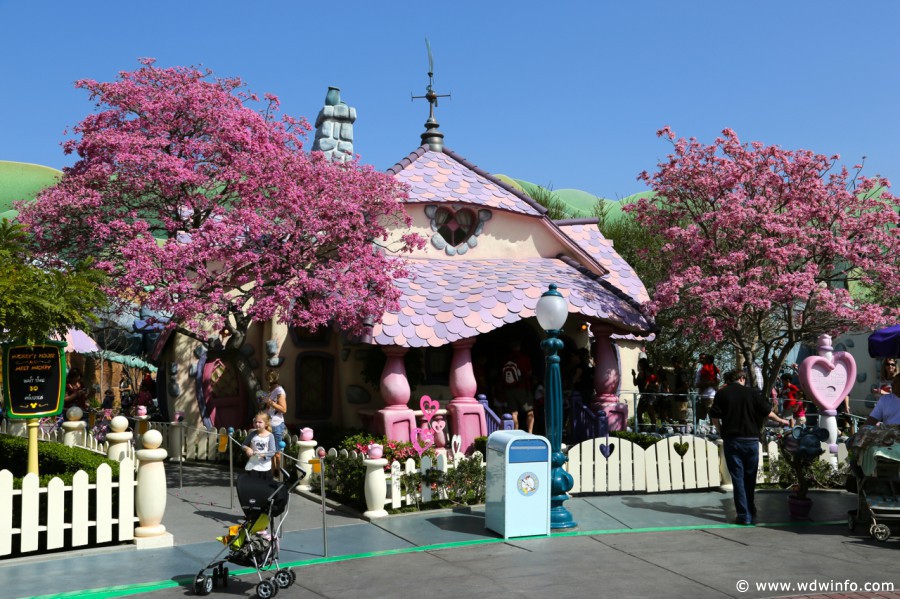 ---
Opened in 1993
No height restrictions
Must be ambulatory for some areas

Donald's large houseboat, the "Miss Daisy", is docked in the lagoon of Mickey's neighborhood. This is a walk-through experience with fun hands-on activities.

---
Opened in 1994
No height restrictions
FASTPASS available
Must transfer from wheelchair/ECV


Guests enter the Toontown Cab Company building which is the queue line for Roger Rabbit's Car Toon Spin. You will wander through back alleys, past Baby Herman's apartment, backstage at the Ink & Paint Club and into an underworld hideout where "dip," a deadly concoction of paint solvent, is secretly being stored in a plot to wipe out Toontown. You board a Toon taxi and follow Roger and Benny's trail through town pursued by the Weasels. Take control of the wheel, spinning your way through the Bullina China Shop, the local Power Plant and the Gag Warehouse on a fast paced spinning ride.

In addition to meeting Mickey and Minnie in their "homes", you will find
Goofy, Pluto and pals making appearances. Check the daily schedule for times.
Gag Factory/Toontown Five & Dime - One store with two entrances, this warehouse-themed shop sells clothing, toys and souvenirs