To the delight of myself and many other Disney fans, the Chairman of Walt Disney Parks and Resorts, Bob Chapek, announced at the 2016 Destination D event that a "major transformation" would be coming to Epcot sometime in the future. The overhaul, which has been rumored for some time now, follows Disney's efforts to expand two other parks at the Walt Disney World resort: Animal Kingdom with Pandora and nighttime offerings, and Hollywood Studios with Star Wars and Toy Story.
To say that an overhaul of Epcot is needed would be an understatement. Future World has stagnated in recent years, and with the closure of Innovations, feels even emptier than before. Meanwhile, the World Showcase has not seen a new pavilion added since Norway joined the group in 1988. Even without new countries, updates to individual pavilions have been largely kept to new restaurants and entertainment options – though the additions of a Frozen meet and greet and attraction were much needed updates.
There are plenty of rumors going around of what will be coming to Epcot with this overhaul – for a list of some of those, check out Ryan Teetz's November Rumor Round Up article. The five ideas below are simply my wishes for an update, and have little correlation to the rumored list.
---
5) Add Australia to the World Showcase
New pavilions in World Showcase have always been a vocal request among Disney fans, and the suggestions have ranged from Greece, to Brazil, to Thailand. While I would be happy to see any of those make an appearance, Australia continues to rank at the very top of my desired countries to come to World Showcase.
To me, the fact that Australia hasn't made an appearance somewhere in Disney is astounding, and I've always argued that it should either join the World Showcase, or replace Dinoland in Animal Kingdom (Asia-Africa-Australia seems like a common line of thinking). But with Pandora coming to Animal Kingdom sometime in 2017, I officially stand with adding an Australian pavilion into Epcot.
I'd love the chance to sample Australian cuisine at any time of the year, including many of their seafood offerings of southern bluefin tuna, King George whiting, and rock lobster. Australian wine is continually a favorite of mine, and I could easily see a location similar to Italy's wine cellar that offers guests a chance to try wines and different cuisines without the need for a reservation.
Outside of the food, I'd love to see Australian artists and music culture represented, much as places like France and Morocco have done over the past three decades. It's a wonderful land that many in other countries (Myself included) know of and may have pondered visiting, but is often far too expensive to actually go through with. Offering the chance to experience a taste of that land year round should be something that Disney actively explores.
4) Mission: Space's Last Voyage
When it debuted in 2003, Mission: Space was one of the most controversial attractions Disney had done. Not because of subject material – but because of the many cases of motion sickness that came about after guests experienced the ride, which simulates what it would be like to travel to Mars onboard a spacecraft. Shortly after opening, Disney made one of the smartest decisions they could in this situation; operate two different versions of intensity to appease all guests.
Even with that change, the attraction has fallen to the bottom of the must-do heap over the past ten years. Technology aside, the entire attraction feels dated and worn down – it still has that feeling of a ride that's been plucked from the early 1990's idea of what a space voyage to Mars would look like. The exterior design isn't, but the interior feels cold, empty, and hollow out. Though I suppose that is symbolic of Future World's overall problem.
If Disney were to decide to keep Mission: Space, it needs a total overhaul. Gut the interior, gut the technology, gut the gift shop at the end. Leave the exterior design and restart the thing from scratch with updated technology and ideas.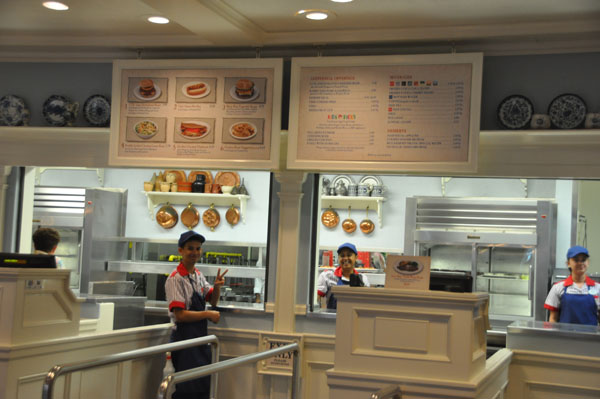 3) Greasy McDonald's Burgers of America
No, I'm not referring to the McDonald's pit stop that used to exist just outside of Canada (Their fries weren't half bad) – I'm referring to the atrocity that is the Liberty Inn, the quick service location at the American Pavilion. Dead center in the World Showcase, this country should represent our culture and cuisine to the many foreigners that come and visit the Walt Disney World resort, much the same that the other 10 countries represent their life to us.
Culture wise, it's not bad at what it does. Cuisine wise, the Liberty Inn remains one of my least favorite quick service locations in all of Walt Disney World. I understand the desire to have a dining location in Epcot that caters to the unadventurous diner and their children. And for the kids, I can understand wanting to offer a location that sells chicken nuggets, fries and chocolate milk.
Yet even that unadventurous diner deserves to have good quality – not a blackened burger and French fries. Why is there no New England clam chowder? No New Orleans gumbo? Why do they not offer turkey as an option year round? Point of this update is that you can offer the kids their nuggets, and even keep a burger that's cooked well – but please stop making the rest of us suffer to appeal to that common denominator.
2) Circle of Life, Take Two!
I'll be honest – out of the six or seven times I've gone to Disney World, I've only seen the Circle of Life once, and that was because my college program roommates and I were out of ideas. Tucked away on the second level of The Land, the show tells the story of the need for conservation and environmental protection, and features Simba, Timon and Pumbaa from The Lion King.
The show itself is outdated technologically, but the message within is still one that I feel is important for people to hear and understand. Were this overhaul done several years ago, I'd have argued that Disney should have redone the film featuring characters from Wall-E – a film whose entire premise is built upon a similar message regarding environmentalism. Yet, with the overhaul likely pushing well into the 2020's, Wall-E and Eve are likely going to be too dated to resonate with children and families.
I'd argue that characters from Zootopia would be a good replacement for The Lion King gang. While the film itself doesn't focus too much on environmental issues, it was not shy about making subtle statements on many social issues facing society today – and the films ranks as one of the highest grossing films of 2016 and the second highest-grossing Walt Disney Animation Studios film, behind only Frozen. It continues to remain popular with a new home on Netflix, and Judy Hopps and Nick Wilde have begun to make some appearances at various parks and events.
Yet even if Judy, Nick and others aren't incorporated, I hope Disney does not just do away with this attraction. With a bit of work and updates, it could easily continue spreading an important message in a fun, educational way.
1) Less Sterile Environments
I mentioned this with my section on Mission: Space, but it remains one of my strongest dislikes of Epcot. Whereas the World Showcase feels so alive, the entire front of the park, from Test Track to Figment, World Showcase Lagoon to the front turnstiles, it all feels sterile, cold and uninviting. The grey concrete, long and empty hallways of Innovations, even Mouse Gear – it doesn't sell the idea of human innovation and wonder that Epcot was designed to envision.
Even when it comes to Food and Wine and the Flower & Garden festival, many of those enhancements are still primarily in the back of the park. Future World does get a couple of flower topiaries, but even they don't make the front of the park any more appealing.
Yet unlike the other four options on this list, I don't know if Epcot will really fix this issue as we move on with the overhauls – because much of the front half of the park would have to be gutted, torn down, and rebuild to fix this issue. There are rumors that some of this will be done (Including the removal of the Leave a Legacy tablets), and I hope that effort will continue with other buildings and the incorporation of green spaces throughout the Future World.
---
So there you have my five ideas for what should happen with an Epcot overhaul. Do you agree or disagree with any of these? Have ideas of your own? Sound off in the comments below!