Epcot - Test Track
World Discovery Attractions
Test Track

Opened: December 6, 2012 (reopening), March 17, 1999 (original)
Disney Imagineers are working with Chevrolet to reimagine Test Track completely with inspiration coming from the original World of Motion attraction. No time frame has been announced at this time.
Ride Length: 4 minutes
Lightning Lane: Yes
Handicapped Accessibility: Guests must transfer from their wheelchair/ECVs to experience this attraction. Service animals are not permitted on this attraction. Video captioning is available.
Height Requirements: Children under the age of 7 cannot ride Test Track without being accompanied by an adult and a height restriction of 40" is in effect but parents may wish to use the "rider switch" option.
Guests will design their own custom concept vehicle at an interactive design kiosk, so you will choose all your car's features.
Note: if you choose to use the FastPass or Single Rider lines, you will skip this process and will use a custom car designed for you.
The previous incarnation of the ride's queue focused on safety testing; the queue now focuses on the Chevrolet's Automotive Design process, from the beginning sketches of the car to the actual vehicle you see on the showroom floor.
Guests will ride through the attraction in a six-passenger SimCar, but your design follows you through the ride in a virtual sense. At the end, you will find out how your design compares to the SimCar in the areas of Capability, Efficiency, Responsiveness, and Power.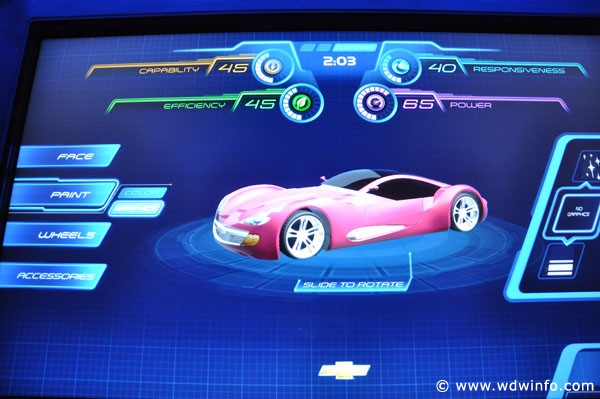 The soundtrack features not only music, but special sound effects as well. There are four show scenes. In Capability, your car is tested for rough road and weather conditions. Efficiency tests what effect your car will have on the earth. Responsiveness tests the car's maneuverability. The last section is everyone's favorite - Speed! Feel the wind in your hair as you zip around the outside track.
In the post-show, your car will be scored against cars from the rest of the day. Multiple interactive elements allow you to further tweak your design to your liking. See your car featured in a TV commercial or even race it on a virtual track. You can walk through a showroom featuring Chevrolet cars, as well as take advantage of photo ops with concept cars.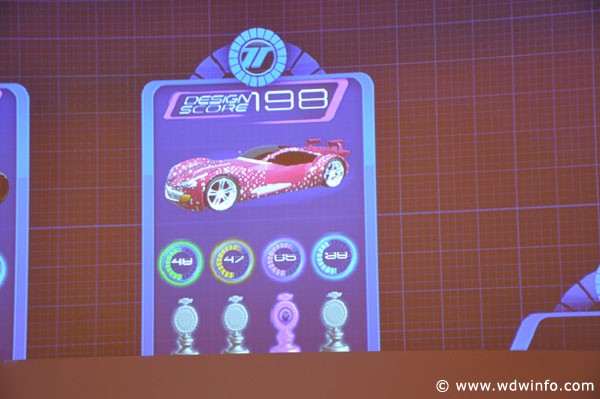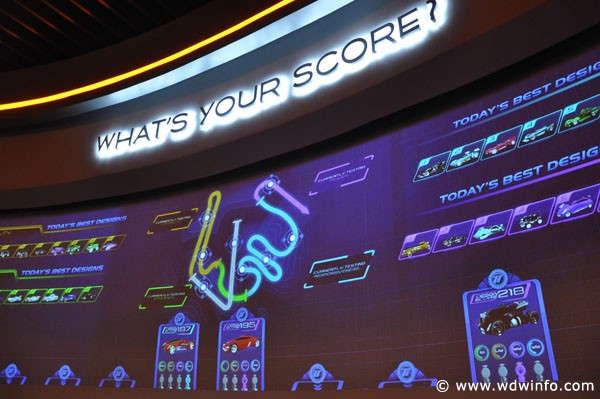 TIPS: This ride has a "single riders" option that could save you TONS of time in line. You'll be split up from other members of your group, but if you don't mind that, then give it a try. If you prefer to ride with your group, definitely get a FastPass. If you do choose the single rider option, you will not get the opportunity to design your car.