Coral Reef Restaurant Reviews at Epcot
Review by Kevin Klose - 4/09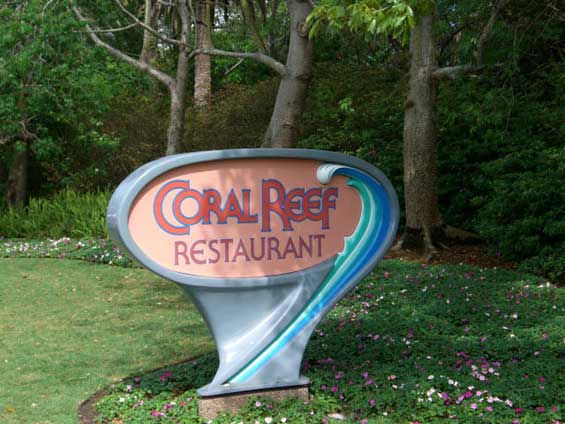 I had been asked to re-visit and re-review The Coral Reef, one of the very first restaurants I reviewed for the DIS and DIS Unplugged Podcast. That visit turned into a debacle that is still discussed in certain circles We tried to approach our recent visit as if it were our first and not let past impressions color our experience. With that in mind, I tried to approach The Coral Reef as if this were my very first visit to Epcot. The Coral Reef is tucked behind the Living Seas pavilion and there is one small sign on the lawn across from the building to guide you in the right direction. There is also a small sign on the front of the restaurant. I don't find the entrance to the Living Seas to be very welcoming. Other restaurants in Epcot have a host/hostess podium out front to answer questions, make ADRs and to handle check-in. The entrance of the Coral Reef is a set of rather gloomy looking dark glass doors. The podium is inside the restaurant.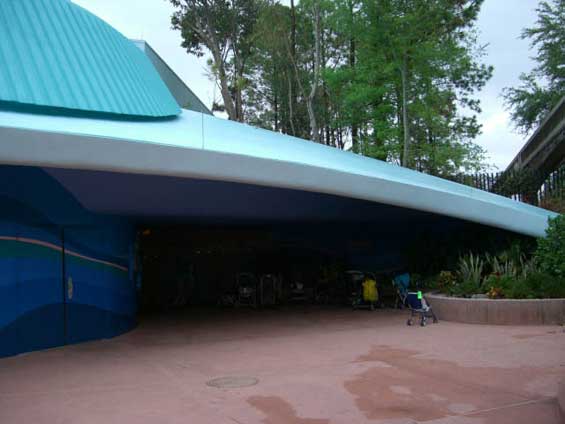 The Cast Member that checked us in was very gracious and friendly and suggested that we take a seat while our table was being readied. After a few short minutes, we were shown to our table. I'm not sure why guests were being issued beepers or being asked to wait. There were several empty tables already prepped to accommodate guests. The restaurant itself is a three tiered room with all tables facing the floor to ceiling glass walls showcasing the Living Seas coral reef. Pretty much every table has a view of the reef.

As our ADR was for 2:30, we were given the lunch menu. It consists of 7 appetizers and 10 entrees. There is also a specialty drink menu on each table. The appetizers range in price from $6.99 for a mixed green salad to $16.99 for an appetizer for two which offers a sampling of three of the other apps. From this list, we choose the app for two, the Shrimp and Lobster Cake and a bowl of Curry Corn Chowder. The appetizer for two ($16.99) consists of two seared scallops on a bed of cauliflower foam with black truffle vinaigrette, two grilled shrimp with cucumber salad, one barbecued beef tenderloin with creamy polenta and two tiny demitasse cups of creamy lobster soup. The 2 small scallops were ok but I had a hard time with the cauliflower foam. It was more of a cauliflower spit and added nothing to the sweetness of the scallops. It looked unappealing and the scallops would have been more appetizing on their own. The 2 shrimp were grilled and sitting on shredded cucumber. Nothing wrong here….but nothing exciting either. The single piece of beef was approximately the size of an adults pinkie finger and served on a skewer over polenta. The barbecue sauce was very sweet. For 2 people sharing this app….this would be one quarter of an ounce of beef per person. The polenta was tasty. The final items were the two demitasse cups of lobster soup. You receive approximately one tablespoon of soup per person. It's tasty but a ridiculously small portion. To sum this up….for $8.50 per person, you receive a scallop, a shrimp, a morsel of beef and a tablespoon of soup. While all of the items were edible and some even tasty….none were prepared with the finesse or talent to warrant this price.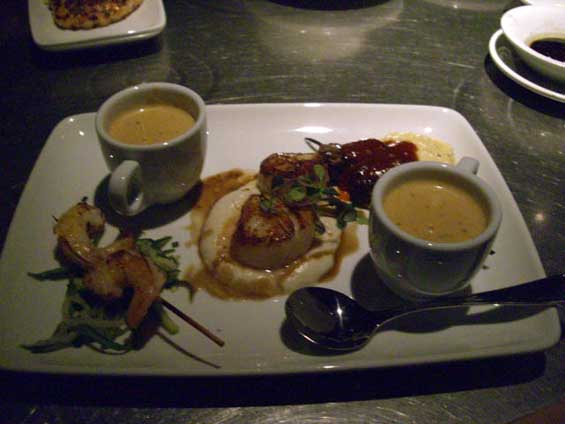 We also tried the shrimp and lobster cake ($11.49) which is served over "Napa cabbage slaw with spicy Vietnamese vinaigrette". This app was brought to the table "just out of the fridge" cold and we requested that we get a warm one. It's my belief that they warmed up the one originally brought to the table. The two cakes were a mix of shrimp and lobster (mostly shrimp) with a small amount of filler. The cakes had a very oily feel to them and overly fishy taste. I believe they were cooked in an oil that was too heavy for such delicate flavors and the oil wasn't hot enough which allowed the cakes to absorb too much. The overly fishy taste leads me to believe that they aren't as fresh as they should be. On the other hand…the cabbage slaw was excellent with a slight cilantro flavor. This is feint praise for an app priced at $11.49.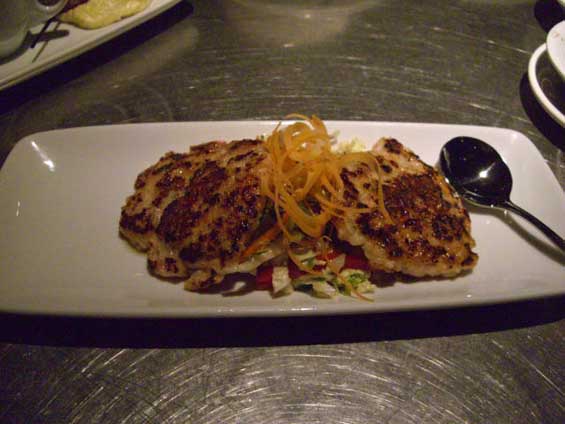 The final app was the curry corn chowder ($6.99) served with applewood smoked bacon and coconut milk. This intrigued me as it stood out on a menu made up mostly of seafood dishes. I would have thought it was a nod to vegetarians, except for the inclusion of the bacon. The curry and coconut milk were too mild in my opinion. This soup would have been benefitted from a stronger flavor from both ingredients or to just be left as a decent corn chowder.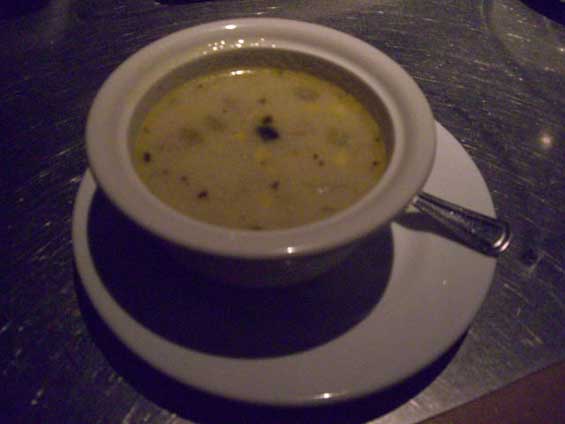 At this point, I should explain that when we began ordering the appetizers, I clearly explained to our server, that we wanted to wait to order our entrees. She assured me that we would be given ample time to enjoy our apps and have the dishes cleared prior to our entrees being delivered. I took her word for this. Needless to say, our apps and entrees arrived at the exact same moment. Leslie, to her credit, apologized profusely and explained that our apps took too long so everything was done at the same time. I explained that I didn't want my entrée at the same time and they should be sent back. I also explained that I didn't want our entrees "kept warm" but that I expected fresh new entrees prepared. Some might consider this to be a minor point, but any restaurant, no matter how busy, should be able to pace a meal, especially when charging exorbitant prices. This is poor timing and mismanagement or lack of communication in the kitchen. On to the re-delivered entrees... The Pan-Seared Tilapia ($20.99) is approximately 6 ounces of tilapia served over roasted white and green bean salad in tomato vinaigrette. The tilapia is a rather basic presentation of seared fish. We found that the addition of salt, pepper and some lemon gave it some much needed flavor. The fish is nothing special but the salad under the fish was delicious. It consisted of mixed greens, roasted white beans and skinny green beans (haricotvert) tossed in a tasty tomato dressing. The secondary part of this entrée elevated the main ingredient considerably. It almost made it worth $21.00.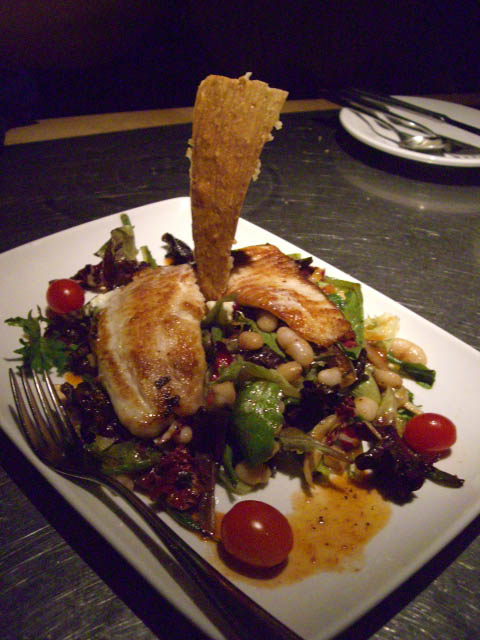 The Lobster Salad ($20.99) didn't fare as well. We received an "ice cream scoop sized" portion sitting on mixed greens with vinaigrette and a small bowl of lobster soup. The mixed greens were crisp and fresh. The soup (which I had already had a tablespoon of earlier) was good…..not great….not bad…..just good The lobster salad itself was dreadful. Two of us could not decide if it was lobster or tuna salad. I know it's not really fare to compare a non-theme park restaurant to a Disney restaurant, but I go to a local restaurant that serves a lobster roll for $14.99. You know with each and every bite that you are eating lobster. There is no doubt as you can actually see the large chunks of tail meat. This is NOT the case with Coral Reef's lobster salad. Without including the discussion of price, I am floored by the difference in quality. There was nothing in Coral Reef's lobster salad that said to me "you are eating lobster". It had the taste, color and consistency of tuna salad…and not the good, solid, white tuna. In addition, the menu lists this as being served on a toasted baguette. We received two small slices of bread that had been toasted at one time and then microwaved when the entrée was re-delivered after being refused the first time. This would have been evident to anyone that has ever made the mistake of microwaving bread and ended up with something akin to shoe leather.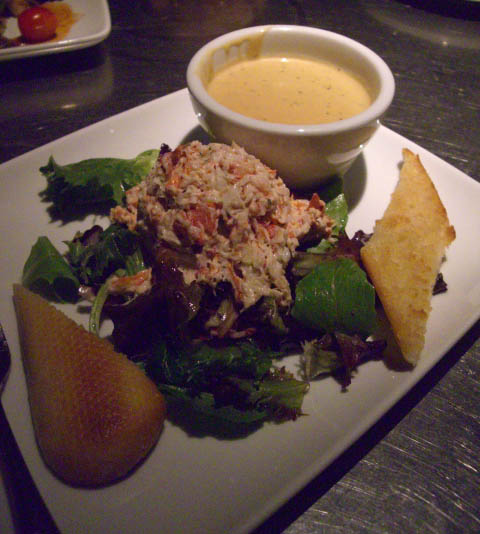 There are 5 dessert options all priced at $7.99. From these, we chose the Chocolate Wave and the Baileys and Jack Daniels Mousse. Both desserts were good, but the mousse was our favorite. It was three layers of chocolaty goodness with a mild flavor. Very tasty.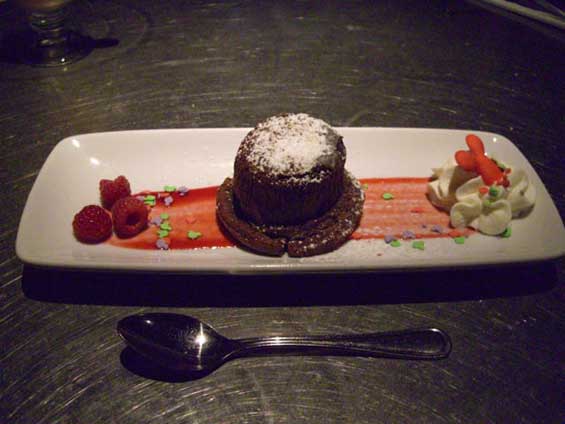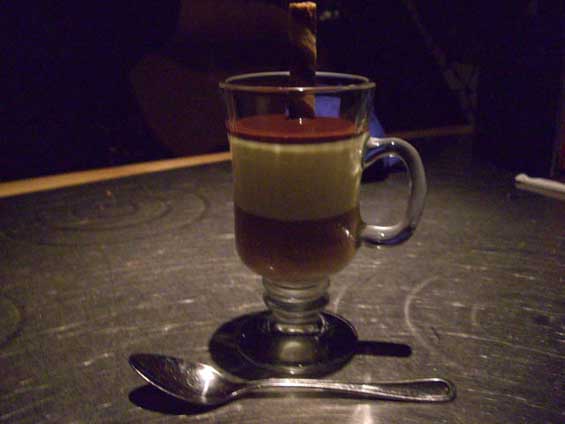 I wish that the care and attention to detail that went into the cabbage slaw, bean salad and mousse dessert were applied to all aspects of the menu. Someone in the kitchen understands the need for flavor and freshness. They should be in charge. The cost for 3 apps, 2 entrees and 2 desserts was $99.75. Maybe some day someone will see the true potential of the Coral Reef and make it the destination restaurant it deserves to be. Until then…it remains a mediocre, over-priced, Disney disappointment.