Epcot - Innoventions
---
Innoventions Overview
Opened: October 1, 1999
Innoventions Plaza is located behind Spaceship Earth and is home to two pavilions, Innoventions East and Innoventions West.
Each center features unique exhibits focusing on scientific and technological innovations. By using imaginative displays that encourage interaction, there's something for all ages to enjoy.
Innoventions is one of those overlooked treasures where you can get a break from the Florida heat and crowds. Kids can work off some energy and learn while playing. There are tons of hands-on activities that they'll love to experience. Give it a chance, you'll be glad that you did. It does get busy on occasion, but that's rare.
Colortopia presented by Glidden
Power of Color Theater

- A 30-minute experience that explores the pyschology of color, using different shades, sounds and narration to showcase how these colors can represent our emotions.

The Color Lab

- Two interactive stations encourage everyone to join in on the fun. In "Color Mix 'n Match," you can mix a variety of colors together to create something new. In "Spinning Spectrums," color perception is tested using revolving multi-colored disks. As the disk spins, guests have to guess the color.

Color Our World

- Use a magic paintbrush to create scenes on a digital screen.
A Colortopia app is also available, allowing guests to "collect" colors from the World Showcase pavilions to bring home with you. Check out experiencecolortopia.com
---
- now closed
This attraction is presented by Raytheon and allows Guests to design their own thrill ride. The entire family will enjoy this ride. A short video shows the importance of math, science and engineering when designing a thrill ride. Your group is escorted to your personal video display where you have the ability to design your own, it could be a mild bobsled track to a wild jet. You are urged to test your design to see if it is fast enough for the design elements. If you are sensitive to motion sickness you might want to sit this ride out. They provide a locker while you are on the simulator for your cameras, purse, and loose-fitting shoes. If you have a problem with heights be aware that you are on the end of a robot arm about 10 feet off the ground. Finally you are seated in a simulator pod where you get to experience the ride you have created. Each pod holds 2 people. There is a height requirement of 54 inches if you design a ride with any inversions.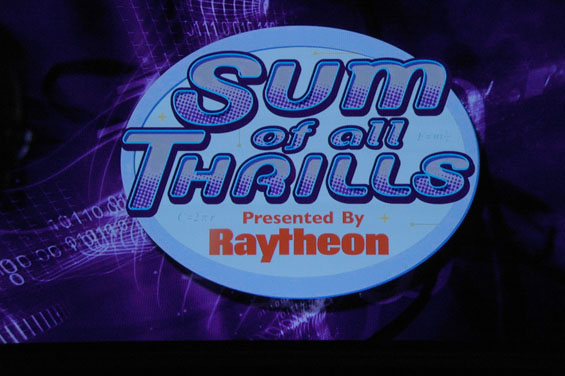 ---
- now closed
Have you ever wanted to experience a hurricane? Did you ever wonder what it was like? You will experience the "perfect storm" at this attraction when they simulate a hurricane. It helps you to understand the weather, storms and their damage and how to prepare for a hurricane or intense storm. While taking a short interactive video quiz you will learn valuable tips on how to protect your house and family in the event of a hurricane or intense storm. You will feel like you are in the middle of the storm with the special effects of wind and water swirling around you. There is a children's play area where they can compete while gathering items to have during a storm. Adults can take a short video quiz where you are tested on your preparedness in the event of a natural disaster. Be aware that the queue and theatre is small so be prepared for a wait during busy times of the year.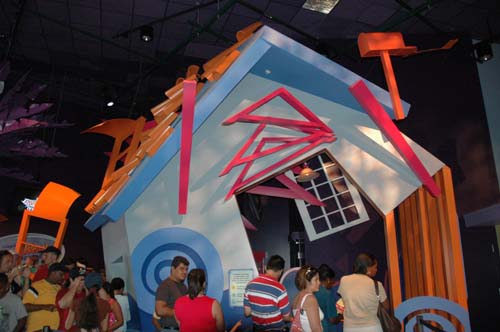 Innoventions West is temporarily closed. A "new experience" will be coming, but exact details are not yet known.
This is where you can meet Mickey, Minnie, and Goofy in their futuristic clubhouse.
FastPass+ is available for the original Character Spot, but is not currently available for the expanded area across the breezeway.
A second Character Spot has opened up across from the original. Guests can now visit Headquarters to meet Joy and Sadness, two Emotions from the film Inside Out. In the queue, you'll get to check out Riley's long-term memory and see her Islands of Personality.
The expanded Character Spot is also where guests can meet Baymax in his makeshift robotics workshop. Guests cannot wear pins or lanyards when greeting Baymax. He does not sign autographs.
"D-Zone" relaxation area
This is located in the corridor behind Character Spot. There is a food kiosk serving snacks (chips and trail mix) and drinks (sodas, water, alcoholic beverages and frozen drinks). There are also tables, chairs and electronic charging stations.
Disney Visa Photo Place meet and greet
Exclusive to Disney Visa cardmembers, this meet and greet includes Mickey Mouse, Minnie Mouse, Pluto and Goofy. Visitors will need to show their Disney Visa card for entrance. This is offered daily from 1-7pm. Guests will receive digital downloads of all the photos taken.