Let's face it, when Walt Disney scoured the country in search of a location for his visionary Florida Project, a pleasant, arid climate was probably not high on his checklist. Otherwise, he wouldn't have landed upon 30,000 acres of swampland in Central Florida. But build a Kingdom he did, and thousands of us happily make our pilgrimages to Walt Disney World each summer to experience the magic.
The summer months are often the best opportunity to get away as a family, so you shouldn't let the heat and humidity deter you from enjoying "The Most Magical Place on Earth." You should, however, be armed with a few strategies to keep your cool while enjoying the best the park has to offer. Don't overlook these four underrated attractions that will offer your family a few moments of glorious escape from the sweltering summer heat at Walt Disney World's Magic Kingdom.
Mickey's PhilharMagic, Fantasyland
The most elegant escape from the summer heat is tucked away behind Cinderella Castle in the Fantasyland Concert Hall. Mickey's PhilharMagic will whisk you away on a multi-sensory musical adventure through the worlds and music of some of your favorite Disney animated classics. The concert, hosted by a very cheeky Maestro Donald Duck, is an immersive 3D experience that takes place inside a grand proscenium theatre. When the curtain rises to reveal a massive 150-foot screen, you'll be off and singing along to your favorite Disney tunes and you'll be delighted by a few surprises along the way. Before entering the theatre, take some time to enjoy the grandeur of the concert hall lobby (and cool air conditioning) as the pre-show queue winds around posters of some familiar Disney characters who have performed at the Fantasyland Concert Hall.
With a concert runtime of 12 minutes, and most of the pre-show taking place inside the theatre, this magical attraction is sure to lift your soggy spirits and score you up to 30 minutes out of the heat.
Minutes out of the heat: 30
The Hall of Presidents, Liberty Square
Make no mistake, this presidential attraction isn't just for history buffs. As an original Magic Kingdom attraction, The Hall of Presidents has seen a number of updates since opening in 1971, maintaining its incredible production value. The latest version of the show features 44 eerily lifelike audio-animatronic replicas of the Presidents of the United States. An accompanying short film, "A Celebration of Liberty's Leaders," is an equally informative and moving journey through the history of the Oval Office, culminating with an introduction to the men who have held the Office of the President. But before you even make it to the beautiful theatre presentation, you'll want to spend some time perusing the pre-show exhibit, which features authentic presidential portraits, First Lady fashions, White House china and other memorabilia.
Between the 25-minute program and a substantial pre-show experience, this stately attraction in the heart of Liberty Square will simultaneously decrease your body temperature and increase your presidential knowledge.
Minutes out of the heat: 45
Country Bear Jamboree, Frontierland
You might be tempted to skip past this gem of an attraction as you hustle to Splash Mountain–but don't fly by the Country Bear Jamboree! Located next door to Pecos Bill Tall Tale Inn & Cafe, Frontierland's rustic Grizzly Hall is home to a band of jolly music-playing bears. The saloon-style show is full of charming critters, country-western music and humor that adults and children alike will appreciate. This classic attraction is extra special not only because its Disneyland counterpart is no longer in operation, but also because it is one of the final attractions that Walt Disney himself developed.
Between 16 minutes of lighthearted entertainment, plus an intimate indoor pre-show area, this jolly jamboree should score you around 20 minutes of reprieve from the blazing afternoon sun.
Minutes out of the heat: 20
Walt Disney's Carousel of Progress, Tomorrowland
Finally, whether it's your first visit to Disney's Magic Kingdom or you're a seasoned Disneyphile, you must take some time to appreciate the Tomorrowland attraction most deeply rooted in the spirit of Walt Disney World. In fact, this attraction is literally a celebration of modern comforts, like air conditioning. First developed for the General Electric pavilion in the New York World's Fair in 1964-65, the Carousel of Progress is an audio-animatronic show that journeys through technological innovations of the twentieth century. Yes, some moments feel a bit outdated, but don't miss the opportunity to pay homage to American ingenuities like the early "air cooling" system from the 1920s.
After a brief outdoor queue, you'll embark on a 21-minute journey through a century of progress. This should score you about 25 minutes of indulgence in the modern comforts of air conditioning. And thanks in part to its catchy Sherman Brothers' tune, Walt Disney's Carousel of Progress will make you believe that "There's a Great Big Beautiful Tomorrow"–a tomorrow that is, perhaps, not so oppressively hot.
Minutes out of the heat: 25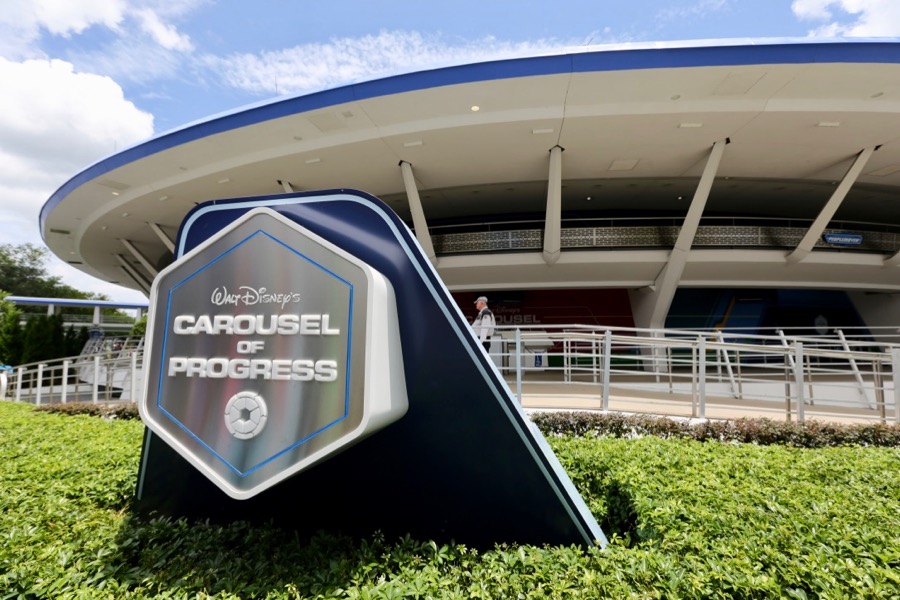 There you have it: four underrated attractions to keep you cool during the sweltering summers at Disney's Magic Kingdom. Not only do all of these attractions feature theatre seating and air conditioning to comfortably absorb guests–they also display classic Disney Imagineering. All four of these attractions would make Walt Disney proud, and keep you cool and comfortable as you enjoy "The Most Magical Place on Earth."
Lauren Sparkman is a podcast producer, creative consultant, and Disney-phile from Indianapolis. As a DVC member and Annual Passholder, she visits Walt Disney World several times a year with her family and friends. Her favorite Princess is Pocahontas, her favorite dessert is Dole Whip, and her favorite Disney is Roy. O.