Disney's Art of Animation Resort

Disney's Art of Animation address:
1850 Animation Way
Lake Buena Vista, FL 32830
Phone: (407) 938-7000
Maximum per room: 6 (Family Suites) / 4 (Standard Rooms)
Number of Rooms: 1120 Family suites and 864 standard guest rooms
Room size: 565 sq. ft (Family Suites) / 277 sq. ft (Standard Rooms)

Art of Animation Resort Overview
Disney's Art of Animation resort opened in May of 2012. The resort features 1,120 family suites themed around such Disney animated classics as Finding Nemo, Cars and The Lion King. The Little Mermaid building houses an additional 864 standard guest rooms. The Little Mermaid section was originally planned as an extension to Disney's Pop Century resort (which sits adjacent to Art of Animation), but those plans were abandoned in early 2002. As part of those plans, a bridge was built spanning Hour Glass Lake connecting the two resorts.
The Art of Animation Resort brings guests into the world of the animation process, from the first pencil sketches all the way to the films' close-ups. As you walk through the resort, make sure to look all around, including up, and discover the magic of animation. Beginning at check-in, pencil drawings set the stage as the process begins. As you move through Animation Hall, the sketches become more detailed as the animators figure out more of who their characters will be. A chandelier hanging from the ceiling is filled with storyboards (look closely to see one hand-signed by John Lasseter.)
Next, you see the colorscript wall, right next to the Ink and Paint Shop. To discover the films' backgrounds, we head into the Landscape of Flavors food court. This is divided into 4 different areas, one for each movie represented in the resort. As you step outside, you can see everything working together to create the perfect medium shot. The last part of the process is stepping into the rooms - the closeup.
While the Art of Animation is considered a 'value' resort, it defies comparison to other resorts in the same category. This resort is comprised mostly of Family Suites with one of its four sections having standard rooms, making the average price for a room considerably higher than what you would find at Pop Century right next door. Beyond the price differences, virtually every aspect of this resort is several notches above the other value properties at Walt Disney World.
Art of Animation Resort Rooms
Each set of buildings focuses on a different Disney film and the details start before you even enter the rooms. The outside of each building is covered in characters and icons from the films.
PHOTO GALLERY: Cars Family Suites
As you walk up to the Cars wing, you walk down a freshly blacktopped road (can you picture Lightning McQueen paving the road, just like in the movie?) right up to the Cozy Cone Motel, complete with a Cozy Cone pool and cone-shaped cabanas! To enter the different buildings, you actually step into the different shops around Radiator Springs!
PHOTO GALLERY: Finding Nemo Family Suites
The Finding Nemo theme is set off by the "Big Blue" pool, complete with Mr. Ray soaring above it all. This is the main pool for the resort, and at nearly 12,000 square feet it is the largest pool on Disney property.
The detail doesn't stop outside. Every fixture in the rooms fits the theme. The Finding Nemo rooms have coral-shaped chairs and ceiling lights that look like bubbles. The bathroom is designed like the submarine scene in the movie, right down to the porthole that serves as a mirror. Lion King fans will love Zazu performing on the headboards and Pumbaa and Timon decorating the shower curtain. Cars suites are located inside the "Cozy Cone Motel" and the theme in the room definately evokes the 'motel' feel. Tool chests serve as drawers and storage spaces, while a map of Radiator Springs adorns the top of the coffee table.
REVIEW: Disney's Art of Animation Resort's Accessible Lion King Suite
PHOTO GALLERY: The Lion King Family Suites
The Lion King buildings are set in an African landscape, with an elephant graveyard play area. A giant-sized Mufasa overlooks the scene.
The Little Mermaid courtyard is filled with the treasures that Ariel has rescued from the human world, just like in the movie. These buildings house 864 rooms and are similar to the rooms at the existing value rooms.
REVIEW: Little Mermaid Rooms at Disney's Art of Animation Resort
PHOTO GALLERY: Little Mermaid Standard Rooms
1,120 family suites are divided between The Lion King, Cars, and Finding Nemo buildings. These suites each sleep six guests and have a kitchenette, 2 bathrooms, a master bedroom, and 3 separate sleeping areas. One interesting feature of these rooms is the "Inovabed" - a table that converts to a bed in seconds.
Price: Rooms span a wide variety of pricing since both standard rooms and family suites are available. Booking a room only reservation at this resort requires a one night deposit at the time of booking. If you need to cancel your reservation, you can do so up to 5 days prior to your arrival to avoid losing your deposit. Reservations within 5 days of arrival forfeit the deposit amount. To get a quote for a specific date or a particular package, we recommend Dreams Unlimited Travel. Their agents specialize in Disney vacations and can make recommendations to fit your specific needs. Dreams Unlimited is the official travel agency of the DIS.
Select rooms at Disney's Art of Animation Resort are now dog-friendly. There is an additional cost of $50 per night to use this service at this resort. Dogs must be leashed in public areas, vaccinated, and well behaved. For more information on this service click HERE.
Art of Animation Resort Dining
ARTICLE: The Full Guide to Dining at Disney's POP Century & Art of Animation Resorts
Landscape of Flavors food court
The 606-seat food court is open for breakfast, lunch, and dinner. Choose from four food stations, featuring a selection of pizza, pasta, American burgers, salads, sandwiches, and Indian cuisine. A "Grab 'n Go" market is also available. Some popular offerings at this food court are fresh smoothies, hand-scooped gelato and Mongolian barbecue.
There are five mini restaurants that serve fresh, healthy made-to-order foods. The goal is to serve "better-for-you" options and to achieve that goal, chefs offer healthy choices such as yogurt parfaits, buckwheat pasta and vegetarian dishes like tandoor-roasted acorn squash.
Highlights from the five mini restaurants include:
Soup-Salad-Sandwich Shop - create your own salad; caprese sandwich on focaccia; Buffalo-style turkey sandwich with argula and a blue-cheese-Buffalo sauce-mayo spread with house-made potato chips
World Flavors Shop - For breakfast, enjoy a challah French toast or veggie flatbread sandwich on naan with paneer cheese. For lunch or dinner, choose from tandoori chicken, shrimp or sausage; Mongolian beef or fish with basmati or multigrain rice
Pizza Shop - create your own pasta dish, cheese or pepporoni pizza; meatballs on ciabatta bread
Burger Shop - customize beef, vegetarian, seafood or chicken burgers; pastrami cheeseburger
The Market - wild berry, mango or strawberry-banana smoothies; iced mochas; cappuccinos; espresso; iced French vanilla coffee; desserts; gelato
Something that sets Landscape of Flavors apart from other food courts on property is its attention to beverages. Guests can get made-to-order fruit smoothies, lemonade and pomegranate limeade. Regular coffee is available, as well as French vanilla or iced mochas. Food can be paired with a half bottle of wine if desired. Organic teas, beer (even gluten-free!), and juices are also served.
The restaurant is divided into four themed seating areas, each one designed like the backgrounds in the four films represented at the resort. The art on the walls are landscape paintings from the films.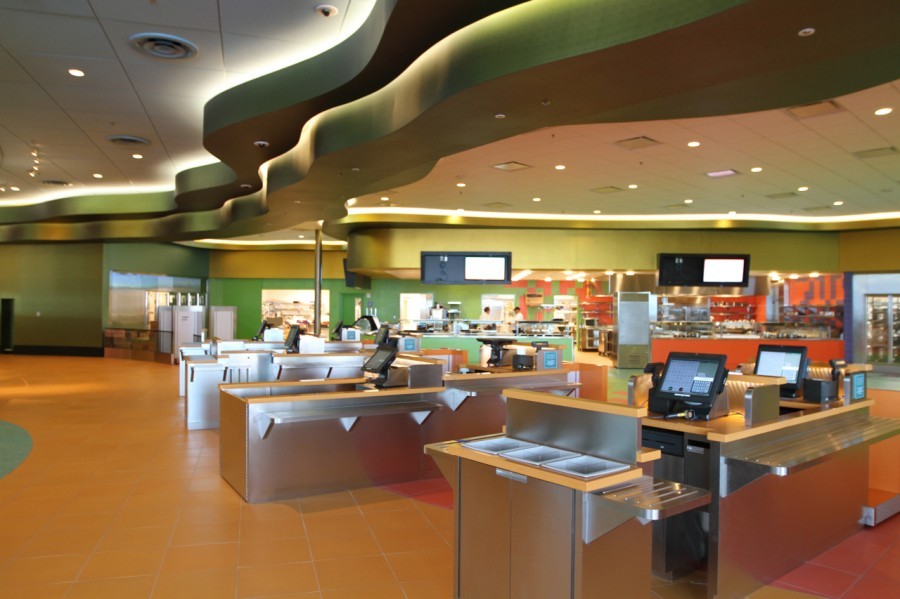 Drop Off Pool Bar
Poolside snack bar features quick foods and pizza delivery.
Located near the food court is the Pixel Play Arcade, Ink and Paint Gift Shop and airline check-in counters.
Services for Kids

While activities around the resort will vary by season, there is never a shortage of things to do for the kids. Poolside activities happen throughout the day and range from games like "Name that Tune" and "Disney Trivia" to "Nemo Bingo" and "Fish Toss." Activities typically start in the afternoon and run into early evening. There are also pool parties and dance parties that happen each day around 3pm and 4pm respectively. Each night in the Lion King courtyard, a different Disney film is shown (times vary based on season, be sure to check the activities guide given to you at check-in for times and details).
One activity unique to Art of Animation is the "Sketch Artist of the Day". Kids can sketch their favorite Disney character and bring them to front desk by 4pm. The winning sketch is unveiled in the lobby at 5:45pm daily. You can get more information (as well as some art supplies) at the front desk. Another unique opportunity here is the chance to take a 'Draw Class' with a Disney artist and learn how to draw your favorite Disney characters. This is held in the playroom next to the front desk and happens at 11am, 2pm, and 5pm.
The Pixel Play arcade is located right off the main lobby and is one of the larger arcades on property. The arcade offers a wide variety of games for all age groups (including some 'old school' video games for the parents). Some games award 'points' that can be redeemed for prizes. All the games work off the 'arcade card' system. You can obtain an arcade card in the arcade and purchase points to charge it up. The more points you purchase the better the deal. 50 points is $1, and 2000 points is $25 (you can also buy points for $5, $10 and $20). Cards can be recharged as needed and work in all arcades at Walt Disney World.
Babysitting Services - Babysitting is available through Kids Nite Out, Inc. - which is not owned or operated by Disney. Caregivers provide in-room services which include playing games, reading, and generally entertaining your kids. Services are also available through Kids Nite Out to plan parties and special events. Advanced reservations are required and services are available 24 hours per day. There is a 4 hour minimum for children 6 months to 12 years old. Cancellations must be made 24-hours in advance to avoid the 4 hour minimum cancellation fee. Reservations can be made by calling (407) 828-0920.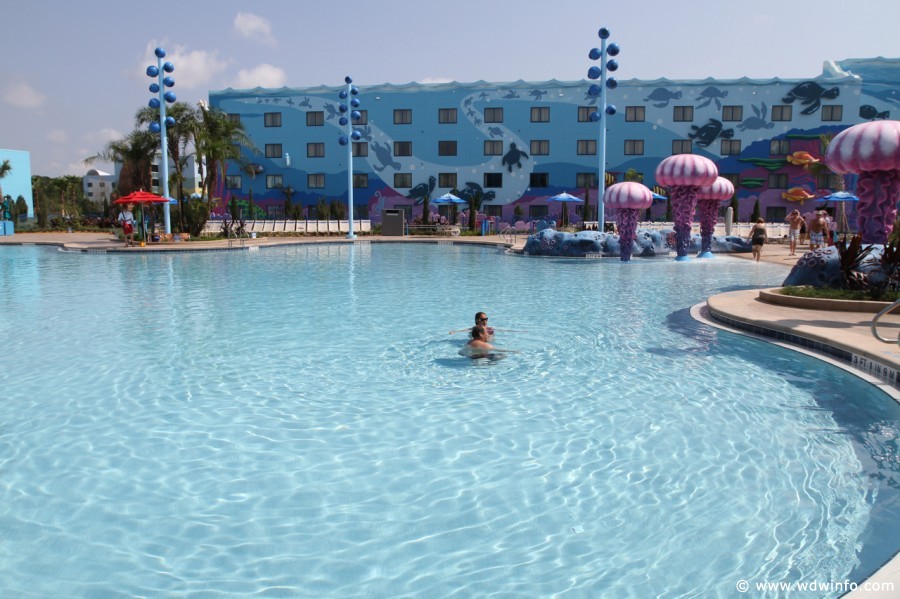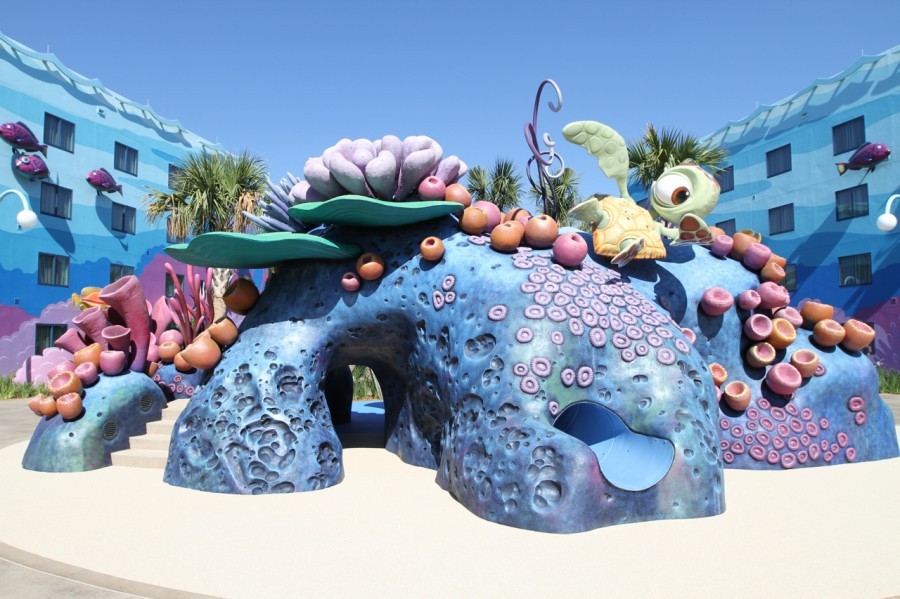 In addition to the themed buildings, there are 4 courtyards at the resort - each one inspired by the four films represented here. Each courtyard features icons and sculptures for kids to play with and around.
The main pool at the resort is in the Finding Nemo courtyard - the "Big Blue" pool, themed around the film. At 11,859 square feet, this is the largest resort pool at Walt Disney World. A giant Mr. Ray, whose wingspan is 27 feet, looks over the area, which includes a colorful reef and the East Australian Current. Get your picture taken with Crush or one of the other 2,500 figures decorating the resort. A children's splash area, the Righteous Reef, is the perfect place for your kids to cool off with Squirt.
For more poolside recreation, guests can head to the Pixel Play Arcade or the Drop Off pool bar.
"Quiet pools" are located in the Cars (Cozy Cone Pool) and The Little Mermaid (Flippin' Fins Pool) wings.
Rent a single or double Surrey Bike or a Beach Cruiser!

The photo above shows the single Surrey Bike; the double bikes have two benches plus space in the front for smaller kids. Both versions of the Surrey Bikes rent for $25 per half-hour.
Below are the Beach Cruisers. These rent for $10 per hour.
The hours of operation are from 9:00 a.m. until 6:00 p.m. Mobility scooters and strollers will be available on request. Guests can call
for further information.
Transportation
Disney buses run to each of the theme parks plus Disney Springs approximately every 20 minutes. The bus marquees will indicate the buses' main destinations.
The Disney Skyliner gives Resort guests another means of transportation. Disney's Pop Century Resort and Disney's Art of Animation Resort share a Disney Skyliner station that feels whimsical and contextual with both resorts. Upon departing the gondola station, Skyliner passengers will ascend over Hourglass Lake and enjoy a panoramic view of these two colorful resorts. More info on Disney Skyliner...
Art of Animation Fun Facts
Total property size: 87 acres
Family Suites size: 565 square feet
The Nemo pool has 310,000 gallons and is the largest pool on Disney property, not counting water parks.
If you combined all the swimming pools, you could park 125 cars inside the pools.
Its 27 acres of landscaping and irrigation is the equivalent of twenty football fields.
If you look up at the lobby chandelier made up of various animator sketches, you can spot a Cars sketch signed by John Lasseter himself.
The resort has 227,000 lineal feet of carpet, which if laid out, could stretch from downtown Orlando to Kennedy Space Center.
There are over 529,000 square feet of ceramic tiles on the project, enough to cover a standard two-lane road four miles long.
If you stacked up all the doors at the resort, they would be as tall as the Empire State Building.
There's enough metal railing to wrap around the new Amway Center eight times.
The project used 23,000 gallons of paint, which is enough to fill a typical backyard swimming pool.
There are over 2,300 parking spaces within the project, which is approximately the number of players in the NFL.
More than 800 construction jobs were created, and at full operation it will create 750 resort hotel jobs.