Magic Kingdom - Tomorrowland
Tomorrowland Information
The 2018 Incredible Tomorrowland Expo
This summer, The Incredibles are taking over Tomorrowland! Guests can hang out and dance with Mr. Incredible, Elastigirl, and Frozone from Disney Pixar's The Incredibles and Incredibles 2. Edna Mode, the greatest superhero costume designer, will also make her debut appearance.
Members of the Super Super Fan Club will be out and about during the Expo, dressed in cosplay as their favorite new aspiring heroes, Brick, Reflux, Krushauer, Voyd, and Screech. Catch them during the Pose-Off Procession at the main stage or wandering the Expo sharing their fandom with fellow attendees.
Each day at noon, Jack-Jack Diaper Dash will give the youngest guests a chance to show off their super speed, zipping (or crawling) to their parental sidekicks as hilarity ensues. Parents can sign up their little heroes beginning at 10:30 a.m. in front of Rockettower Plaza Stage.
Be sure to check out "Super Party Time," a continuous variety show of super-powered entertainment that takes place daily from 2 p.m. – 7 p.m. The Party Host, DJ, and Super Party Sidekicks will engage Expo guests at Rockettower Plaza Stage in fun and games, with special appearances by Mr. and Mrs. Incredible and Frozone. Throughout "Super Party Time," guests will be introduced to up-and-coming Supers like ElectroGirl and Gyroman.
There are some picture perfect spots around the entire land too - the 'Moments in Super History' photo opportunities include backdrops that commemorate iconic events from the film such as the Incredibles' battle with the OmniDroid or saving Metroville from the Underminer's tunneler.




2018 Incredible Summer! Photo Gallery


Tomorrowland Attractions
Tomorrowland Overview

Tomorrowland was originally designed to portray Disney's view of the future. The only trouble with futuristic views is that they need frequent updating.
In the 90's, Disney chose a different tactic and renovated Tomorrowland to depict the future as described by sci-fi writers from the 1920's and 1930's. With this imaginative decor, Tomorrowland is the "Future That Never Was."
Lots of neon, glass and gleaming metal is used to create this themed land. Over by Space Mountain, there are metal palm trees that actually react to sunlight.
Over time, some attractions were renamed to give them a futuristic feel. The "WEDway People Mover" which began operating in 1975 is now the Tomorrowland Transit Authority PeopleMover. The Grand Prix Raceway from '71 is the Tomorrowland Speedway. Other than their names, neither of these attractions have changed much since they opened.
Another minimally changed attraction is Astro Orbiter which replaced 1974's Star Jets. At least with Orbiter, if you're not bothered by heights, you get an amazing view of the park.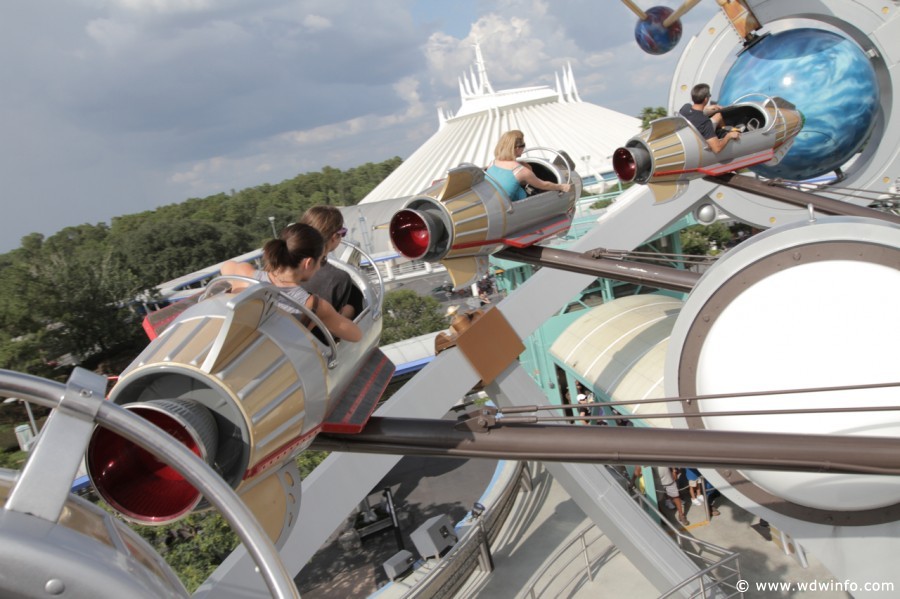 Two of Disney's most popular attractions are found in Tomorrowland. Thanks to its incredible theming, Space Mountain is not to be missed. Since 1975, this ride through space always has a long wait and remains a park favorite.
The other "must do" is Buzz Lightyear's Space Ranger Spin. This ride puts you in the middle of a gigantic arcade game and is fun for guests of all ages.
Right behind the Buzz attraction is the Monsters, Inc. Laugh Floor. Same as Buzz, this is great for all ages. It can accommodate a lot of guests which minimizes wait time and you can't beat taking a break from the heat by sitting and laughing.
Stitch's Great Escape is part of Tomorrowland. It's a retrofit of the very scary "Alien Encounter." While not as frightening, it still has elements that make it a bad choice for little kids. Stitch's Great Escape is now a seasonal attraction.
Finally, in a bit of a paradox, one of Disney's oldest attractions is found in Tomorrowland. Disney's Carousel of Progress featured in the 1964 New York World's Fair is located here.

Tomorrowland has several snack and counter service venues. Cosmic Ray's has tons of indoor seating, entertainment and a menu that offer more choices than most of the other counter service destinations. The Lunching Pad offers turkey legs, snacks and frozen drinks. If you're looking for a cool treat, Auntie Gravity's Galactic Goodies offers a selection of ice cream and floats.
Shoppers won't be disappointed. The best store in Tomorrowland is Mickey's Star Traders and offers a variety of souvenirs. If you can't find what you're looking for there, you can also check out Merchant of Venus.
Whether it's your first or fiftieth visit, you definitely want to go "back to the future" and explore Tomorrowland.
The highest rated attraction at Shanghai Disneyland is coming to Tomorrowland in a new area near Space Mountain. Opening will be announced at a later date.