How's everything holding up? I'm three weeks into my at-home quarantine in the epicenter of the outbreak here in the United States: New York. Happily, I'm past my 14-day mark since I last stepped foot in New York City, so that's a breath of fresh air; but I'm not quite out of the woods yet.
I'm excited to be back and writing for WDWInfo. I won't get into specifics as to what led to my hiatus, or what I've been into (I'll save that for a shorter post), but now is both a good and a bad time to jump back into the blogging game. The good: it gives me something to do when I'm not working from home. The bad: I have been really scraping for things to write about in Disney. After all, Disney is closed with no exact opening date in sight. It's a weird time in the world. People are stuck at home and those with a trip planned are left wondering whether they'll be forced to cancel. But that doesn't mean we can't have some fun. So, with that said…let's rank Disney rides as quarantine essentials:
Hand Soap and Sanitizer
Hand soap and sanitizer is an absolute essential right now. Aside from the fact that it's in high demand and flying off the shelves, it'll also keep you safe. These rides are the hand soap and sanitizer. People will wait in long lines for it, and it's an essential part of anyone's trip.
Flight of Passage
Flight of Passage is that good hand sanitizer—the one with the beads that moisturizes as it sanitizes. It smells pretty good, too. People will line up hours before the store opens, then once the poor clerk opens the doors, they run to the aisle and start grabbing as many as possible. That's Flight of Passage.
Rise of the Resistance
You call the store down the street and ask if they have any hand soap. The employee checks with his manager, and after a few seconds, replies "we just got a shipment." Great. You ask the employee to set aside one or two bottles—you'll be right there! Not so fast. The employee informs you that they're not allowed to reserve bottles of hand soap, but they'll be open tomorrow at 8am. There's already a line when you arrive at 7:50am, and to keep things organized, the manager is handing out numbers. If you haven't caught on yet, this is all an analogy for the ride's line system.
Slinky Dog Coaster
Slinky Dog Coaster is the candy-scented soap in the fun container. It doesn't really match your bathroom decor, but it gets the kids to wash their hands, and you can't help but smile when you catch a whiff of that fake bubblegum smell.
Seven Dwarfs Mine Train
By the time you finally get into the store, the shelves are empty. Just then, you spot a few bottles of hand soap at the back of the shelf. As some customers are debating their favorite limited-edition scent, you swoop in and grab the two remaining bottles. That's Seven Dwarfs Mine Train. The ride is still in high demand, and a must-have on your list of FastPass+ selections, but people have overlooked it a bit with all the new soaps available.
Junk Food
After filling your cart with all the actual essentials, you turn to the "essentials" that'll make you happy. Forget about your beach bod. No one's gonna see you when you're stuck inside all summer (I'm being hyperbolic…I hope).
Big Thunder Mountain RailRoad
Thunder Mountain is like sugary cereal. You didn't intend on having a big bowl of Frosted Flakes for dinner, but you're a month into working from home and you just don't feel like cooking. You finish a bowl then refill it because…there's still milk left. Thunder Mountain is a repeatable ride that doesn't get old.
Space Mountain
Space Mountain is a pint of your favorite ice cream. You make it midway through the pint and think "meh, may as well finish it now…" Then you finish it and your body hates you. You tell yourself "never again," until you spot it on sale the next time you brave the grocery store. Everyone loves Space Mountain. You ride it, get whiplash, and promise yourself that you're not going on again…until you get into the park and there's only a 20-minute wait.
Rock 'n' Roller Coaster
Rock 'n' Roller Coaster is a bag of your favorite potato chips. You open the bag and…whoa, wait. Where's the rest of the chips? The chips are delicious, but why is the bag half empty…or half full?! The ride itself is great, but it could use some repackaging.
Soarin'
Soarin' is store-brand Oreos…"Creme-Filled Chocolate Sandwich Cookies." You can point out all the imperfections, but it still kinda tastes like Oreos. How long have these been sitting on the shelf? Who cares. They're cookies. Grab some pasteurized milk and get outta there.
Test Track
Test Track is diet ice cream. Have you ever had diet iced cream? You need to let it sit out for like ten minutes in order to get the right consistency. Once you start eating it, you realize it's good, but it's definitely not the same as regular ice cream. Test Track offers the thrill of a roller coaster, but it's definitely not a roller coaster. And building your own car is fun, but it takes way too long to get to the actual ride.
Kilimanjaro Safaris
I struggled with where to put Kilimanjaro Safaris. Kilimanjaro Safaris is like a trail mix. Trail mix isn't exactly "junk food," but some find it exciting. Plus, there's a lot of variety in trail mix. There's something different in every handful, which is a lot like Kilimanjaro Safaris. Sometimes you see zebras and giraffes, other times you barely catch a glimpse of a wildebeest.
Smugglers Run and Mickey and Minnie's Runaway Railway
Truth be told, I've been on a diet and out of the snack game for a little while, so I can't make a direct comparison. These two rides are the new snack that everyone is talking about. You finally decide to try it and…it's sold out. "We're getting another shipment in like…June…or maybe July…or November," the worker refilling the shelf says.
Tower of Terror
Tower of Terror is coffee. Is coffee considered junk food? Okay…Tower of Terror is an energy drink. Your day isn't really complete without it. You grab a can, and within minutes, feel a rush of energy.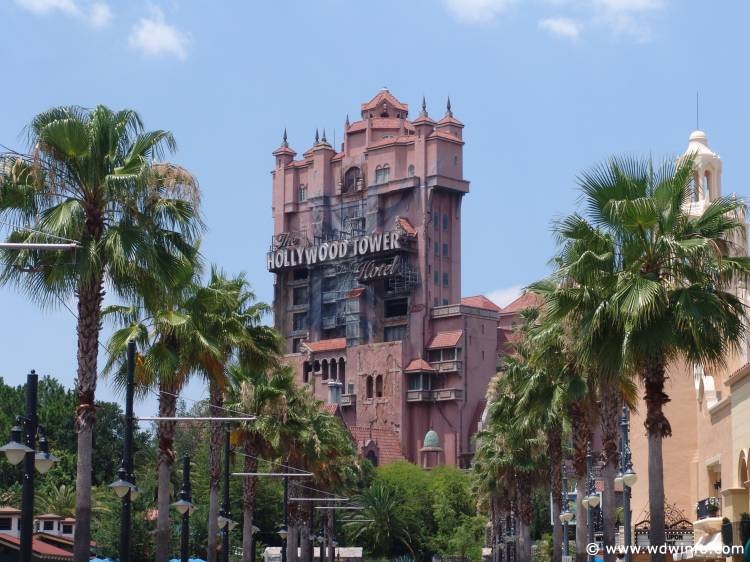 Splash Mountain
Splash Mountain is ice pops. They're way more satisfying in the summer, but you'll be happy you have them when the temperature breaks 60 degrees.
Expedition Everest
Expedition Everest is Combos. Remember them? They look good on the outside, but then you take a bite and realize that the real treat is on the inside. That's Everest. Outside you see a big drop, but what happens inside the ride…that's the real attraction.
Toilet Paper
You're not exactly sure exactly why, but it's in high demand.
Na'vi River Journey
Na'vi River Journey is a 12-pack of single-ply toilet paper. You rush to grab it because…it's toilet paper…and everyone is buying toilet paper. It gets the job done, but you ultimately feel disappointed after using it.
Alien Swirling Saucers
Alien Swirling Saucers are the single rolls you find at the 99-cent store. To the naked eye, it's toilet paper…and you need toilet paper, but when you get home, you realize it's just 99-cent store toilet paper. Alien Swirling Saucers is just a carnival ride in disguise.
Primeval Whirl
Primeval Whirl is the $65 toilet paper. You see a long line at the store advertising "TOILET PAPER!" There's a long line, so it must be good. As you get closer, you realize it's just normal toilet paper for $65. Well, you waited in line this long, may as well buy it.
Peter Pan's Flight
Relax, I'm not saying it's not a good ride. Peter Pan's Flight is that pillowy soft two-ply toilet paper. You know when you'd visit a friend's house and use the bathroom (remember those days?) and you'd think…"oh, they've got the good stuff!" That toilet paper. It's the toilet paper that was sold out within days of the pandemic happening. You understand why everyone bought it – if you're gonna be stuck home, may as well have the good stuff, right? But at the end of the day it's just toilet paper. Peter Pan's Flight is nostalgic and family friendly…but it's still just a dark ride; and I don't quite understand the hoopla surrounding it.
Pasta
No, pasta isn't the most thrilling, but it's got a long shelf life, and one box can feed a lot of people. Plus, you can always switch things up. Red sauce…white sauce…pesto…maybe a mac and cheese? The possibilities are endless.
Jungle Cruise
Jungle Cruise is like that box of tri-color pasta. They're different, and yet, all taste the same. Your experience on Jungle Cruise will vary based on your skipper, but at the end of the day, it's all the same jokes. It's a fun ride that leaves you satisfied.
Pirates of the Caribbean
Pirates of the Caribbean is spaghetti. Kids enjoy it because it looks fun. Adults enjoy it because they understand its sophistication. Your kids will enjoy all the sights and sounds of Pirates of the Caribbean; you'll enjoy the memory of the adult humor.
Small World
Small World is pasta with the jarred sauce. You'd rather cook a sauce since you have so much extra time on your hands…The taste will be stuck in your mouth all day, but who cares, you were feeling lazy and just needed to eat. Like the jarred sauce, you know Small World is there, you avoid it for as long as possible…but sooner or later, you cave. And the song sticks with you all day.
Frozen Ever After
Frozen Ever After is like when you try something new with your sauce recipe. All the flavors from the original recipe are there, but there's something different. Too much oregano? You're not quite sure if it's better, but the kids are smiling, so you did something right.
Toy Story Mania
Toy Story Mania is Mac and Cheese…you know, the one in the box with the powder or liquid cheese. The one with the fun-shaped pasta. We claim that we made it for the kids, but everyone knows the adults enjoy it just as much.
Canned Goods
Nothing exciting, but once all the fun food is gone, the canned goods will be waiting for you. These rides won't excite you, but they're always an integral part of your trip.
Spaceship Earth
Spaceship Earth is canned tuna fish. Stocking up on canned tuna fish was a good idea, in theory. After all, you grew up eating tuna salad. Canned tuna won't expire for a while. But no matter how much you try to like canned tuna, and how exciting you try to make it (adding avocados, capers, some hot sauce…), you always wind up bored with it.
Kali River Rapids
Kali River Rapids is the canned pasta of Disney. You'd rather not eat it, but it's week three, you're hungry, and it does have some protein. Well, you'd rather not get absolutely soaked on a Disney ride, but it's 95 degrees with 100% humidity…and you've already sweat through your shorts, so there's that.
DINOSAUR
DINOSAUR is canned fruit. You'd rather have a fresh apple, but those went bad days ago. Canned fruit has its moments. It's sweet, satisfying, and has some nutritional value, but all that syrup gives you a stomach ache.
Prince Charming Regal Carrousel
The carousel is like canned soup. Do you really want canned soup? No. But you already ate all the good food and need something to tide you over until you can get back out to the stores.
Dumbo
Dumbo is a Cup O' Noodles. It looks even better late at night, but once you dig in, you realize it's just sad, dehydrated vegetables and noodles in a sodium-laden broth.
Mission: Space
Mission: Space is SPAM. You avoid the can of SPAM for as long as possible, but sooner or later, it's time to pop it open and grab a spoon.
Gran Fiesta Tour
The Gran Fiesta Tour is kinda like canned green beans. You bought canned green beans because it was there on the shelf, and yet, there they are staring you down every time you open the pantry. Maybe you'll use them for a casserole?
Walt Disney World Railway
Walt Disney World Railroad is canned beans. There's nothing exciting about canned beans, but they'll fill you up and last over a few meals. The Railway isn't the most exciting ride at Magic Kingdom, but it's a staple, and you can stay on for as long as you'd like.
Valentine's Day Chocolates
You totally forgot that you bought a box on February 15th. It was 50% off. After rummaging through the pantry, you spot it, and it makes you smile.
Carousel of Progress
Carousel of Progress is like the pieces of milk chocolate. A boring classic that everyone loves. The spot where Disney fans go to get out of the sun and grab a quick 15-minute nap. Carousel of Progress won't make or break your trip, and it's certainly not very high on your list of essentials, but it makes you smile and provides a nice break from canned beans.
Tom Sawyer Island
Tom Sawyer Island is the coconut-filled chocolate. It's not for everyone, but if you like it, you like it.
Many Adventures of Winnie the Pooh
The Many Adventures of Winnie the Pooh is those liqueur chocolates you had stashed away. It looks like it's meant for kids, but one or two in, and you're starting to feel a little weird.
Buzz Lightyear's Space Ranger Spin
Buzz Lightyear's Space Ranger Spin is the creme-filled chocolate. On the outside, it looks pretty good. Then you bite into it and…ugh…it tastes like strawberries and chemicals. Riding the Disneyland version makes you realize how sad and dated the Disney World version has become.
Mad Tea Party
Mad Tea Party is the sugar-free candies. They look fun, but after eating about five, your stomach starts killing you.
Figment
Figment is like a giant pixie stick. Midway through chugging the sugar-filled straw, you realize you're not really getting any nutritional value whatsoever, but you keep chugging anyway.
Frozen Sing-Along
While re-organizing your freezer, you spot a package of heart-shaped Reese's Peanut Butter Cups. That's Frozen Sing Along. You probably didn't plan on stocking up on heart-shaped Reese's Peanut Butter Cups, but they were on sale at the check-out line, just staring you down. The heart-shaped peanut butter cups are a twist (for the better) on the original—more peanut butter—just like this sing-along that's loved by children and adults.
PeopleMover
PeopleMover is dark chocolate. You don't appreciate it as a child, but as you get older, you really learn to enjoy it.
Old Frozen Pizza
Frozen pizza sounds good in theory, but it's never as good as a hot, fresh pie. You buy it because it looks fun, but you wind up questioning your decision the moment you open it up. These rides are old, frozen pizza. After eating everything you enjoy, you grab a frozen pizza from the back of the freezer, and immediately hate yourself.
Country Bear Jamboree
Country Bear Jamboree is the french bread frozen pizza. It doesn't look appetizing; it doesn't sound appetizing; but here you are, nuking a loaf of bread with a smear of sauce, a sprinkle of plastic cheese, and questionable crumbles of sausage in the microwave.
Triceratop Spin, Magic Carpets of Aladdin, Astro Orbiter
These are the three cheese, four cheese, and Italian-cheese blend of the frozen pizza world. They all advertise different cheeses, but all taste the same…not great.
Barnstormer
Barnstormer is kinda like those little Elio's pizzas. You know it's not the best, but the kids love it. Only problem is that they're hungry about two minutes later.
Under the Sea
You buy a frozen pepperoni pizza. You know it's just frozen pizza, but you're kind of excited about it. When you open the box, you're greeted by a pizza with a small sprinkle of fake mozzarella and two sad pepperonis. That's Under the Sea. You know what it should look like, it sounds fun in theory, but then Ursula's head falls off midway through the ride, and your kids are scarred for life.
Tomorrowland Speedway
Tomorrowland Speedway is the frozen ham and pineapple pizza. Like many will debate whether pineapple deserves a spot on pizza, Disney guests are forever split as to whether Tomorrowland Speedway deserves the space inside Magic Kingdom.
Living with the Land
Living with the Land is a frozen pizza with broccoli crust. No one goes into the store thinking "hey, I hope I can stock up on that broccoli crust pizza for my quarantine…" No, you check for the cauliflower crust first.