Oh, my what an uproar over a pair of pants! April 12th will be Disneyland Paris' 30th anniversary; happy anniversary to the Disney fans in Europe! However, the scene stealer of the day will be Minnie Mouse. It was announced that she will be wearing pants.
A new look was debuted in which Minnie would don a smart-fitting navy pantsuit with black polka dots, black bows on the pockets, matching pumps, and her signature matching bow. She looks marvelous. As only Paris can, her fashion-forward new look coincided with the special anniversary, and it took the fashion world by storm. Her styled look was designed by fashion designer Stella McCartney. "This new take on her signature polka dots makes Minnie Mouse a symbol of progress for a new generation," she explained. "She will wear it in honor of Women's History Month in March 2022. I can't wait for you to see this new look at Walt Disney Studios Park!"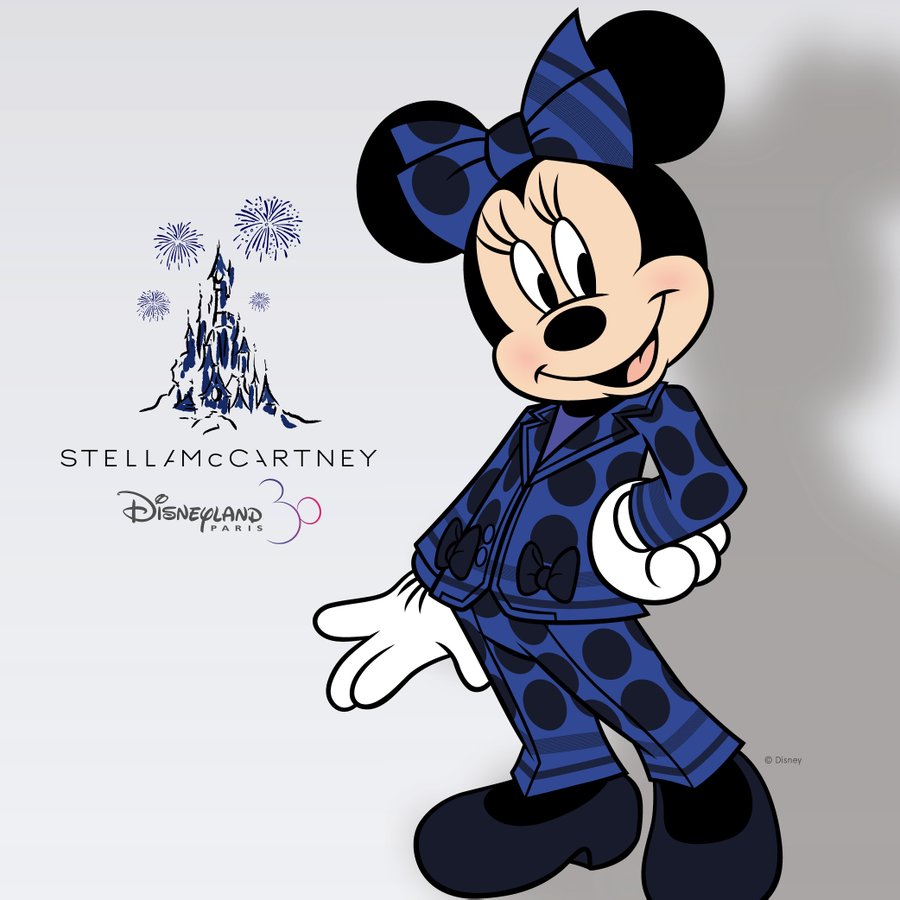 Yet reviews online were mixed. Many reactions were negative, bemoaning her lack of dress attire. Minnie was not wearing her signature red polka dot dress with yellow shoes nor was it chosen that she wear a new dress ensemble like Walt Disney World's iridescent blue dress that she debuted for the 50th Anniversary. An uproar over her pants. Hmm…
Minnie Mouse is my favorite Disney character (tied with Cinderella). I always loved her beautiful red polka dot white dress. But I also have always loved the many outfits she's worn over her almost 100 years. It's actually a conversation piece with my daughter and I; we collect Minnie Mouse plushies with numerous outfits for her ever-changing look. Minnie has worn pants. She's worn many celebratory dresses and cruise-style wardrobes. We love it! We enjoy discussing her fashion, both with our plush collection and when we get to meet her in the parks & resorts, and we actually take it seriously! My daughter (24) loves fashion, clothing, appreciates it as the art form that it is and how fashion is a way of self-expression for the artist and the woman choosing to wear beauty. Minnie is an icon.
Some of those commenting have the view that Disney's pushing the Woke movement 'agenda.' She wore pants. Minnie wore pants. It's not about changing, or politics. It's about adding and layering to her years of tradition. Lucy Ricardo wore pants in many episodes of I Love Lucy in the 1950's when women weren't wearing pants on television. That was seven decades ago. We are now in 2022; this shouldn't be a shocking or head-shaking moment.
Minnie represents women; we come in all shapes and sizes, and from all countries and cultures and religions. She is one woman (I am aware she is mouse, follow me here). I am proud of her and her pants. She doesn't represent me necessarily, and that's okay. Disney does not have to be responsible for representing every single person in the world. And frankly, society often blurs tradition with stereotyping; they confuse tradition with old fashioned and they confuse tradition with stopping change and progress. Progress is actually celebrating tradition; we grow upon it as a foundation.
Disney cannot satisfy everyone's reactions to an outfit, whether it be a doll dressed in traditional garb in It's a Small World or Minnie Mouse's new pantsuit. Embrace the differences, understand Disney cannot represent all. Don't let Disney be your educator, use what you see and learn on your own. Let's not use the word Woke. Let's use the words history, truth, evolving. If we add pants to Minnie Mouse's wardrobe, we do not lose tradition. It only creates a deeper multi-dimensional character with choices.
It's more than just a pantsuit. It's a precipice to greater knowledge for self-education. Use it for learning more about Women's History Month. Lucille Ball, Stella McCartney, Mary Blair were/are all pioneers in their art forms, but so too are our iconic characters like Minnie Mouse and the It's a Small World dolls. Traditional clothing, modern styles; they begin the conversation, and we need to embrace them in order to live in a better, kinder world.
Shari Kessler loves the Disunplugged and all things Disney. She has imparted her passion for the parks along with her husband of more than 25 years to their three young adult children. Their family vacations have included Disneyland, Disney Cruise Line and Aulani but their home base is Walt Disney World as she resides from New Jersey. Shari also loves her cats Ricky and Lucy(RIP Lucy 2021). As a former early childhood educator she is now assisting at an animal hospital in NYC. She enjoys the Disunplugged community and hopes her articles connect with the Dis family.
You can find her and all of her articles at:
https://sharikessler13.wixsite.com/my-site
Thanks for reading!