Editor's Note:
Some locations listed in this article either have limited menus or have not reopened since the temporary closure due to COVID-19. Please visit our
Walt Disney World Reopening Information and Updates
page for detailed information on which restaurants are currently open.
There are Walt Disney World vacationers who don't mind planning their meals 180-days in advance and making all other arrangements contingent on those reservations. There are also vacationers who would rather plan their days at the theme parks based on other factors and eat what they want without the constraints of the Disney Dining Plan. If you fall into the latter group, does it mean that your dining choices are limited to quick service locations? While Disney now offers varied menus at many of these restaurants, you may be looking for a quieter place to sit and relax without picking your food up from a counter.
Disney's Animal Kingdom, Hollywood Studios, and Epcot all have lounges that are not included on the Dining Plan. While the Magic Kingdom doesn't have any lounges, I included several options that are accessible via monorail. These locations tend to have afternoon and evening offerings of small plates, sides, appetizers, or desserts along with an extensive drink list. The food offerings are typically under $15 and are great for sharing.
Hollywood Studios
Hollywood Brown Derby Lounge [typically] opens at noon with sweet and savory food options, including their famous Cobb Salad, and an extensive drink menu.
Tune-In Lounge [typically] opens at 11:00 am with an extensive menu of comfort food and fun drinks for the whole family.
Animal Kingdom
Nomad Lounge [typically] opens at 11:30 am and offers some exotic flavors along with a full bar.
Yak & Yeti Quality Beverages [typically] opens at 11:00 am with Asian-inspired food offerings, frozen lemonade, and other beverages.
Safari Bar in the Rainforest Cafe is open all day with the full restaurant menu available.
Epcot
Tutto Gusto Wine Cellar [typically] opens at 11:30 am with an extensive Italian menu, wine, and beer.
La Cava del Tequila [typically] opens at noon and offers chips and queso/guacamole with a wide variety of tequila beverages and beers.
Rose & Crown Pub [typically] opens at 11:30 am and offers a few filling British specialties and a large menu of lively beverages.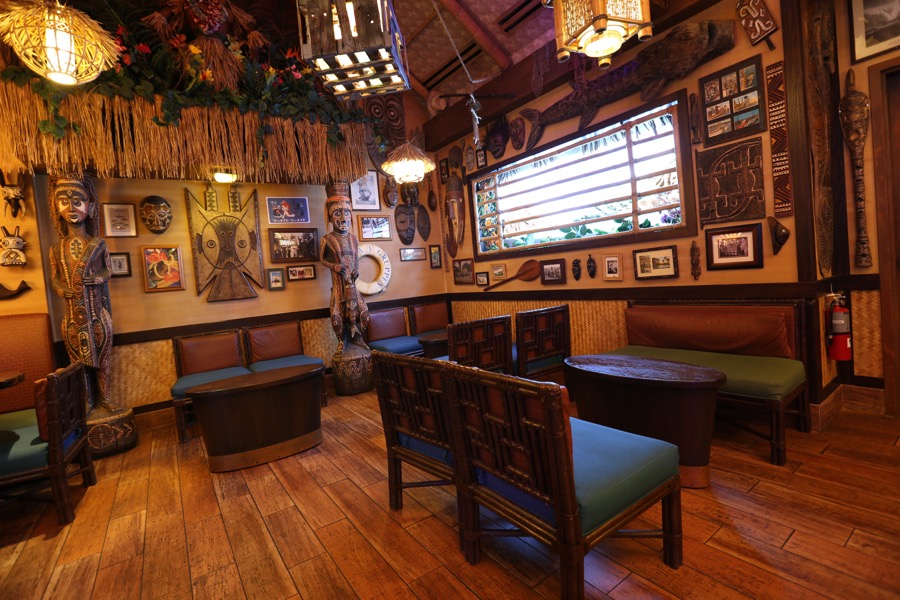 Magic Kingdom
The Enchanted Rose at the Grand Floridian is the newly reimagined lounge inspired by Disney's Beauty and the Beast where you can enjoy sips and bites beginning at 4:00 pm.
Tambu Lounge at the Polynesian offers all-day food and beverage offerings.
Trader Sam's Grog Grotto at the Polynesian opens at 4:00 pm with island food and beverage offerings. 21 and over after 8:00 pm.
The Wave Lounge at the Contemporary [typically] opens at noon with food and beverage offerings.
Citrico's Lounge at the Grand Floridian offers unique tapas and drinks after 5:00 pm.
The above locations offer an alternative to the standard table service restaurants. While some may not find these options appealing or suitable for their travel group, others will enjoy a break from the high energy of the parks. Have any of these been a welcome respite for you during a day of park touring?
Hours, offerings, and Dining Plan options are subject to change. Check the My Disney Experience app for the most up to date information.
Connect with Liz Mroz on Twitter and Facebook @BuildingDisney
"What fun thing should we do next?" When Liz discovered that this was the hardest question she'd have to answer on a Disney vacation, she was hooked. And it prompted her to keep adding fun to her life. Having two boys and a fun-loving husband made it easy to dive into LEGO building, Star Wars culture, and all things Disney! You can find her creating content on these subjects, as well as helping others get the most out of their Disney vacations.