Disneyland Park
---
Frontierland
Saddle up and mosey on into this re-creation of an Old West town. Guests can enjoy the thrills of a wild runaway train ride, enjoy a leisurely riverboat cruise, watch an Old West stage show and so much more.
Legends of Frontierland


This interactive experience puts guests in the middle of the story.

"Frontierland and its neighbor, Rainbow Ridge, are in the midst of a good, ol' fashioned land fued. Rumors are spreading that gold has been discovered. Whether or not the rumors are true, the folk in Rainbow Ridge have one thing on their minds: take over Frontierland! Thus, the strugle begins..."

The experience involves entertainment, merchandise, food and more throughout Frontierland.




Legends of Frontierland ends 09/27/14.
---
Sailing Ship Columbia
(Opened: June 14, 1958)

Experience a full-circle cruise tour of the Rivers of America around Tom Sawyer Island aboard the first 3-masted windjammer to be built in the United States in over 100 years. You may also visit below deck to view the galley and living quarters in the ship's museum. The Columbia is also used during the nighttime spectacular 'Fantasmic'.
Restrictions: Inaccessible to strollers. Must transfer for wheelchair/ECV.
---
(Opened: September 2, 1979) This fast-paced roller coaster takes you on a journey back in time as you travel through a rustic re-creation of a gold mining town. You'll board an open-air railcar on the "runaway" mine train. You'll want to hold on tight as the train twists and turns through tunnels and caverns. Watch out for landslides, earthquakes and even bats! This ride is especially fun at night. FASTPASS Attraction

Restrictions: 40"/102cm minimum height and 3-year minimum age. Guests with back, neck or heart problems, pregnant women, or those affected by motion sickness should not ride. Inaccessible to strollers and guests must transfer from wheelchair/ECV
---
A pleasant break from the hectic pace of ride enthusiasts, Big Thunder Ranch is a western oasis that takes you back to a simpler day. One of the favorite areas of young children, the Ranch is home to goats, sheep, and the occasional cow, horse or donkey. The Cast Members that care for the animals are on hand to help children learn and enjoy their interactions.
DIS Unplugged Review by Nancy Johnson
The Music of Nashville

Beginning July 18th, the Big Thunder Ranch Jamboree will be home to The Music of Nashville.

Every Friday, Saturday and Sunday night, The Kelly Rea Band will be performing songs from the television Show "Nashville", plus other popular country hits.
The former Festival Arena now comes alive on select days with a good old fashioned hoedown. The area features music, dancing, crafts, pin trading and characters in their cowboy finest.
---
Frontierland Shootin' Exposition (Opened: July 12, 1957 (Shooting Gallery);
Shoot up Boot Hill and see what happens in this laser gun-shooting gallery. There is an extra charge for this attraction.
Restrictions: None
---
Golden Horseshoe Stage
The Golden Horseshoe Revue was one of the Park's original 17 attractions. The show was the world's longest running stage show (July 17, 1955 - October 12, 1986).
Opened: July 17, 1955 - October 12, 1986 (Revue)
November 1, 1986 - December 18, 1994 (Jamboree)
Spend some time kicking up your heels with Billy Hill and the Hillbillies or the Laughing Stock Company. In addition to the entertainment at this sit-down theater, you will also find food being served which includes hamburgers, hot dogs, French fries, desserts and soft drinks.
Seating is on a first-come, first-served basis for each show. Reservations are not accepted.
Restrictions: Strollers may be parked outside or just inside the doorway. Assisted Listening can be obtained at City Hall or Guest Relations.
---
Mark Twain Riverboat
(Opened: July 17, 1955)
Experience a full-circle cruise tour of the Rivers of America around Tom Sawyer Island upon this steam-powered stern-wheeler paddlewheel boat. It's a delightful and relaxing journey that brings the past to life. The Riverboat is one of Park's original 17 attractions.
Restrictions: Inaccessible to strollers. Wheelchair/ECV accessible.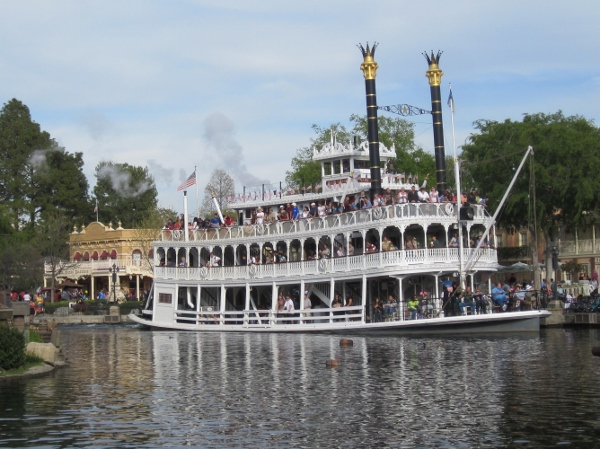 ---
Rafts to Tom Sawyer Island (Opened: June 16, 1956)
These authentic looking rafts are the only transportation to Tom Sawyer island. Step onboard and enjoy the ride as you float to your destination.
Restrictions: Inaccessible to strollers. Wheelchair/ECV accessible.
---
Pirates Lair on Tom Sawyer Island
(Opened: June 16, 1956)
Tom Sawyer Island is a haven for Pirates. Among the enhancements will be a "Dead Man's Grotto" in the island caverns, a "Pirate's Den" on the Castle Rock as well as Buccaneer touches made to Tom & Huck's Treehouse and Smuggler's Cove.
Visitors can go in search of buried treasure, but beware, there will be live pirates waiting to take your booty away. Restrictions: Inaccessible to strollers. Wheelchair/ECV accessible.
• Bonanza Outfitters - Outdoor clothing for the entire family
• Pioneer Mercantile - Souvenirs with a western flare
• Westward Ho Trading Company - Disney Pins, pins and more pins

DIS Unplugged: Disneyland Edition Podcast
Shopping 201: Critter Country & Frontierland


Stars of the Toy Story films - Join Sheriff Woody near Big Thunder Mountain for pictures and autographs. You just might run into Jessie too! Check Daily Schedule for times.